YAKIMA, Wash. — CubCrafters has unveiled its new top-of-the-line aircraft, XCub. The new model received FAA Type Certification June 2, 2016, and is available immediately, according to company officials.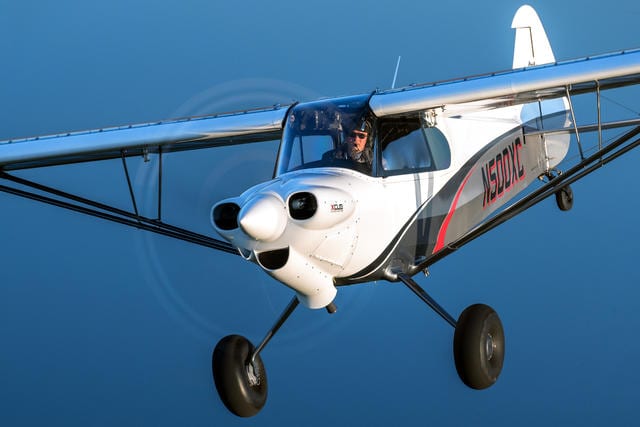 "Six years ago I imagined a Part 23 certified Carbon Cub," recalls Jim Richmond, CubCrafters' CEO. "Our development team set out to design a Cub with terrific STOL capabilities, like our Carbon Cub LSA, but one that could travel faster and farther, while easily accommodating all of the gear that a pilot and passenger might want to carry for an extended journey. Now, after receiving Type Certification from FAA, I'm proud to say that XCub is much, much more than I had even hoped it would be."
XCub boasts a cruising speed over 145 miles per hour at 75% power, and a useful load of up to 1,084 pounds. It is powered by a 180-hp Lycoming O-360 that drives a Hartzell Trailblazer constant-speed composite propeller. It also carries a $297,500 base price.
"Early on, when the first new airframe was produced, we discovered that our understanding of the Cub's aerodynamics was incomplete," says Richmond. "They fly nicely at 100 miles per hour, but at 140, everything changes!"
The company embarked on an ambitious two-year aerodynamic analysis of the airframe and all flight surfaces. That analysis motivated a fresh perspective on what can be achieved at both the lowest and highest limits of the speed envelope, according to Richmond.
Airflow over the prototype cowl, fuselage and wings was smoothed considerably. The aluminum spring landing gear adds as much as 14 mph at typical cruise settings. Composite fairings were added to the attach points of the landing gear and struts. All new flight controls and empennage were developed, and the finished aircraft features a composite dorsal fin.
"As we flew at higher and higher speeds, we discovered that the dorsal provides welcome directional stability," says Patrick Horgan, CubCrafters' Director of Engineering and Product Development. "Cross-country pilots will appreciate the stable response to turbulence as well."
To refine handling, CubCrafters re-engineered the ailerons and the way pilots interact with them. Roll response was optimized by modifying the aileron airfoil and cove, and by repositioning the hinge lines. This resulted in improved aileron response, lower lateral control loads, and natural centering.
Traditional cables and pulleys were replaced with a solid push-rod system, eliminating cable stretch.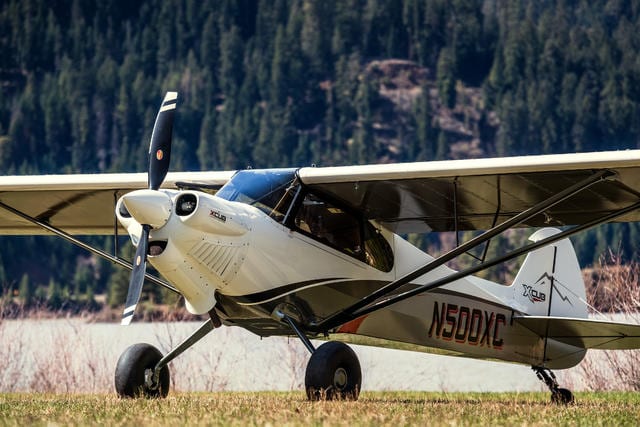 CubCrafters' obsession with weight extends to the new airplane. New design technologies put weight only where it is needed, company officials note. Extensive use of ultra-lightweight carbon composites, titanium and aluminum is evident throughout the new model.
The same modern engineering methods that make XCub light also make it strong, according to CubCrafters officials. A CNC machined chromoly steel frame encloses occupants. Meeting the latest FAA Part 23, Amendment 62, certification standard, XCub may be flown at up to 2,300 pounds gross weight.
XCub is not just functional, but comfortable as well. The Ahtanum Interior Package offers Scottish leather seats for both pilot and passenger that feature perforated leather inserts over memory foam cushions, contrast stitching and embroidered logos.
Additionally, 12 storage areas surround the cabin in ultra-modern carbon fiber side and header panels. Two bottle holders, four USB and two 12V power ports can be easily accessed by pilot and passenger. An electronics console faces the rear seat and holds personal devices, such as telephones or tablets, allowing the passenger to follow navigation with Garmin Pilot, or watch a movie. Located in the aft baggage bulkhead is a hidden locker for a headset.
"Xcub is not just a new airplane, it is a new platform upon which we can build different configurations to fulfill different missions," notes President Randy Lervold.
An example of that configurability is presented in the landing gear options.
"Owners may choose legacy gear to achieve the lightest possible weight, or spring gear that provides better aerodynamics and speed," he says.
CubCrafters is offering the first 20 XCubs in a limited Launch Edition. The Launch Edition has special introductory pricing and includes the Launch Edition paint scheme and branding, as well as an Ahtanum leather interior package at no extra charge.
Flight Training Too
CubCrafters is also announcing factory-authorized flight training programs in partnership with Tac Aero in Hood River, Oregon. Tac Aero will offer programs ranging from primary through transition training for specific CubCrafters models, including XCub.
Specifications
AIRCRAFT

Certification: FAA Part 23 Certified
Category: Normal (2,300 lbs GW) & Utility (1,980 lbs GW)
Type: Single Engine Land & Sea
Crew & Passengers: 2
DIMENSIONS
Length: 23 ft 10 in
Height: 8 ft 4 in
Wingspan: 34 ft 4 in
Wing Area: 174.8 sq ft
Cabin Width: 30 in
Cabin Height: 52 in
Cargo Area: 26 cu ft
WEIGHTS
Empty Weight: 1,216 lbs (base configuration)
Gross Weight: 2,300 lbs
Maximum Useful Load: 1,084 lbs
Cargo Weight: 230 lbs
CAPACITIES
Fuel: 49 gal
Oil: 8 quarts
POWERPLANT
Engine: Lycoming O-360-C1G
Power: 180 Horsepower
Propeller: Hartzell Trailblazer, constant speed, composite
PERFORMANCE

Maximum Speed: 153 mph in level flight
Cruise (75% power): 145 mph

Rate of Climb: 1,500 ft/min

Endurance: 6+ hrs
Range: 800 mi

Takeoff Distance: 170 ft

Landing Distance: 170 ft