The FAA has launched a rebate program that will help general aviation pilots equip their aircraft with NextGen technology.
"To further demonstrate our commitment to NextGen, we will soon offer some general aviation aircraft owners a $500 rebate to help defray some of the cost for purchasing ADS-B Out avionics," said U.S. Transportation Secretary Anthony Foxx.
Automatic Dependent Surveillance-Broadcast, or ADS-B, is the foundation of the FAA's NextGen program to modernize the nation's air traffic control system. ADS-B transforms aircraft surveillance using satellite-based positioning.
The FAA published a final rule in May 2010 mandating that aircraft flying in certain controlled airspace be equipped with ADS-B Out by Jan. 1, 2020. That airspace is generally the same busy airspace where transponders are currently required, FAA officials note.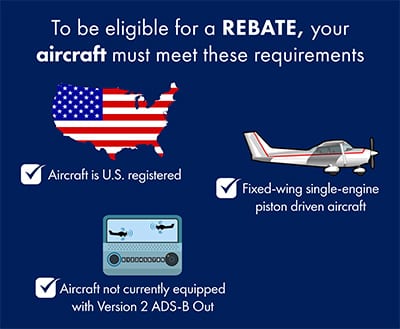 Aircraft that fly only in uncontrolled airspace where no transponders are required, and aircraft without electrical systems, such as balloons and gliders, are exempt from the mandate.
"We're calling on all aircraft owners who plan to fly in busy airspace to equip with ADS-B Out before the deadline," said FAA Administrator Michael Huerta. "We hope this initiative will encourage aircraft owners to get off the sidelines and take advantage of all the safety benefits NextGen has to offer."
The rebates will be available in late September. The FAA will announce the effective date soon.
In the meantime, FAA officials are encouraging aircraft owners to look ahead to schedule an installation appointment with a qualified installer. Aircraft owners will only qualify for the rebate if the installation occurs after the FAA begins offering the rebates in late September 2016.
Aircraft owners of U.S.-registered, fixed-wing single-engine piston aircraft with avionics that comply with FAA technical standard orders and meet the rule requirements could be eligible for the rebate. The FAA is not offering rebates for software upgrades for aircraft already equipped, new aircraft, or aircraft for which the FAA already has paid or committed to upgrade.
The FAA will be able to distribute 20,000 rebates — one rebate per aircraft owner. The rebates are available on a first-come, first-served basis for one year, or until all 20,000 rebates are claimed, whichever comes first.
The FAA estimates that as many as 160,000 aircraft need to be equipped by the deadline.
"ADS-B provides the general aviation community with increased safety, efficiency and situational awareness," said FAA Deputy Administrator Mike Whitaker. "We're getting closer to the 2020 deadline and we need 100% equipage in the required airspace to realize the full benefits of this NextGen technology. That Jan. 1, 2020 deadline will not change."
More information about equipping and the rebate program is available on the FAA's website.
GA's alphabet groups were quick to applaud the FAA's rebate program, including the Aircraft Electronics Association (AEA), which will assist the FAA in the program's administrative process by issuing the $500 rebates to qualifying aircraft owners.
"I applaud the FAA for creating a rebate incentive program to help aircraft owners meet the Jan. 1, 2020, mandate," said AEA President Paula Derks. "With competitive prices across the board for equipment and a $500 rebate for a limited time for up to 20,000 purchases, we anticipate the installation pace for eligible equipment will pick up dramatically in the next several months. The avionics repair shop industry in the U.S. has less than 43 months remaining to equip the entire general aviation fleet of more than 100,000 aircraft with ADS-B Out avionics equipment. Aircraft owners who wait to equip will most likely face scheduling pressure and higher installation costs as we get closer to the deadline. The FAA's rebate incentive will help aircraft owners become compliant sooner rather than later."
The rebate program will provide some relief to aircraft owners, noted Aircraft Owners and Pilots Association President Mark Baker.
"The cost to equip has been a significant sticking point for many GA aircraft owners as they try to meet the FAA's 2020 mandate," he noted. "By helping to defray that cost, this program could make a difference for aircraft owners who want to continue to have access to the airspace they use today."

Equipping with ADS-B will increase safety for GA aircraft owners, added Pete Bunce, president of the General Aviation Manufacturers Association.
"By equipping their aircraft with ADS-B, operators will have access to enhanced surveillance — a critical safety feature as more and more unmanned aircraft systems (UAS) share the skies with GA pilots," he said. "Additionally, ADS-B technology offers pilots greater situational awareness, as well as free in-cockpit traffic and weather. While the numerous benefits of ADS-B technology are crystal clear to the thousands of operators who have already equipped, we hope this incentive will encourage others who have been waiting to install ADS-B equipment to act as soon as possible."