By Frederick A. Johnsen
Wave after wave of warbirds roared over the Chino Airport in California April 29 through May 1 in three days of commemorative flights that saturated the air with the sounds of radial and inline engines and the silhouettes of classic warplanes from another era.
Put on annually by the Planes of Fame Air Museum, a pioneering flying air museum, the event at Chino is logistically logical – Chino is home to numerous warbird restoration shops and museums, including the patriarch Planes of Fame.
Harry Geier, Planes of Fame's marketing and development director, said 32,500 people attended this year's air show and about 40 warbirds flew each day.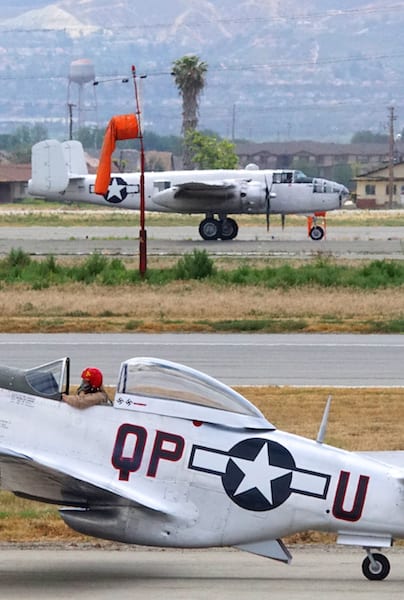 The attraction of this air show is a combination of the amazing warbirds located on the Chino airport, as well as others that flew in from as far away as Idaho and Texas to participate.
The Friday evening show included a cameo set of fly-bys by the Planes of Fame Boeing P-26, a pre-war open cockpit monoplane fighter that is the last flying example.
Bookending that performance on Sunday was a hop by the museum's Northrop N9M flying wing test aircraft, a yellow-and-blue wooden wonder that is also the last of its type flying.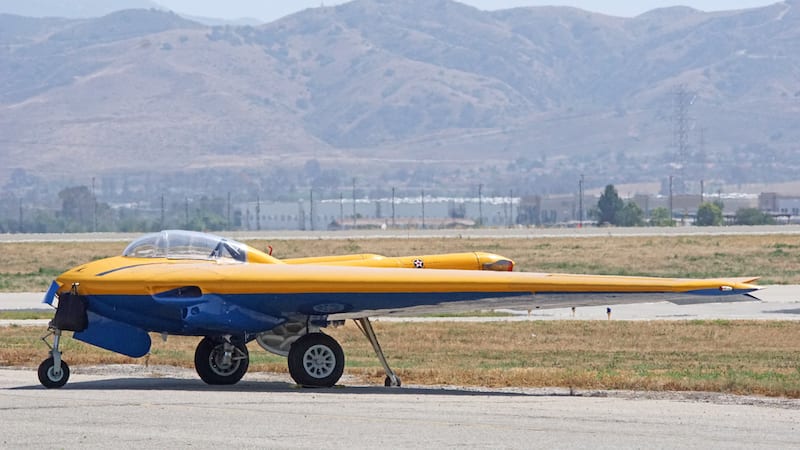 The experience of warbird air shows is more than visual. The sound of military aircraft engines firing up is a wheezy, throaty, crackling, popping sequence that gives way to a thunderous beat that makes even taxiing seem impatient.
It's a sound that a whole squadron of general aviation airplanes can't match. But then, one could probably feed a whole squadron of GA planes on the budget of one warbird.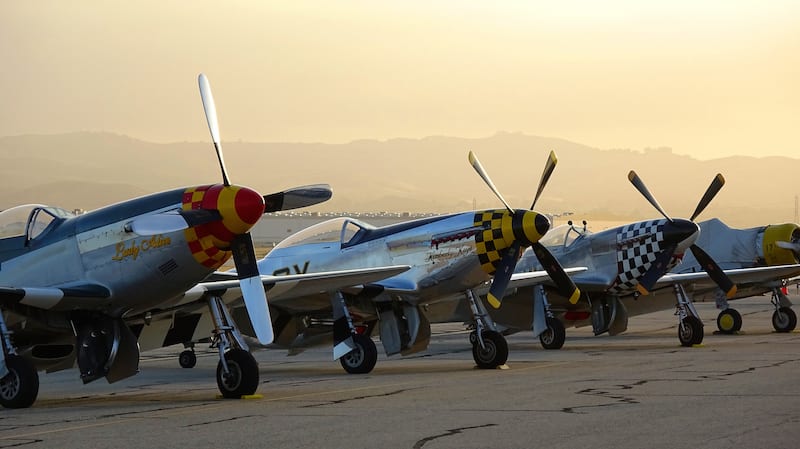 Two angled flightline ramps at Chino intersect where a VIP tent is moored. Each ramp features rows of warbirds parked in a way intended to give visitors a clear look at the warplanes that won World War II and came out ahead over Korea.
As navy fighters and torpedo bombers taxied out for flight, the crowd was treated to the spectacle of folded wings mechanically unfurling to make the machines ready for the air.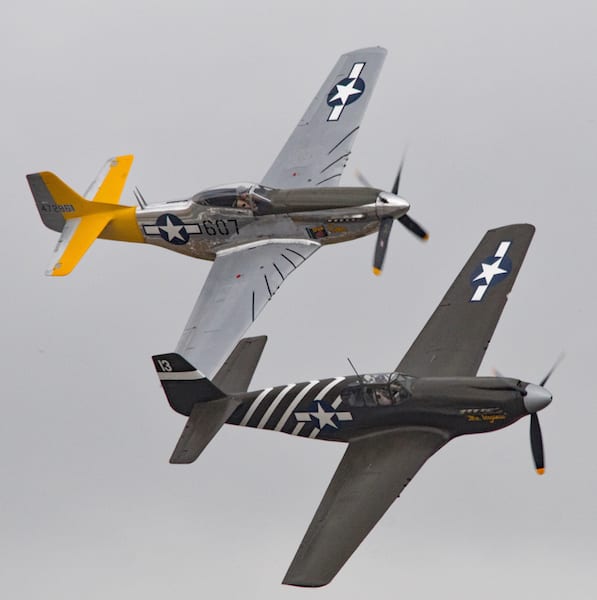 The sights and sounds of warbirds in action went on for hours every day. Many Mustangs, considered the best American fighter of the war, flew at different times of day.
A highlight was the appearance of Planes of Fame's scarce early model P-51A, powered by an Allison engine instead of the later Merlin powerplant that took Mustangs over Berlin.
Other rare birds in flight included the museum's P-38 Lightning and P-47 Thunderbolt, plus scarcities like an F6F-5 Hellcat, SBD Dauntless and P-63 Kingcobra.
The 75th anniversary of the attack on Pearl Harbor brought out two restored Mitsubishi A6M Zero fighters. One, operated by Planes of Fame, is the last Zero still powered by its wartime Japanese Sakae engine instead of a compatible radial of different manufacture.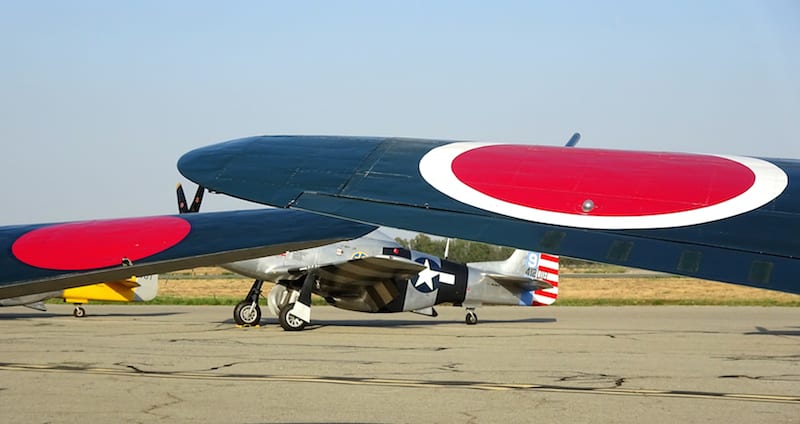 Though this was a banner year for the fighters, bombardment aviation was represented by B-25 Mitchells, including the locally-based Pacific Princess flown by Carl Scholl and Tony Ritzman, plus Mitchells from Planes of Fame and Texas Flying Legends.
Tim Savage's Midwest-based A-26 Invader, sporting new nose guns, also flew during the show. And the world's only flying PB4Y-2 Privateer patrol bomber dropped in from Arizona for static display.
The crowd was treated to a rare sight when five Curtiss P-40 Warhawks flew formation over the field.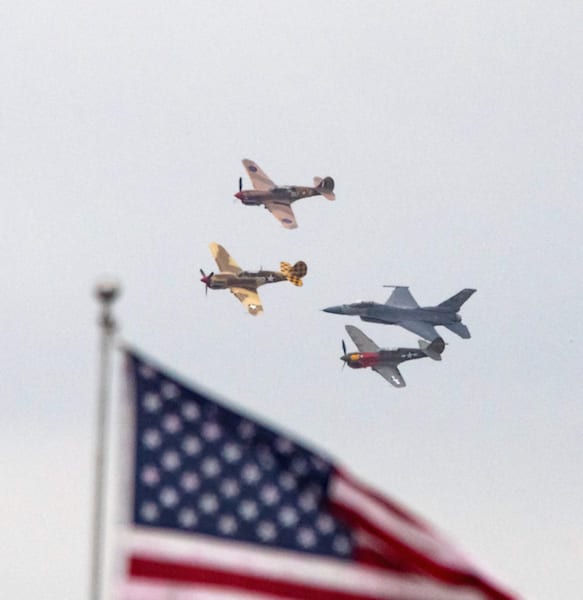 Three P-40s, including a pair from the Warhawk Air Museum of Nampa, Idaho, joined a U.S. Air Force F-16 for a heritage flight.
Planes of Fame again hosted a number of aviation veterans, including an unavoidably dwindling group of World War II veterans who were honored for their service. Geier said he was aware of about 10 Second World War veterans in attendance.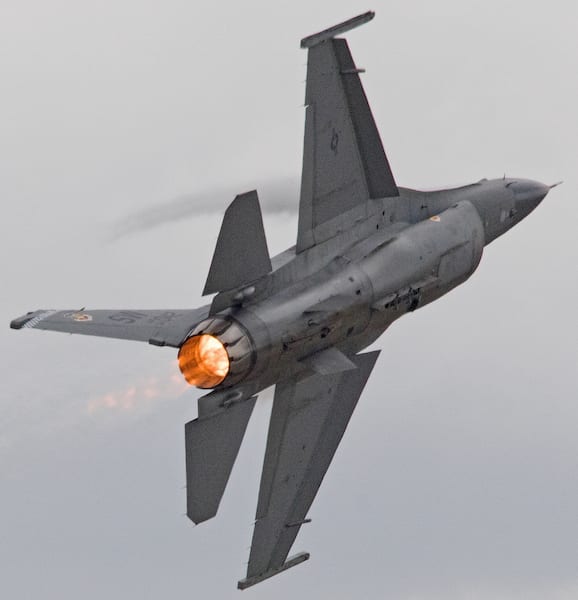 The show was an ongoing salute to veterans, a flying sensory overload, and a remarkable review of fabulous warbird restorations.
It is easy to see why the Planes of Fame air show has become an anchor event in the warbird air show season.