For the fourth year in a row, Washington Gov. Jay Inslee has named June General Aviation Appreciation Month.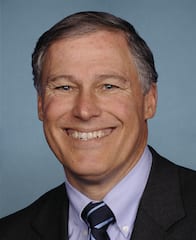 Inslee recently signed a proclamation naming June 2016 as a time to recognize general aviation's importance to the state. He noted that aviation plays a critical role in the lives of Washingtonians, as well as the operation of businesses, industry, ranches and farms, and is vital to the state's economy, and transportation system.
Read the full proclamation here.
"We thank Gov. Inslee for continuously recognizing just how much our state relies on general aviation," said Tristan Atkins, Washington State Department of Transportation director of aviation. "June signifies the start of summer, and also, typically great flying weather. We encourage people to get out and experience all that our state's airports have to offer."
Washington is home to a diverse aviation system, with 135 public-use airports ranging in size and purpose. The proclamation highlights how general aviation, aerospace, aircraft manufacturing and other aviation activities contribute to Washington's economic health and vitality.
"We join the many aviation organizations in Washington state in thanking Gov. Inslee for signing this proclamation," said David Ketchum, president of the Washington State Aviation Alliance. "This serves as a good reminder of how important it is to continue to promote and protect our great airport assets."