Universal Avionics has released a new software version for the Satellite-Based Augmentation System (SBAS)-Flight Management System (FMS) that includes messaging to alert pilots of a failure of the Automatic Dependent Surveillance-Broadcast (ADS-B) Out system.
The FAA has made it clear that ADS-B Out failure annunciations in the flight deck are required for Part 23 and Part 25 aircraft, company officials noted.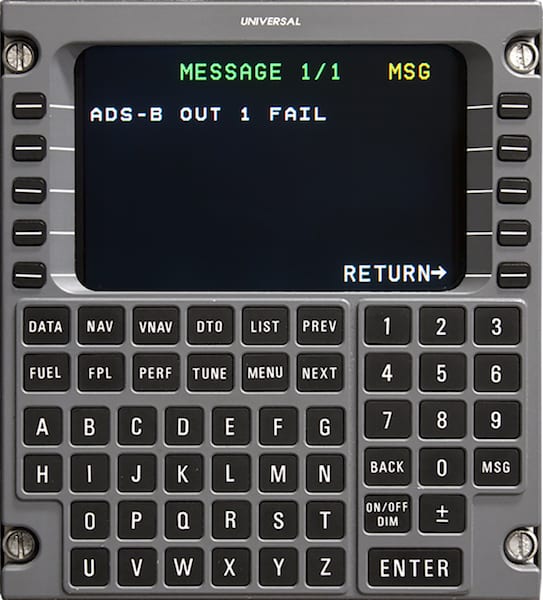 With FMS Software Control Number (SCN) 1001.1/1101.1/1101.1M, aircraft owners are offered savings versus standalone cockpit panel annunciators and Digital Discrete Adapters (DDA), according to company officials.
In addition, it provides a growth path to Localizer Performance with Vertical Guidance (LPV), Required Navigation Performance (RNP) and with the UniLink UL-800/801 Communications Management Unit (CMU), Controller-Pilot Data Link Communications (CPDLC) and CPDLC Departure Clearance (DCL), Future Air Navigation System (FANS) and Link 2000+.
"Our newest FMS SCN relieves the need to install an additional light module in the instrument panel since the software provides a transponder fail message when ADS-B transponders have a failure," said Robert Randall, Universal Avionics Sr. Sales Manager for the US.
The new FMS SCN adds support for four new ARINC input busses and four new discrete inputs. The inputs are monitored for data indicating the state of ADS–B Out or transponder failure.
This improvement adds a monitor with messaging to alert pilots to a failure of the ADS–B Out system. The status labels from an ATC/Mode-S Transponder system are monitored by the FMS and used to detect a failure in the system.