Mary Feik, an aviation engineer, master mechanic, pilot, instructor and aircraft restorer, passed away June 10.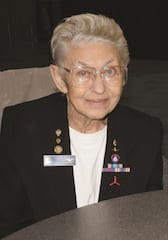 A maintenance instructor for the US Army Air Corps, Feik later became the first woman engineer in R&D for the USAF Air Technical Service Command. She was a renowned ambassador for the Civil Air Patrol, the first woman to receive the FAA Taylor Master Mechanic Award, and a recipient of the Katharine Wright Trophy.
Fein was the 2014 inductee into the First Flight Society's Paul Garber Shrine at Wright Brothers National Memorial in Kitty Hawk, N.C., and was the recipient of many other honors and awards throughout her career.
In 1994 she was inducted into the Women in Aviation Pioneer Hall of Fame.
"I've known Mary for over 35 years and was always impressed with her love of aviation and her level of expertise on the aircraft she helped restore," said WAI President Dr. Peggy Chagrin. "Her work and involvement with youth through the Civil Air Patrol and her work in aviation education touched the lives of many."