I thought the flight went spectacularly. My first turbine experience — flying three hours solid over the Los Angeles trafficscape with the legendary helicopter traffic reporter Commander Chuck Street. In between his traffic reports, he'd given me the thumbs up and nods of approval. Life felt great.
During my three-hour tour, Chuck tested my skills, first, with an uneven pinnacle landing on a scrub bush-covered hill overlooking Mulholland Drive.
Next, he had me fly a "strafing blitz" along the beach at Vista Del Mar, where we scooted just 10 feet above the Pacific Ocean at more than 125 knots.
Finally, he had me perform a steep approach touch-and-go onto the helipad above Windows, the extraordinary restaurant topping the 32-story Transamerica building in downtown LA.
I guess I passed muster because, unlike the takeoff from Fullerton Airport, Chuck was willing to let me make the approach and landing.
Feeling flush with victory, I flew a sloppy approach instead of a tight one. I didn't want to overfly the taxiway, so instead of a 90° base turn followed by a 90° short final, I cut 45° and aimed directly for the flatbed trailer helipad.
Chuck suddenly jerked his head to the left, straining to look back toward our tail. Then he grabbed the cyclic and collective away from me.
"My controls!" He broke off my approach, slewed us into a hover, then slid us to the left before resuming the approach to the flatbed.
"You almost clipped the tail" was all he said, while working the shutdown checklist.
How mortifying. I gathered my gear and furtively crept out of the cockpit.
But good ol' Chuck kept his sense of humor.
"That was some of the best flying I've ever seen… right up to that moment when you tried to kill me."
Then he stuck out his hand. "Promise not to try and kill me again and you can fly me again."
Negligence. I had failed to maintain situational awareness of my tail boom clearance requirements.
Likewise, a Diamond DA-42 Twinstar instructor admitted to his own form of negligence in a report to the Aviation Safety Reporting System, also known as a NASA report.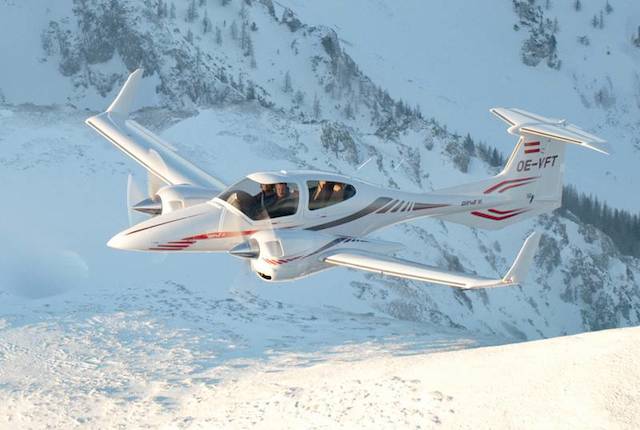 He filed the report after operating a non-airworthy aircraft for 16 days.
It all started the day he'd been dispatched to fly the Twinstar. Three days prior, a replacement de-ice boot had been glued onto its right propeller. During his flight, the replacement boot departed the aircraft.
Because no abnormal vibrations or noises resulted, the instructor chose to continue his flight to his destination. He then returned to base before reporting the incident to his chief instructor.
"I contacted the chief flight instructor to inform him of the problem. He informed me that he believed the aircraft was still airworthy, as long as I didn't notice any issues with vibration."
He hadn't, so the decision was made to squawk the item and defer the maintenance. That kept the aircraft on the flight line, except for flight into IMC or known icing conditions.
For 16 days the aircraft remained in service. Because no one experienced any vibration or abnormal noise or aircraft handling, no one thought to verify their chief pilot's contention that minus a prop boot, the Twinstar was still airworthy.
Not even a designated examiner who conducted a check ride in it thought to raise any doubts.
It was only during an interview for a new chief flight instructor that the interviewee suggested the aircraft might not be airworthy and should be grounded as a precaution.
"Upon consultation of the type certificate for the aircraft, it was determined that the aircraft was no longer airworthy, as it did not meet the specs of its original type design."
In his analysis, this NASA reporter admitted to three types of negligence:
Failure to verify the validity of the chief instructor's decision to keep the aircraft on the flight line.
Failure by the flight school to employ a dedicated maintenance person, who might have caught the erroneous authorization.
Failure to properly read FARs 91.205 and 91.213.
The CFI wrote that he came away "educated by this experience" and with a better understanding of 91.213.
"I was quick to assume that 91.205 covered me." In fact, it had not.
91.205 details the instrument and equipment requirements for powered civil aircraft possessing standard category U.S. airworthiness certificates. It breaks the requirements down by day VFR, night VFR, instrument flight and even flight above FL 240.
91.213 outlines requirements for dispatching an aircraft with inoperative instruments or equipment onboard.
In other words, 91.213 regulates use of an aircraft's Minimum Equipment List. It also indicates requirements for dispatch in absence of one.
According to the National Air Transportation Association, the Minimum Equipment List (MEL) is a document aircraft operators use to obtain relief from federal aviation regulations requiring that all equipment installed on the aircraft be operative at the time of flight.
It is aircraft-specific and spells out which pieces of equipment may be allowed to be inoperable, along with which procedures are required for an aircraft to operate under specific conditions while maintaining airworthiness. The MEL is developed from the Master Minimum Equipment List (MMEL), which is produced by the aircraft manufacturer and approved during certification of the airplane.
An individual operator, like a flight school, could choose to develop a customized MEL. It would be based on that operator's more particular equipment, instruments and operational conditions.
The customized MEL can be more restrictive than the MMEL, but it cannot be less so.
When the individual operator's MEL is approved and authorized by the FAA, it then becomes a Supplemental Type Certificate and permits operation of the aircraft with inoperative equipment.
In 1989, the FAA changed its regulations to favor the use of approved MMELs and MELs. This relieved air carriers, commercial operators and those general aviation operators of multi-engine aircraft of a heavy economic burden.
Under the MMEL program, operators can now dispatch an aircraft that is otherwise airworthy, except for certain inoperative instruments and equipment, under a framework of a controlled maintenance and inspection program. That includes repairs and parts replacement.
I scoured the web for an MMEL for the Diamond DA-42 Twinstar. I found none. I searched the extensive FAA database for same. Also no joy. So, I wondered, what if there is no MMEL?
The instructor wrote that the school, believing it was in compliance with regulations, deferred the Twinstar's maintenance. The school also restricted use of the plane to day VFR within 50 nautical miles of the base airport. So, all good, right? Not quite.
In the absence of an MMEL or MEL, dispatch of an aircraft with inoperative equipment is bound by the airworthiness requirements under which the aircraft was originally type certificated.
In other words, an operator has to revert to pre-1989 rules.
In other words, without an FAA-approved MMEL, the operator has to ensure that all aircraft discrepancies occurring during the normal operation of the aircraft are repaired before the aircraft can be operated again. This means that all the aircraft's instruments and equipment, regardless of whether they are essential or not to the flight operation, have to be operative.
In other words, "there's too much confusion," to quote Bob Dylan. We can't get no relief. Or so says part (1) of paragraph (b) of 91.213.
The 50 nm day VFR restriction put on that airplane by that flight school doesn't matter because the type certificate for the Diamond DA-42 requires each propeller blade to have on it an operating de-ice boot.
The fact that no pilot experienced adverse noise or vibration during aircraft operation doesn't mean the propeller wasn't out of balance. It also doesn't mean that it couldn't have become more unbalanced from turbulence or a hard landing.
An unbalanced propeller could lead to it departing the airplane or wrecking the prop shaft, which could destroy an engine, which could lead to even more of a bad day.
The type of negligence the reporting flight instructor and I displayed is insidious, but easily corrected.
Simple application of the old Reagan maxim "Trust but verify" will cure that ill.
But the willingness of the flight school to defer maintenance for 16 days rather than take the aircraft offline for the three days necessary to fix the prop de-ice boot is a more heinous matter. It is a deliberate act of negligence done for reasons not stated in the NASA.
Does your FBO or flight school operate placarded equipment? Does the placarded aircraft have an MMEL or MEL? Is it readily available to you if you ask? How can you find out? The FAA maintains a comprehensive MMEL list here.
Why this matters to aircraft renters in particular is that it reflects the priority flight schools place on pilots vs. profits.
A deliberately negligent FBO doesn't just endanger us. It also hurts the perception of general aviation within the larger, mainstream population.
Most flight schools and FBOs are reputable, but just in case: Know before you fly. Trust but verify.