"One Six Right" – the much loved aviation documentary originally released in 2005 — has been re-released in Blu-ray format. The romance of the original has endured.
A recent viewing with my high school aged daughter Savannah produced, "I wish all my history classes were like this. This is interesting and entertaining."
No doubt, the movie is a wonderfully produced — and entertaining — look at storied Van Nuys Airport in Southern California.
I flipped the movie case over to read, "An exhilarating documentary film that celebrates the unsung hero of aviation — the local airport — by tracing the life, history, and struggles of an airport icon: Southern California's Van Nuys Airport. Featuring thrilling aerial photography and sweeping original score, the film dispels common misconceptions and opposed criticism of General Aviation airports. Through the love story of one airport, past to present, the film shares the timeless romance of flying with all ages."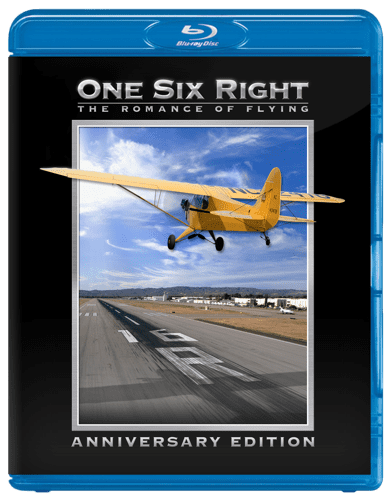 As the movie played on, the feeling of "for us" kept creeping into my head. There isn't a pilot alive — or dead for that matter — who wouldn't enjoy watching One Six Right.
But I'm not so sure "the film dispels common misconceptions and opposes criticism of General Aviation airports."
A primary misconception of flying: It's for rich people. How does One Six Right "counter" that misconception, by interviewing director Sydney Pollack and the impact his Citation X has on his work? To be fair, I understand the value, but I also drink the aviation Kool-aid. Not so much among our ground-bound brethren.
That critique aside, I enjoyed watching this anniversary edition of One Six Right the second time as I did the original more than a decade ago.
A re-viewing — or first time viewing — will do nothing less than reignite your desire to go flying.
And there is nothing wrong with that.