The 40th Annual Air Race Classic buzzed the U.S. from June 21-24 on a demanding 2,716-mile route involving 13 airports from Prescott Municipal Airport (KPRC) in Arizona, to Daytona Beach International Airport (KDAB) in Florida.
For this year,  the annual all-women cross-country airplane race paid tribute to college and university teams, with race stops at airports near or affiliated with aviation programs.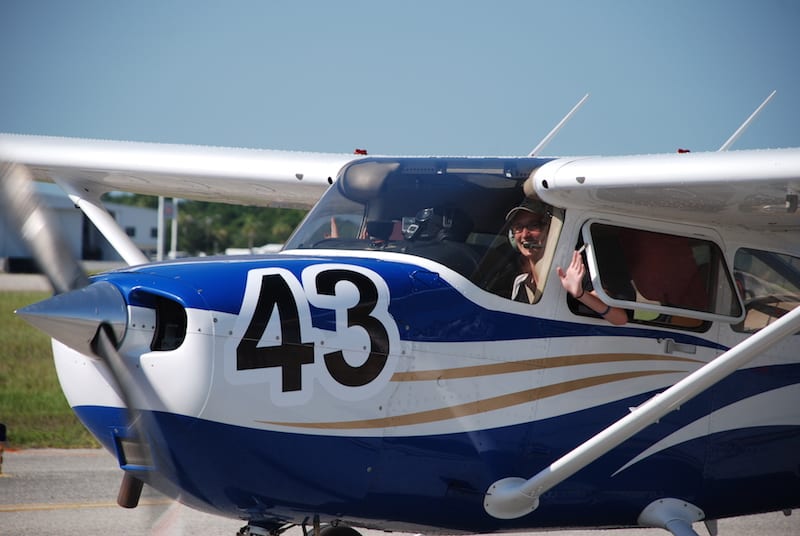 Of the 55 teams that registered for the race, five did not start, five did not finish, 45 completed the route, two teams arrived with parts they didn't begin with, and two teams arrived in Daytona without their aircraft.
Team Classic 33 experienced mechanical problems. Leaving their Cessna Skylane 182Q at Lake City Airport, they arrived by rental car.
Team Classic 38 suffered a forced landing in a field near Humansville, Missouri. They were brought to Daytona by friends in another aircraft. Aside from having to turn in equipment, the ladies came to Daytona to celebrate with the other racers.
Among the diverse women competing in the Air Race Classic were experienced racers, flight instructors, a Pulitzer Prize winner, three teams of families, a nurse, school teachers, retirees, ATPs, A&Ps, and 19 collegiate teams.
With team names like Sure B.E.T., Sky Vixens, Half-Fast Slowdowners, Freakin Awesome, Above All Fly Girls, Team Wunder Woman, Fire & Ice, American Maids, Wildfire, Cool Beans, and COMM Cool & Connected, these racers show attitude. Lots and lots of attitude.
TOP 10 WINNERS
First Place: Emmy Dillon and Abbie Pasmore from Embry-Riddle Aeronautical University make up Team Classic 43 "Riddle Racer Gold." This was the second time this team has competed in the Air Race Classic. They won $5,000 and Bose A20 headsets for each member of the team.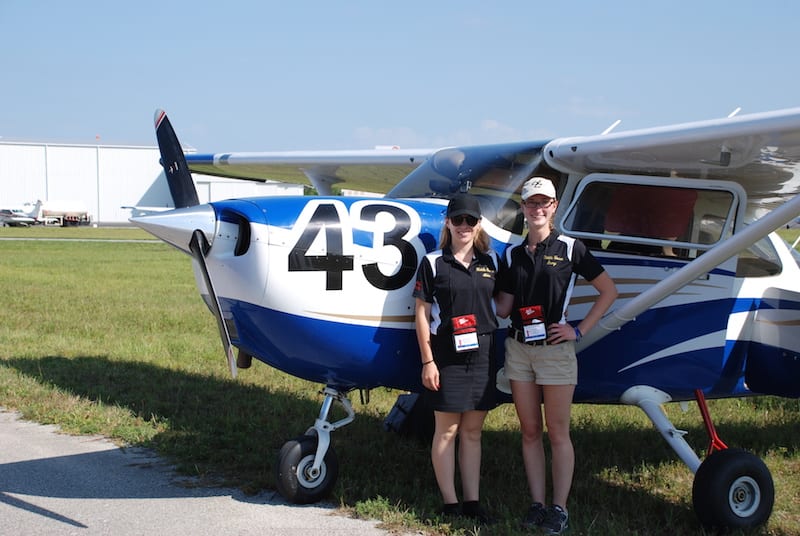 Second Place: Lydia Kost, Kayleigh Bordner, and MiJin Kim from Indiana State University are Team Classic 5 "Flying Sycamores." This is the first ARC for Kost and Kim. "I participate in the Air Race Classic to pay tribute to the women who paved the way for younger pilots like myself," Bordner said. They won $3,000 and Bose A20 headsets for each member of the team.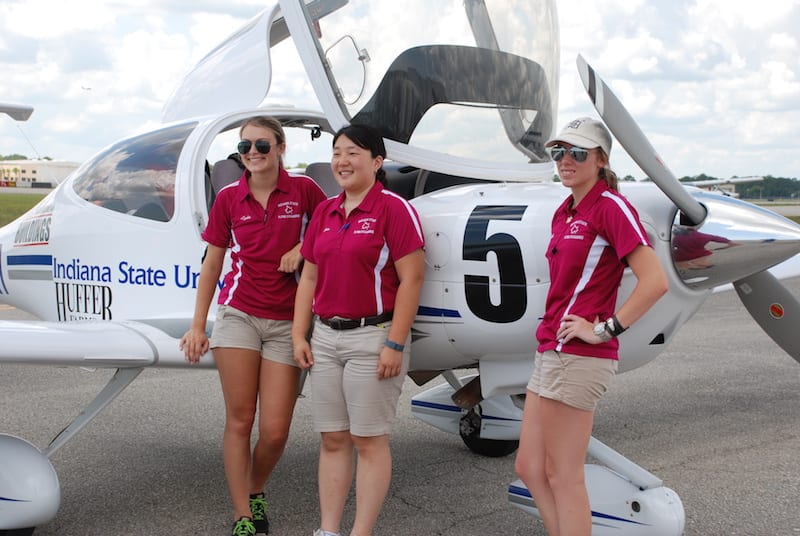 Third Place: Naiara "92Romeo" Petralanda and Virginie Rollin are Team Classic 6 "Team Bernoulli." Both are professors at Embry-Riddle and members of the Florida Spacecoast Chapter of the 99s. The Cessna Skyhawk 172M they flew was decorated with bullet hole stickers. They won $2,000.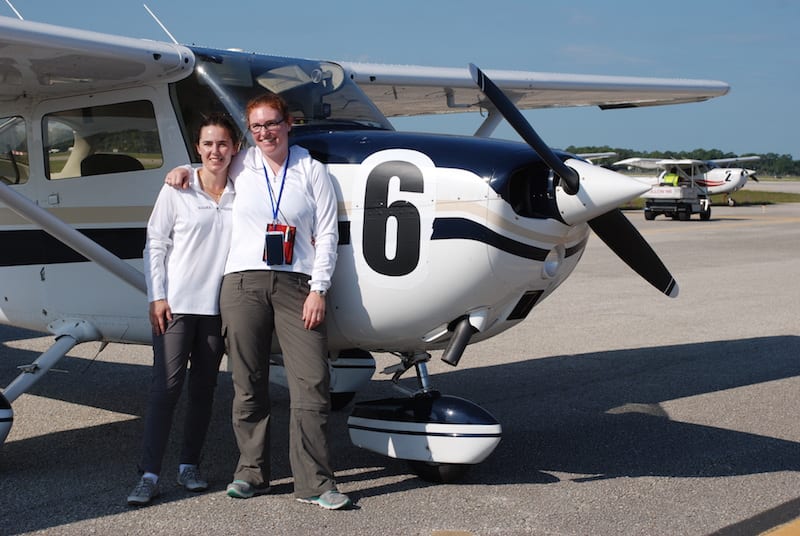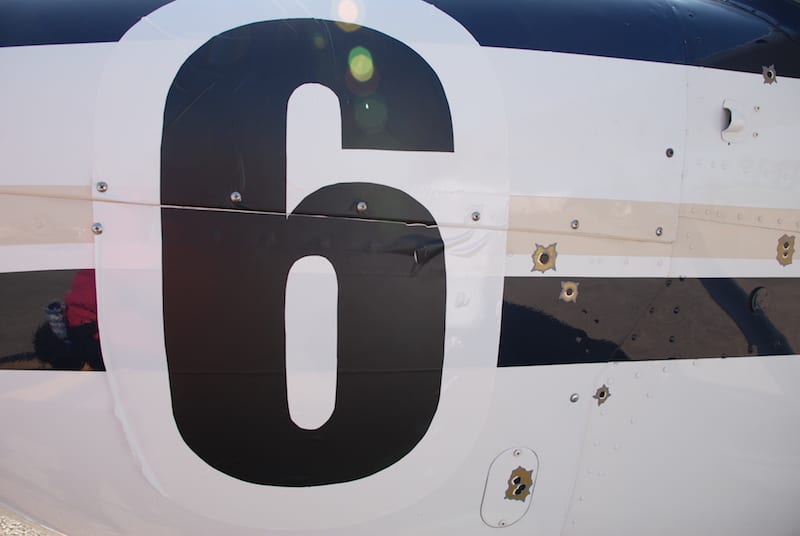 Fourth Place: Dana Atkins, Tina Druskins, and Emma Kishel, from the University of North Dakota, are Team Classic 8 "Frozen Force." This is the first ARC for Atkins and Kishel. It is the second ARC for Druskins. They won $1,500. Druskins was on a top 10 team in 2015.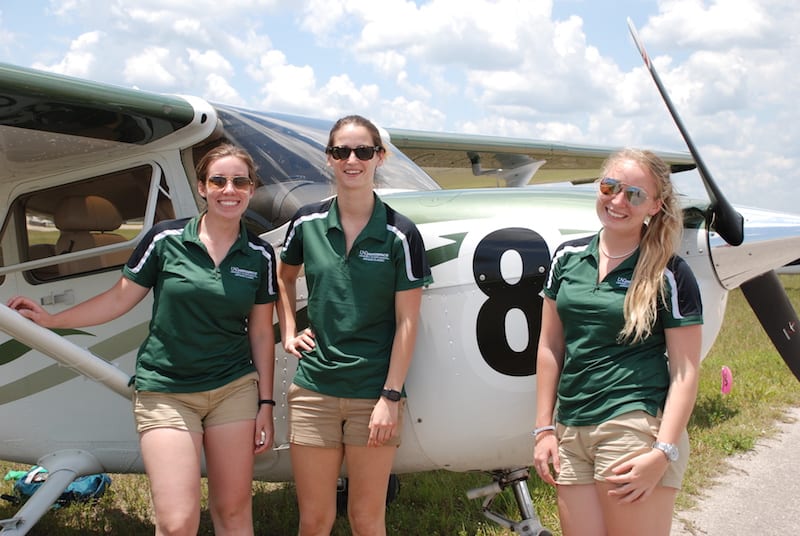 Fifth Place: Terry Carbonell and Ellen Herr are Team Classic 11 "Team Wild Mama." Carbonell runs a non-profit youth aviation education organization called Aviation Adventures. This team has its own traveling fan club, represented by the Girls Clubs of Mobile, Alabama. They won $950. This team placed first in 2010 and in the top 10 in 2012, 2013, and 2014.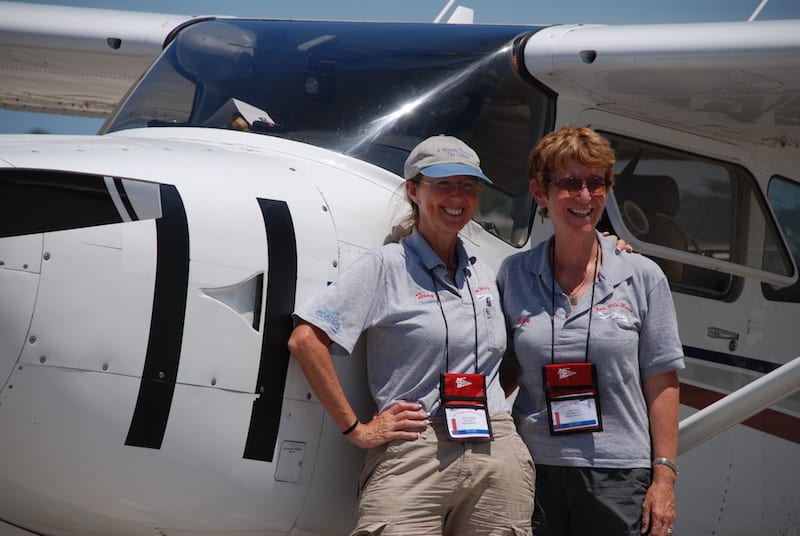 Sixth Place: Lauren Thompson, Jessica Karlsson, and Lauren Brown are Team Classic 46 "3 Fast 3 Furious." This is the fourth ARC for Thompson and the first for Karlsson and Brown. They won $700.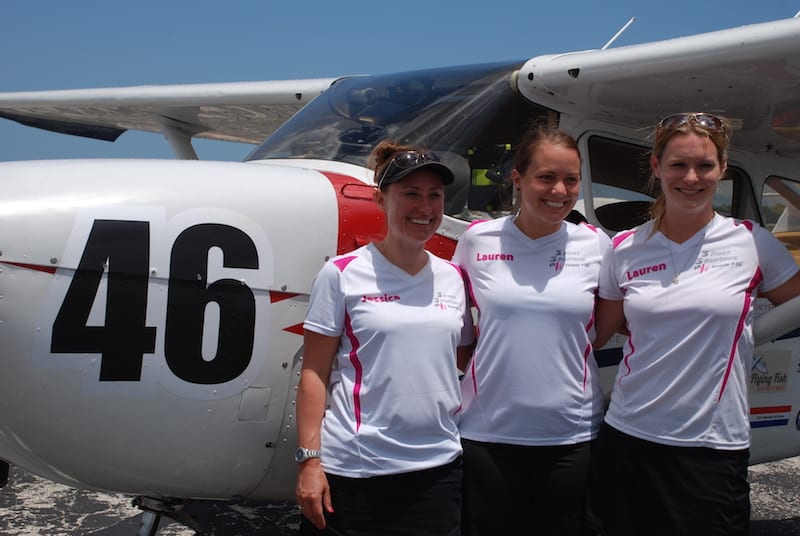 Seventh Place: Caroline Baldwin, Lydia Baldwin, and Cara Baldwin are Team Classic 29 "Baldwin Family Flyers." This is the 12th ARC for Caroline, the seventh for Lydia, and the fifth for Cara. They won $600.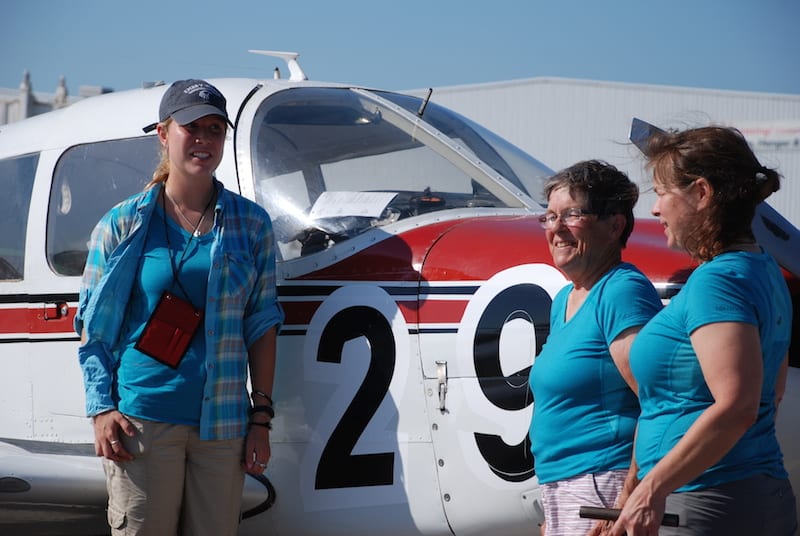 Eighth Place: Corbi Bulluck and Ramona Banks are Team Classic 26 "Dakota FlyGirls." They flew a Piper Dakota Pa-38-236. Bulluck is an ATP, instrument flight instructor, and teaches at FlightSafety International. Banks formed FlyQuest, a nonprofit organization that educates young people about aviation careers. They won $500.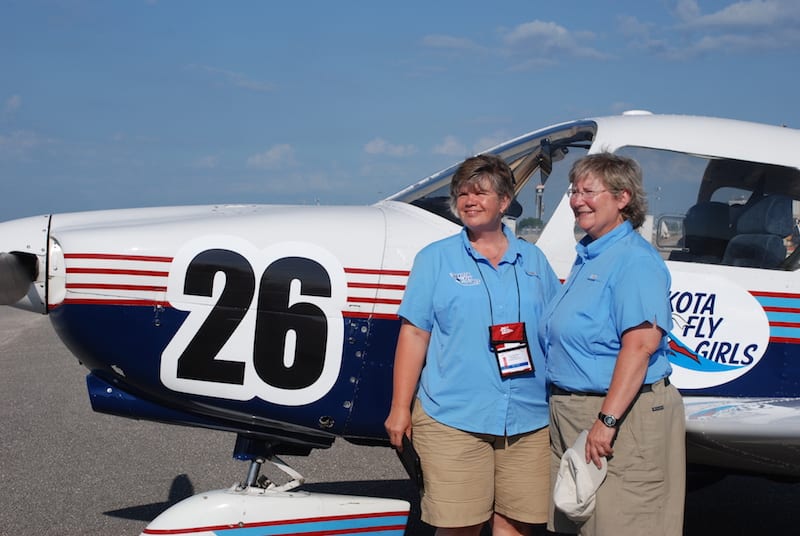 Ninth Place: Alicia Sikes and Heather Hill are Team Classic 31 "Mooney Mooney." Sikes is a captain for American Airlines and has logged 20,060 flight hours. Hill served for 11 years as the Airmarking Chair with the Pennsylvania Chapter of the 99s and for five years with the Mid Atlantic Section. They won $400.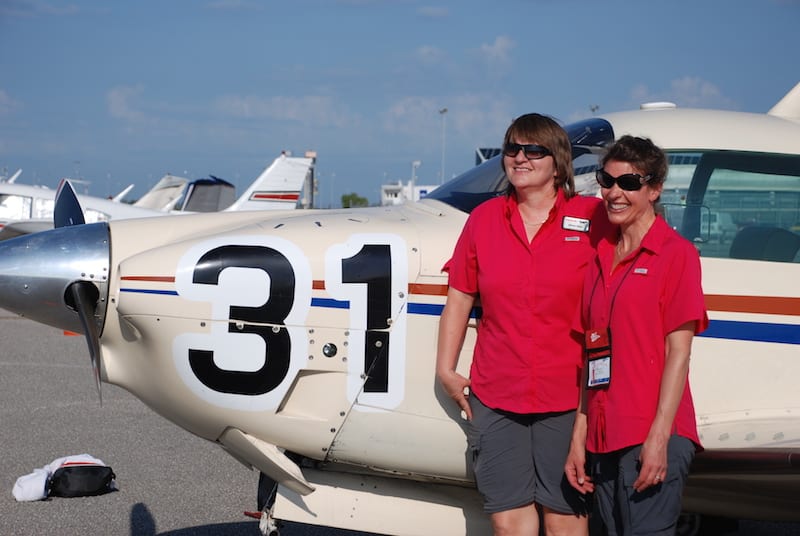 Tenth Place: Katie Wagner, Analise Nelson, and Alicia Isacson, from Liberty University, are Team Classic 16 "Liberty Belles II." This is the first ARC for Wagner and Nelson; the third for Isacson. They won $350.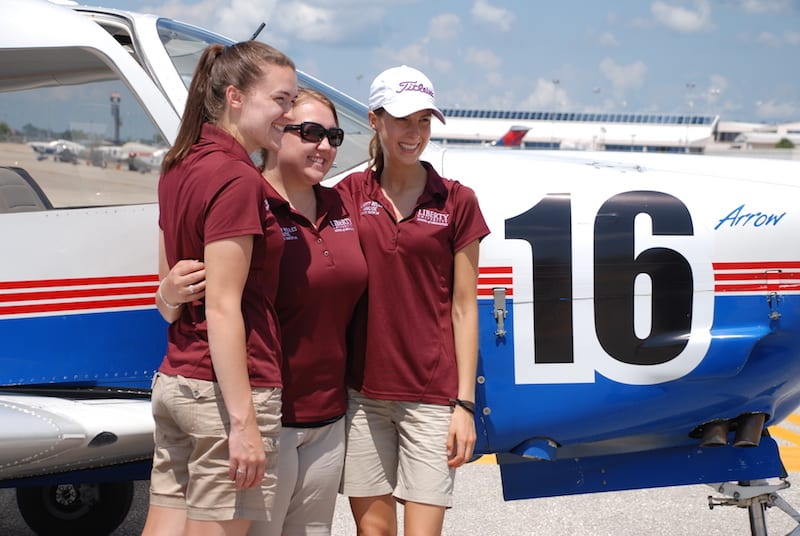 At this year's race, 46 of the racers were first-timers. Also called "baby birds," the first-time racers are assigned mother bird veterans to go to for advice.
Arlene Wohlgemuth of Classic Team 3, who raced for the eighth time this year, recalls that "on our first race, we accidentally left our charts at an airport about halfway through the race. Our Mother Birds brought them on the Terminus, but instead of simply returning them, the charts were 'auctioned' back to us."
The race is handicapped to equalize the variety of aircraft competing. Each team must carry two pieces of equipment owned by the ARC organization. A Bad Elf GPS is used to mark times for each leg of the race. A Spot GPS tracks the location of each team by team number. The Spot GPS tracker allows for live online tracking through an app and the through the AirRaceClassic.org website.
Race fans can also listen (through the website) to the teams during flybys that are broadcast by LiveATC.net.
And for the first time in its history, an experimental aircraft flew in the ARC. As a non-compete team, Stephanie Wells and Gretchen Jahn flew a Van's RV-7 on an experimental trial.