By Nancy Covert
It was a story about Germany's flying ace, the Red Knight (Snoopy's infamous Red Baron), according to Dorothy Kocher Olsen, that piqued her interest in learning to fly.
Olsen, who was resting up on a June Sunday morning for an afternoon celebration of her 100th birthday with a pair of sister flyers from the Women's Air force Service Pilots (WASPs) —shared a few of her recollections.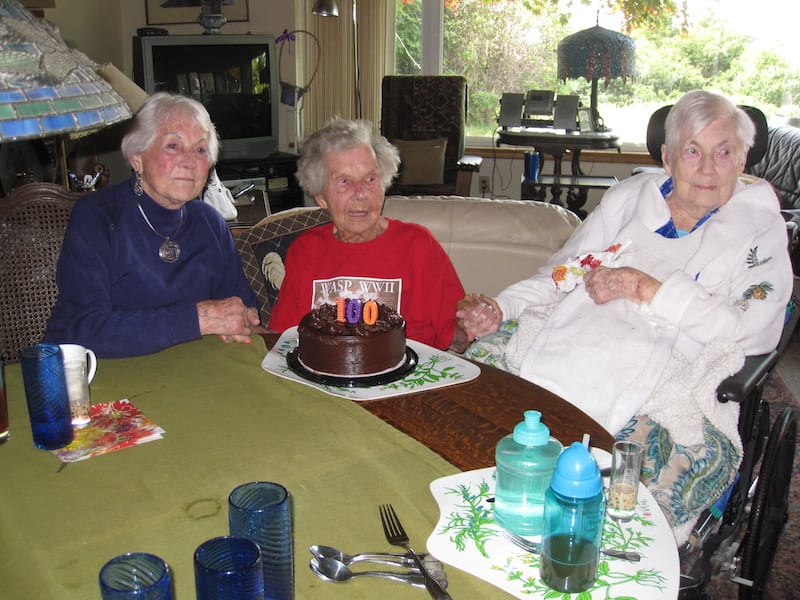 While there is currently an exhibit at Seattle's Museum of Flight about the WASPs, the female flyers had very little recognition during the war years.
It wasn't until 2010 that the WASPs received Congressional Medals of Honor. While there were about 2,000 WASPs trained, only about 100 remain with us.
After reading, many times, about the Red Baron's heroic exploits, there was nothing else this young Oregon woman wanted to do. When the notice came that Uncle Sam was seeking women to fly delivering planes, towing targets, and training other pilots, Dorothy signed up.
All she needed was 30 hours of flying experience to qualify.
"I taught dance classes — tap and ballet — to pay for flying lessons," she laughed.
She qualified, and soon was flying fighters — P-38s and P-51s. A piece of a P-38 sits on the dining room table where Dorothy gathered with sister pilots, Betty Dybbro and Mary Jean Sturdevant, family members and friends that afternoon.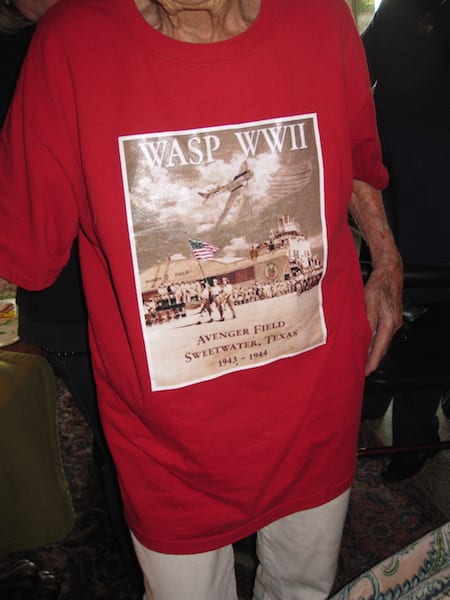 "I've hear three or four versions about that piece of plane," says her son, Kim, "each one different from the previous one."
"Mom's always enjoyed going fast," he continued. "When I was in high school I'd have to take out the spark plugs from my motorcycle, otherwise she'd take off with it whenever she could."
Although all three women, whose ages range from 94 to 100, have hearing challenges — probably a result of long-ago engine noise — they still managed to relive a number of early 1940s experiences, such as anecdotes about planes Dorothy ferried to New Jersey for shipment overseas to England.
"I loved being up in the air, close to God," Dorothy recalls.
The pilot, who was in Class 43W4, adds that, "Mother Mary was always on my wing."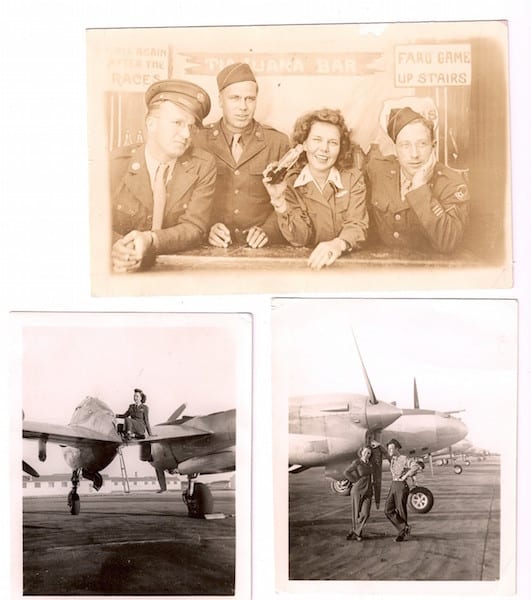 Not only did she log hundreds of hours in the air, but she notes with justifiable pride, that she was "as good as any man who made it."
"We didn't feel we were doing anything special," said Dybbro, originally from Fort Wayne, Indiana, now living in Lacey, Wash. "It's what had to be done."
After the war the women married and "went on with their lives."
After the war, Dorothy return to Woodburn, Ore. — which she says was a "perfect flying area with plenty of places to land."
She eventually married Howard Olsen, a former Washington state patrolman, and together they operated Olsen Antiques in Lakewood, Wash.
Several more birthday celebrations were planned in the coming three weeks (hey! when you reach 100 years you can have as many parties as you want), including a gala fete held July 10 at McChord AFB.
The guest of honor was especially delighted when a hangar door was opened to reveal something close to Dorothy's heart—a P-51 Mustang.
"That's my baby," Dorothy grinned. For a moment she briefly shut her eyes, rested her frail hand on the plane's metal side and remembered.