What's it take to be a firefighting pilot?
By Frederick A. Johnsen
Single Engine Air Tankers – SEATs – are a flexible tool in the ever-evolving armada of aircraft dedicated to wildfire control.
Everything old is new again – some of the first air tankers were hastily converted single-engine Stearman and N3N biplane crop sprayers in the 1950s. As aerial firefighting gained momentum, larger aircraft, including single-engine TBM torpedo bombers and multi-engine bombers of several species, populated air tanker bases.
Eventually, single-engine firebombers fell out of use. Powerplant redundancy and load-carrying favored multi-engine air tankers.
Air Tractor of Olney, Texas, poured its experience as a key designer and maker of reliable single-engine PT-6 turbine-powered agplanes into the development of the AT-802 air tanker by the early 1990s. Initially, foreign users like Spain and Canada embraced SEATs to a greater extent than in the U.S.
Since that time, variants of the AT-802 have found the sweet spot in SEAT work.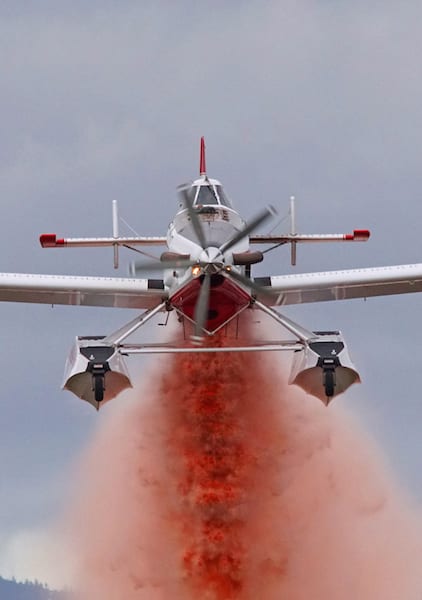 Demand for SEATs – new airframes with long anticipated lifetimes ahead of them – mushroomed following a 2002 blue ribbon panel that characterized segments of the existing air tanker fleet as aging and problematical.
Though the subsequent shake-up in the way the federal government contracts air tankers is still a topic of lively debate and diverse opinions, SEATs and their pilots have developed a rationale and a set of tactics that capitalizes on the small size and portability of tankers like the AT-802.
On a pair of drizzly spring days at Deer Park, north of Spokane, Wash., pilots and ground crews from Aero Spray converged on the airport, along with a test pilot from Air Tractor, who also contracts out as an operational SEAT pilot. Also on hand were federal inspectors. The fliers' tasks were to check out a gaggle of AT-802s and similar Fire Boss amphibians to ensure the machines were ready for the 2016 fire season, while simultaneously flying the requisite demonstration drops to stay qualified as air tanker pilots. That's an exam that happens every three years for the pilots.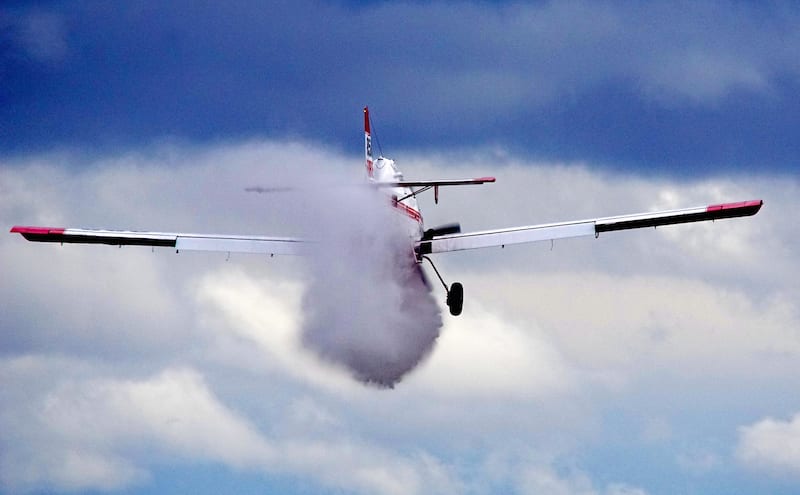 The flights consisted of a normal drop, made at an altitude intended to deliver the water or retardant to the ground in a vertical fall like rain. Release too high, and the liquid can disperse and lose effectiveness; drop too low, and the 800-gallon fist of fluid will still retain enough forward momentum to kick up rocks, limbs, embers and unwary firefighters. Tests show the right drop altitude for AT-802s at about 80-100 feet above ground level.
The pilots also had to demonstrate an emergency load salvo – something that could save the day in the unlikely event of powerplant issues or terrain difficulties on a fire.
Mike Rhodes, the Air Tractor engineering pilot, watched the flights with particular interest. His dual role as an Air Tractor test pilot and a qualified operational SEAT pilot with Aero Spray puts him at an important intersection where he can share information about operations back to Air Tractor while also giving operators in the field updates from the company that builds their machines.
At one point, the amphibious Fire Bosses departed Deer Park for a lake in mountainous terrain to the north, where the pilots could practice their mountain flying skills. Fire season is no time for schooling.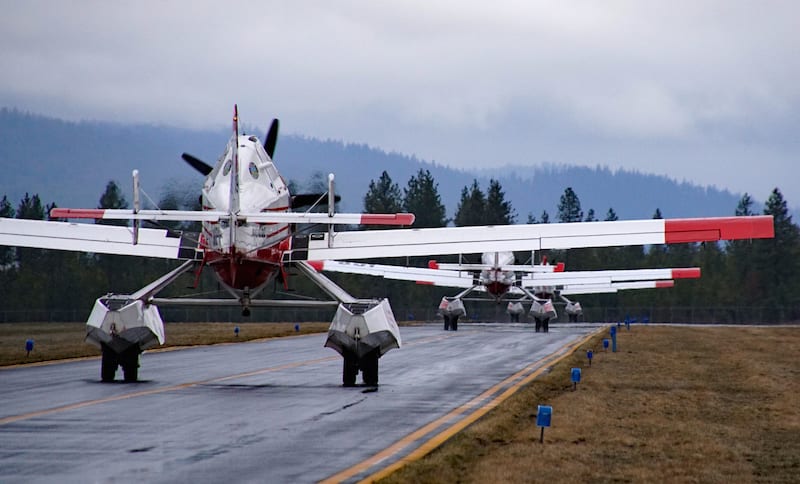 In a world where Very Large Air Tankers – VLATs – can carry 11,000 gallons of retardant, the diminutive SEATs have a niche when it comes to suppressing a young fire before it has a chance to get out of hand.
Recently, Aero Spray has been pioneering a multi-ship fire attack. AT-802s can congregate over a fire and drop in a trail. During the Deer Park check flights, as many as three Air Tractors dropped a line of retardant the equivalent of a 2,400-gallon drop by a single larger air tanker. That's a force-multiplier that SEATs can claim as their own.
The deployment of SEATs is part of a choreographed assault on a blaze. The overall effort is not to snuff a fire by dropping on it, but rather to corral it with a line of incombustibles. Retardant and water can slow the fire's spread until firefighters have a chance to clear the ground by scraping bare-earth firelines. Highways can serve as firebreaks, with retardant drop lines picking up where the pavement ends.
Rhodes explains that SEATs, especially the amphibious Fire Bosses, have another niche in the fixed-wing air tanker world. Owing to the precision with which they can make drops, plus the time-critical closeness to bodies of water for subsequent loads, Fire Bosses can switch from traditional fireline laying to direct attack, in which they place water squarely on a hot spot. This technique, sometimes thought to be in the domain of bucket-wielding helicopters, can also be used by SEATs for pinpoint structures protection and for guarding ground crews if winds shift quickly and dangerously.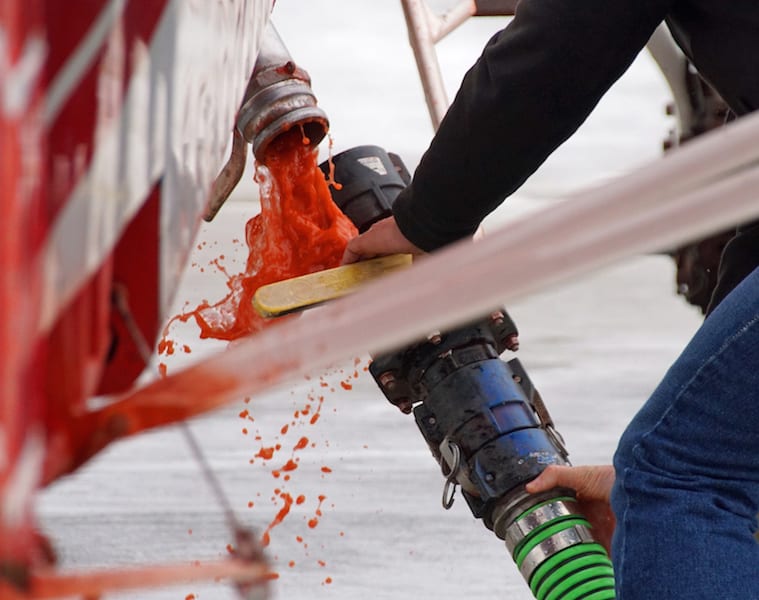 The AT-802F Fire Boss brings waterborne flexibility to the fight. A Fire Boss can take off loaded from a runway, carrying an initial load of retardant to help contain a blaze. With the retardant tank empty, the amphibious Fire Boss can skim a lake closer to the blaze and scoop a full measure of water that can be mixed with a small quantity of gel retardant carried onboard. It takes about 15 seconds for the retractable scoops in the Fire Boss' floats to ram 800 gallons of water up through pipes leading to the belly tank. The result is an initial assault with durable and effective retardant followed by rapid returns carrying water to the blaze.
Rhodes says SEATs carrying retardant can do vital touch-up work on a fireline. Sometimes two successive drops by a large air tanker leave a gap in coverage – a target just waiting for an accurate SEAT pilot to plug.
AT-802s are touted for their ability to use roads or other unimproved areas as forward landing strips, but in practice there is usually an airport with a suitable runway within reach of the fire to be fought. A loaded SEAT may break ground after a 2,000-foot takeoff roll, but seasoned pilots look for a 4,000-foot runway to give obstacle clearance on climbout where density altitude and trees are constant threats.
Aero Spray brought trailerable tanks to Deer Park to hold water or retardant. These tank trailers can be quickly driven to either an established or impromptu SEAT base.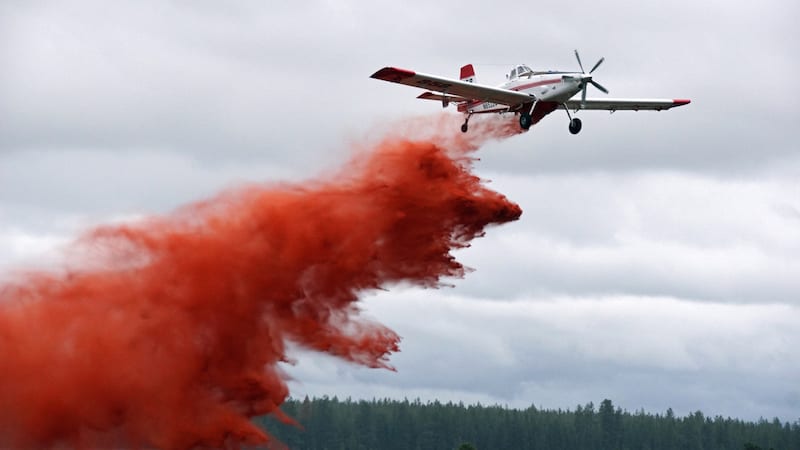 Jesse Weaver flies SEATs for Aero Spray, based out of Appleton, Minnesota. There's some exciting low-to-the ground flying in the SEAT world, and Weaver says "it's not an entry-level position."
Those who are drawn to the life of a SEAT pilot typically are "professional pilots who have ag in their background," he explains. "Most of us who fly SEATs are ag pilots."
Crop spraying puts the pilot in close proximity to terrain all day long, and that can help equip a flier to become a skillful SEAT pilot.
"Being proficient in a taildragger is important," Weaver adds.
But not all of Aero Spray's SEAT pilots came up that route; Jesse says one is a former Air Force A-10 attack jet pilot and another transitioned from larger Canadian water-scoopers.
A commercial license and an instrument ticket are requirements of the job, according to Weaver. Like so many things worth doing, the path to becoming a SEAT pilot requires dedication and demonstrated flying proficiencies along the way.
There's an irony afoot at Air Tractor these days. The company that makes purpose-built agplanes has converted an AT-802 into a low-cost ground-attack aircraft for military use. It's the exact opposite of the post-World War II tradition where military airplanes became agricultural and firefighting aircraft. Meanwhile, the company's 802 firefighters are a successful part of the fire suppression scene in the U.S. and abroad.