Garmin has received FAA approval of the G5 electronic flight instrument in type-certificated fixed-wing general aviation aircraft.
The new STC approved model list (AML) includes 562 aircraft models.
The compact G5 serves as a standalone primary source for aircraft attitude or turn coordination information while also displaying secondary information, such as airspeed, altitude and more.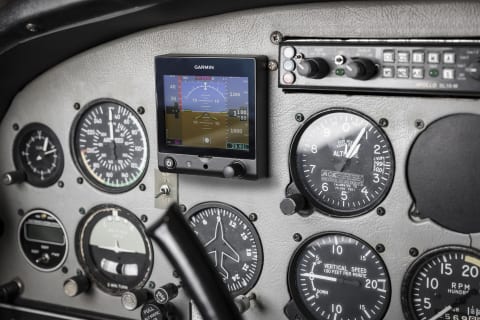 "The FAA's Safer Skies initiative identified vacuum systems and gyro failures as a significant contributor to accidents in instrument meteorological conditions among GA, and with the support of the FAA, we're excited to bring the G5 electronic flight instrument to 562 aircraft models as an attitude indicator or turn coordinator replacement," said Carl Wolf, Garmin vice president of aviation sales and marketing. "This economical installation and upgrade path revolutionizes GA by bringing modern attitude reference to thousands of aircraft that would otherwise depend on older, vacuum-driven equipment. We look forward to working with the FAA to continue to identify and address additional solutions for aging and failure-prone equipment."
In place of the aircraft's primary attitude indicator or turn coordinator, the G5 is approved for installation in either location via a Garmin-held STC for hundreds of certificated fixed-wing aircraft models. Valid for flight under VFR and IFR conditions, the G5 electronic flight instrument is an economical upgrade for thousands of aircraft owners who are seeking an electronic attitude indicator with greater dependability and internal redundancy over mechanical gyro-driven flight instruments, according to company officials.
Suitable for installation in place of a standard 3-1/8-inch flight instrument, G5 measures 3 inches in depth and includes a back-up battery so it can be integrated into a wide range of aircraft.
Installation is further simplified as the G5 only needs power, ground, pitot/static inputs and a WAAS antenna or GPS input, so it easily integrates with the aircraft's existing systems, Garmin officials said. As part of the STC, the G5 includes a four-hour back-up battery and pilots can easily reference battery status in the upper left-hand corner of the display.
Expected price is $2,149, which includes the install kit, back-up battery and STC and $2,499 with an optional GPS antenna. Deliveries for new orders are expected to begin in September.