At this week's AirVenture in Oshkosh, ForeFlight introduced ForeFlight Mobile 8, a new release that delivers ForeFlight's global data­driven aeronautical maps, featuring Continuous Zoom technology and decluttering powered by an all new map engine, built from the ground up to deliver next­ generation maps to pilots.
Also with ForeFlight 8 comes the unveiling of the Logbook Connect Platform, Flight Sharing, and Remote Signing, all enhancements that give pilots more freedom in how they access and manage their pilot logbook data.
In parallel with the advances to ForeFlight Mobile, enhancements to ForeFlight on the web include the same new data­-driven maps, fast flight plan creation, flight plan filing and briefing for North America, Bahamas, and Caribbean, and integration with ForeFlight's cloud-­based Flight Planning Engine, according to company officials.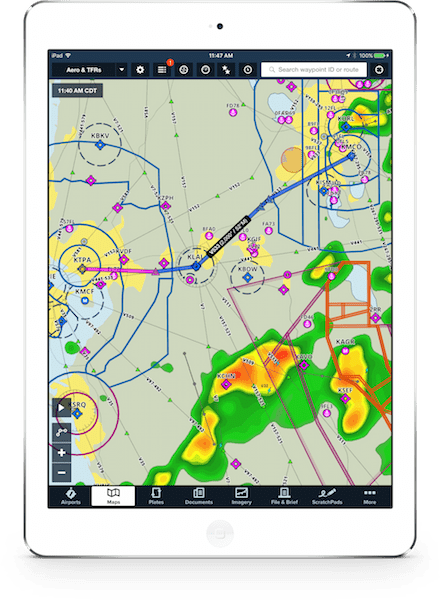 "ForeFlight's purpose is to build apps that make planning, flying, and logging a joy for both pilots and flight operations teams. ForeFlight 8 and the significant advancements on mobile and on the web do more in service to this cause than any previous release since the introduction of the iPad, and it starts with advanced next ­generation maps," said co­founder and CEO Tyson Weihs. "Our new map engine, a clean-­sheet design built by a team of remarkably talented pilots, is purpose ­built to power ForeFlight's data­-driven aeronautical maps and deliver an unparalleled experience across mobile and the web. This is the future of aeronautical maps, and there is nothing else like it on the market today."
ForeFlight Global Data ­Driven Aeronautical Maps
Map elements such as airways, airspace, navaids, communication data, obstacles, Flight Information Regions, Air Route Traffic Control Center boundaries, and airports are each independent elements that are drawn from data.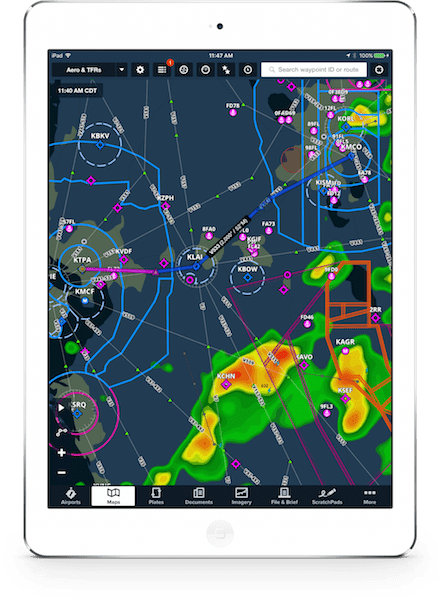 ForeFlight's Continuous Zoom technology renders and scales map elements when panning and zooming without having to load or refresh. Map elements and text fade in and out without losing quality or legibility as the zoom level is adjusted.
Useful information can be found at any zoom level. For example, when viewing the entire United States, major airports and ARTCC boundaries are shown; when zooming in, Bravo airspace, VORs, waypoints, airways, and smaller airports and heliports materialize on the map.
ForeFlight airport diagrams are now directly integrated into the map. Pilots can zoom in and view aircraft position on runways and taxiways, and also see FBO locations, without having to switch app views or open the published airport chart.
ForeFlight's data ­driven maps are offered in the Basic Plus and Pro Plus subscription plans on both mobile and the web in addition to raster map layers like VFR Sectionals and IFR High and Low Enroute charts.
Expanded Planning On The Web
ForeFlight on the web offers a full desktop flight planning experience and now includes the new ForeFlight Aeronautical Maps, more robust route planning and airport information, briefing features, and flight plan filing to more regions, company officials noted.
With the added benefit of real­time sync to mobile devices, customers can plan and file when and where it is most convenient.
Customers will now see familiar Route Editor and Navlog views that make it easy to build and edit a route using text input or rubber band planning. ForeFlight's auto­complete search engine returns results as fast as you type based on waypoints, navaids, airport names, routes, and city names.
Just like on Mobile, Route Advisor is available on the web, allowing pilots to enter departure and destination identifiers into the Route Editor, then display available route suggestions, including airways, recently cleared ATC routes, preferred, and tower enroute control routes. When the desired route is selected, the waypoints are instantly dropped into the navlog.
Aircraft Profiles are also accessible on the web. Customers can select an aircraft for the flight, modify performance details on the fly, add a cruise altitude, and a departure date and time. A route summary at the bottom of the Route Editor shows total trip distance, fuel burn, ETE, and headwind/tailwind components at the selected cruise altitude.
Another enhancement to the web is the ability to file flight plans and to generate Graphical Briefings. ForeFlight's Graphical Briefing transforms the standard text briefing information to make for better readability, company officials said.
The ability to file flight plans from the web gives customers more flexibility. All of the same filing features as Mobile are available via the web, like the ability to amend and cancel IFR plans and to activate and close VFR plans.
Expanded Flight Plan Filing Capabilities
ForeFlight Mobile and ForeFlight on the web both support expanded VFR and IFR flight plan filing options. In addition to US VFR and IFR plans, customers can file intra­Canada VFR as well as IFR for all of North America, Bahamas, and the Caribbean.
TFR Alerts
ForeFlight also introduced TFR Alerts. A recent FAA working group concluded that the most significant factor in the reduction of TFR incursions was the greater prevalence of EFBs in the cockpit and the graphical depictions of restricted airspace.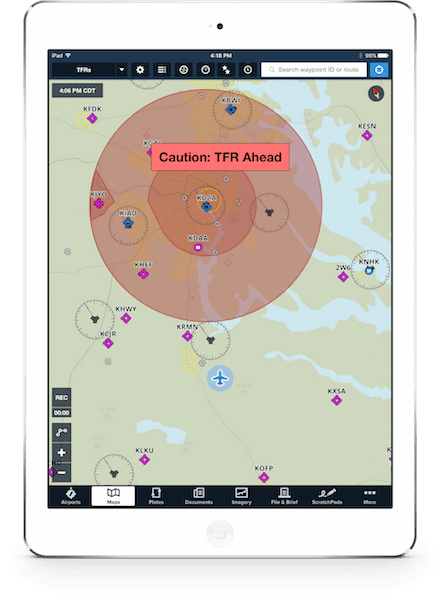 TFR Alerts takes existing graphical and textual information a step further with audible warnings and visual messaging overlaid on the moving map that alert a pilot when they are approaching a nearby TFR as well as when they cross into the TFR.
ForeFlight Expands Connectivity with Garmin GDL39 Portable ADS­-B Receivers
With the release of ForeFlight 8, the ForeFlight Connect program expands to include the Garmin GDL 39, 39 3D, and 39 R ADS­B receivers. When connected to a GDL 39, ForeFlight Mobile customers can now wirelessly receive and display the full suite of ADS-­B weather information, traffic, and precise GPS data.
The GDL 39 3D, with its internal attitude sensor, powers pitch and bank information in ForeFlight's Synthetic Vision, adding valuable backup attitude capability.
Availability
ForeFlight 8 will be available for download on the App Store in August along with the new features on the web.