During the Aircraft Owners and Pilots Association Fly-In at Beaufort, N.C., in May, I found what appeared to be the oldest aircraft on the ramp, a Cessna 180 Skywagon.
The paint was worn, the interior threadbare, but clean, the panel a monument to steam gauges excepting what looked like a new Garmin navcom unit.
I wanted to know more about the plane and put a General Aviation News business card in the window with a note to the pilot.
A minute later, even before I could get away from admiring the aircraft, the pilot showed up. She was Katie Pribyl, a member of the AOPA headquarters team directing the fly-in. I explained my interest in her plane and she told me about it.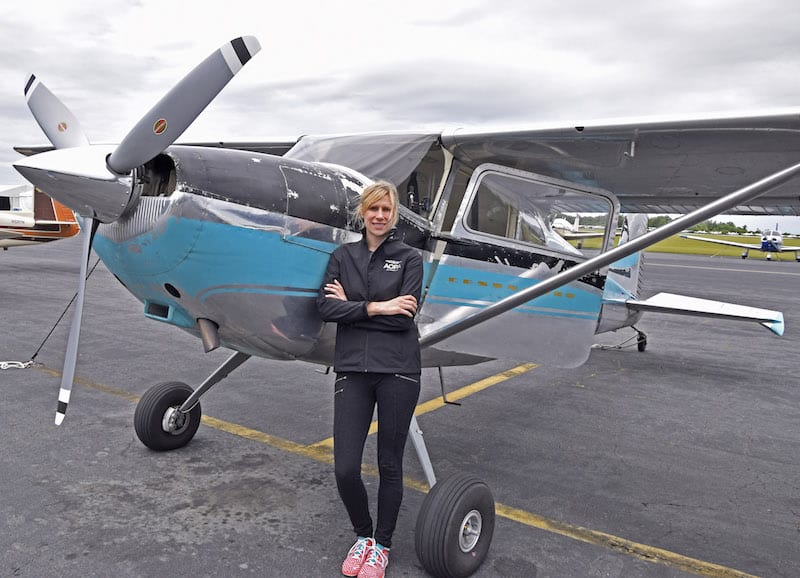 She said N7622A, a 1956 Skywagon, was in New York state when she found it advertised on eBay. She looked it over and bought it.
"It was up in Ithaca and had less than 1,500 hours on it," Pribyl said. "It is pretty much all original. It has the original engine (O-470K), original paint, original interior and pretty much all original instruments."
Last fall she updated the panel to make room for a Garmin 430 WAAS-certified unit.
Two-Two Alpha, Pribyl's plane, has a friendlier-sounding nickname in her inner flying circle. Her classic taildragger is known as Buck. That nickname came from one of Katie's AOPA colleagues. He refers to N7622A as Buck Eighty, shortspeak for $1.80 or 180.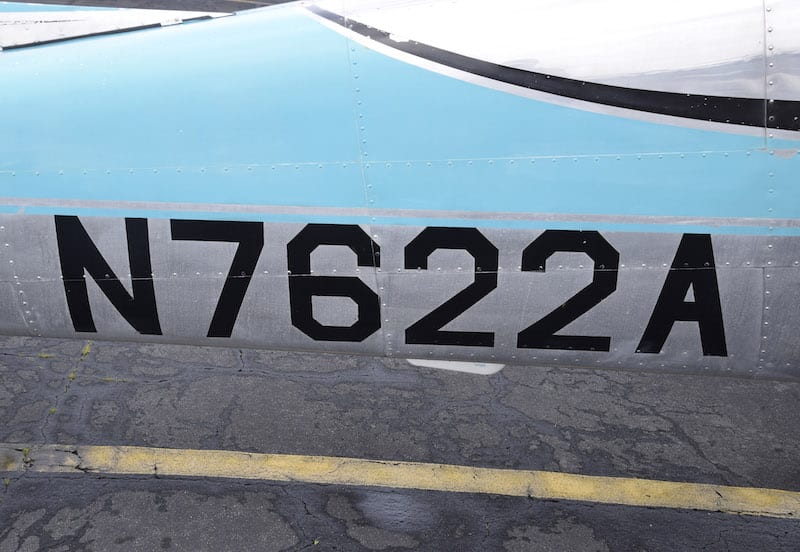 A secondary source for the nickname was Katie's observation that in relearning conventional gear flying, the 180 Skywagon's springy landing gear legs reminded her of a bucking bronco.
"It has been a wonderful learning experience," she said. "I feel like I have taken my flying to another level. It has not only been a challenge, but it has expanded my flying skills and confidence in any aircraft."
Cessna's 180 model prototype was tested in 1952 as a beefed-up 170B tailwheel model with a Continental O-470-A 225 horsepower engine. Production began in 1953 and continued until 1981. More than 6,000 180s came off the production line, and the Skywagon has become an iconic backcountry aircraft that has held its value through the years.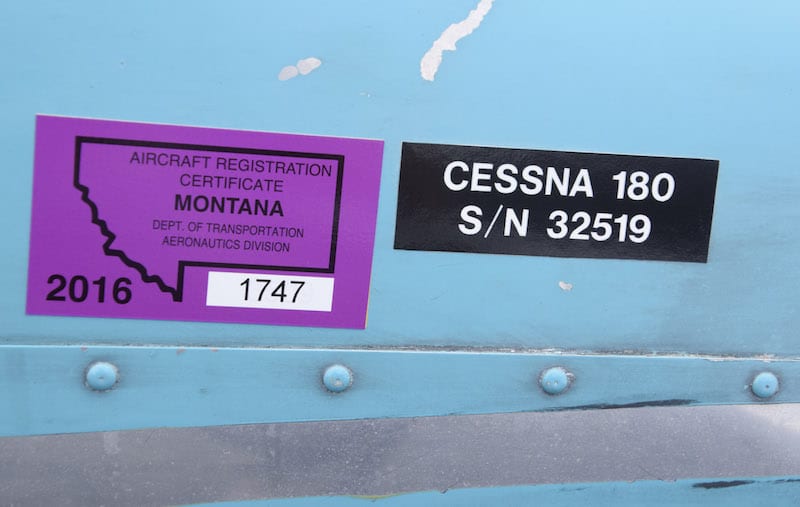 Pribyl's plane may have come most recently from the East, but it also has deep roots in the West, in her Montana home south of Great Falls. The Pribyl family ranch dates to 1889, the year the Montana Territory was admitted to the Union as the 41st state. The 8,000-acre spread is now run by her parents, Rod and Julie Pribyl. She is the only pilot in the family. Her sisters Jennell and Erica still live in Montana.
"We run about 500 head of cattle on our ranch," she said. "My dad graduated from Montana State University and came back to the ranch. Since I was a kid I wanted to be a veterinarian, but I got a chance to fly to Japan on a 4-H trip. I caught the bug flying overseas. My mom thought it was a phase; my dad thought it was the best thing in the whole world."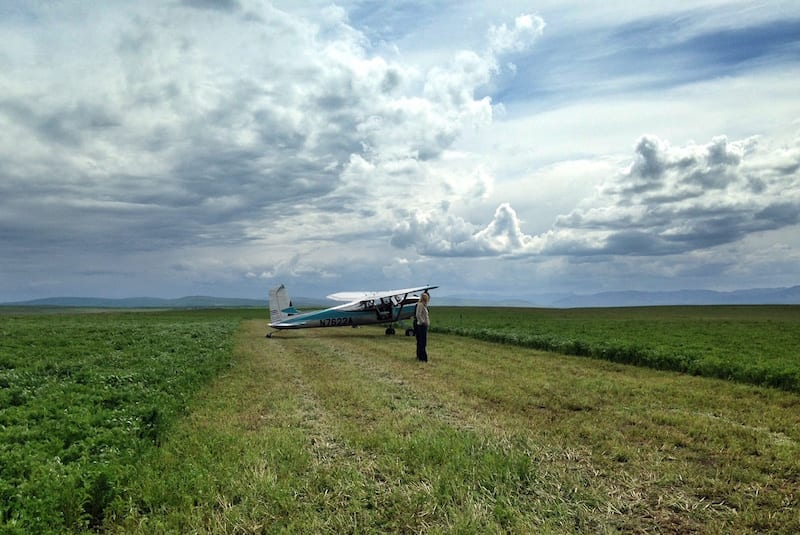 She said her start in flying was aided by a $500 scholarship from Blue Goose Aviation owner Joe Kuberka of Polson, Mont. After her 1997 graduation from Centerville High School outside Great Falls she went on to Embry Riddle Aeronautical University in Prescott, Ariz, where she finished in December 2000.
"I got my ratings up to CFII," she said, "then went with a regional airline right after graduation flying a Bombardier CRJ 200 with Atlantic Coast airlines for five years."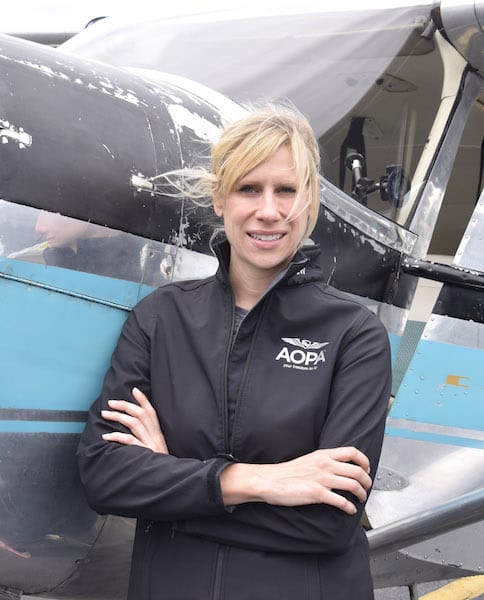 By the time she left the airline, she had logged about 3,600 hours. She now averages between 100 to 200 hours a year.
"After the airlines, I decided that was my time to make an impact in aviation in a more direct way," she said. "I was based at Washington/Dulles at the time."
After two jobs in the aviation industry, in aviation safety and representing aircraft manufacturers, she joined the AOPA management team four years ago. Her official title is Senior Vice President, Communications.
"I love being in general aviation," Pribyl said. "It brought me to my 180. It takes me home. I have two passions: Flying and Montana. This 180 gives me the ability to keep my feet in both camps."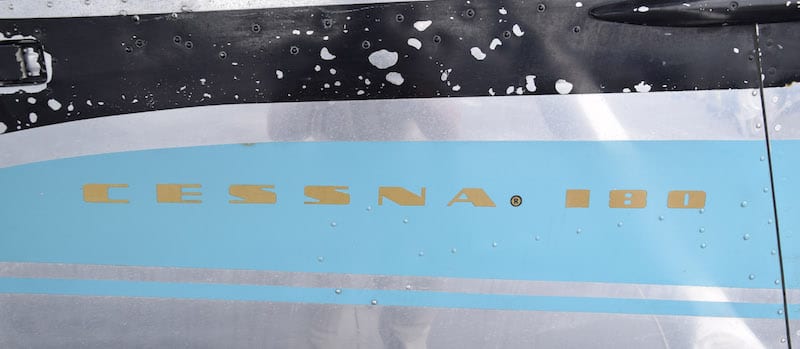 She flies from AOPA headquarters in Frederick, Maryland, to Montana and back about once every six months. The Montana flight usually covers two days.
"I enjoy stopping in Minnesota for the overnight where I have family and good friends, especially at Anoka Airport," she said. "From Minnesota, I usually fly through South Dakota and always make a fuel stop at Baker, Mont., on the Montana-North Dakota border and see my good friends Roger and Darin Meggers at Baker Air Service. They are known for their rebuilding of Cubs, but they are the best around with any tailwheels. Buck had his first annual at Baker Air Service and I hope that doesn't ever have to change. They are wonderful people and amazing at what they do!"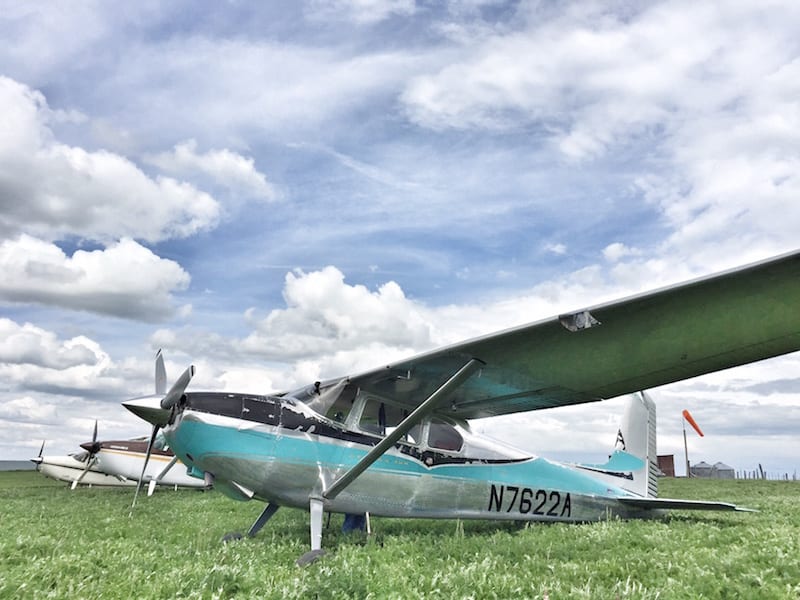 There are changes coming at the Pribyl ranch to accommodate Buck, she said. She and her father have roughed out a 1,500-foot by 30-foot airstrip in a hay pasture. The strip is in approximately the same area her grandparents landed in 1927 after a first flight back from Great Falls, she noted.
"They took that flight the same day Charles Lindbergh was flying to Paris," Pribyl said.
"The ranch and the strip are about an hour south of Great Falls off the Smith River, which has some of the best flying fishing in Montana," she said. "My dad and I put the wind sock up in February. We cut the strip, rolling it and preparing it and I'm planning on Buck to take care of the rest."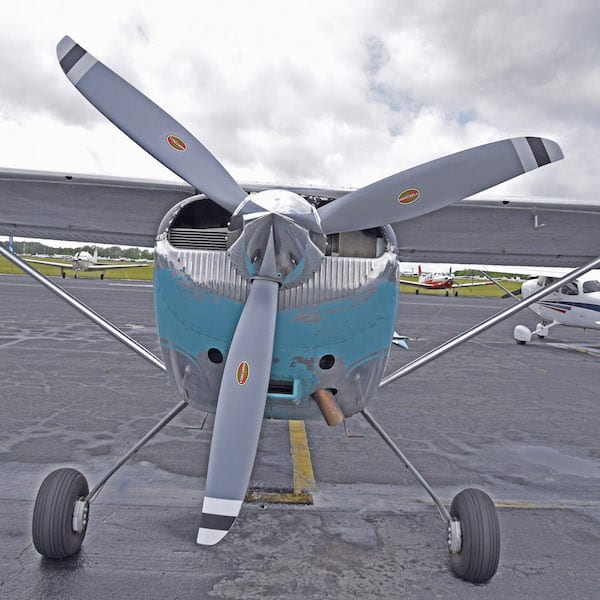 To better handle the challenges of the 1,600-mile trip from Frederick to the Montana ranch Katie said she is progressively upgrading her aircraft. She now flies behind a three-blade Hartzell prop and there is an autopilot in Buck's future.
"I do a lot of single pilot (IFR) flying," she said. "I came down here (to Beaufort, N.C.) in the weather. It was hard IMC the whole way and autopilots are a good safety feature."
"I want to keep the plane as original as possible," she said. "I am trying not to load it up with extra weight. In the first couple of weeks I had to replace the generator and put in a lightweight starter. I also had to replace the prop in the first year. I chose the three- blade Hartzell and I am so happy with that decision. It helps the climb performance."
The main improvement this summer will be the interior, she said.
"I'm going to keep it as original as possible," she said. "Again, keeping it as lightweight as possible. And then the next big program will be next year to polish it and repaint it in the original scheme."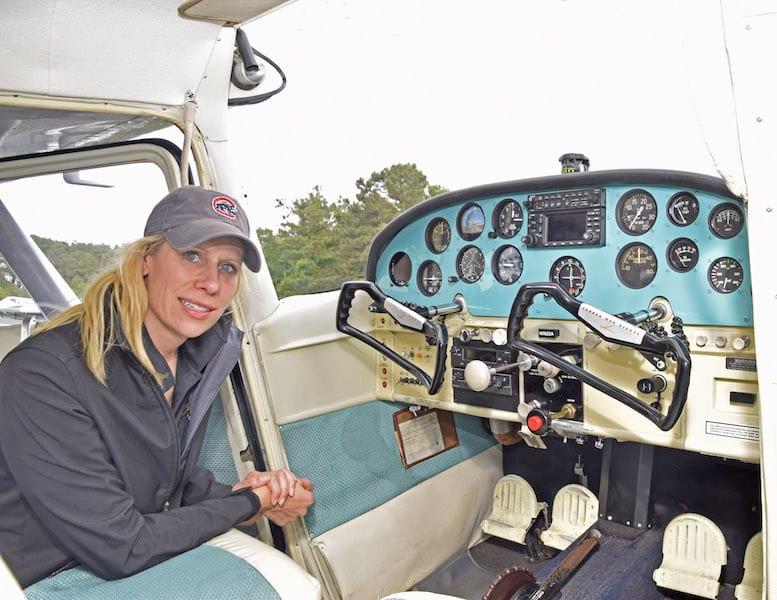 She said she has adjusted to the differences in Eastern and Western flying.
"Altitude makes a big difference," she noted. "On the East coast, there are lots of places to put down. With that comes a lot more traffic. In the West, there are a lot fewer places to land. I have 55 gallons usable and plan for 13 gallons an hour. On cross countries I fly at altitudes to take advantage of winds, like most pilots do. I'm usually flying between 2,200 and 2,300 RPM with 22 inches manifold pressure. And that gets me about 140-145 miles per hour indicated."
At AOPA Pribyl wears several hats.
"I have taken on the You Can Fly program," she said. "We are focusing on building a community of pilots. We have our Rusty Pilots Program, our flying clubs, flight training initiative and our new high school program. Those are things I have a lot of passion for. We are trying to build thousands of new pilots every year."