Dispatch from KTYQ, Indianapolis, Indiana: Holy crap my airspeed is good. I'm pushing the yellow arc. In level flight.
The two latest speed mods are paying off in spades. I'm 600 feet up, low enough that the lush, vibrant greens of the Indiana countryside seem to be flashing by beneath my wings.
High above, and to my right, is my target. I'm closing in on him. Edging up under him steadily, gradually.
We're not even to Turn One and I'm about to catch the Skycatcher, a plane with a rated max speed more than 20 mph greater than mine. The day is looking up.
Maybe I'm not going to get slaughtered after all.
A bad day
The speed, the sun, and the closing gap between me and the airplane ahead are washing away last night's depression. I'm not prone to the blues, but yesterday truly sucked and left me down.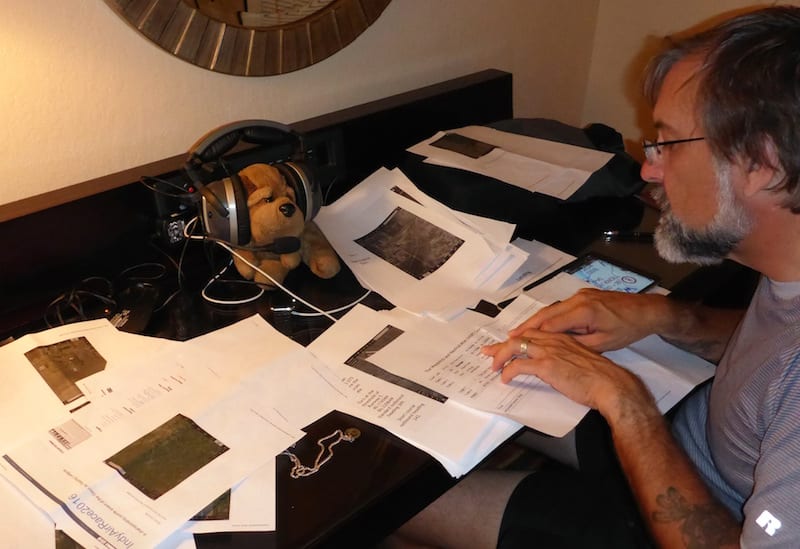 It started at 3:45 a.m. with a two-hour drive from my home to the Albuquerque International Sunport.
From there I flew — as a passenger in the last row of a Boeing 737 — to Kansas City, where I changed planes for Indianapolis. The next leg of my journey was by rental car, from the "big" airport at Indy to the smaller Indianapolis Executive, 20 miles north and well outside of the international airport's Class C airspace.
It was there that we'd left Race 53 after the AirVenture Cup and Oshkosh because it didn't make sense to fly 1,000 miles home and then turn around and fly back over the same 1,000 miles the next weekend.
At least it doesn't make sense in a 100-mph airplane. If I had a 299-mph Cobalt Co50 Valkyrie, it might be a different story.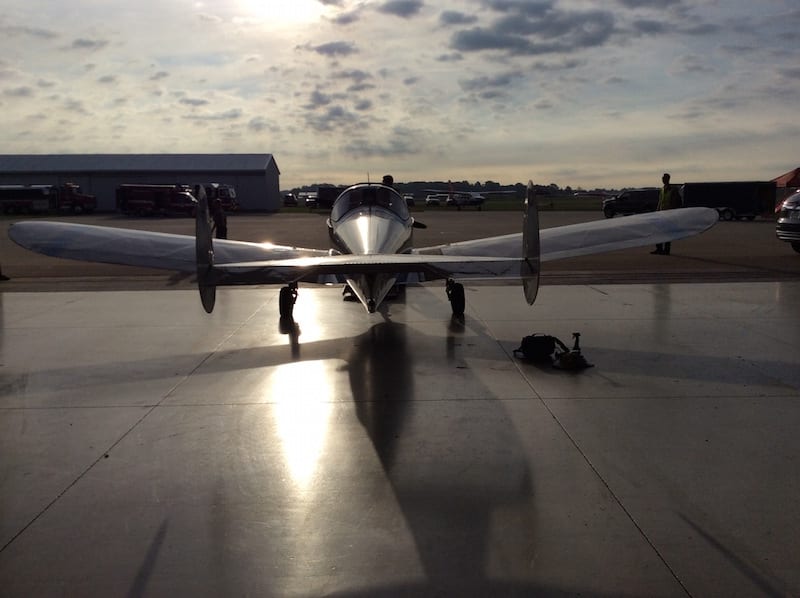 Arriving at Race 53 for a practice run of the course 14 hours and two time zones after my day started, I found the fuel order I had left the week before had been scrambled and her wing tanks were still nearly dry, plus I had an email from the race director Linda Street-Ely with updated coordinates.
While the linemen fueled up Race 53, I transferred coordinates from my iPhone to my iPad in the FBO lobby. I was tired and in a pissy mood, but it wasn't the travel or the fuel issues feeding the dark cloud in my mind. It was the race lineup.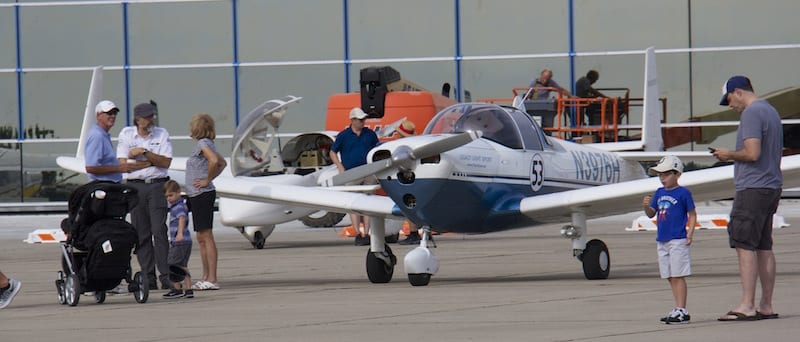 There were now four planes in my Class, and at a glance I could tell that I was at a triple disadvantage. If the other three bested me, I'd get only 55 points for the race, placing Team Ely a full 95 points ahead, a lead that would be insurmountable unless they missed a race, which was not likely, given their team is made up of two instrument-qualified pilots. It looked like I'd suffer a second defeat in a row.
Out on the practice course I had a hard time spotting the turn points, mostly grass strips that so closely matched the fields surrounding them that they might as well have been camouflaged by military experts.
By the end of the day I was ready to give up air racing and join the circus.
The turning of the tide
Runway 05 at Sheridan is sliding under my nose. The Skycatcher hasn't turned yet. I'm almost directly below him now. My left thumb hovers over the mike button. He's a good 800 feet above me. Nearly time to turn…He starts his turn and makes his call.
I snap Race 53 sideways, calling "Race five-three, turn one," as the airport cartwheels below my wing and the familiar G-forces push me back in my seat. I hold the bank tight through the 134° turn, nearly doubling back on my course, then snap level, my long-legged full span ailerons making magic of the rollout.
This plane loves a steep turn.
I look up, and to my surprise, the Skycatcher is headed off in the opposite direction. Huh? I double-check my course. One of us is wrong.
And it isn't me.
A change of fortune and mood
I don't know what's up with the Skycatcher. I guess he decided to fly the long course, which is allowed so long as you clear it with the race director. My most closely-matched competitor scratched, pulling out of the race before it started, and the fourth plane in my Class is lagging behind me. At each turn the time between my passing and her radio call grows longer.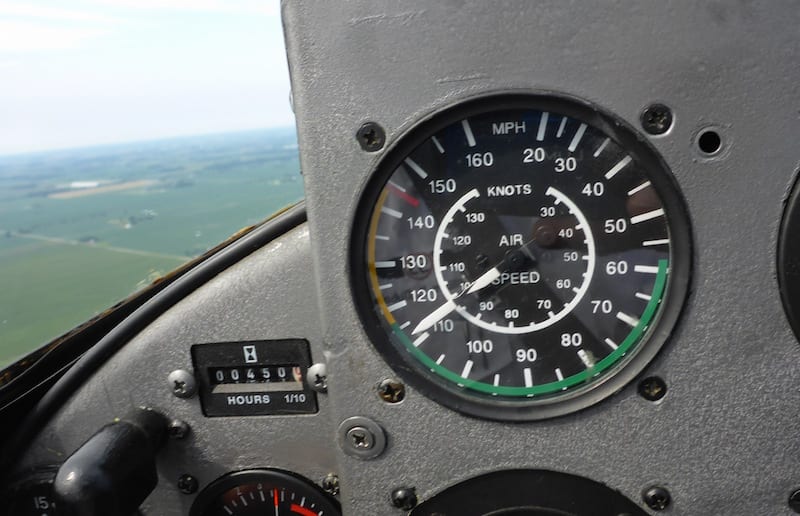 I'm positively buoyant. In a matter of hours, certain defeat is turning into possible victory. Screw the circus. I love air racing.
Of course, with the Skycatcher off on the other course, I have no way of knowing if I'm ahead or behind him in speed, but based on how quickly I caught up, it's possible I can beat him. This is speed country. Home of the Indy 500. Throttle full forward, engine growling, airspeed indicator higher than I've ever seen it, and a tailwind on the long leg of the course adding 20 mph to my groundspeed: I'm loving it. I feel like the king of the world.
I might actually win this race, instead of falling impossibly behind. If I took first place in my heat, I could close the gap between me and Team Ely to 30 points, making it possible to catch them and topple them off the top of the winner's podium this fall.
"Race five-three, turn six."
Party time
I call "Race five-three, two-mile finish," then dive to 250 feet to be well under the traffic pattern when I cross the finish line midfield. It's a busy airport. I can see the golf cart the timers are sitting in.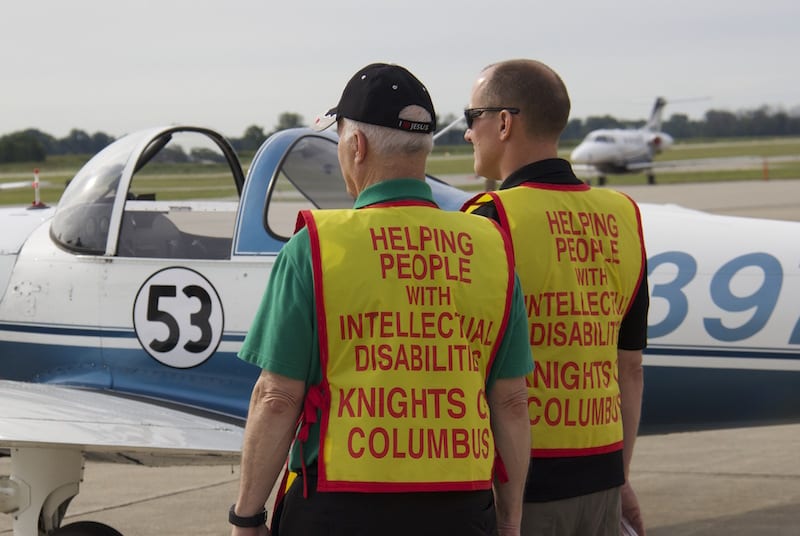 As I roar over, there's an explosion of color off my left wing. Royal blue. Bright yellow. Fire engine red. Lime green. Electrifying purple. A half dozen inflatable slides and bounce houses cover the grass between buildings. It's a hell of a party down there.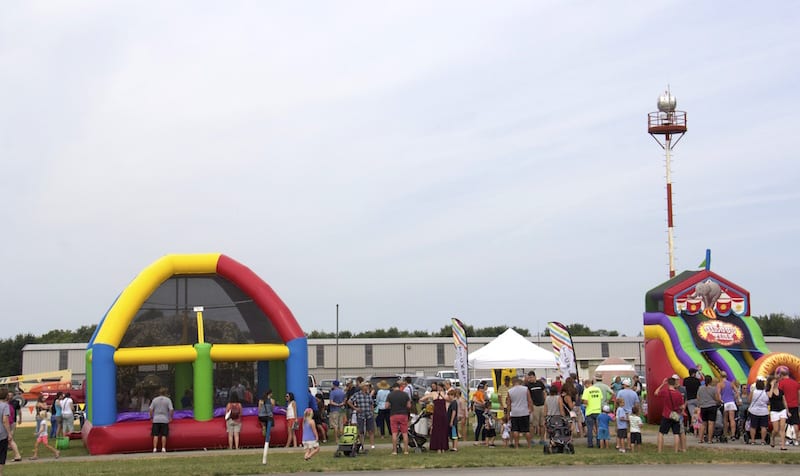 There's food, and magic, and face painting, and skydivers, helicopter rides, and food, food, food. The Boy Scouts are bivouacked next to the north apron and planes of every description fill the ramp.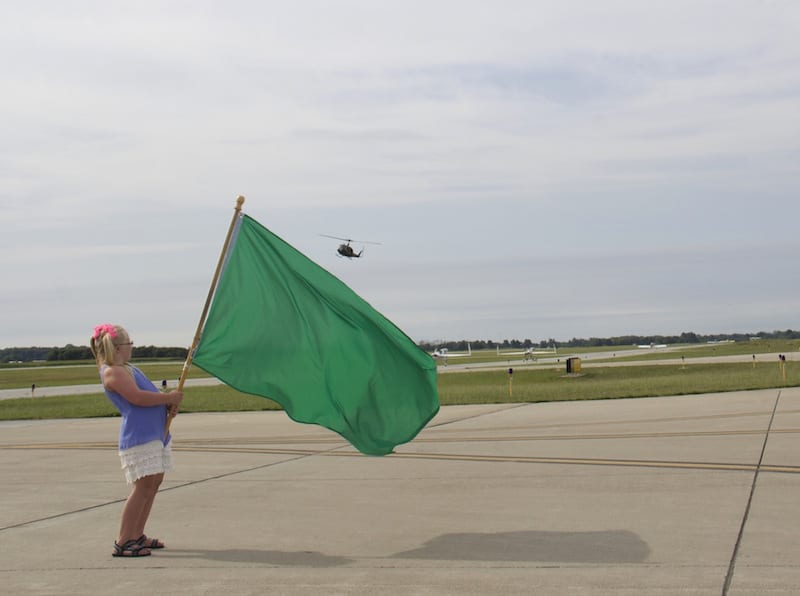 Yeah, this is no ordinary air race. It's being held in conjunction with Montgomery Aviation's 10th Annual Open House, in support of Down Syndrome Indiana. Men, women, and children fill the airport grounds: More than 3,000 of them turned out for this year's event.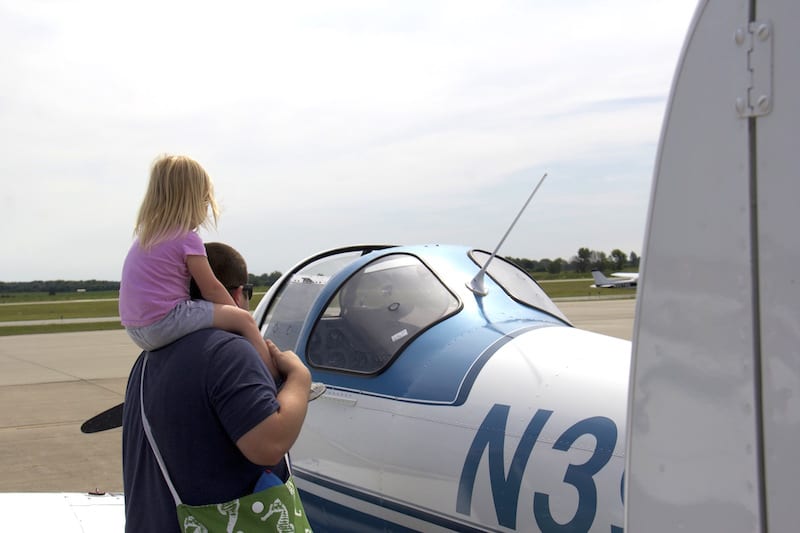 Across the runway, I pull up and make my signature wing-wag before entering the pattern to recover.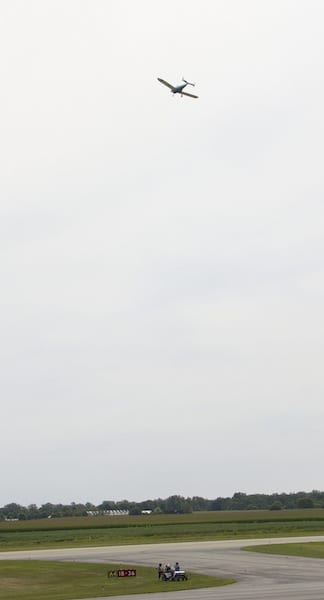 After landing and rollout, the linemen guide me into race parking and I shut down. Before I can unbuckle my seat belt, an event organizer is at my wing. "Are you ready?" he asks.
"It's almost time."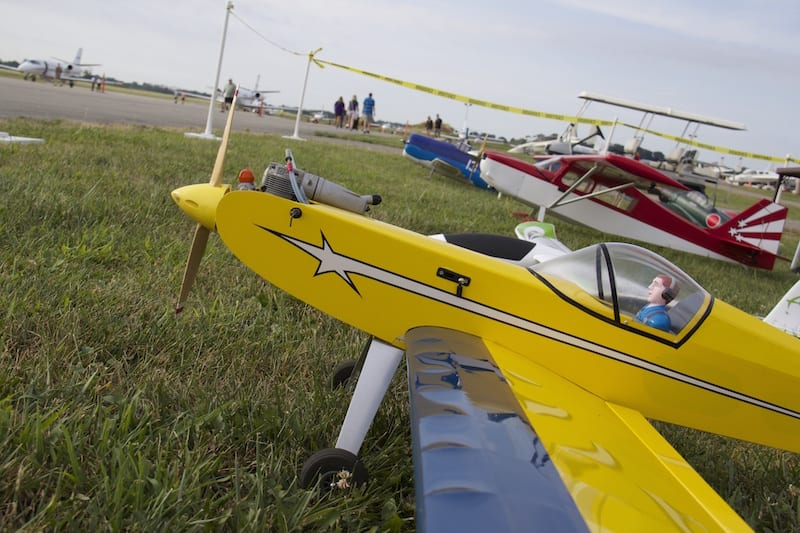 Candy Drop
The streamers are lemon yellow and royal blue. Each about a foot long. Taped to the end of each is a single piece of candy. Hershey kisses. Laffy Taffy. Mini Kit Kats and Tootsie Rolls. Salt water taffy in a rainbow of colors.
All ordinance for Operation Candy Drop.
The streamers fill two giant boxes. During the briefing before the race I volunteered to participate in the Candy Drop for the kids because I knew the design of Race 53 made her perfect for the mission. I can fly with my canopy either partly or fully open, while most of the race fleet has no way to open their glass in flight.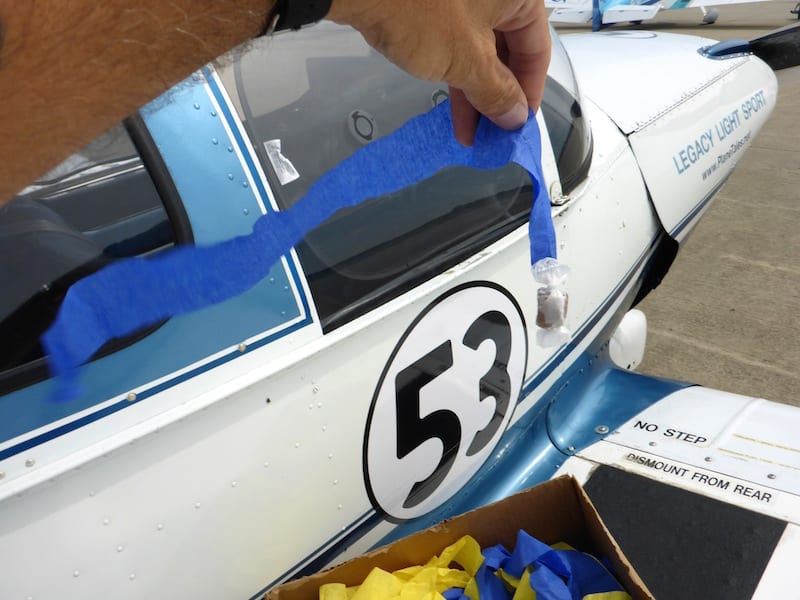 The only other plane suited for the task is Team Ely's Grumman Cheetah. Its canopy can be slid back about half a foot or so in flight. Mike Ely also raised his hand to volunteer.
But now, hours later, looking at the heaps of candy, I'm starting to worry.
I've never thrown candy out of an airplane before. We'll be too high to be able to nail our position over the taxiway to my level of comfort. Too far to the right and I'll shower all the candy down on the roofs of Montgomery Aviation's massive hangars. Too far left and I'll cover the runway with candy. If we start releasing too early, the candy will all fall short of target. Too late and it all goes down range.
There's a lot to worry about.
Lisa Bentson, who'd been on the ground acting as photographer, stows her camera and jumps into the cockpit as my bombardier, the big bag of candy on her lap, and another boxful behind our seats in the bomb bay, a.k.a the luggage compartment. The linemen clear the crowd away from Race 53 and we fire up the engine.
As the Cheetah is faster than the Ercoupe, Mike Ely takes the lead. We taxi out and lift off, heading north and orbiting until the National Guard chopper giving helicopter rides to the kids clears out of our target zone. Mike orbits in a lazy square, while I cut the corners to keep up with the faster plane.
Then it's time. Mike begins his run. I chop the throttle and follow him down. The glistening red and white plane crosses the threshold. He looks dead on target, but nothing happens. I hear Mike calling over the radio for his copilot to release the candy, but I don't see anything.
I don't have any time to worry about it: It's our turn. We're entering the target zone. Lisa starts heaving handfuls of streamers out the window. The streamers snap and slap like angry snakes, fighting to stay in the plane. We're dead over target now, and we're not getting enough candy out.
I reach over and give a massive push on the bottom of the bag, in the process lifting it up and hitting Lisa in the face with the billowing mass of candy, briefly knocking off her headset, hat, and glasses. For a second the cockpit is a snow globe of yellow and blue. Then the tangle of streamers is sucked out of the plane and it's over.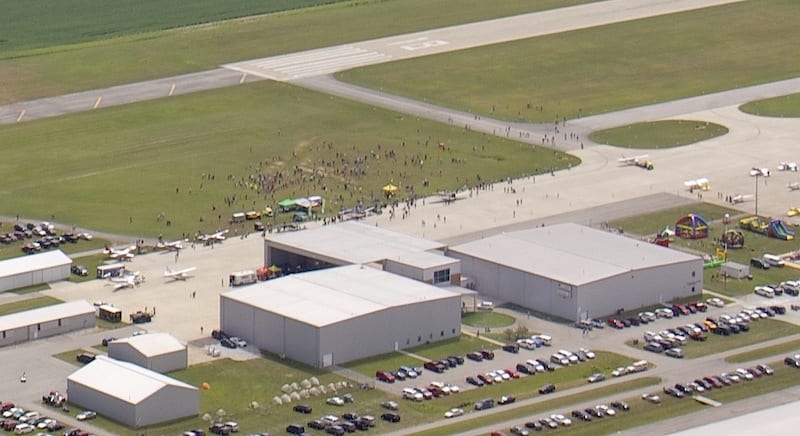 It all happens so fast, and there's so much to manage in flying the plane, I don't even have a chance to look over my shoulder. I have no idea how we did.
Mike radios that they had some trouble with their canopy and they didn't get much out. He wants to make a second pass. I'm game — we still have the box in the back.
"Negative," comes the call from the ground. "We've got children everywhere." As we pull back into the traffic pattern we see a swarm of moving dots covering the target zone.
We've scored a perfect bulls-eye.
The Awards
I'm choking down a dry bratwurst. I forgot to put mustard on the bun and the awards ceremony is starting in two minutes, according to the announcer. I still have no idea if I came in first or second in my three-plane heat.
We're in the shade of Montgomery Aviation's giant all-weather arrival and departure canopy —a "car port" you can park a large jet in. Children are running to and fro through the tables, loud music is playing, and the announcement comes that Princess Sofia will be leaving soon.
The special guest announcer starts the air race awards ceremony and works her way through the Classes, fastest first, slowly working her way down to my group. I'm actually nervous. "And in Factory Six," she finally announces, "in first place''— I cross my fingers —"is William Doo-blah-i-ous… Uh… Did I pronounce that right?"
Hell no. But I don't care. I'm elated as I walk up for my trophy. "Doo-bwa. But close enough." Anyone announcing me as a first place winner can pronounce my name any way they want.
My speed? 116.79 mph, our best Sport Air Racing League-course race speed yet! (We had a higher AirVenture Cup speed, but that was a one-way race with modest tailwinds at our altitude.)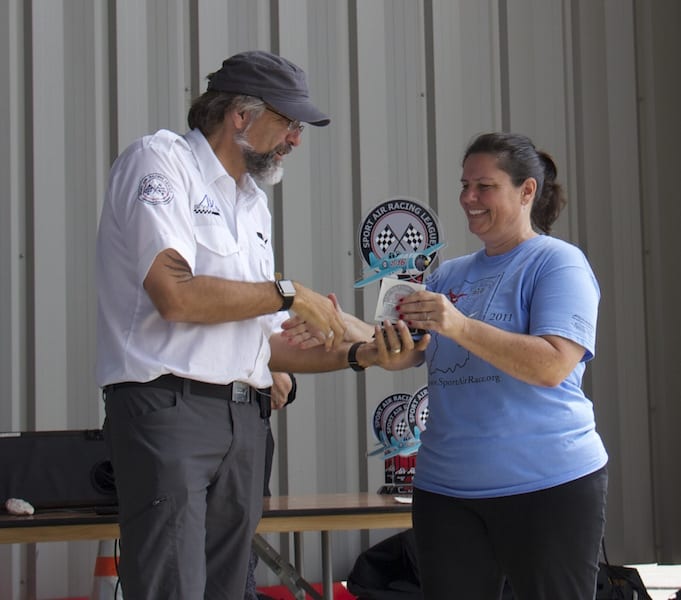 Cleaning up our airframe with the addition of a nose wheel fairing and the elimination of our old vacuum system venturi — both changes reducing drag — have moved us close to the top of what's possible for our model of Ercoupe.
A race that started out looking like bad news for Race 53 had an unexpectedly good outcome.
My League Points: 930. The night before the race there were four planes in my Class on the League website. One scratched. One, as it turns out, was mis-classified and later moved into its proper Class. The Skycatcher aborted, after getting lost on the course, but I still got 10 points for besting it.
As to Team Ely, Linda stayed on the ground in her role as Race Director, but her husband Mike flew Race 55, unopposed, garnering 100 points and raising the team's point total to 970, holding their slot at the top of the league leaderboard.
My League Standing: As Jeff Barnes and Race 411 couldn't make it to the race, I have the second-place league standing all to myself again. I have closed the gap with Team Ely to 40 points.
After the competition between the Elys and I, the fight for the Experimental Gold Season Champ is the next closest race, with Ken Krebaum of Race 118 only 60 points behind Barnes. There are six races left to go in the season.