A student attending the University of North Dakota has been selected to receive the first Henry Ogrodzinski ("Henry O") Scholarship Award established by the National Association of State Aviation Officials (NASAO).
The $1,000 scholarship will be presented later this month to Jordan Aritt of Minnesota.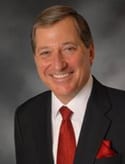 The scholarship program was created and named after Ogrodzinski, who was president of NASAO from 1996 – 2014, in honor of his many years of dedicated service to the association.
"Henry O and I were friends for 20 years," said Greg Principato, current NASAO President and CEO. "I never knew anyone more passionate about aviation, and its future. I think Henry would be so pleased that a scholarship in his memory was created to keep that passion alive, and I also know he'd be so proud that a student of the caliber of Jordan is its initial recipient."
As a student at the University of North Dakota (UND), Aritt plans to graduate with a degree in Unmanned Aircraft Systems.
In coming years NASAO plans to offer three scholarships per year of up to $1,000 each.
"This is just the beginning," said NASAO Chairman Gary Cathey, Aviation Division Chief for CalTrans. "We fully expect that this will be the first of many more scholarships to come in future years."