A rare and sometimes blinding sight awaited visitors to the Vintage aircraft parking area at the Experimental Aircraft Association's AirVenture 2016 as likely the largest-ever gathering of Spartan Model 7W Executives were featured in the front row to celebrate the type's 80th anniversary.
Eight of the 20 remaining examples of the original 34 produced were together at Oshkosh this year, and since most of the rare planes are polished to a mirror finish, they were almost impossible to look at and photograph in bright sunlight.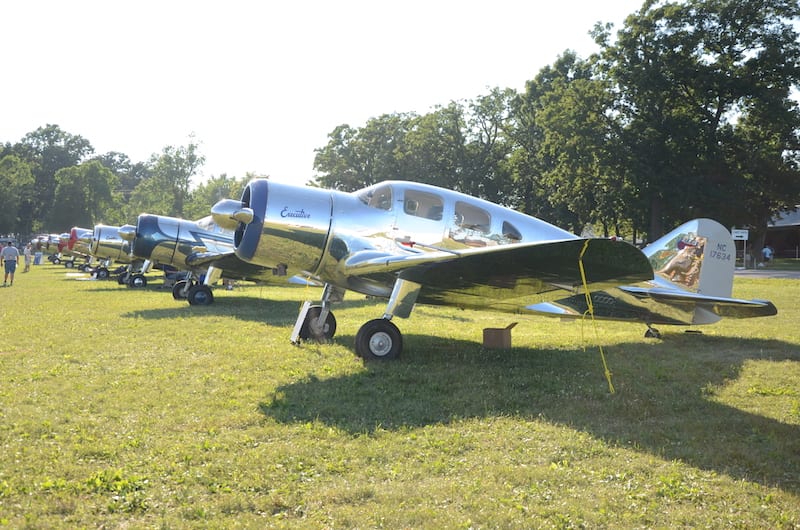 Seven of the Spartans flew in from all parts of the country and the one owned by the EAA was towed over from the museum. Among the owners flying in was Pat Hartness, owner of the famous Triple Tree Aerodrome in South Carolina. His Spartan, like most of them in the line-up, looks brand new.
Because so few Spartans were built and the survivors are widely dispersed across the U.S. (plus two in England owned by the same man), having eight of them at Oshkosh was an historic event not likely to be duplicated. Previously, the largest number of Executives known to have been together at one time was six, and that was at the factory in 1937.
"Since they are so rare, you will normally not see more than one Spartan at a time," said Jim Savage of Gibsonia, Pa., owner of S/N 17, a 1939 model. The 68-year-old retired accountant and Spartan historian worked the phones over the past year and organized the Oshkosh rendezvous for the sleek, art deco planes.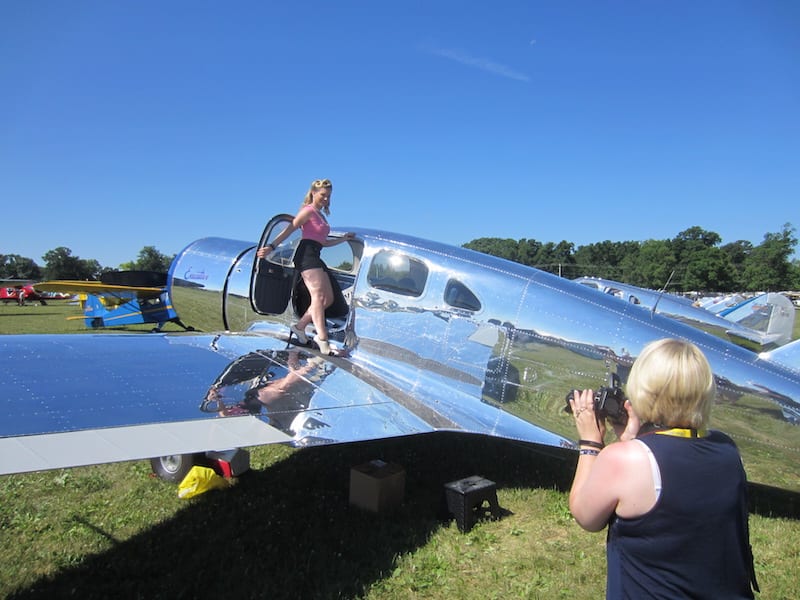 Equipped with retractable gear and a 450-hp Pratt & Whitney R-985 radial engine, Spartan Executives were the Learjets of their day, with a 1,000 mile range, 24,000 foot service ceiling and 200 mph cruising speed at 75% power.
And yes, there is a connection to today's Spartan College of Aeronautics and Technology in Tulsa, Oklahoma, founded in 1928, which shares common roots with the aircraft manufacturing operation.
Built in Tulsa from 1936-1940, the Spartan's all-metal monocoque design was very advanced for its era and was priced accordingly — at the top of the executive aircraft market.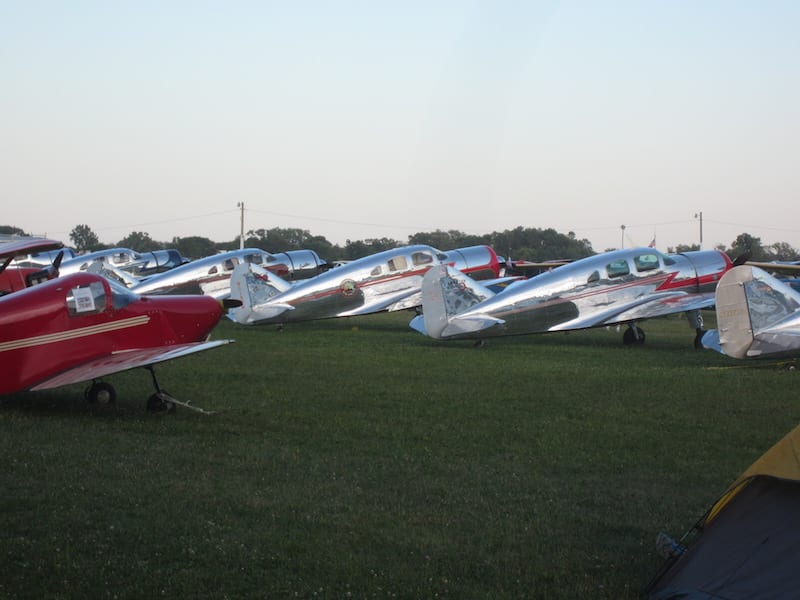 The Spartan 7W Executive was the brainchild of company founder William G. Skelly of Skelly Oil Company, who wanted a fast, comfortable aircraft to suit his needs and tastes. During the Depression, he sold the company to oilman J. Paul Getty and most of the original Spartan Executive owners were oil companies.
In addition, movie pilot Paul Mantz and King Ghazi of Iraq each owned an Executive and Howard Hughes flew one on a War Bond tour. Famous aviatrix Arlene Davis flew a Spartan in the 1939 Bendix Trophy Race from Los Angeles to Cleveland, Ohio, finishing in fifth place with an average speed of 196.84 mph.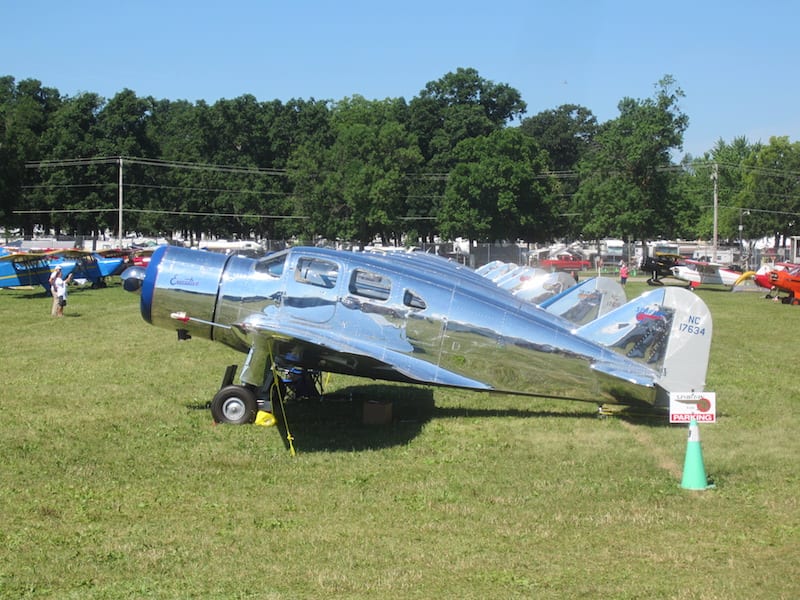 It was love at first sight when Savage first saw a Spartan Executive in 2004 and he spent four years finding the right one to buy. The plane needed some work, which led to a three-year restoration and a panel upgrade to match the avionics in the Mooney Ovation he owned at the time.
Like most Spartan Executives, Savage's plane has a single "throw-over" control yoke, which made getting a good check-out challenging, but another Spartan owner gave Savage a ride to familiarize him with the proper airspeeds prior to his first flight in the newly-restored plane.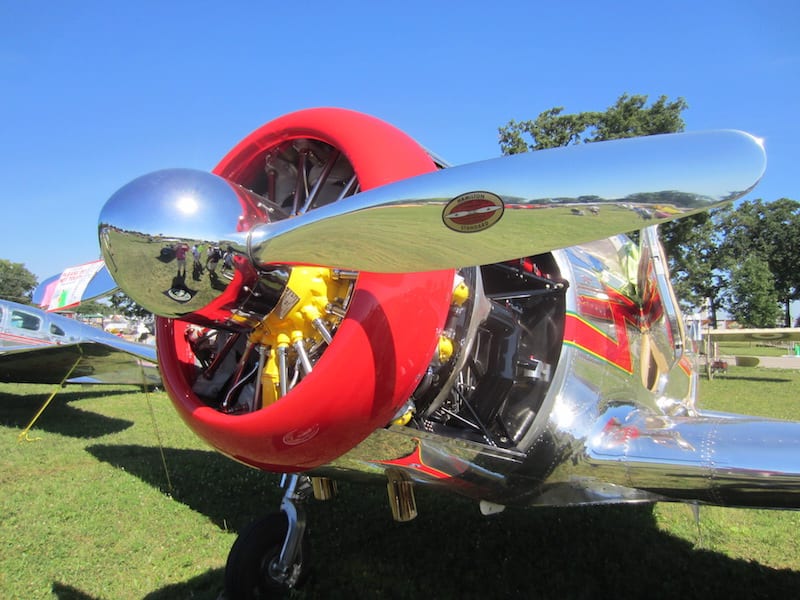 Also, since Savage had no prior experience flying a taildragger, he took advantage of the years required for the restoration by purchasing a Cessna 140 and putting lots of hours on it.
A pilot for 40 years, Savage considers himself "the temporary custodian" of his Spartan, which has won several awards.
"This Spartan took to the skies before I was born and it will likely still be flying long after I'm gone," he said as he picked up a cloth and started polishing.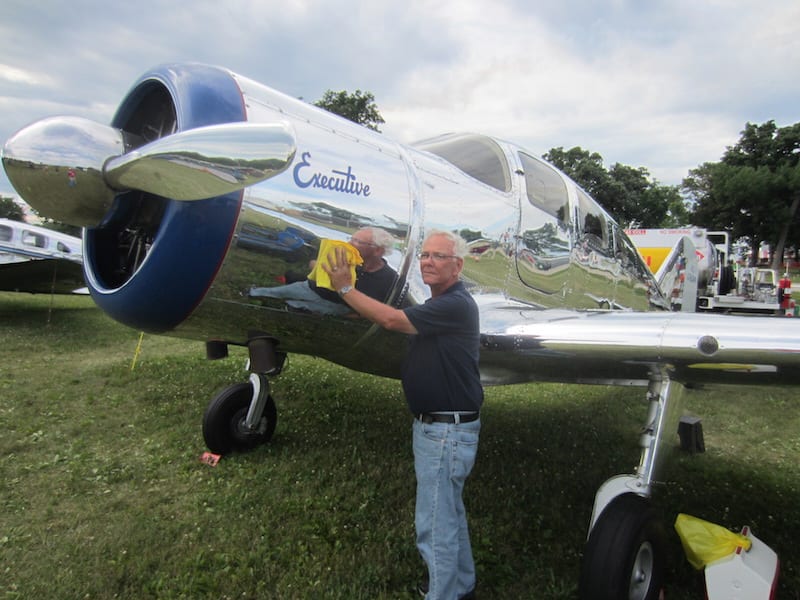 In addition to Spartan Executive NC13993, S/N 2, owned by the EAA Aviation Foundation, the following Spartans and owners were at Oshkosh this year:
NC17601, S/N 6 (the oldest one flying), John O'Keefe, Winthrop, Wash.;
NC20200, S/N 11, Steve Marini, Danville, Calif.;
NC17613, S/N 12, Alex Boone, Lexington, Ky.;
NC13PH, S/N 13, "The Spirit of Triple Tree," Pat Hartness, Spartanburg, S.C.;
NC17161, S/N 15, Bob Redman, Nye, Montana;
NC17634, S/N 17, Jim Savage, Gibsonia, Pa.; and
NC17662, S/N 28, Ron Tarrson, Santa Fe, N.M.
Find out more at VintageSpartanAircraft.com and see videos on YouTube by searching for N17634.