By Frederick A. Johnsen
Two venerated heroes of World War II — the Douglas SBD Dauntless dive bomber and the North American Aviation B-25 Mitchell bomber — were honored during the 2016 Warbird Roundup at Nampa, Idaho, Aug. 27-28.
Hosted by Warhawk Air Museum at its growing site on the Nampa airport, the sixth annual Warbird Roundup has established a reputation for rare warbirds showcased in a laid-back Idaho summer atmosphere.

The Dauntless and Mitchell gained their greatest fame nearly 75 years ago. In April 1942, Jimmy Doolittle and his select group of B-25 crews launched a startling raid on Tokyo from the aircraft carrier USS Hornet. This boosted morale at a critical time in the United States, while giving the Japanese military cause for concern over the vulnerability of their island nation to aerial bombardment.
Two months later, in June 1942, Douglas SBD Dauntless dive bomber crews were the unquestioned victors in the Battle of Midway, sinking four Japanese aircraft carriers and resetting the course of the Pacific war in the process.
A rare SBD flew twice daily during the weekend event, as did the B-25. Both bombers came to Nampa from the Planes of Fame museum in Chino, Calif.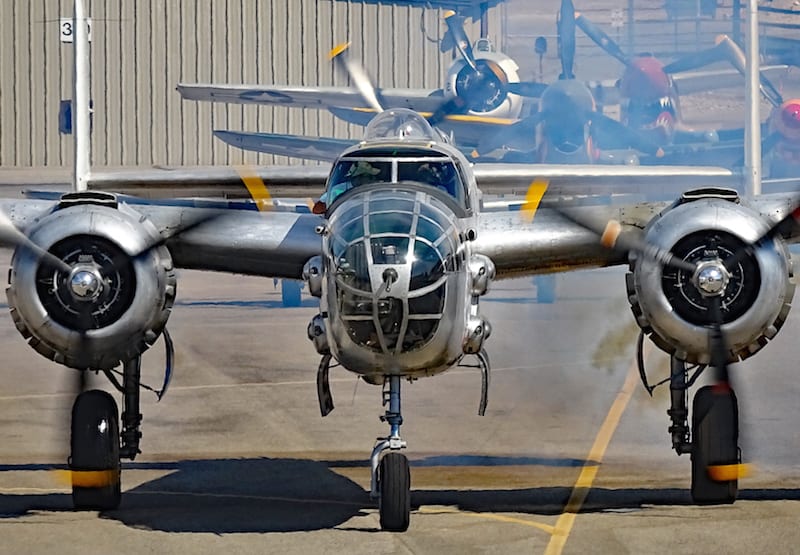 Additionally, Warhawk Air Museum flew its pair of P-40 Warhawk fighters and its razorback P-51C Mustang during the weekend.
The affiliation between Warhawk Air Museum and the Planes of Fame Museum leads to out-of-town aircraft displays by both museums on the home field of the other collection. During Warbird Roundup 2016, a missing-man formation honored Planes of Fame founder Edward T. Maloney who died only days before the Nampa event.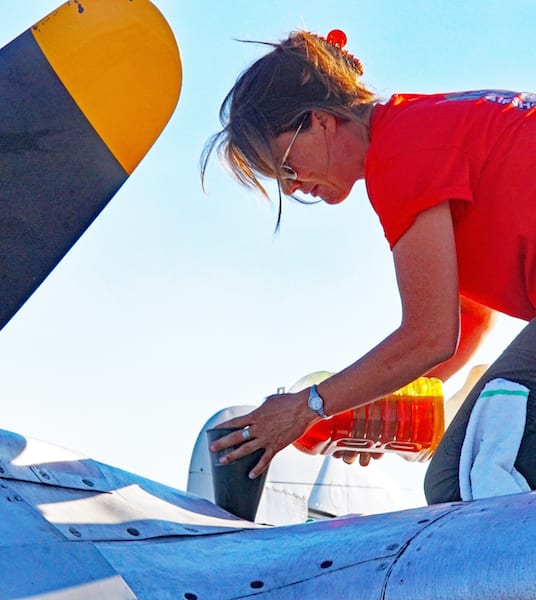 Other visiting warbirds included a pair of Mustangs, an FM-2 Wildcat, three variants of the Texan trainer, a yellow N3N primary biplane and a Vietnam-era O-1 Bird Dog.
Jonna Doolittle Hoppes, granddaughter of Jimmy Doolittle, was guest speaker during a mid-day break in the flying activities, affording show attendees a personal glimpse into the life and personality of her famous grandfather.
Local World War II Marine veteran John Joseph McCarthy was honored in a ceremony in the museum during Saturday's show. Idaho governor Butch Otter's office gave the veteran a proclamation citing Aug. 27 as John Joseph McCarthy Day.
Warhawk Air Museum recently announced plans to expand its facility to include coverage of recent American combat actions like Desert Storm and other activities in that region. A fundraising campaign will launch in September to raise $1 million for the addition.
The museum's founders, John and Sue Paul, have worked with their staff and volunteers to cultivate a positive impact on the Nampa-Boise area. School tours and events honoring veterans are part of the success story. This year, the nearby Ridgevue High School opened its doors to students whose sports teams are known as the Warhawks, a nod to the impact of the Warhawk Air Museum.