Sporty's Pilot Shop and the Unmanned Safety Institute (USI) now offer two online courses, the UAS Ground School Course and the UAS Safety Awareness Course, that provide training for individuals involved in Unmanned Aircraft Systems (UAS).
The UAS Ground School Course is a training program for commercial operators and pilots of larger UAS. More than 24 hours of training covers topics including: Parts of a UAS; responsible operations; concept of operations; human factors and crew resource management; identifying hazards; aeronautical decision making; and emergencies.
Each segment includes a video introduction, followed by narrated slides with pictures, animations and key information. Following the lesson, assignments help apply the knowledge just learned, from reading relevant FAA documents to listening to live ATC.
Then, assessments help review essential information with quizzes and essays.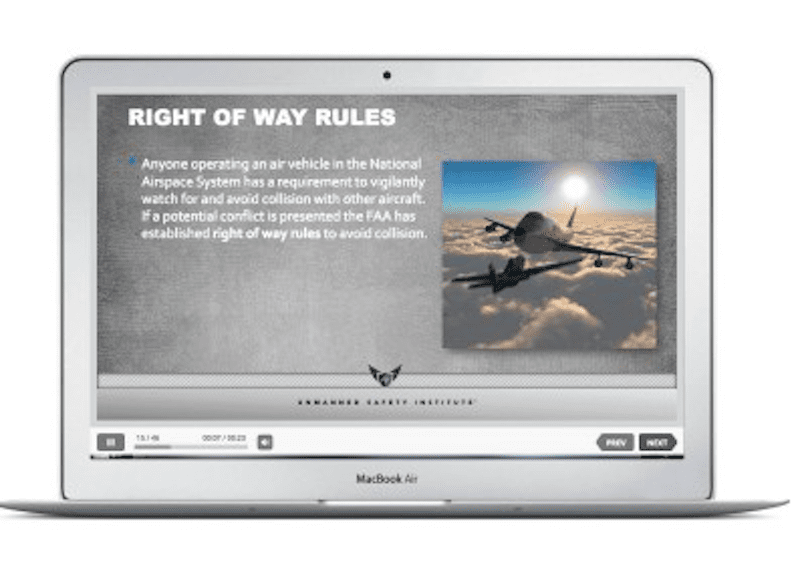 The UAS Safety Awareness Course is an introduction to the world of UAS, designed for operators of smaller aircraft or as a refresher course.
Over three hours of training covers personnel; systems; environmental and operational hazards; preventing injury; airspace and flight planning; and a section dedicated to learning from mistakes. Each section is broken down into a series of brief lessons with narrated slides, animations and pictures. This lesson is followed by review quizzes to reinforce learning.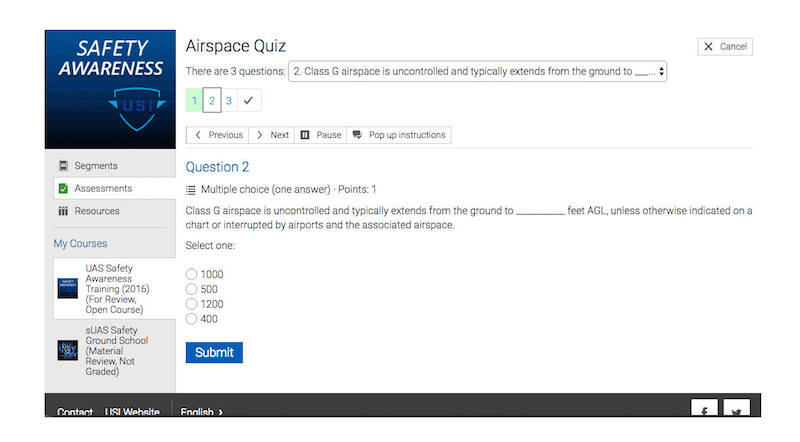 "The Unmanned Safety Institute UAS training courses are much more than 'Drone 101' videos; these courses emphasize good decision making and a safety culture. UAS flight instructors are even available to answer questions," says Eric Radtke, president of Sporty's Academy.
"Now that FAA Part 107 mandates a Remote Pilot Knowledge Test for commercial operations, these two courses, although not specifically test prep, provide the knowledge necessary to pass the written test," says Radtke. "Drones are here to stay, and they provide a fascinating new community for GA pilots."
Both courses are compatible with Windows and iOS, with an internet connection required. The courses also come with a completion certificate, which meets some insurance requirements and may even make pilots eligible for premium savings.
The UAS Ground School Course is available for $399 and the UAS Safety Awareness Course is available for $199.