Good news everyone, NTSB Chairman Christopher A. Hart says we are doing better.
"Even though the fatality rate in 2015 was the lowest it has been in many years," said Hart when the 2015 aviation accident statistics were released, "376 people still lost their lives."
If you click through to the "Data & Stats" link on the NTSB website, you'll be shown a chart outlining 34,678 Transportation Fatalities in 2013.
Specifically the fatalities break down as follows: Highway: 32,719; Rail: 891; Marine: 615; Aviation: 443; Pipeline: 10.
Below the chart are five links to more information. Four of the five are links to aviation data.
Hart went on to say, "improving general aviation safety is on the NTSB's Most Wanted List of transportation safety improvements. While lower, these numbers are still too high.''
If you click through to the NTSB's Most Wanted List it is easily apparent they abhor general aviation and would just like us to go away.
From the NTSB's website, "The Most Wanted List represents the NTSB's advocacy priorities. It is designed to increase awareness of, and support for, the most critical changes needed to reduce transportation accidents and save lives."
Six of the 10 Most Wanted advocacy priorities start with a relative goal. Reduce, Improve, Promote (twice), Strengthen and Expand, all seeking to make better what hampers transportation safety.
The remaining four goals with absolute words: Disconnect, Prevent, End and Require.
"Disconnect From Deadly Distractions." We've all seen the wandering car in front of – or behind – us as we see the driver looking at their smartphone. This is a good one. But it doesn't tell us to stop driving.
"End Substance Impairment in Transportation." Self explanatory.
"Require Medical Fitness For Duty." We saw this crop up a few years ago when the Aeromedical Branch of the FAA started talking about sleep apnea. While requiring fitness is admirable, any subsequent rules must take into account the different shapes and sizes of humans.
The last NTSB Most Wanted item is the one that bothers me most. "Prevent Loss of Control in Flight in General Aviation." If the NTSB had simply replaced Prevent with Reduce, I'd have no heartburn over this topic.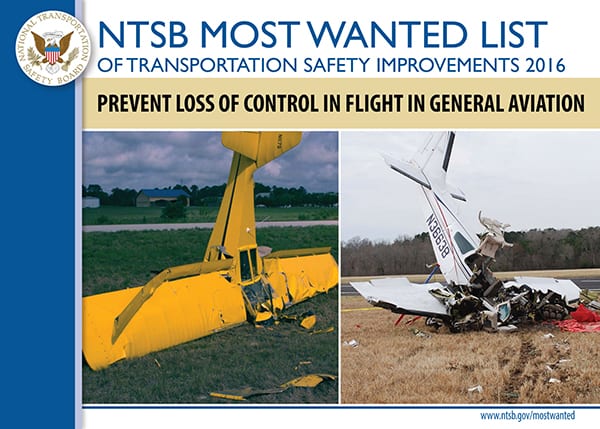 As we all know, there is only one way to prevent anything. I can only truly prevent a loss of control in flight accident by never taking off. And that is not acceptable.
So, thank you Mr. Hart for noticing the progress we non-airline pilots have made on the safety front.
May I suggest a simple one word edit to your list? Otherwise I fear you are part of the problem rather than the solution.