"The New York Times called it a 'fine landing' and reported it had been widely called 'a feat of aeronautics.'"
A friend passed the story to me from the popular Imgur website.
According to the June 4, 2016 New York Times story, Thomas Fitzpatrick landed a stolen plane "on St. Nicholas Avenue in northern Manhattan," a little after 3 a.m. It was Sept. 30, 1956, and Fitzpatrick had long been in a local watering hole and as "the story goes, he had made a bet with someone in the bar that he could be back in the Heights from New Jersey in 15 minutes."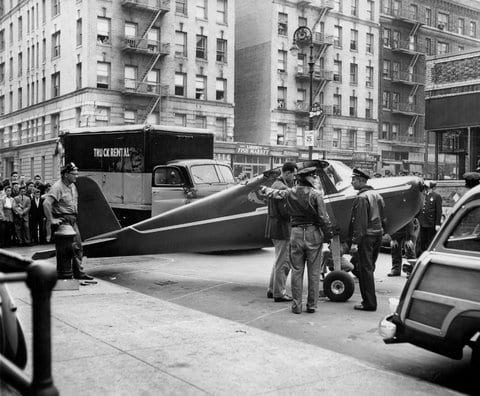 Never one to shy away from a challenge, apparently, Fitzpatrick backed up the first flight by successfully completing the stunt a second time on Oct. 4, 1958, "just before 1 a.m." Someone in the bar refused to believe Fitzpatrick made the flight the first time.
I can imagine Fitzpatrick mumbling, "I'll show you!" as he headed out the barroom's door.
While operating an aircraft — or any motor vehicle — while intoxicated is stupid (not to mention illegal), this is still part of history. It's worth reading at the New York Times website.
After all, this may be where the phrase, "Hold my beer, watch this," got its start.
---