For aircraft owners taking advantage of the FAA's $500 ADS-B Rebate, there is a five-step process you must follow.
Each of the five steps are rather logical:
Decide: Select equipment for purchase and schedule installation;
Reserve: Reserve your rebate, which requires a Reservation Code;
Install: Install your ADS-B equipment;
Fly and Validate: Fly in ADS-B airspace to validate equipment performance and receive your Incentive Code;
Claim: Use your Reservation Code and Incentive Code to claim your $500 rebate.
See…logical.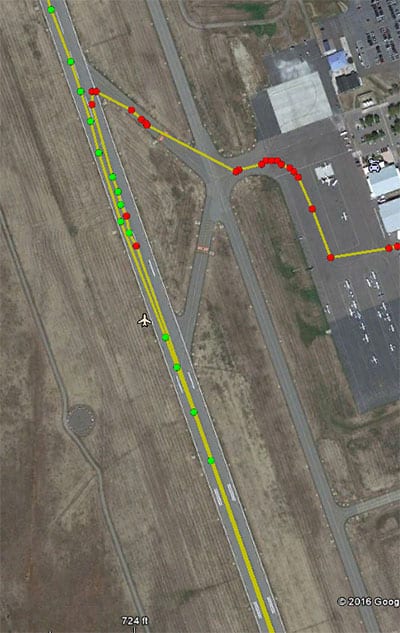 The "Fly and Validate" step is where the rubber meets the road, so to speak.
After a recent validation flight, Jerry Stooksbury from Avionics Specialists in Loveland, Colo., asked for — via email — a compliance report from the FAA.
Jerry said the report came back within minutes. The primary punchlist item was an "air on ground" issue. So Jerry called Garmin for insight. Garmin advised Jerry to go back to the FAA and ask for more detail.
That "more detail" came back from the FAA in the form of the plane's flight track overlaid on Google Earth. Exactly what Jerry was figuring he'd have to piece together is what the FAA dropped into his email inbox.
The green dots on the image indicate the equipment is properly broadcasting an airplane in flight mode. The red dots signify the airplane is improperly broadcasting flying status while on the ground, thus "air on ground."
"We simply need to adjust a system setting so the equipment will properly transition the broadcast from ground to flight and back again," said Jerry. "But overall, the validation reporting process has worked really well."
The level of detail is staggering, if a little scary. The FAA supplied image included the plane's N-number and continued recording red dots all the way to the owner's hangar. (We've obviously edited the image.)
I'm not a conspiracy theorist — per se — but I do hope the FAA keeps this information locked down. Even better would be for the data to be anonymized upon validation. But that's discussion for another column, I suppose.
If you are looking to equip for the 2020 mandate, the FAA's $500 Rebate runs out after 20,000 rebates have been claimed. Time is ticking.