By DAVID HUGHES, FAA NextGen Outreach and Reporting 
The ADS-B mandate is about 36 months away. It may seem like plenty of time, but the closer you get to the end of 2019, the longer the line for an installation will get.
FAA Administrator Michael Huerta has said on many occasions that the mandate set for Jan. 1, 2020, will not change. The FAA has been urging general aviation aircraft owners to equip sooner rather than later if they plan to fly in airspace where the rule requires an aircraft to report its position on ADS-B Out.
The FAA is continuing its Equip 2020 aviation community outreach initiative with industry partners, including general aviation pilots, to provide answers to frequently asked questions and to encourage ADS-B equipage. One part of the outreach is the FAA Equip ADS-B website that is designed to inform general aviation pilots in various stages of decision making about if, why, when and how to equip with ADS-B — while also answering the questions that most often arise.
About 900 general aviation aircraft are being equipped with ADS-B each month in the United States, but that number should be much higher if everyone who needs to equip is going to have the job done in time.
Taking action now is important for anyone who wants to fly in 2020 without restriction almost anywhere in the National Airspace System.
Handy Research Tools You Can Use
The first question to research is: "Do I need ADS-B?" The FAA final rule issued in 2010 designates the types of airspace where ADS-B will be mandatory in 2020.
ADS-B Out will be required in:
Class A, B and C airspace;
Class E airspace – areas at or above 10,000 feet mean sea level (MSL) over the contiguous United States, excluding airspace at and below 2,500 feet above ground level;
Airspace within 30 nautical miles (nm) of certain busy airports, from the surface up to 10,000 feet MSL;
Above the ceiling and within the lateral boundaries of a Class B or C airspace area up to 10,000 feet;
Class E airspace over the Gulf of Mexico at and above 3,000 feet MSL within 12 nm of the U.S. coastline.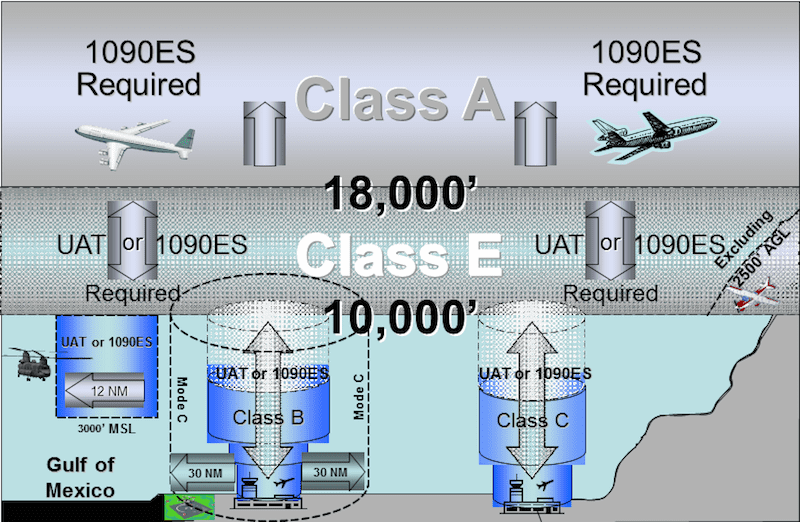 Some general aviation airports are located within Class B or C airspace because they are near larger airports where this airspace structure is in place. This means that if your aircraft is based at one of these airports, you will need rule- compliant ADS-B Out equipment installed in your aircraft by the mandate deadline on Jan. 1, 2020.
Otherwise you'll need authorization from air traffic control each time you fly out of or into the airport until the required equipment is installed.
At the FAA EquipADS-B website you can download the Equip ADS-B Google Earth map to look at the location of ADS-B rule airspace at your home base and where you fly. Pan and zoom to different locations and turn on the various capabilities of the map.
If you are flying an aircraft that doesn't have an electrical system, such as a balloon or a glider, you don't need ADS-B.
But if you are flying an aircraft with an electrical system, and you want to fly at or above 10,000 feet, you will need to equip with either a Universal Access Transceiver (UAT) or a transponder with extended squitter capability broadcasting on 1090 MHz.
Operations at and above 18,000 feet will require broadcasting on 1090 MHz.
A decision tree on the Equip ADS-B website will help aircraft owners figure out if they need to equip, but simply put: ADS-B will be required to fly in most controlled airspace when the 2020 mandate takes effect.
For those aircraft owners who plan to operate below 10,000 feet, the equipage question hinges on where they plan to fly. Most controlled airspace will require the use of ADS-B while uncontrolled airspace will not.
The research page also includes a list of all FAA-certified equipment. If you are installing ADS-B Out equipment in an aircraft with a standard airworthiness certificate to comply with the rule, it must be paired with a GPS or Wide Area Augmentation System and approved by the FAA to do the job correctly.
In the case of experimental or Light-Sport Aircraft, an owner will want a pairing approved by the FAA, or deemed compliant by the avionics or aircraft manufacturer.
What Can ADS-B Do For Me?
This is the key question most pilots want an answer to as they decide whether they need to equip. With the ADS-B ground network operational across the country, pilots in equipped aircraft have access to air traffic services that provide a new level of safety with better situational awareness and more efficient search and rescue.
ADS-B transmissions include position, altitude, velocity, aircraft number and other information that is shared with controllers and can be seen by other pilots flying near your aircraft if they are equipped with ADS-B In.
ADS-B coverage is more extensive than radar, especially at lower altitudes where general aviation aircraft often fly. It is also much more precise. ADS-B uses GPS, which fixes position much more accurately than radar.
It also provides faster position update rates of about once per second compared to about once every 12 seconds for long range radar. ADS-B coverage is also often better than radar coverage in the mountains.
If you want to know the details of how ADS-B Out and In will work for you in your aircraft, and how they interact with the ground infrastructure created by the FAA, visit FAA.gov/Go/EquipADSB.
New ADS-B Compliant Equipment Search Tool
The Equip ADS-B website also has a new ADS-B equipment search tool that lets you enter your aircraft information to search for ADS-B equipment either as separate components or part of a complete installation solution.
Installation Considerations
The Installation section of the website is designed to help general aviation aircraft owners and repair shops. It provides information on the hardware you need to put on your aircraft to comply with the ADS-B rule and links to FAA field approval guidance.
The Installation Approval for ADS-B Out Systems memo, available on the site, explains the FAA's policy regarding installation of ADS-B Out systems in civil aircraft.
A key feature of this section is a list of the common ADS-B installation problems you want to avoid. The FAA is placing special emphasis on avoiding installation errors for owners, manufacturers and installers.
Is My New ADS-B Equipment Reporting Correctly?
Once an installation is completed and you are beginning to fly with your new ADS-B Out capability, you should check to see if everything is working properly.
On the installation section of the website, you can go to "ADS-B Out Equipped?" and provide the FAA with your N-number, ADS-B transmitter and GPS make/model numbers to find out if your equipment is working properly.