By LINDE HOFF
In 2011, an experienced pilot was attempting to land in a mountainous area in the dark. Unfortunately, he had a problem with his equipment, so his GPS was scrambled and useless to him — a pilot's worst nightmare in these modern days.
He was relying solely on what he could see out the window of the cockpit, as well as guidance from air traffic controllers, to help him land safely at the closest airstrip.
Since it was all happening quickly and at night with no electronic equipment to guide the pilot, the tower crew was woefully unsuccessful in assisting him, and he ended up crashing his airplane into the side of a mountain.
Fortunately, he survived the accident — only the second person in history to make it out alive out of 100 who had ever crashed on that particular mountain pass.
What is perhaps most interesting about this story is that had that pilot been in Montana, he would most likely not have had that accident, because of the lighted beacons still in existence today on the state's mountain passes.
About 90% of airplanes today have GPS units in them, but there are still pilots who fly at night and use the beacons, as well. You often hear pilots call it, endearingly, "flying the beacons."
The pinkish-colored line from a GPS, which leads a pilot from one destination to another, doesn't take into account there could be a mountain in the way. In order to get that detail, the pilot has to be looking at a separate map.
So, if a pilot isn't paying very close attention while flying in the dark, he could easily fly into a mountain without the ever-critical beacons in the sky in the state of Montana.
In today's digital world, some might argue these beacons are no longer useful, like the lighthouses peppering the coastlines of the world and now, sadly, falling into decay.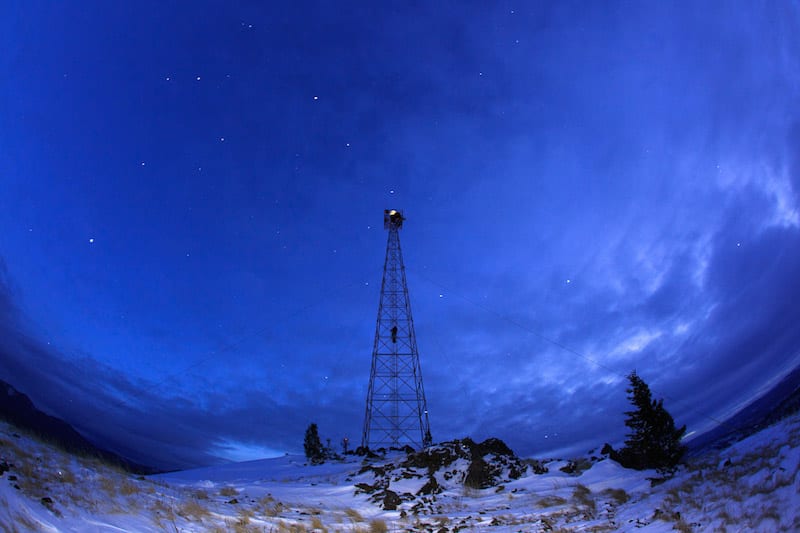 However, stop any pilot and talk with them about the lighted guideposts in the Montana skies, and you'll hear they are anything but quaint and irrelevant.
Instead, you will get a sense of pride that the state continues to maintain a fully operational network of these historical, yet important, aviation flares through the mountains, north from Monida Pass to Great Falls and east from the Idaho panhandle to Bozeman.
So how did this network originate?
In 1925 Congress passed the Air Mail Service Act to provide, for the first time, federal funding to develop service for mail delivery via airplane at night. Working in tandem with the Bureau of Lighthouses, the U.S. Commerce Department developed a strategy to build an 18,000-mile system of lighted airway beacons.
Beacon towers were erected  "every 10 miles across flat terrain and every 15 miles in more rugged areas," according to the Axline/Hampton report, written in 2014 for the National Register of Historic Places.
In 1926 the work was initiated, and the first airway was finished in Montana in 1927, running north-south, connecting Great Falls to Salt Lake City.
"The last beacon erected on the route was the beacon on MacDonald Pass," Axline Chapman wrote. "On Nov. 22, 1927, an estimated 4,000 people braved frigid weather to attend an event at Helena Municipal Airport to celebrate the completion of the beacon system."
That same day in November 1927 in Helena, Montana, Northwest Airlines (only just auditioning in the commercial aviation arena), offered a night flight from Minneapolis to Seattle, with stops in both Helena and Butte, utilizing these illuminating beacons to safely get their passengers to their destinations.
The groundwork for the modern federal airway system had been laid and anointed in Helena, Montana.
By 1945 Montana had 39 beacons illuminated across the state, and the system flourished nationwide until the 1960s. By 1965, eight federally-operated beacons in Montana remained, all of which were located in mountain passes.
Another 13 were transferred to state control and operated and maintained by the Montana Aeronautics Division of the State Department of Transportation.
Today, the beacon atop MacDonald Pass is listed on the National Register of Historic Places and is easily visible from U.S. Highway 12.
More importantly it still guides pilots safely through and over the peaks during the darkened hours while the light shines and sends its important signal of warning.
But today the beacons are becoming dark as the state is not fixing them as they break down.
The Montana Pilots Association (MPA) has thwarted attacks on the beacons in the past, noting they are a safety net pilots have enjoyed for many years. MPA officials say the cost to maintain the system is roughly $1,000 per beacon per year.
"So what is a pilot's life worth in the state of Montana, not to mention those passengers who might be in the plane with him or her?" MPA officials ask.
Technology is wonderful but not perfect, and it will oftentimes break down, so I just hope when I step onto my next flight — whether it be commercial or private — all systems are "go," because there might not be a beacon to bring us home safely over the mountains.
If you want to help fight to keep the beacons shining, please email the governor at Governor.mt.gov/Home/Contact/ ShareOpinion or call 406-444-3111.
See related story here.