Schiffer Publishing has released "Douglas XB-19," an illustrated background of never before published photos and diagrams showcasing the Douglas XB-19.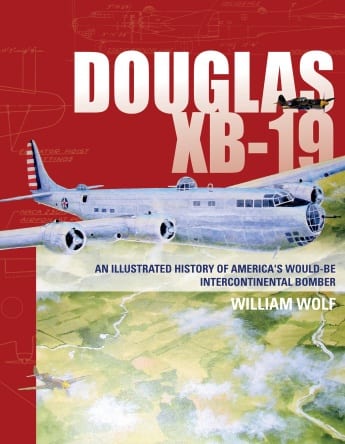 In 1935, the intent of the Army Air Corps was to build a potential intercontinental bomber, a "Guardian of the Hemisphere."
They granted Donald Douglas a contract to build the world's largest bomber.
Over the past 75 years, there have only been a few magazine articles on the gigantic Douglas XB-19 bomber, usually showing it in photos dwarfing the aircraft around it.
Since the XB-19 project was top secret and there was only one example, there is little information remaining for researchers.
In his new book, William Wolf presents this enigmatic bomber, a "Flying Laboratory" that was the precursor to America's first intercontinental bomber, the Continental B-36 Peacemaker.
Wolf has used original Douglas and Army Air Force documents and very rare (as few were needed for one bomber) Erection & Maintenance Manuals, which also includes never-seen-before photos and color profiles.
The 128 page hardcover book, which has 251 photos, sells for $45.
Wolf is a retired dentist whose consuming 45-year passion is World War II air combat and aircraft, having over 25,000 books and magazines, thousands of downloaded CDs, and three miles of microfilm on World War II in his library.
Over the years he has taken and collected thousands of photographs and rare aircraft manuals.
He is the author of 16 books and numerous articles on World War II aviation history, aircraft, and equipment. Among his book are histories of the VMF-323, the 13th, and the 5th Air Forces (the latter in three volumes); and a six volume "Ultimate Look" series on AAF bombers (B-29, B-32, B-18, B-25, B-26, and A-20); a three volume set on US aircraft aerial armament; and a two volume set on US aces, pilots and aircraft (Vol. 1) and US fighter-bomber pilots and operations in the ETO and MTO (Vol. 2).
He has an upcoming book on "the quest for range, endurance, and the intercontinental bomber," and is completing a two volume set on the B-24 Liberator.
He can be contacted at billwolf@aol.com.