To say my "Don't Cry for Santa Monica" column struck a chord would be an understatement.
Sadly, I fear it struck the wrong chord. (And, for the record, I support the efforts of the National Business Aviation Association and others as they continue to fight SMO's closure.)
A sampling of comments taking me to task…
"Ben's attitude and opinion clearly doesn't match that of the aviation community, and I flat disagree with him," says PB. "There is no benefit for anyone out of this SMO closure since the outcome will not be a park, but will be development, traffic, greater air pollution from the traffic."
Or…
"I have to say that I am surprised, and a bit disappointed in your view point regarding SMO, Ben," said Ed Rosiak, former president of the California Pilots Association. "(FAA Administrator Michael) Huerta's position that this is fair for all parties is clearly one of a bureaucrat who, no doubt, was told what to do."
Or…
"The entire premise of this article is wrong," notes GBigs. "An airport is NOT a local land issue. Airports are not used by locals only. Airports belong to the country. This is why a FEDERAL agency provides cash to keep them running. Santa Monica is stealing the airport and destroying a corner of the national fabric of places to use by the aviation community."
Or…
"I'm involved in a local airport authority board in southwest Ohio and I can emphatically say the FAA has no interest in helping us go an extra mile to make the airport community friendly," states Nick S. "Case in point is an airport viewing area we would like to construct. But for overreaching 'safety concerns' we would have to place it so far removed that visitors would need binoculars to read a tail number."
You get the point.
And then, like a beacon of light, a message of support from Idaho-based flight instructor Rich Stowell and Linda Castner, co-owner and operator of New Jersey's Alexandria Field (N85).
"Linda Castner and I read and discussed your article, 'Don't Cry for Santa Monica' in the Feb. 23 issue of General Aviation News," opened Rich's email to me. "You are spot on in concluding, 'Had the city valued the airport more than a park or business option, we wouldn't be having this discussion.'"
Hallelujah. Linda and Rich saw the main point of my column. They also went a step — or three — further…
"There are two pieces to an airport's value: Economic and social," says Rich. "While discussing economic impact might resonate with local politicians and businesses, it probably doesn't as far as the community at large is concerned. Instead, the focus with the community needs to be on the airport's social impact, i.e., showing how the airport can be used to bring about positive change that addresses a pressing social challenge."
And what might that social change be? Glad you asked.
STEM education, Rich says. For those who don't know, STEM stands for Science, Technology, Engineering and Math.
"Airports are STEM-rich environments by design, and could position themselves as valuable educational resources within their communities," he continues.
A few statistics for your consideration:
The National Math and Science Initiative finds only 36% of all high school grads are ready to take a college-level science course.
The U.S. Department of Labor states that by 2020, there will be an estimated 1.4 million computer specialist job openings. Unfortunately, U.S. universities are expected to produce only enough qualified graduates to fill 29% of these jobs.
Meanwhile, Economic Modeling Specialists points out that median earnings for STEM-based jobs pay $37.44 an hour compared to $18.68 for all other jobs.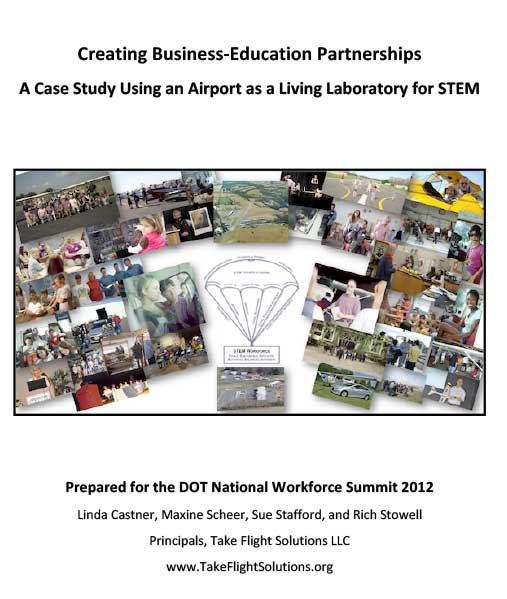 This gives us all a huge opportunity to make airports about more than, well, airports.
They're about our future — not just an invaluable transportation resource or a great place to conduct business or recreate, but a place that will be key to our future workforce.
What a way to get the community to support their airport.
Linda ran a 12-month STEM-based case study at Alexandria Field, funded by a $100,000 grant, and was invited to present her findings at the DOT National Workforce Summit held in Washignton, D.C., in 2012.
"What makes these programs effective is they are integrated," continues Rich. "They aren't singular, random acts of outreach. They offer multiple on and off ramps for community engagement with the airport, from pre-K all the way up to corporate-level programs. The idea is simple: STEM through the lens of aviation."
Maybe you think we just need more pilots to save airports. You might want to think again.
"During the period 1969-1980, the number of public use airports dropped by 11% at precisely the same time when the pilot population grew 15%, when the pilot population reached its zenith of 827,000 active pilots!" exclaims Rich. "If that doesn't support the hypothesis that it's not about creating more pilots, nothing does."
What's that colloquial definition of insanity? Doing the same thing over and over again and expecting a different result.
Just like opinions, there are many ways we can improve and protect our valuable airport infrastructure. Rich and Linda's path is one. And its impact will be felt far beyond the airport environment.
So I'll ask again, are we aviators going to let anger cloud our collective abilities, or will we see this as the opportunity it is?
Once again, I'm hoping for the latter.