Canada's Aviation Hall of Fame has declared John Gillespie Magee Jr. as its Honorary Poet.
Magee was a 19-year old Spitfire pilot serving in the Royal Canadian Air Force when he wrote his famous sonnet, "High Flight," which has become a symbol of lost aircrew in both peace and war.
The official announcement of Magee as Honorary Poet will be made at the 2017 induction dinner and ceremonies, which will be held at the Vancouver International Airport June 15. Four new members also will be inducted into the Hall of Fame.
Born in Shanghai, China to missionary parents, Magee attended Rugby School in England where he first distinguished himself as a poet. Later, continuing his education in the United States, he earned a scholarship to Yale University.
However, in 1941, before the United States entered World War II, instead of attending university, he enlisted in the RCAF and trained as a pilot in Canada, graduating with the rank of Pilot Officer.
Posted to England and qualifying as a Spitfire fighter pilot, Magee wrote "High Flight" after completing a training flight. The poem was mailed to his parents, first printed in a Pittsburgh newspaper, and became widely known after publication in his father's Washington D.C. church bulletin. On Dec. 11, 1941, Magee was killed in a mid-air collision with another trainee pilot in England.
Magee was the eldest of four sons born to his American father and English mother. He is survived by one brother, The Reverend Canon F. Hugh Magee in Scotland who like the boys' father, served in the ministry.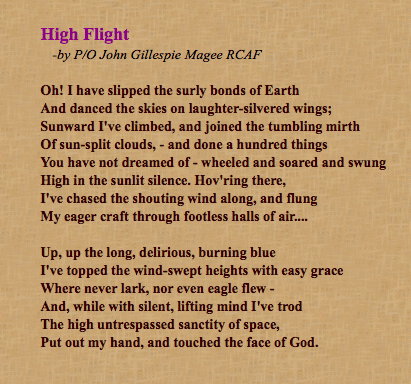 Rev. Magee has thanked Canada's Aviation Hall of Fame for the recognition bestowed upon his brother, and has stated, "I am very pleased to express, on behalf of the entire Magee family, our gratification that the life of our John is being recognized and honored as Honorary Poet of Canada's Aviation Hall of Fame. John combined two abilities that are not always found together: How many Spitfires do we know of that have been flown by poets? Your fitting tribute embraces both of these aspects of John's short life in a most appropriate and distinctive manner."
This year's inductees into the Hall of Fame include Danny Sitnam, founder of Helijet International, based at the Vancouver International Airport; test pilot Rogers Smith; Erroll Boyd (1891-1960), who in 1930 was the first Canadian to fly across the Atlantic Ocean; and Robert Deluce, president and CEO of Porter Airlines, based at Billy Bishop Toronto City Airport.
The former aerobatic team of the RCAF, the Golden Hawks, will receive the Belt of Orion Award for Excellence.