When he was just 19 years old, Matt Guthmiller did something epic: He flew around the world in a 1981 Bonanza A36.
He set the Guinness World Record for the youngest person to circumnavigate by aircraft, solo.
But even more importantly, he had the adventure of a lifetime.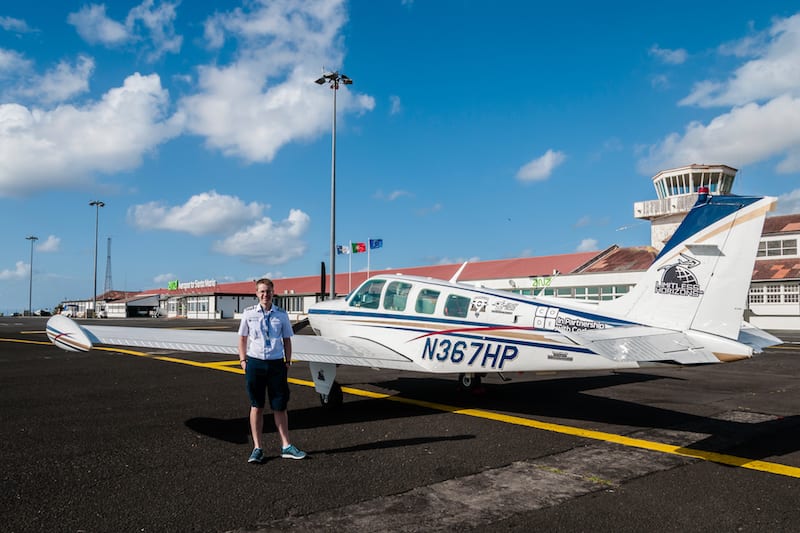 So how does a 19 year old manage such a feat?
It started in 2013 when he read about a 20-year-old from California who was about to attempt to become the youngest person to fly around the world solo.
"I figured if he could do it, I could do it, so I immediately sent the article to my parents and all my friends and was like 'I'm gonna do this next summer,' which was met with a lot of thoroughly sarcastic 'sures', he recalled. "But I was determined and got to work figuring out how I might do it."
With about 250 hours logged, the South Dakota native realized it would take a lot of preparation to carry off such a journey.
It began with research.
"I spent a year reading everything I could find on international and oceanic flying, talked to tons of ferry pilots and other people who had made similar trips, and found people to work with on the different logistical aspects, like handling and overflight and landing permits or even just insuring the flight," he said.
"I was fortunate to have done all my flight training with instructors whose main gigs were 135 charter ops and consequently were always willing to fly in just about any kind of weather, so while I only had a few hundred hours, they were spread across some pretty diverse experiences, so the flying prep was really all just getting a handle on what to expect in other countries and things to watch out for or do differently in oceanic operations."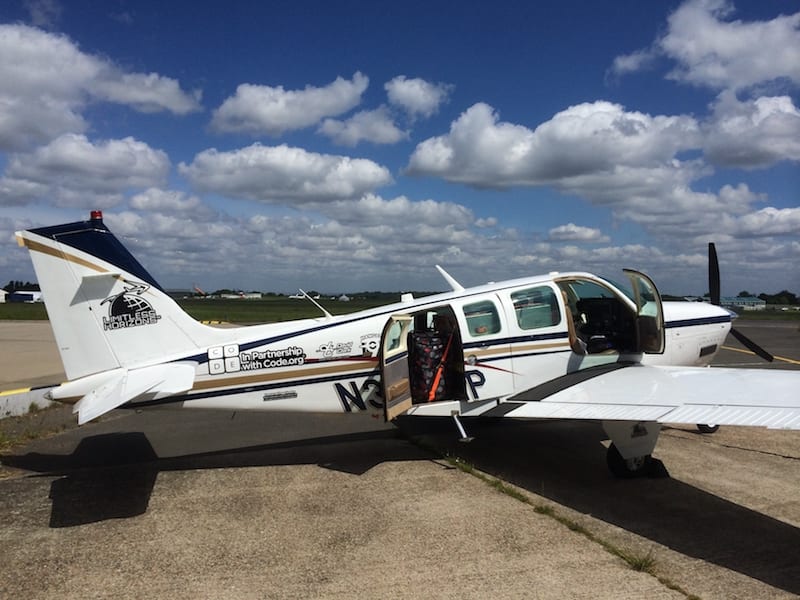 Next hurdle: Finding a plane.
"I spent about nine months looking for someone willing to lease a plane to a 19 year old with under 500 hours who wanted to fly it around the world before I finally found Mike Borden in San Diego, who runs a big maintenance shop, High Performance Aircraft," Guthmiller said. "He had a couple Bonanzas that he regularly leased to people and was willing to consider it. I had to go out to San Diego and fly with him before he was completely sold on it, though."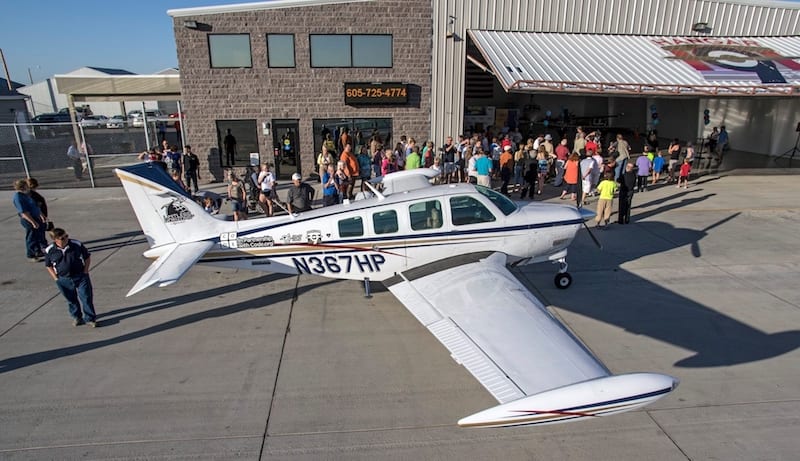 He obviously passed muster, because he took off from Gillespie Field (KSEE) in El Cajon, California, on May 31, 2014, and landed back there July 14, 2014.
"Along the way I made 23 stops in 15 countries on five continents, crossed three oceans, and covered 30,000 miles during 177.2 hours in the air," he reported.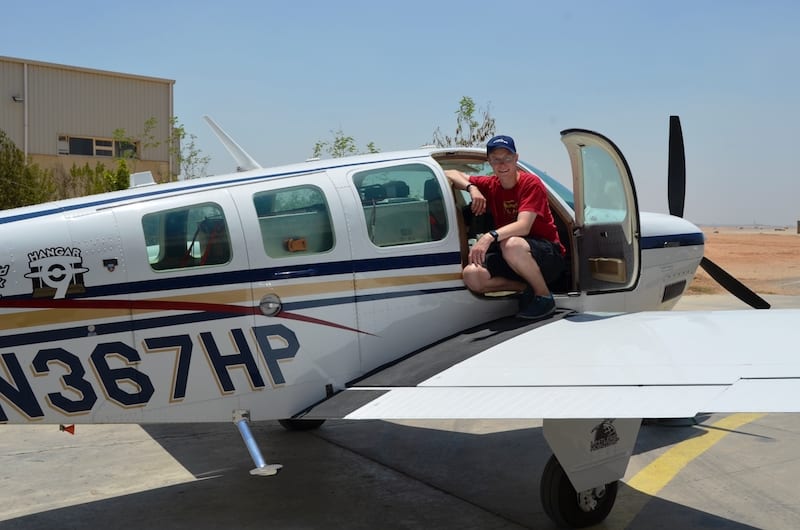 The exact route was El Cajon; Aberdeen, S.D. (his hometown); Teterboro, N.J.; St. John's, Newfoundland & Labrador; Santa Maria, Azores; London; Rome; Athens; Cairo, Egypt; Aswan, Egypt; Abu Dhabi, UAE; Nagpur, India; Kuala Lumpur, Malaysia; Manila, Philippines; Darwin, Australia; Brisbane, Australia; Noumea, New Caledonia; Nadi, Fiji; Pago Pago, American Samoa; Hilo, Hawaii; Honolulu; Kona, Hawaii; and back to El Cajon.
The route was based around where avgas was available, he said, which accounts for some of the "zigzagging."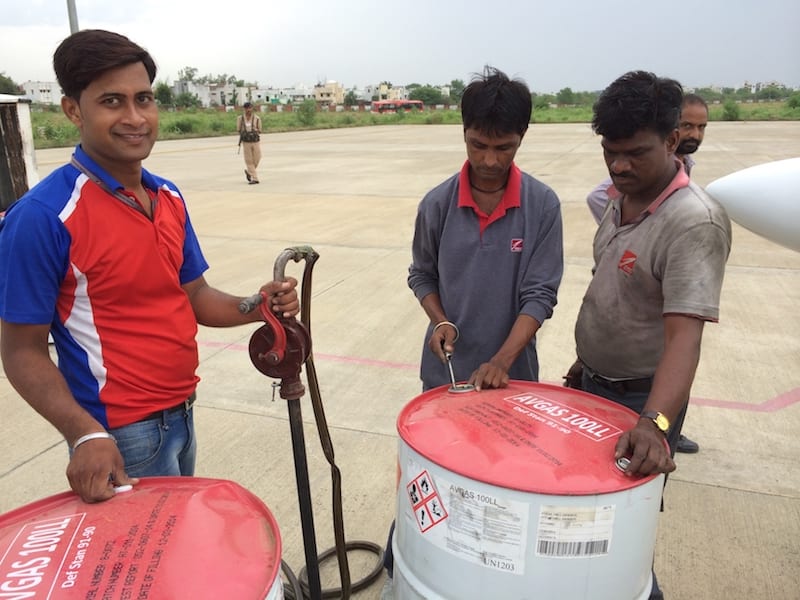 So how does a teenager finance such a mission?
"I had to craft a message around the whole mission to get brands on board with sponsorships and figure out how to publicize the whole thing to make it more worthwhile for them," he said. "As tons of people told me I'd never be able to put it all together or pull it off safely, I realized that the biggest thing I wanted to accomplish was simply to show other people the magnitude of things that are possible if you just break them down into a lot of smaller problems and work relentlessly to solve each, one by one."
"My background's in computer science and throughout middle school and high school I was able to use that to create a couple businesses out of scratch, where I had the same problem of having some cool idea but no real concept going in of how to pull it off, but just determined and worked through it to figure it out," he continued.
He ended up partnering with a non-profit organization called Code.org that works to put computer science education programs in K-12 schools. He used the trip to promote computer science education around the world.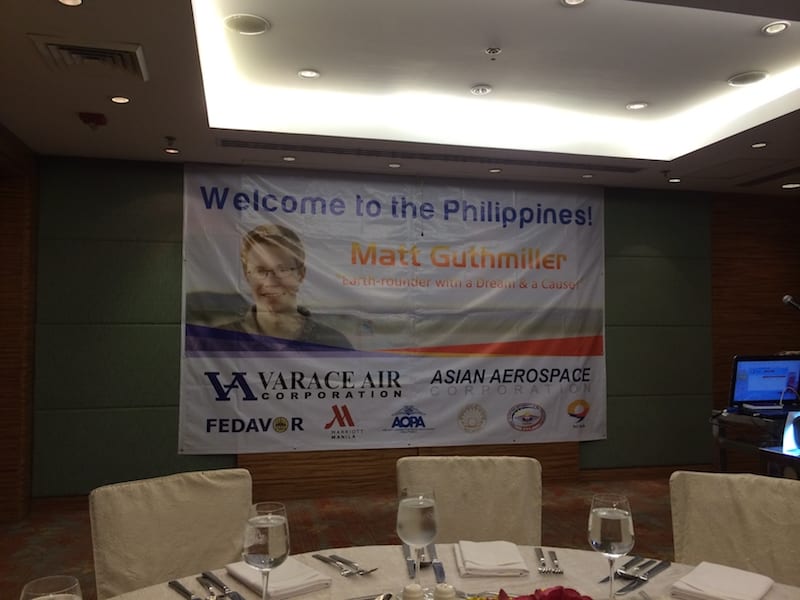 His favorite stop on the trip was Athens.
"It was just really cool how much history there was, while still having a modern feel and super friendly people," he said. "I probably had the most fun in Cairo, though. I met up with a couple guys who run an organization called General Aviation Support Egypt that helps facilitate GA flights throughout the world. They started with flight support in Egypt and the Middle East and now handle flights anywhere in the world. They were a ton of fun, and you just see so many crazy things in Egypt, like a family of five riding a motorcycle in six lanes of traffic or a four lane dirt road — you just don't see that in the U.S. I also got a spectacular view of the pyramids from the air on the way in there."
But, of course, with the good comes the bad.
One of the worst things to happen was in Abu Dhabi, where the refuelers brought three barrels of avgas and one barrel of diesel engine oil.
"I didn't realize that until I was pumping the oil into one of the ferry tanks," he said. "So that was a fun 10-hour process in 100° heat and blowing sand to pump everything out of that tank and flush it with avgas a few times," he said.
Also, the demands of the flight were taxing, he said.
"It's one thing to go out and do a 10- or 12-hour flight when you're well rested and the weather's fine, so that you just put it on autopilot and sit there all day monitoring everything," he said. "But when you're doing that day after day, all the while dealing with things like slow Internet connections that make flight planning painfully slow or countries that require you file a flight plan six hours in advance and you don't receive some overflight permit number that needs to go in the flight plan remarks until about that time the night before or having to show up at the airport at 3 a.m. so that you'll finish the several hours of customs, immigration, security, and fueling rigmarole in time to take off so that you can do most of the flight before the weather gets really awful in the afternoon, it gets pretty crazy."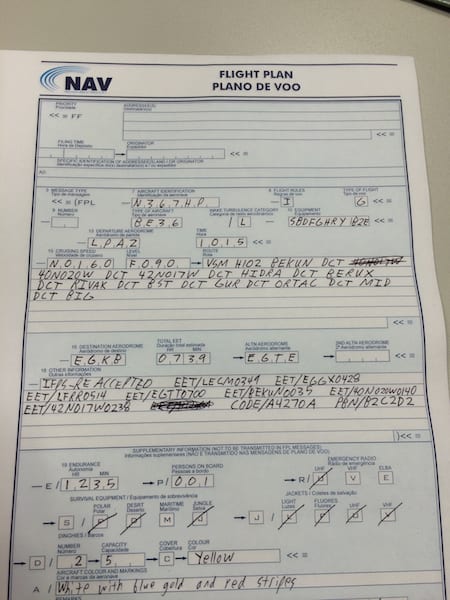 And then there's the frustration caused by the weather.
"Especially around the equator, when you add the knowledge that half of some 12-hour flight is going to be figuring out whether it's even possible to get to the destination at all and, if so, how — plus dealing with the knowledge that you might end up in a position where you may well be able to make it, but it would require flying in the clouds where you can't tell if there are thunderstorms somewhere up ahead," he said.
"The most frustrating was when I was stuck in American Samoa for a few days waiting for the weather to clear," he related. "It was the last stop before being back in the U.S., so I was just so close to being home, but the Internet and phones barely worked so it was hard to even find out what the weather was like."
He noted the problem zone — the inter-tropical convergence zone, right along the equator — was about eight hours away, so he had to know 10 or 12 hours in advance if "some of the worst and most unpredictable flying weather on the planet was going to be okay that day."
"And, of course, since that was hard to tell, there were also a couple missed chances that just added to the frustration," he said.
Lessons learned
The biggest lesson Guthmiller learned on his epic flight was that having a plan was great, but reality often meant throwing that plan out the window and figuring something else out.
"When you're flying across the ocean for 10 or 16 hours at a time, the weather changes a lot," he said. "In most places, the forecast isn't very specific to begin with and there's no NEXRAD out over the ocean or even in most countries outside the U.S., southern Canada, Europe, and parts of Australia. When there is weather radar, it's typically only updated about once an hour and not readily available to ATC, so it's not actually useful."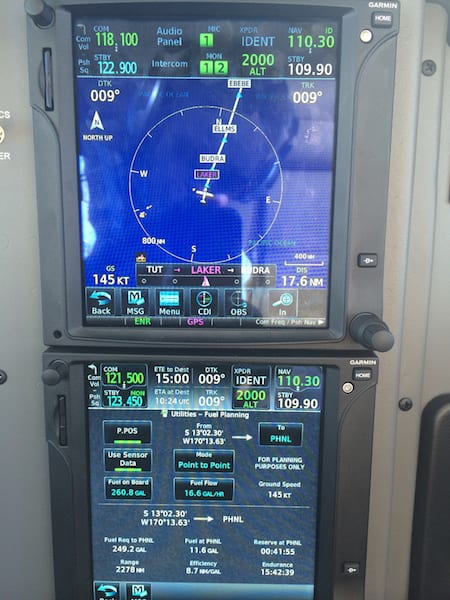 He remembers there were several times when he'd be halfway through a 12-hour flight and then encounter a storm system.
"I'd have to spend a couple extra hours flying several hundred miles trying to find a way around it, just taking all of the limited information I had and trying to guess correctly, making it up as I went along," he said.
Also important: Learning to tell ATC what he needed or was planning to do, rather than asking.
"Since most places don't really have GA, the controllers don't always understand that flying a Bonanza is a heck of a lot different than the airliners they're used to dealing with," he said.
But when it comes down to it, the key to successfully completing such a challenging flight was having a "good grasp of flying fundamentals," he said.
"It's really important to be able to take big picture ideas about the weather and be able to combine that with what you're actually seeing out the window to interpret what's going on and how things might play out, rather than just depending on some specific forecasts to be fairly correct," he said. "It's also equally important to really know your plane and be comfortable flying at all edges of the envelope."
The Bonanza
After flying 177.2 hours during his around-the-world trip, Guthmiller notes that he just loves how versatile the Bonanza is.
"There's no other piston single like it," he said. "You can do 175 knots — right down to pattern altitude, frankly, thanks to how easy it is to slow up, fly 1,000 nm nonstop, and at lighter weights still take off and land in under 1,000 feet."
The Bonanza will also carry five people and bags — anything you can fit in an SUV, he said.
"I've actually had times where I wasn't sure we could fit everything in an Uber SUV to the airport, but had no problem getting it all in the plane," he said.
For the trip, Guthmiller removed the back seats (and other interior), installed an HF radio, and had two 105-gallon ferry tanks added.
"I had 299 gallons — 114 in the mains/tips and 185 in the ferry tanks — on the heaviest leg from Samoa to Hawaii," he noted.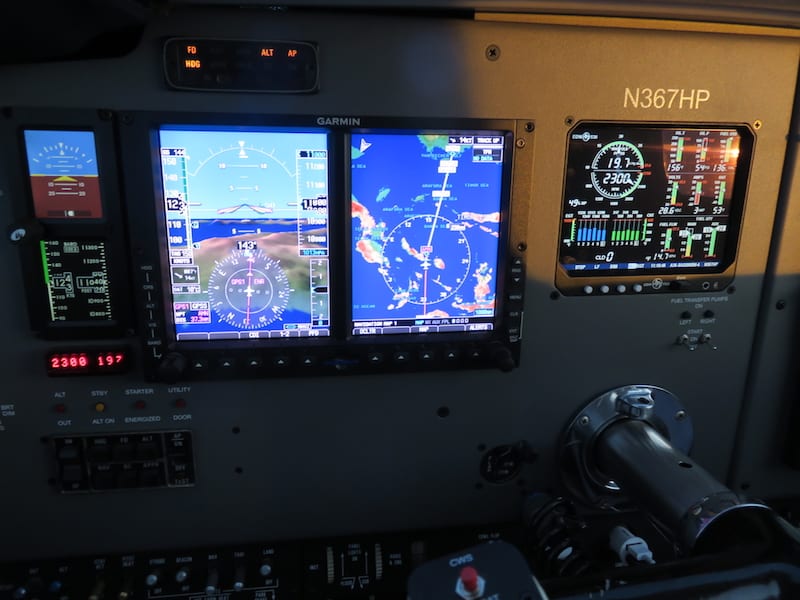 "In addition, before the trip the owner completed an avionics upgrade, including the Garmin G500 with MidContinent digital standby instruments, dual Garmin GTN 750s, an existing JPI EDM 930 engine monitor, Garmin GDL 69A XM weather, Garmin GSR56 integrated satphone/worldwide datalink weather, Garmin GTX 33ES transponder with ADS-B out, and Garmin GTS 800 active traffic system," he said. "They also replaced the timed out engine with a new one."
His next challenge
For his next challenge, Guthmiller, a student at MIT, has launched a new series on YouTube to share some of his most interesting flights and experiences, with the ultimate goal of "spreading aviation even further."
"One of the greatest joys of flying around the world was getting to share such an incredible experience with literally millions of people around the world as it was happening," he said. "At the time I was poorly equipped to really share the best parts, so the best I could do were a bunch of pretty similar media reports that captured the big picture but didn't show people what the day to day stuff was really like — I didn't even own a GoPro until part way through the trip. Since then, I've been trying to share more and more of just the essence of flying and the incredibly unique experiences it offers.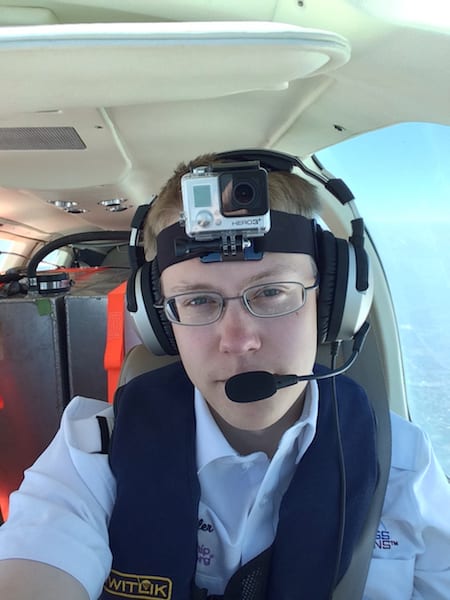 "I've also had a longstanding interest in filmmaking, but until about six months ago it just never occurred to me to make a blog or documentary format film out of something like the flying I do all the time," he continued. "Since then, I've been learning a lot about that format, and filming a number of particularly interesting flights."
The first episode in the series was released Jan. 27, 2017, of flying into a busy Class Bravo airport — Boston Logan — on the first leg of an Angel Flight mission.
The second episode is the second part of that flight, just showing what it's like to do a cross country flight in some of the busiest airspace in the U.S. while dealing with weather and other things.
The third video focuses on the experience of flying into the only official ice runway in the continental U.S. at Alton Bay, N.H.
"That one's really more the experience and magic of a general aviation destination like that, more so than what's going on in the cockpit," he said.
"The first two episodes garnered upwards of 70,000 views a piece, so I'm really excited about the possibilities to both really show off aviation to new audiences and get current aviation buffs even more excited about flying," he said.
"Ultimately, I just want to share the kind of experiences that are really unique to aviation, while also showing people how accessible it is, and hopefully grow the entire aviation community a bit more."