Dispatch from above the numbers, Runway 20m KSAF, Santa Fe, New Mexico: There's a strong crosswind from my left.
Race 53's nose is crabbed into the wind like an antique weather vane, but I'm lined up dead center on the runway. Approach speed nailed at 80 miles per hour, I'm dropping down out of the cool morning air at nearly 500 feet per minute. This is looking sweet! I sweep in over the numbers and ease back on the yoke to flare.
No response. The yoke is stuck fast.
I pull harder. I jiggle. I yank. I twist. In desperation, I push. There's no time to deploy a curse. I've run out of sky. The runway rushes up to great me. With a bone-jarring shudder, Race 53 tries to bury herself in the concrete.
A spray of fuel escapes from the nose tank. My teeth rattle. The iPad flies from the instrument panel. The robust landing gear compresses, then catapults the plane right back into the air. My elevator is still frozen. Wrapped in concrete. Stuck in the grip of 18 sumo wrestlers. Resisting all my strength as I pull back on it.
Race 53 falls back toward the runway again, nose dropping…
Three hours earlier…
Despite three and a half decades of flying, I've never evolved into a morning person. You know the type: Those annoying people that bounce out of bed full of energy, ready to take on the day. That's just not me.
But today I'm close. Even though it's pitch black outside, I pad barefoot into the kitchen to turn on the coffee maker without resentment, because today I get to fly.
And it's been a while.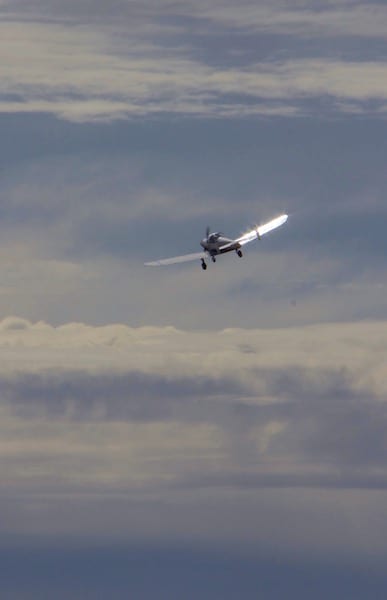 December brought a rash of terrible weather that grounded me. Then Race 53 went into her annual in early January, where she languished for more than two and a half months at a cost that rivaled a stay of the same length at the Ritz Carleton.
Of course, most of that money went into installing the new turbine engine.
Juuuuuust kidding. But there have been some changes.
Meet the new and improved Race 53
OK, Race 53 turns 70 years old this season, so there's really nothing new about her. But I've made some changes during my between-seasons annual this year.
Of course, the fuel tank that was the smoking gun in the bizarre breakdown that sidelined me toward the end of the 2016 season, robbing me of any chance to beat my archrivals, Team Ely, has been fully rebuilt.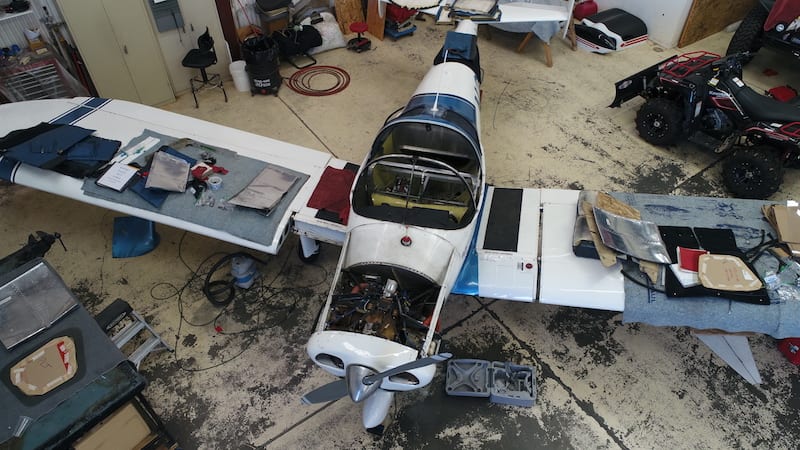 It had to be removed and sent out of state, leaving a sad hole bigger than a manhole cover in the leading edge of the right wing for more than six weeks.
Meanwhile, the entire left wing had to be removed to work on some issues with the ailerons.
Each time I visited my A&P, poor Race 53 looked less and less like an airplane.
Along with the aileron work, I had the entire plane re-rigged. As long as I've had Race 53, she's been a handful to fly. I thought that's just the way old airplanes were, but in my travels last year I talked to many other Ercoupe drivers and discovered that no one else was having the issues I was. I had to accept that something was not quite right with my speedy girl.
On top of that, there was landing gear work, door work, an overhaul of the trim system, some upgrades to the fuel system under the cowl, a new GPS transponder, and more.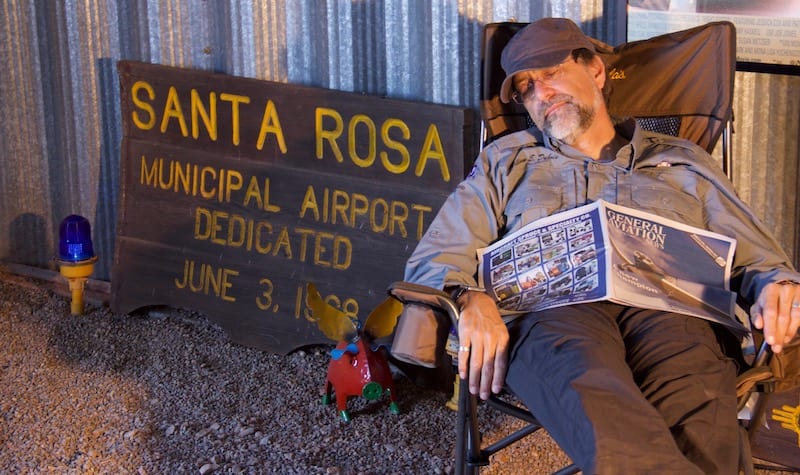 But what I was looking forward to more than anything else was the smoke system. And everything was looking great for getting one installed until the last minute, when my mechanic couldn't work out how to fit all the gear under the floor of the baggage compartment as he and I had planned. There's not a heck of a lot of interior space in an Ercoupe. The only place for the smoke oil tank ended up being in the baggage compartment itself, where it would have eaten up a full third of the precious space.
I had to decide if a toothbrush and clean underwear or a smoke system was more important.
The underwear won out.
Barely.
One change you might notice if you have a sharp eye for detail is my new glass. I replaced my clear canopy with LP Aero Plastics UV and IR blocking Solar Gray glass. I'm looking forward to less sunscreen and less sweat en route to the races!
And less sweat during the races, too. At least the kind of sweat that comes from the sun.
Staring at the wall
So what did I do during this long forced hiatus from flying? I spent it staring at a wall.
What?
No, not staring at the walls, just staring at one particular wall. The one that has my giant wall-planning chart of the United States.
As the race schedule firmed up, I drew little sets of race flags over the host airports with a black dry erase marker, while wiping out some others I had thought would run that fell through (I'm already missing the friendly Cajun folks of Abbeville).
But that's one of the interesting things about Sport Air Racing League racing: Every season's venues are different.
Meanwhile, back on my wall chart, green course lines show possible routes. Green check marks, placed near the pale gray range rings radiating out from my home base at SXU, show fuel stops. Little green houses, like one-dimensional Monopoly playing pieces, mark overnight stays. Purple ink marks stops where I might make some money writing about interesting airports, airplanes, or pilots I've discovered. Hey, I still need to make a living!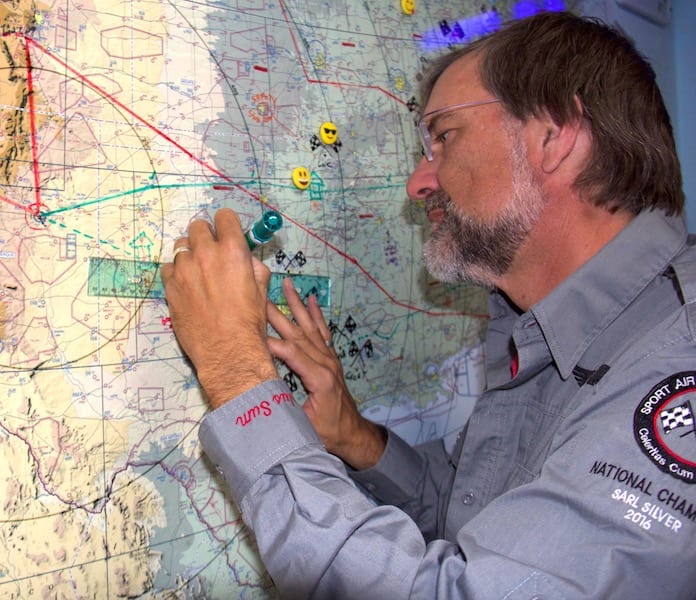 Solid orange circles indicate hotel reservations, dotted ones indicate pending reservations. Below the wall chart a full-year calendar lays out the year over time, noting departure dates and travel times, along with other must-do events such as the Ercoupe Owners Club national gathering (where I've been asked to be this year's keynote speaker), AirVenture, the Red Bull Air Races, and Reno. Another white board tracks car rental and hangar reservations.
As many of the races are far, far, far away — at least as measured by my modest cruise speed and range — and are close together both on the calendar and geographically, I decided to get creative. Like last year, I plan to leave Race 53 in the field once or twice, returning home by commercial air. On other trips I'll explore the country between races.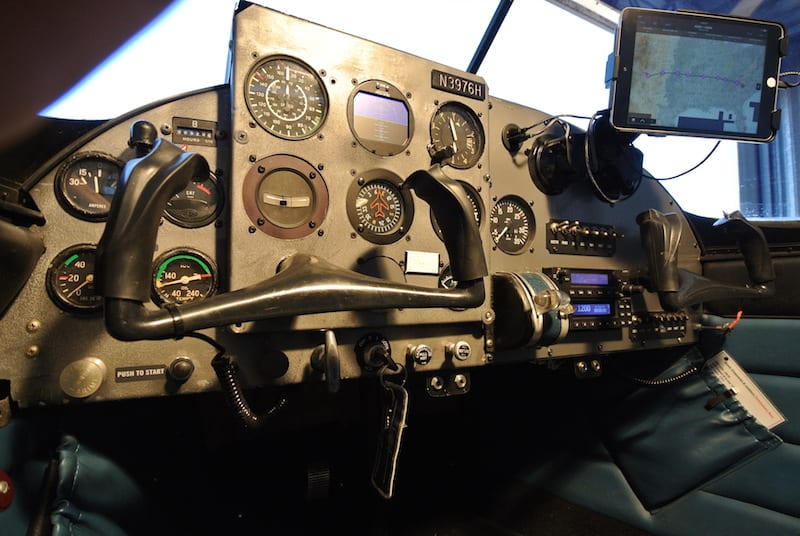 I can't wait to get started. But first I need my airplane back from the shop, which will hopefully be today after this morning's test flight…
A bad end to a good test flight
A gust levels the nose and Race 53 slams down flat on all three tires, shudders, and porpoises back into the sky a second time. Like a rodeo cowboy on a pissed-off bull, I'm just holding on for dear life, the frozen elevator still as immobile as cast iron.
The third touch down is the charm. The plane's energy expended, she stays planted on the ground, one wing higher than the other.
Oh great. I've bent the damn plane.
Suddenly, the yoke moves freely again. Smooth as silk. As I roll off the runway the right wing slowly rises up to level. Ah, I haven't bent the plane, after all. The gear just took some time to decompress from the hard landing.
Landings.
The tower is polite enough not to ask, and hands me off to ground. I skulk-taxi as fast as possible back to my A&P's shop and shut down.
I guess I'll be in annual a little bit longer still. Damn it.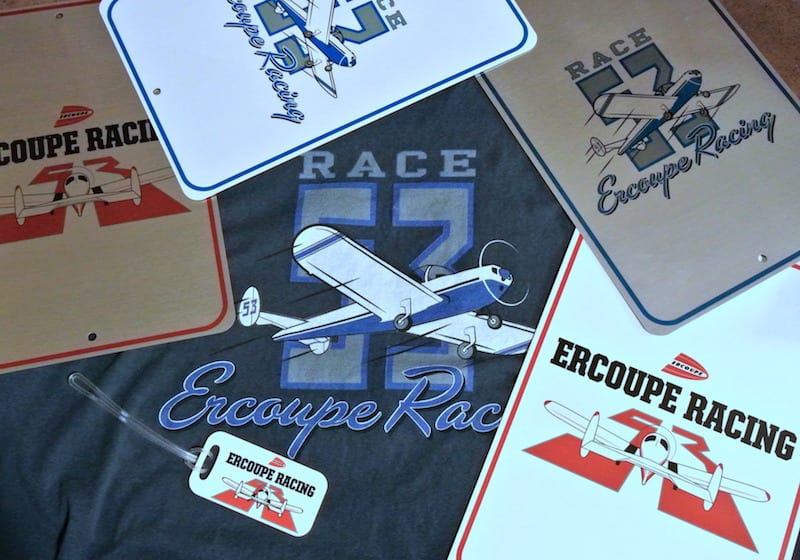 Meanwhile, I know that back home in my flight lounge, the large blue digital clock is counting down the days, hours, minutes, and seconds until the start of the race season, which it's been doing since we returned from the season championship last year.
But now the time is getting short.
And I still don't have a flyable airplane.
My League Points: Zero.
My League Standing: Yet to be established.