Dispatch from KGYI, North Texas Regional Airport: Am I still gaining on them? The Cessna 152 is 200 feet above me, about half a mile ahead, and slightly off to the left.
I'm low over the lake, climbing slowly, a pillowy soft grey overcast above. My ground speed, frankly, sucks. I'm bucking a 22-knot headwind on the first leg of the 10th Annual Texoma 100 Air Race in the Sport Air Racing League.
For a short while, I was gaining on the other plane, but now it seems they are starting to pull away from me.
The Cessna is Race 19, a new plane to our league. It's piloted by flight instructor Jaydeep Satyambhai Rathod and his student Ahmed Uvaish Ibrahim, and I'm desperate to beat them. I've fallen behind in league points, and a victory today can salvage the season.
But it won't be an easy task. I know that on paper I'm no match for the 152. Its cruise speed, at 123 mph, tops my balls-to-the-wall race speed by a full seven mph. A 152 in good condition should leave me choking in its exhaust as it pulls far, far away from me.
But out on the racecourse, it's the paper statistics that often go up in smoke.
One thing's for sure, though. I've closed the gap between us since we launched, so things are starting to look up for Team 53.
A grim outlook
Back home, before the race, I needed more than one whiskey after studying the lineup. In FAC6, I was up against two planes: Dane Pruitt's Race 207 — the plane and pilot who beat me at least year's AirVenture Cup, and Rathod's Race 19.
Rathod was a new, unknown quantity, but his plane is sufficiently more powerful than mine that besting it wasn't something I couldn't count on.
[contextly_auto_sidebar]All of that meant I might be looking at a third place finish with only 60 points.
Meanwhile, new Gold rival Charles Cluck — who was already ahead of me — was up against three other planes, and his race speeds have been running better than two of those planes ran last year. If he bested them all, and I came in third, he'd be 80 points up on me, a potentially fatal lead.
It was depressing, to say the least. Especially so early in the season.
On the ramp
During the dinner party the night before the race, I walked out onto the windy ramp to take a better look at the competition. A towering thunderhead to the east blotted out the setting sun, casting an evil green-gray light over the tarmac, dark enough that all the streetlights came on.
A tornado had touched down to the south and I could hear the massive hangar doors groaning shut — a precaution in case the twister cut the power and turned our way.
Race 19 didn't look like much tied down on the ramp, a dirty mustard-yellow and white 152 that screamed "flight school property." And so it is. It has no wheel pants or any other speed mods. But a shabby exterior (and interior) doesn't tell the whole story.
How strong is its engine? I knew that if it had been neglected like the exterior, the plane would be slower than its pilot's handbook claimed. Also to my benefit, Rathod would be flying with one of his students. Laudable to say the least, but a good deed that carried a speed penalty from the increased weight. Of course, Rathod and his student are both Indian, so, bluntly, we're not talking about all that much weight.
Still…
Rathod and Ibrahim saw me checking out their plane, and joined me on the ramp. We introduced ourselves, then talked speed. Rathod thinks in knots still, so I told him that air racing uses miles per hour since the days of old. His agile mind quickly converted the numbers before I could get my smartphone out. He was happy. He could see that he's faster than I am.
I knew that was true.
But I also knew there's more to air racing than raw speed alone.
By the Book
Ahead of me, Race 19 makes a beeline for the pylon over a dam southwest of Madill, Texas, swings wide to avoid cutting the corner, and "keyholes" around the turn, eating up more ground track than necessary.
Instead of navigating to the pylon, I've programed my GPS to take me to a point outside of the pylon that will let me turn toward it, placing the pylon at the apex of a best-radius turn.
I'm not actually smart enough to figure that out on my own. I read it in a new book, "The Art of Cross Country Air Racing," authored by none other than "The Chief," Mike Thompson, chairman of the Sport Air Racing League.
The gospel according to the Chief: "Race Rule #2: Don't fly further than you absolutely must."
So sayith the book.
I've deployed this new tactic at each race so far this year, and it's working great for me. It's such an obvious approach that I can't believe I didn't think of it myself.
Last year I was able to start my turns dead on the pylons, closer than most racers, and my tight turn radius kept the ground track skimpy, but I was still scribing a path across the earth that was off course beyond the turn point. The new trick places a graceful, tight path around the pylons.
The point? The shortest possible ground track gives the fastest possible time on the racecourse, which translates to better race speed and improved chances of victory over similar — or better — airplanes.
And it's working. Coming out of the first of our two turns on the short course, I'm closer than ever to Race 19.
Closing in to our second turn, over Gainesville Municipal, Rathod is wide but I'm not fast enough to get around him before he takes the turn. I throttle back. Damn! He sweeps through the turn, making a beautiful arc across my nose.
If this were combat, he'd've been an easy kill. Then he's clear. I've long overshot the pylon, but I snap left and follow him.
We're out over open country on the last leg. Rathod holds at 1,000 feet. I start a power dive to the 500-foot finish line altitude. As I pick up speed in the dive, I close in on the high wing. For a few seconds I think I'm going to pass under him. But just as I'm about to click the mike to announce the pass, Race 19 pulls away. Damn, that thing is fast!
Still, we're less than four minutes out, and I'm closer to him than I was when I tookoff. That means one thing, and one thing only.
I won.
"Race one-nine, finish," crackles over my headset. Ahead, the faded yellow and white 152 peels off and climbs. Seven seconds later I thunder cross the finish line at full throttle.
Back on the ramp
I hoist myself up out of the cockpit, step out onto the wing, drop down to the tarmac, and head for the 152 — which taxied in right in front of me — to congratulate my rivals on a rookie race well-flown. I would have done the same had I lost.
Rathod jogs towards me, a huge white smile flashing across his dark face. He pumps my hand up and down enthusiastically. "You won," he tells me, still clearly stunned that his 115-hp plane has been bested by an antique with only 85 horses, but delighted with the race experience, and eager to compare notes.
Later, photographer Lisa F. Bentson, who witnessed the exchange, told me, "Now that's sportsmanship!"
Still later that night, we joined Team 35 for dinner and plane talk. They are my biggest rivals, but they are quickly becoming good friends.
That's also sportsmanship. At it's best.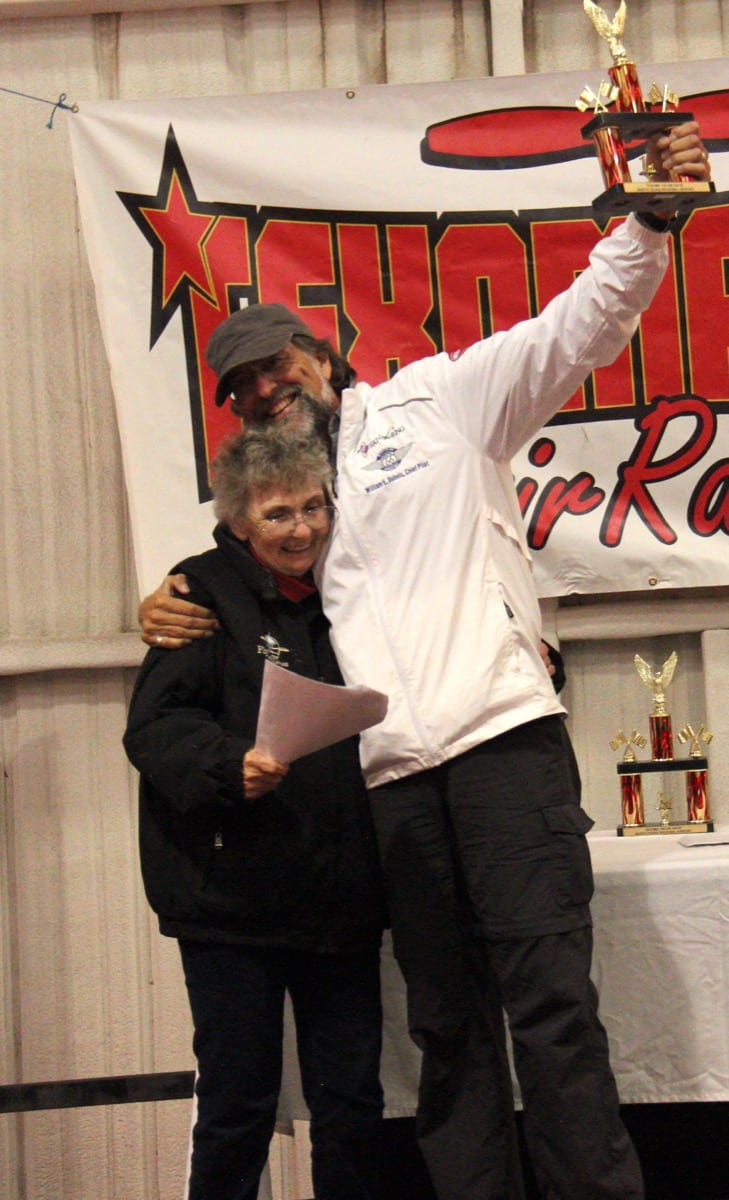 My League Points: 410. I picked up 100 points for being in first place and another 10 for beating Race 19. Interestingly, Race 19 wasn't the last-place plane in the race. Both of us beat a Cessna 172 that only managed to clock a speed of 108.53 miles per hour, winning the famous "Flying Pig" trophy.
My League Standing: I'm now tied with Charles Cluck's Race 35 for first place among production airplanes! The plane that beat me last year scratched due to the weather, and none of Cluck's competition showed up, allowing me to catch up with him.
That's what's great about racing: You just never know what is going to happen. Apparently the Fates love air racing as much as I do.