Dispatch from KABI, Abilene, Texas: I'm perched on the left wingwalk, leaning into the open cockpit. My shirttails keep coming untucked, and I'm praying that the waistline of my pants is high enough that I won't be mistaken for a plumber, instead of an air racer.
I point to the instrument panel, "This one tells me how fast I'm going through the air, and this one tells me how fast I'm going up or down. This one here tells me what direction I'm going. This is the throttle, I use it to make the plane go faster or slower. Any questions?"
The 7-year-old boy looks up at me with big brown eyes and asks, "Where are the machine guns?"
No one's ever asked that before.
"Sorry, kiddo," I say, slowly straightening up and hastily tucking my shirttails back in, "no machine guns, no missiles."
"Oh," replies the boy, clearly disappointed.
"Come on, Sport," his father calls out. The boy jumps up and springs out of Race 53's cockpit like a kangaroo.
"Thank you!" he calls over his shoulder as his mother scoops him off the right wing.
"Come on up," I call to the boy's father.
"Me?" he asks, surprised. "Ah… No, I'm good. Thanks." But his eyes are aglow.
"C'mon, I can tell you want to."
He looks back over his shoulder, "Well, I would like to… but, well… there's a lot of kids in line."
[contextly_auto_sidebar]The line, in fact, extends all the way down my right wing and beyond, a good 25 feet long. The faces have changed, but the length of the line hasn't shrunk for over five hours. I've missed lunch, haven't had a chance to explore the other static displays, and I'm getting seriously dehydrated under the pounding Texas sun. But I wouldn't trade this day for a fast plane.
People are actually standing in line to sit in my airplane.
"Yes. There are. But you stood in the same line with your kids, so now it's your turn."
He doesn't take any more convincing. He climbs up onto the wing, steps over the sidewall onto the seat, and settles into the cockpit. "This is… awesome," he says.
And he doesn't ask about the machine guns.
Part of a larger party
Our Sport Air Racing League race was the kickoff event for the 2017 Dyess Big Country AirFest, a daylong aviation celebration that was free to the public and included military and civilian static displays, airplane rides, vendor booths, an air show, and bomber flybys from the nearby Dryess Air Force Base.
While no official count was kept, organizers tell me that they had given out 2,500 programs before noon.
The event largely closed the Class C airport and as racers, we didn't have to listen to the ATIS, contact clearance delivery, ground control, the tower, or departure.
Instead, Charlotte handled all communication.
What? Who?
Charlotte Rhodes was the AirFest Air Boss. This was my first experience dealing with an Air Boss, and I loved it. She was the point lady for all airplanes in the race and in the air show, and boy did that make life easy for me! One frequency. One person.
She handled our launch, finish, approach, and recovery.
And it was right after my race recovery that I found myself the host of my very own open house.
No sooner had I parked Race 53, than a crowd formed around her. At the forefront, a star-stuck boy stood staring at my blue and white twin-tailed plane, his mouth open in a perfect circle.
Without thinking, I asked, "Do you want to sit in her?"
A long day
That was an eternity ago. Now the sun is low in the sky and long shadows stretch across the ramp. For the first time since I parked the plane following the air race, the line has shrunk. Now it's shorter than the wing. Then there are three families left in line. Then one.
"How old is the plane?" asks the mother.
"Seventy years and one day old," I tell her. Yesterday was her "birthday."
The husband whistles, "Holy cow. She looks great!"
"Well," I say, "properly cared for, airplanes are immortal."
I reach my hand out to his daughter to help her into the cockpit, "Welcome aboard."
At one time today I had four people in Race 53 at once: Husband, pregnant wife, and their toddler. I'm betting that's a new record for an Ercoupe.
Most of the visitors to my lengthy impromptu cockpit open house were children between 4 and 10 years old, but I also had adults of all ages, including two senior citizens — one of whom took his first flight in an Ercoupe when he was a young boy, an experience that led him to a life-long aviation career.
Some of my visitors only stayed in the cockpit long enough for their mothers to snap a cell phone picture, and most for two to three minutes.
But some couldn't get enough, staying far longer, soaking in the vibe, asking question after question. I didn't set any rules. Every child (or adult) could sit in the plane as long as it felt right.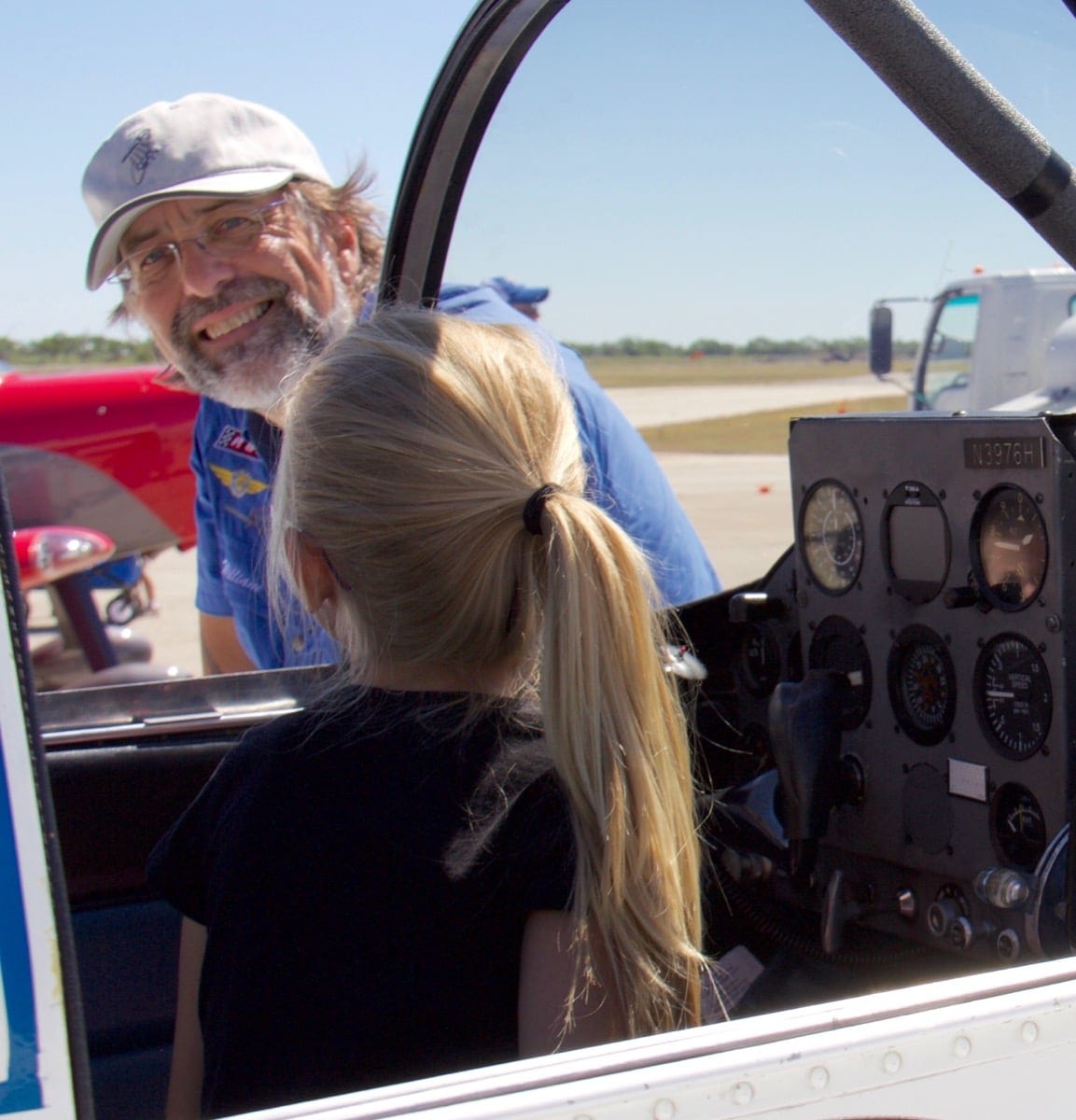 One intense hazel-eyed 11-year-old girl pointed to every single button, gauge, and circuit breaker in the cockpit, wanting to know each one's name, purpose, and function. At the end she leveled a steady gaze at me and asked: "Can girls be pilots?"
"Yes. Absolutely," I told her, "and girls make great pilots."
As Race 53 is a race plane with giant race numbers plastered on her sides, nose, and under her wings, I expected the most common question to be: "How fast does she go?" But after putting probably 200 people though the cockpit by the end of the day, I was only asked that once.
Instead, the number one question was: "What's the red button for?" Both of Race 53's yokes have a tiny red push-to-talk button the size of a grain of rice on the tips. I was surprised that anyone noticed them at all.
The last family finally leaves and I stiffly dismount the wing and stretch my sore muscles. My legs ache. My lower back aches. My lips are dry from sun exposure. I'm exhausted. The day has been taxing on both body and mind.
Airplanes have delicate parts that are powerful magnets that children feel compelled to push, tug, pull and pound on. Trying to protect the plane from unintended damage was stressful… and a failure. By day's end both back windows had been knocked out, and she sustained light damage to the right aileron. And, of course, the plane is literally covered with hundreds of sunscreen-sticky fingerprints.
But it was an invigorating, unexpected, and delightful experience. The time on the ground was — dare I say it? — more fun than the air race itself.
And who knows? Maybe sitting in the cockpit of Race 53 for a few minutes may plant the seed that leads to a lifetime in the air for some child who will grow up to become a member of the next generation of pilots: A person that my immortal airplane may meet again someday.
Maybe when she's 100 years, and one day, old.
My League Points: 510. Despite clocking my third-lowest race speed ever, 110.97 miles per hour, I mopped up the non-existent competition and took first place in my class, snagging anther 100 Championship Points.
My League Standing: I'm tied for First Place in Production planes with Charles Cluck of Race 35 who clocked his best speed yet: 210.27 mph. We've been neck and neck since the first race, and I'm yet to be in the lead, darn it. We stayed tied through the first two races this season, then he edged ahead in the third. I caught up and tied with him again at the fourth. At Abilene we both flew unopposed in our classes, and remain tied.