By MARK JONES JR.
"…After battling headwinds for five hours, Arnold Ebneter calculated that the four gallons left in his fuselage wouldn't get him anywhere near Fredericksburg…he was so close to finally finishing his dream."

From "The Propeller under the Bed: A Personal History of Homebuilt Aircraft," by Eileen A. Bjorkman.
For almost 16 hours, 82-year-old Arnold Ebneter, propelled by passion, had subjected himself to a discomfort I cannot fathom, sleep deprived and cramped in the small cockpit of his E-1, an airplane he had designed as an undergraduate.
Now, as he contemplated the effect of invisible forces imposed by the whimsy of the weather and winds aloft, he must have realized he would never have another opportunity like this.
What goes through one's mind at such a moment?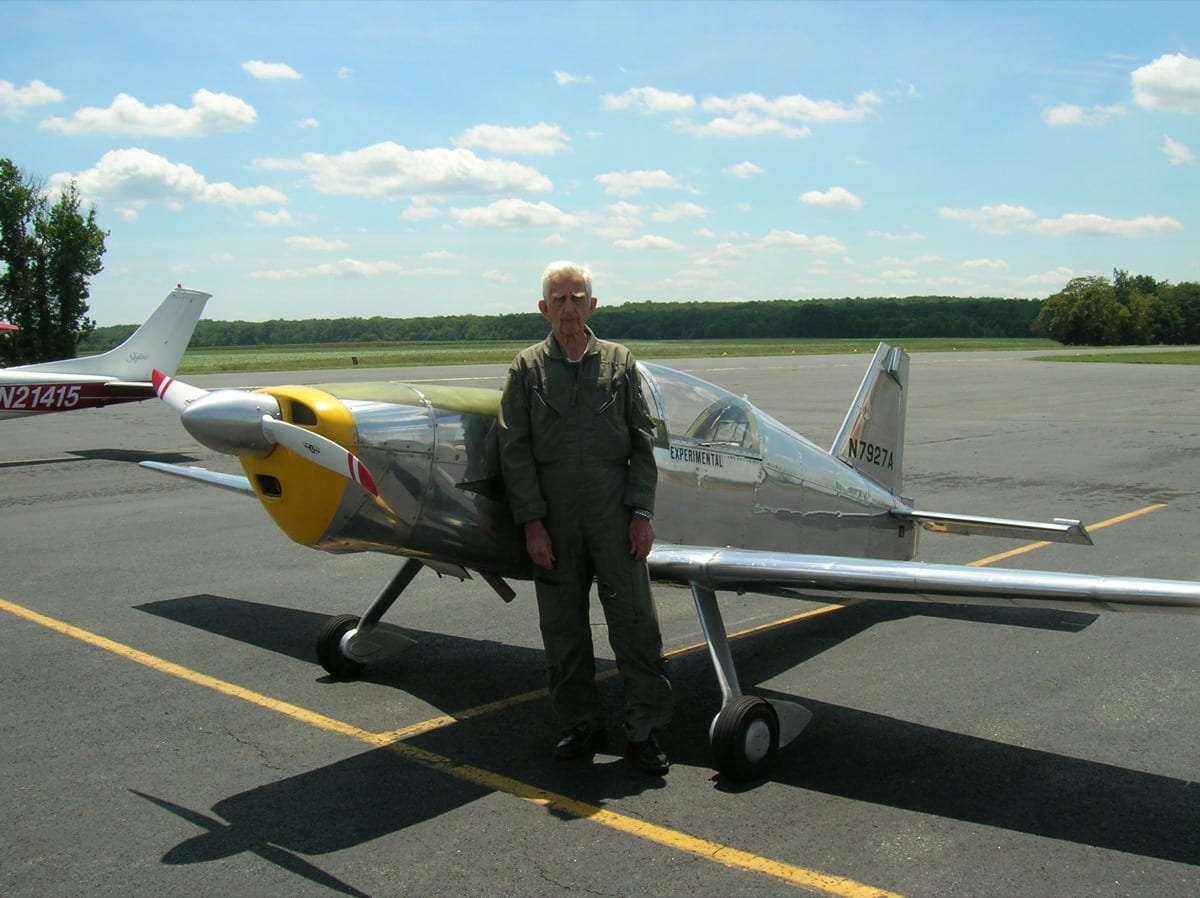 Perhaps it was the tranquil image of the mountains he crossed just half a day ago. He had taken off from Paine Field in Washington state on an attempt to fly 2,236 miles to Fredericksburg, Virginia, the longest flight ever recorded in an aircraft less than 500 kg. No one had attempted such a feat since 1984, when the previous record has been set.
Maybe it was doubt — as I read the detailed account of the pilot's actions during those critical moments, it elicited an uneasiness in the pit of my stomach.
Or something more immediate may have transfixed his vision. There in the early sunlight, he must have gazed with simultaneous familiarity and wonder at "a tapestry of fields knitted together by roads and rivers…"
With these words, the author, Ebeneter's daughter, skillfully evoked vivid images in my mind, a feat she accomplished again and again throughout her book, The Propeller under the Bed.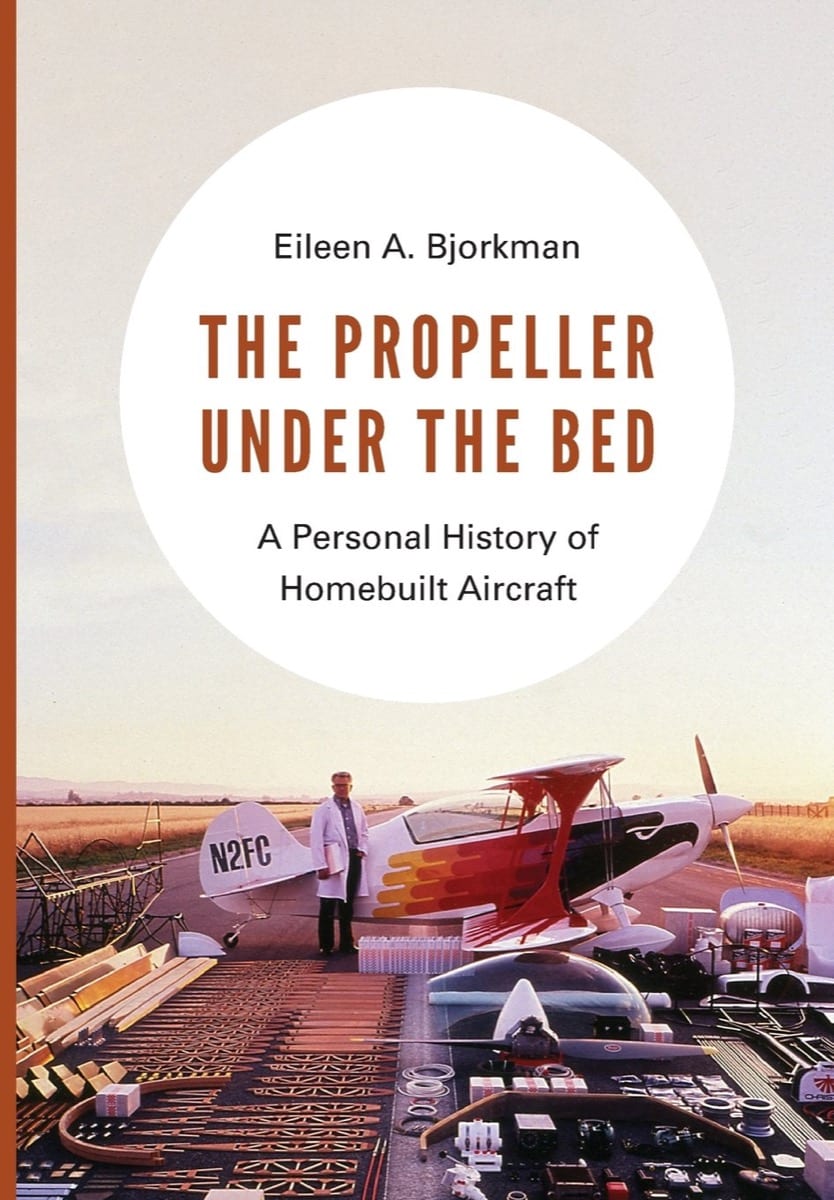 In it, Eileen Bjorkman shows us these vistas and more as she takes us on Ebneter's journey. She helps us revel in the beauty and simple wonders of flight, and her style encourages the reader to savor these moments.
[contextly_auto_sidebar]In this historical work, she accomplishes so much more, for she weaves together a tapestry with the threads of three significant stories.
The first is the history of homebuilt aircraft and the community that sprung up around this aviation subculture.
The second story is an epic journey in a one-of-a-kind homebuilt aircraft, a record setting flight from Paine Field to Fredericksburg that earned its designer-pilot the Blériot Medal.
The final story is her father's. In addition to being the author's father, Arnold Ebneter was many things — a certified mechanic, an aeronautical engineer and aircraft designer, and a pilot. Symbolized in this man's greatest aerial achievement we see the effect of invisible currents, like the drift imposed by crosswinds, on the history of aviation itself, on our nation, and on the family of Arnold Ebneter.
After a detailed account of the birth and infancy of homebuilt aircraft, Bjorkman picks up the story with Ebneter's first flight in the 1930s. During that era, it was the Department of Commerce that heaped rules and policies on the young aviation industry, vaguely defining licenses for experimental aircraft and leaving homebuilders wondering if their designs would meet muster. In the wake of these decisions, the first community was formed, the Amateur Aircraft League, to lobby against the regulations.
The author continues, alternating between major waypoints in the history and Ebneter's winding journey, detailing his love affair with the Cub and his feats as a balloonist testing Navy designs during the Korean War. This time, it's the Civil Aeronautics Authority that intervenes in his life, certifying him as a balloon pilot.
In the next phase, another government entity alters his life trajectory — just as the Air National Guard sent him to pilot training, a group of aviation enthusiasts and builders were meeting with Paul Poberzney in Wisconsin, unbeknownst to him. The Experimental Aircraft Association grew rapidly during Ebneter's years flying jets for the young Air Force.
Shortly thereafter, with support from the military, he completed the requirements for an aeronautical engineering degree by designing an aircraft, less than 500 kg, capable of flying more than 2,000 miles, at least on paper. This would mark the beginning of his epic pursuit of a truly astounding Fédération Aéronautique Internationale record.
This journey would take him to swap meets, where he would purchase parts for his airplane design, flown there with members of his growing family.
It is a saga that followed him to Eglin AFB, where high humidity forced him to bring the propeller of his homebuilt aircraft project inside the house to protect it from the humidity. With nowhere else to put it, he stores it under the bed.
From there, the account follows him into retirement as he watched his daughter's interest in aviation ultimately blossom into a distinguished career as a flight test engineer.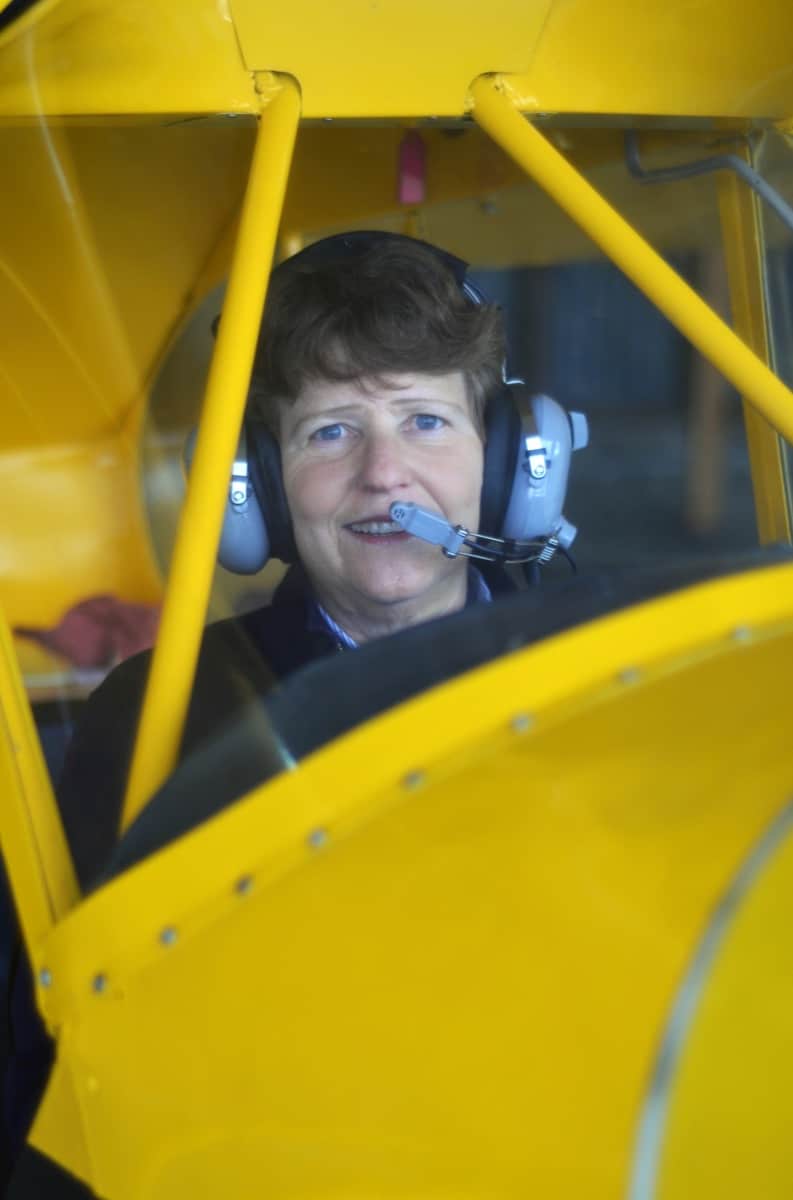 In each era, Ebneter's story intersects with some other unique elements from the history of homebuilt aircraft and its place in the larger, global trends of aviation. As you turn the pages you will also recognize the fabric of your story.
Your heart will race like hers when she watches her father's design first take flight. Perhaps you will exclaim with delight when you discover some description or image or airplane memory stored in an unusual place, like the propeller her father stored under the bed.
As she describes the sights and sounds and even smells, she takes the reader on a journey. For some it's a memorable flight with family. For others it's a deployment to a faraway land, like her father's service in Vietnam.
You may recognize the feelings she describes so skillfully, as a member of a military family left at home.
For many of us, her accounts will take us back to the first time we wandered up and down the rows of airplane parts, vendors, and homebuilt aircraft at Oshkosh.
The stories are myriad, and her research detailed and thorough.
In these stories and historical details, perhaps you will also find hope, the same inspiration that fueled Ebeneter's dream so many years later — you'll find it accidentally, just as Bjorkman stumbled upon it: "I had just turned 20, and I remember having, for the first time, an inkling that my father was once young too, with his own hopes and dreams."
At the last, she skillfully pieces together the elements of each of these stories more beautifully than the finest homebuilt aircraft. In one sense, as a finished work, this book represents the same creative and time-consuming craftsmanship of her subject.
In another, however, I find myself amazed at how she has managed to lay out the human and emotional parts of the story like the ribs of a wing and carefully constructed each element, just as she herself has laid out the pieces for a section of wing and describes that in these pages.

In the closing pages, as she recounts both the unbelievable and mundane moments of Ebneter's record setting flight, she deftly brings the story to a close with the same skill that Arnold manages to land his uniquely designed and homebuilt aircraft at Fredericksburg.
Any aviation enthusiast will appreciate all 200 pages of this work, but those of us who find our fathers and mothers staring up at a cloudless sky when the sound of a propeller breaks the silence will recognize both its timeless appeal and historic significance.