Dispatch from KSAF, Santa Fe, New Mexico…three weeks ago: Faces solemn, my mechanics each rest a hand on one of my shoulders. One on my left and one on my right, they gently guide me across the crowded hangar floor, around Race 53, and to the north wall. There — SMACK — they smash my head violently into the wall.
Before I can gasp for breath, they do it again.
And then a third time.
OK. It wasn't really that dramatic. But the effect was the same.
Yeah, my wrench-turners hosted an intervention over my refusal to accept the reality about the condition of my engine.
Ultimately they convinced me, or at least my wife, that my trusty racing steed had become a deathtrap in waiting. The dreaded major overhaul could no longer be safely put off.
I'll spare you the details, but suffice it to say that I pulled out all the stops to try to find a quick solution, but one was nowhere to be found. I was going to be out of the game for many races, right smack in the middle of the Sport Air Racing League (SARL) season.
I'd even miss the AirVenture Cup, the largest air race in the country. The race whose 20th anniversary logo I had just embroidered on my flight jacket, damn it.
So that's it. The gold quest is over. I fell off the back of the podium as soon as I got to the top of the leader board.
And the wear and tear on body, machine, and bank account rules out a third attempt. So this is the end of our story.
Well, almost…
Bentonville, Arkansas (Yes, that Bentonville, the ancestral home of Walmart): "Well, hello, you pretty little thing," I said as I came out of the blazing noon-day sun into the cool darkness of the hangar. The lineman cocked one eyebrow up, but remained silent.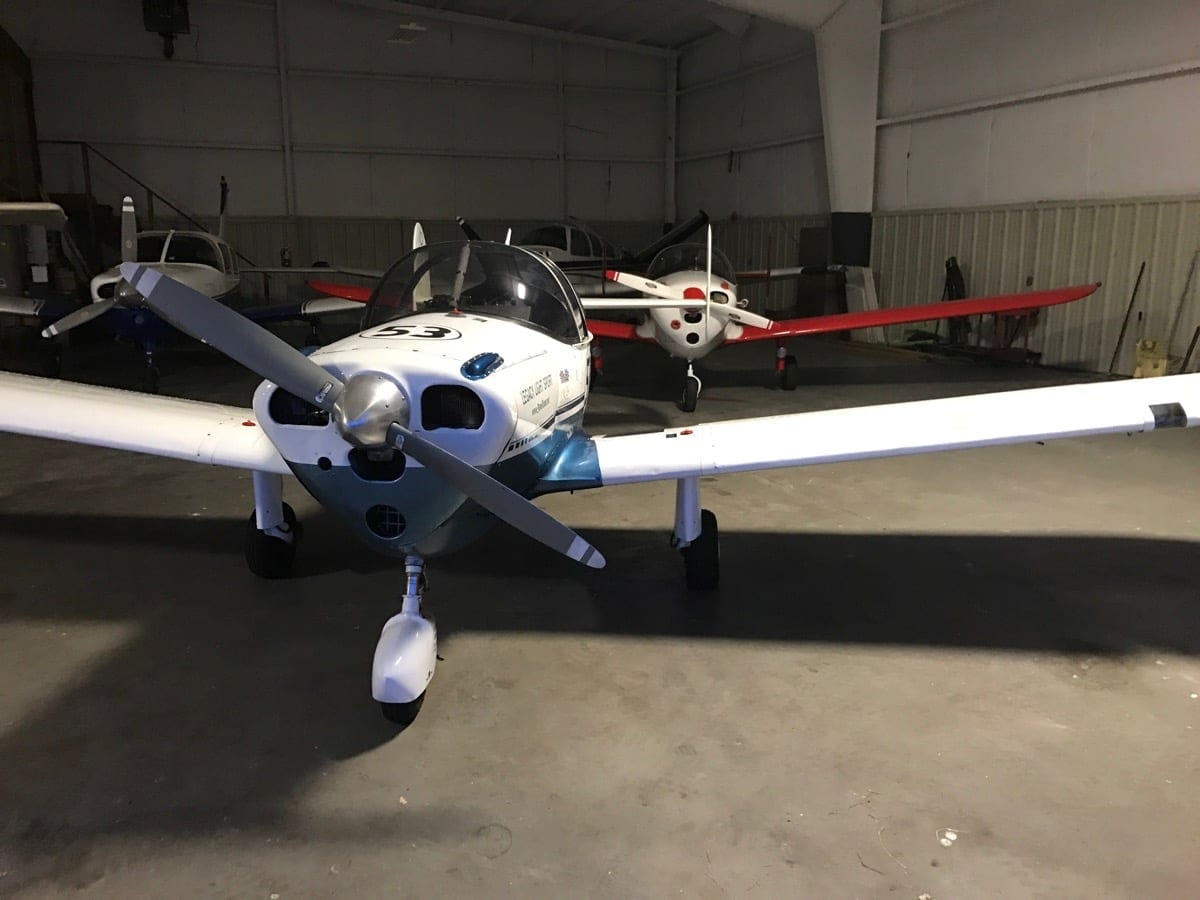 In the corner was a red and white Ercoupe, painted in the livery of a 1930's Gee Bee racer. I wiped the sweat off my forehead and walked across to the little airplane. It was beautifully restored in Art Deco style but sported LED lights in the landing gear and a glass panel GPS next to the iconic glove box in the cockpit.
"Who does this belong to?" I asked.
"Oh, that's our light-sport rental," replied the lineman.
Really? A rental Ercoupe? Hmmmmm….Bentonville is only about 300 miles from Mt. Vernon, Illinois, the starting point of the AirVenture Cup. But, of course, no one would ever rent their airplane for an air race.
Would they?
I started my email with, "I noticed that your light-sport rental is painted like a classic race plane…"
Dispatch from KMVN, Mt. Vernon, Illinois: "I saw your plane's stunt double on the ramp," said Race Chairman Eric Whyte when he greeted me at Race Central.
Yep. It took a ton of emails, a lot of paperwork, and two insurance companies, but I was back in the game. At least for one race.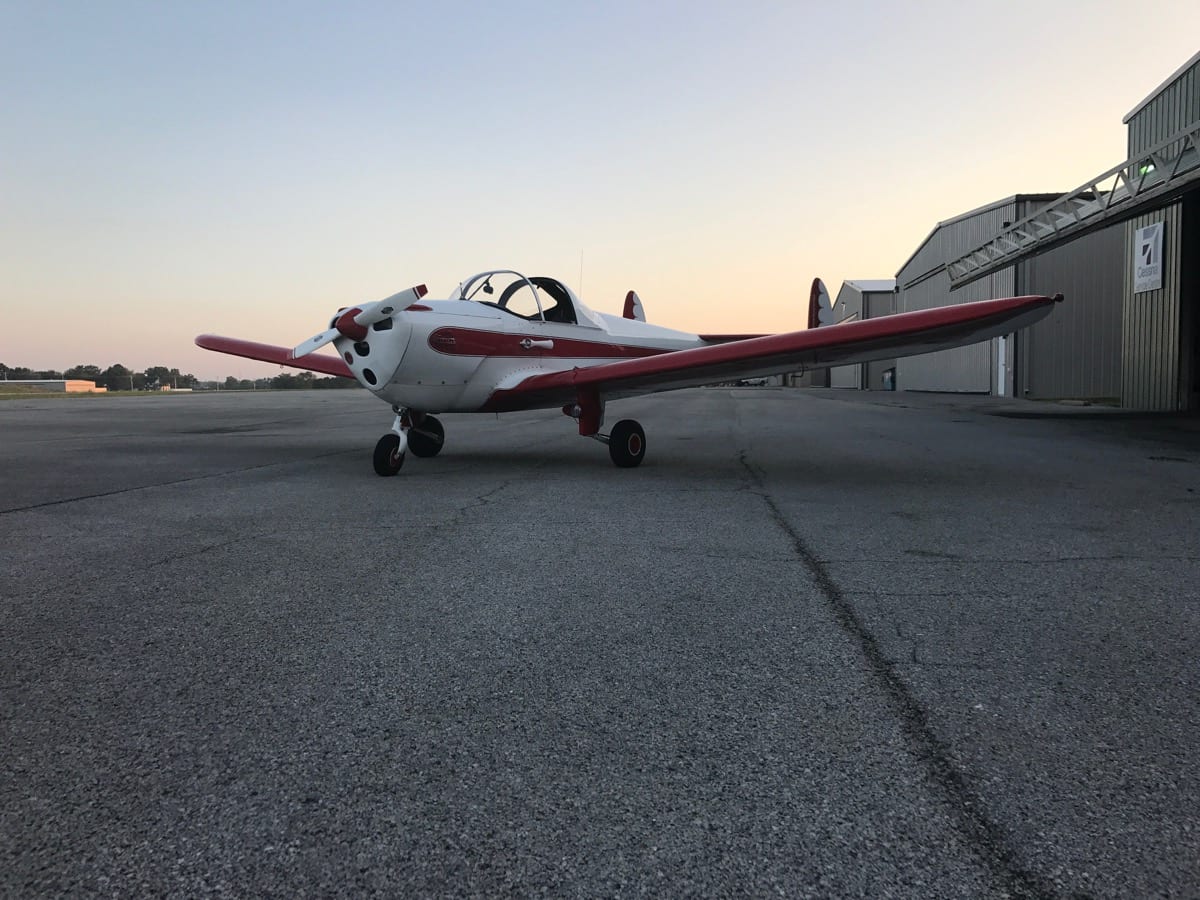 SARL rules allow a jockey to run a different horse and still accumulate championship points, so long as both the aircraft are of the same league category and class. Originally intended to allow pilots who are renters, rather than owners, to compete on an equal footing without having to bring the exact same airplane to each race, these same rules allowed me to fly a stunt double for Race 53 while she's torn apart.
But to do it, my son Rio and I had to drive to Albuquerque, hop on a commercial flight to Houston, then a second flight to Fayetteville. After visiting a museum that houses Sam Walton's first business airplane — an Ercoupe — we rented a car and drove to Summit Aviation for a check flight, then we had to ferry "our" new ride to the race.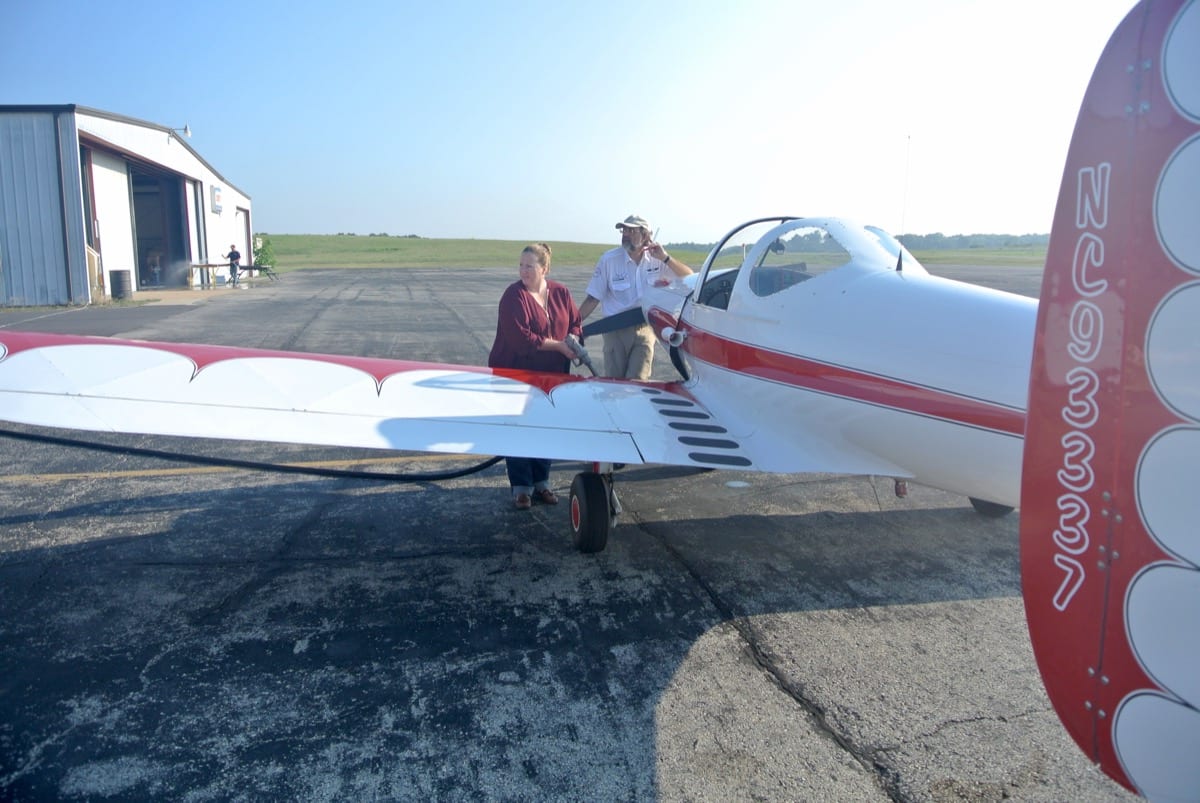 I confess to having a love/hate relationship with the AirVenture Cup. I hate the fact that it's a cross-country race. It's a fairly straight line one-way race. I hate the fact that there are none of those dizzying high-G race turns that I both love — and need — to score well.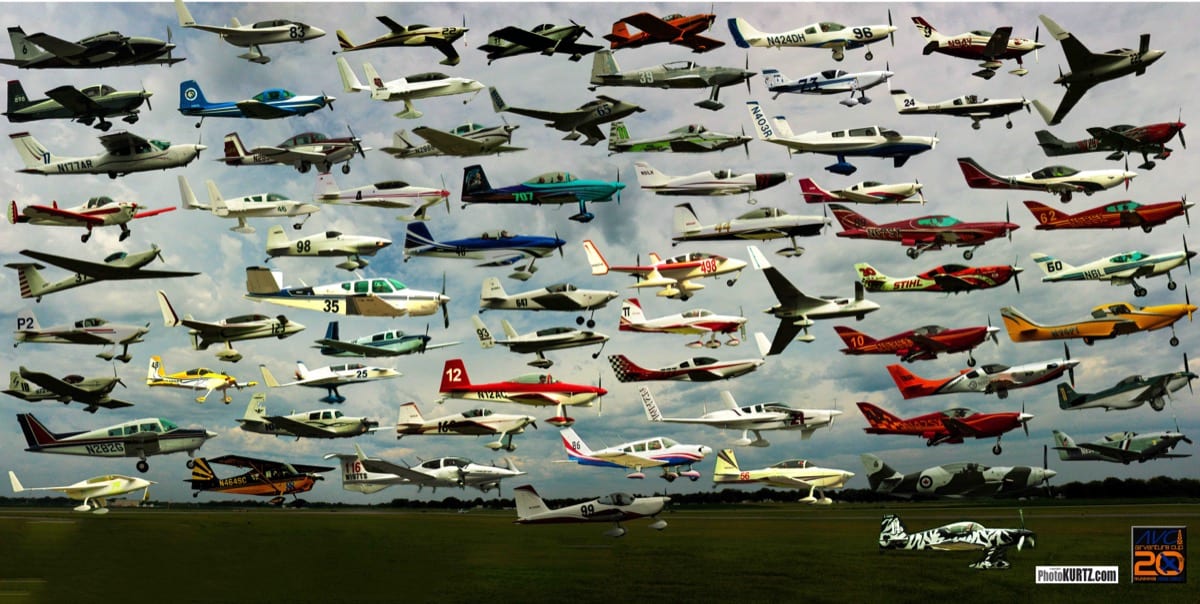 But I do love being part of something so damn big. A hundred pilots, sharing a passion. The energy on the ramp, in the terminal, and at the briefings is electric. I meet old friends and make new ones.
Then there are the planes. Dozens and dozens of planes of every sort, candy for both the eye and the soul.

It's a party I would have hated to miss, especially in its once-only 20th running. Or so I thought. Until we launched into a fierce headwind.
The countryside slid under us in slow motion 700 feet below. To say it was a dull flight would be an understatement. It was so boring it was almost painful.
"This is making me think twice about our plan to fly around the country," said co-pilot Rio.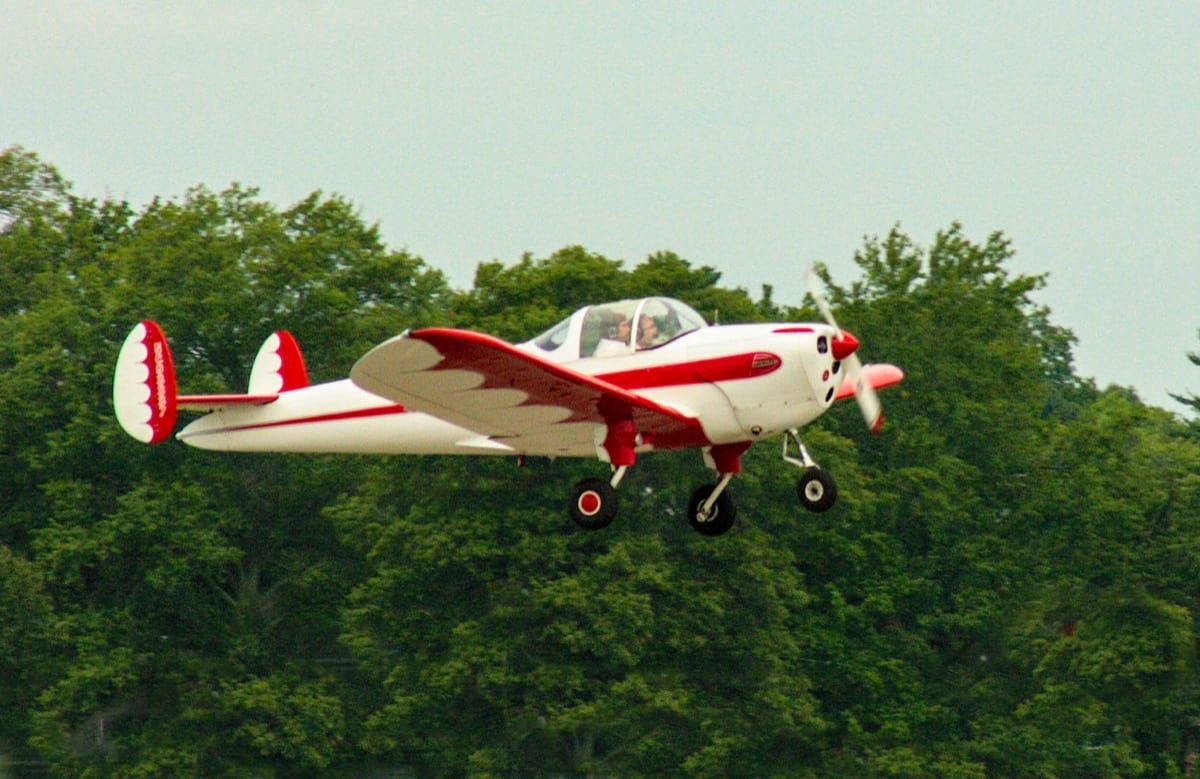 We didn't even have the extra adrenaline of competition: The other registered FAC6 airplane was a no-show for the race. We knew we'd win first place when we — eventually — reached the finish line. Where's the fun in that?
As the hours stretched by, the radio grew increasingly silent as the rest of the race fleet pulled far, far ahead.
Clearly, the beer would be warm by the time we finished the race. But at least we were able to be part of history, in a plane that looked like it flew right in from the past. From the glory days of air racing.
Back in Bentonville…
I slide the canopy down and taxi past Race 57, the Super Corsair of Thompson Trophy and Reno fame, which lives right next door to Summit Aviation at the Louise M. Thaden Field. I pull the little Gee Bee Ercoupe up in front of the terminal and shut down. The FBO's manager comes out and asks me, "Did you win?"
"Congratulations," I told him, "you're now the proud owner of an honest-to-God award-winning race plane."
"Get outta town!" he replies, a huge smile of disbelief spreading across his face.
And I do. First by rental car, then by commercial flight to Milwaukee, and rental car back up to Oshkosh…
My League Points: 840 points
My League Standing: I'm now back in second place among production planes, having first fallen behind Charles Cluck at the Peanut 150 Air Race in Georgia, which was the first of the summer races I missed waiting on the engine rebuild. At the AirVenture Cup he bested not one, but two Meyers 200s, racking up 120 points for the race and putting him fully 100 points ahead of me.
For those of you who can't make the math work from the last dispatch to this one, I received only 80 league points for my first-place finish in the race, as the AirVenture Cup and SARL categories don't line up 100%.
A motor glider that ran faster than I did in a different cup category ended up getting the top slot for the race's SARL points. This is one of those rare cases in which your trophy and your points don't match.
The fact I was beaten in an air race by a glider, even one with a motor, is something we're not going to talk about. Ever.
Meanwhile, Cluck now leads the entire league — production and experimental — with a point total of 940. He's going to need to build a bigger trophy case.