Wow. What a package. Catered meals. Open bar. A private sound system. An exclusive hangar set up for dining and socializing with guests from around the world. Noteworthy lunchtime speakers daily. Reserved close-in parking with exclusive shuttle service to the front door.
A members-only sky view grandstand with individual bucket seats. Executive climate-controlled restrooms. Exclusive merchandise not available to the general public. Complementary coat and bag check. Air Race admission and Pit Pass included for all five days of the National Championship Air Races.
And what a price tag. $850 per person to join the Checkered Flag Club. Hmmm… the membership is limited to 225 people each year, "to maintain the relaxed atmosphere."
I'd better order right away!
That was in May. Memberships for me, my son Rio, and my wing-woman Lisa, along with three one-day visitor passes for the less race-obsessed members of the family (my wife and mother) set me back $3,177.53, including Nevada's new 9% "live entertainment" tax.
And now, staring down at my individual bucket seat in the members-only sky view grandstand, I'm feeling like I've been ripped off.
It's a cafeteria chair.
My catered meals on the first day of the races were a doughnut or a bagel for breakfast, and half a cold sandwich for lunch. The open bar sounded great, and they do have a nice dry red wine, but they can't find a corkscrew to open it with.
The exclusive merchandise is made up of polo shirts, coffee cups, and a few forlorn wine glasses that say "2015" on them; nothing like the custom-made club items I've seen for sale on eBay from years gone by, like the race pylon-shaped McCormick Bourbon bottles from the 1970s. I guess the glory days of air racing are over.
I did get a handsome Checkered Flag Club jacket, but it didn't fit. Oh, and that exclusive shuttle from the parking lot? I'd pictured a comfy air-conditioned bus like the rental car folks use at the airport. What did I get? A battered, run-down golf cart.
But despite how depressed I was about my investment at the end of that first day, by the end of this year's races I'd pulled a high-G 360° turn. I'm not sure I'm coming back to Reno next year, but if I do, it will be as a member of the Checkered Flag Club.
Because while it didn't live up to its hype, it really was worth it.
And then some.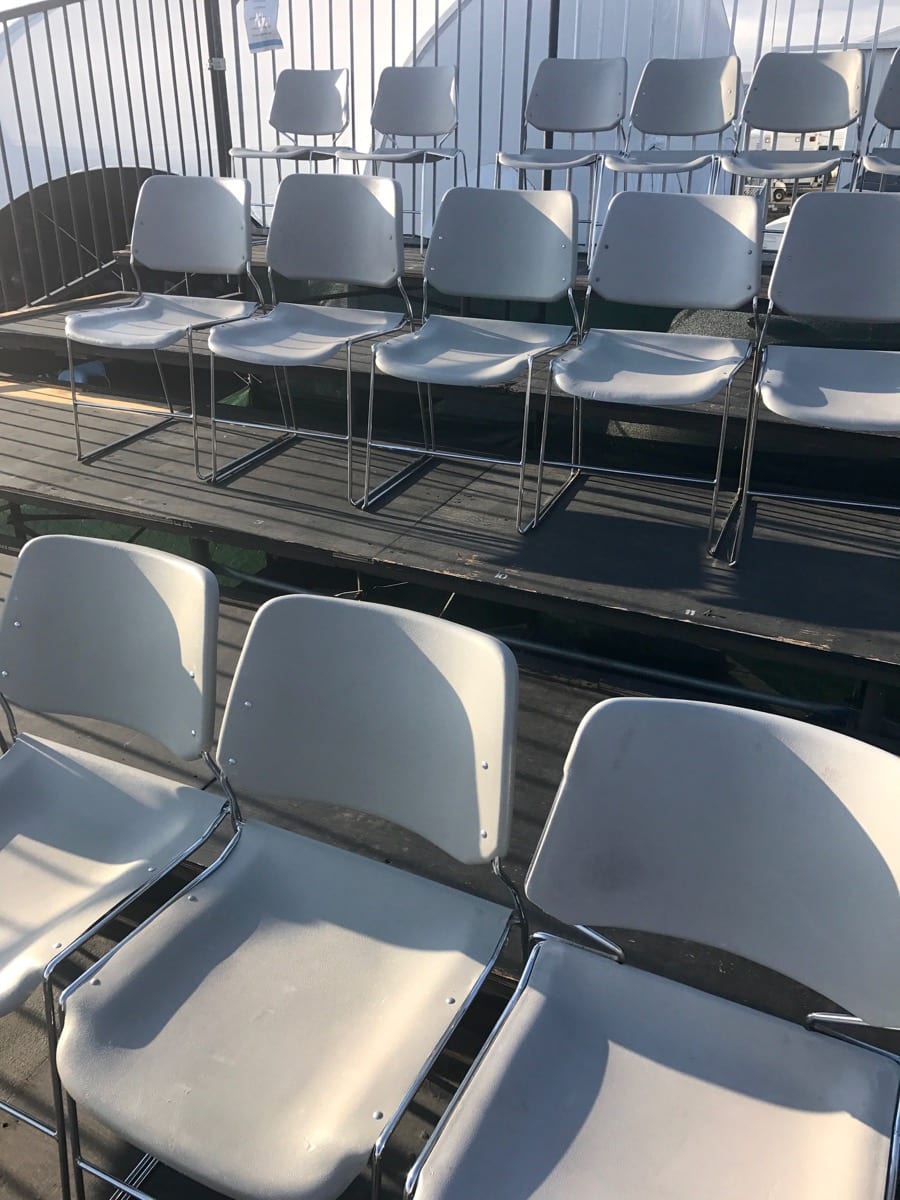 Cost comparison
The Checkered Flag Club marketing material says, "even if you could purchase everything included with your membership separately, your costs would add up to well over the price of membership." Is that really true?
Well, let's be honest, there's nothing cheap about going to the National Air Races in the first place. Both daily and weekly passes are expensive, as is parking, which can be a nightmare. After all, you're fighting with 175,000 people for a place to leave your wheels. Food is expensive. Drinks unaffordable.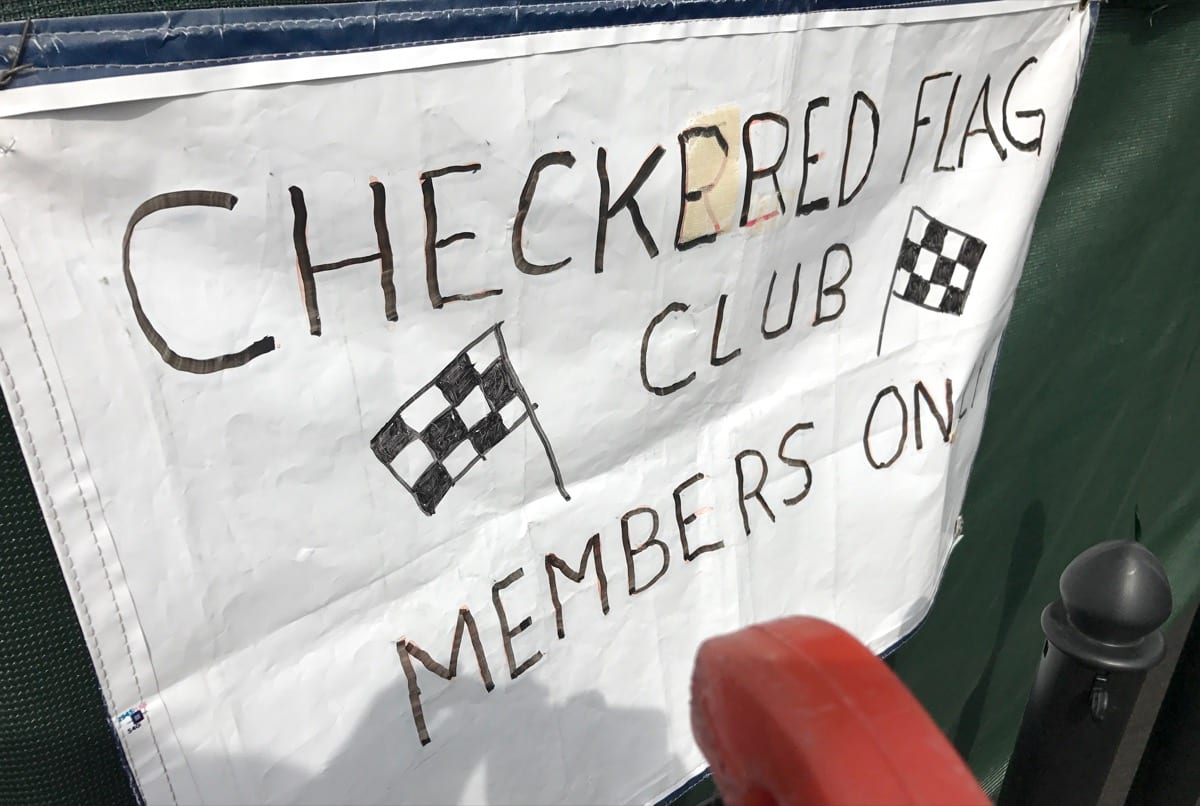 So to really understand what the Club costs, and whether or not it is a value, let's look at what it costs to go to the races on a shoestring. For a fair comparison, we'll look at the numbers for taking in the whole week, which is what I recommend, anyway. Last year, Rio and I went for one day and we totally wore ourselves out trying to see everything.
Seating for the races is either general admission, which is in the temporary bleachers east of the main grandstand, for $110 for the week, which includes that stupid tax; or reserved seating, which is in the main grandstand for $140 for the week.
But to really enjoy Reno, you also need to take in the race pits. A Pit Pass is an extra $127. Parking for the "season" is $125, or you can pay $71 for a shuttle pass from partner casinos in Reno and Sparks. All prices are for adults, for kids 6-12 it's a bit cheaper.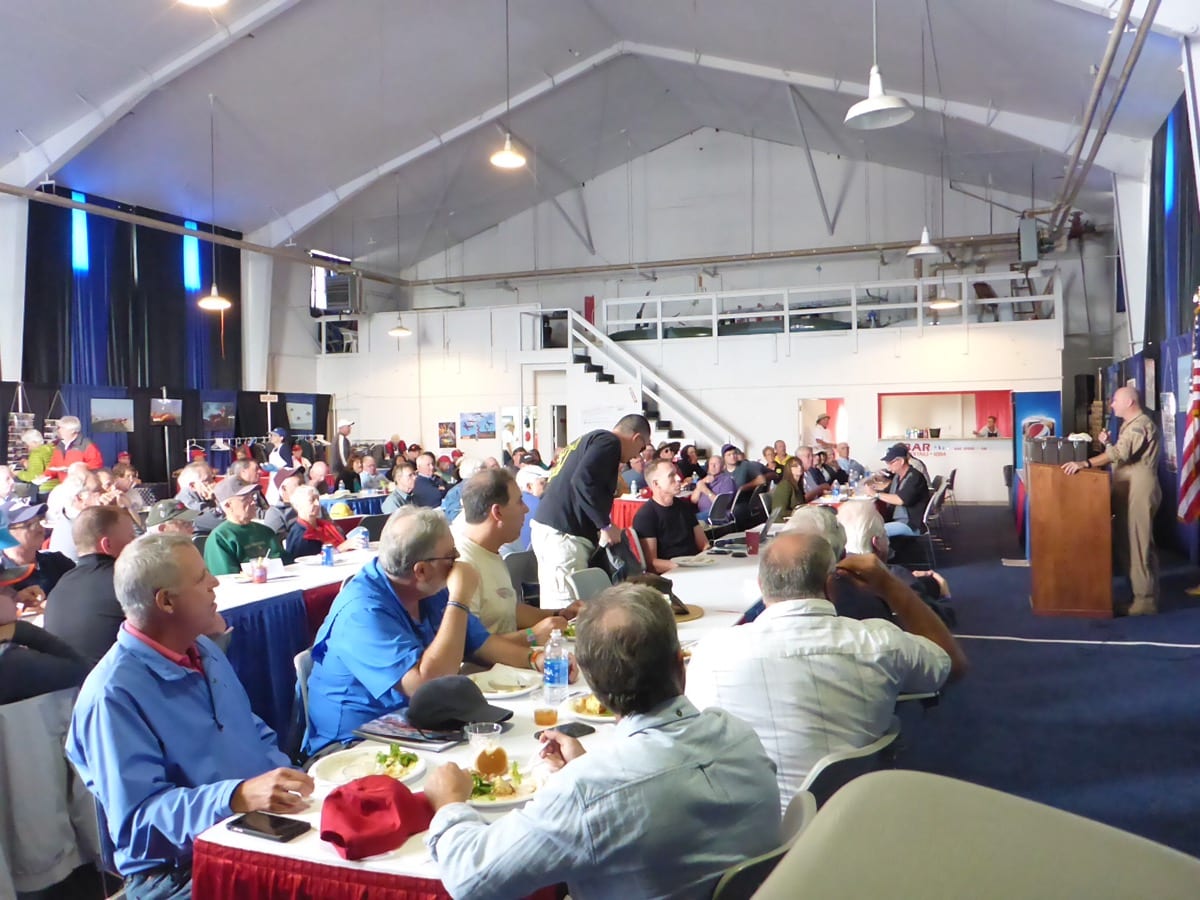 Let's assume you sat in the main grandstand — which is close to the view you get from the Checkered Flag Club — got the pit pass, and parked your car. Your wallet is now $392 lighter. But you still need to eat something, right? That's hard to estimate, but I think it's realistic to say you'd spend at least $20 a day on crappy airshow food, and maybe another $10 for a drink or two. Let's work the math here. Let's see here… nine plus five… carry the four…
Ka-ching! You're now down $542, minimum. But still that's a long way from $850. Does the club actually give you around $300 of extra value?
Those little things that are hard to put a price on…
So I was pretty hard on the Checked Flag Club in my opening paragraphs, but my first impressions were not good. So what changed?
Well, for one thing, by the second day, I was family. The Club staff all knew me by name, and I found the club members themselves warm, friendly, and welcoming. I was the newbie, but I wasn't treated like an outsider, even though many of these people have belonged to the club forever, year after year of membership pins ringing their hats.
The food got better and better as the week went on and as more and more members showed up. Breakfasts were sill pretty much doughnuts and bagels, but we had hot lunches every day after Wednesday, even including prime rib, and a catered dinner on Saturday night.
The Club bartender remembered my preferences and starting pouring me a glass of wine (they found a corkscrew) as soon as she saw me walking up.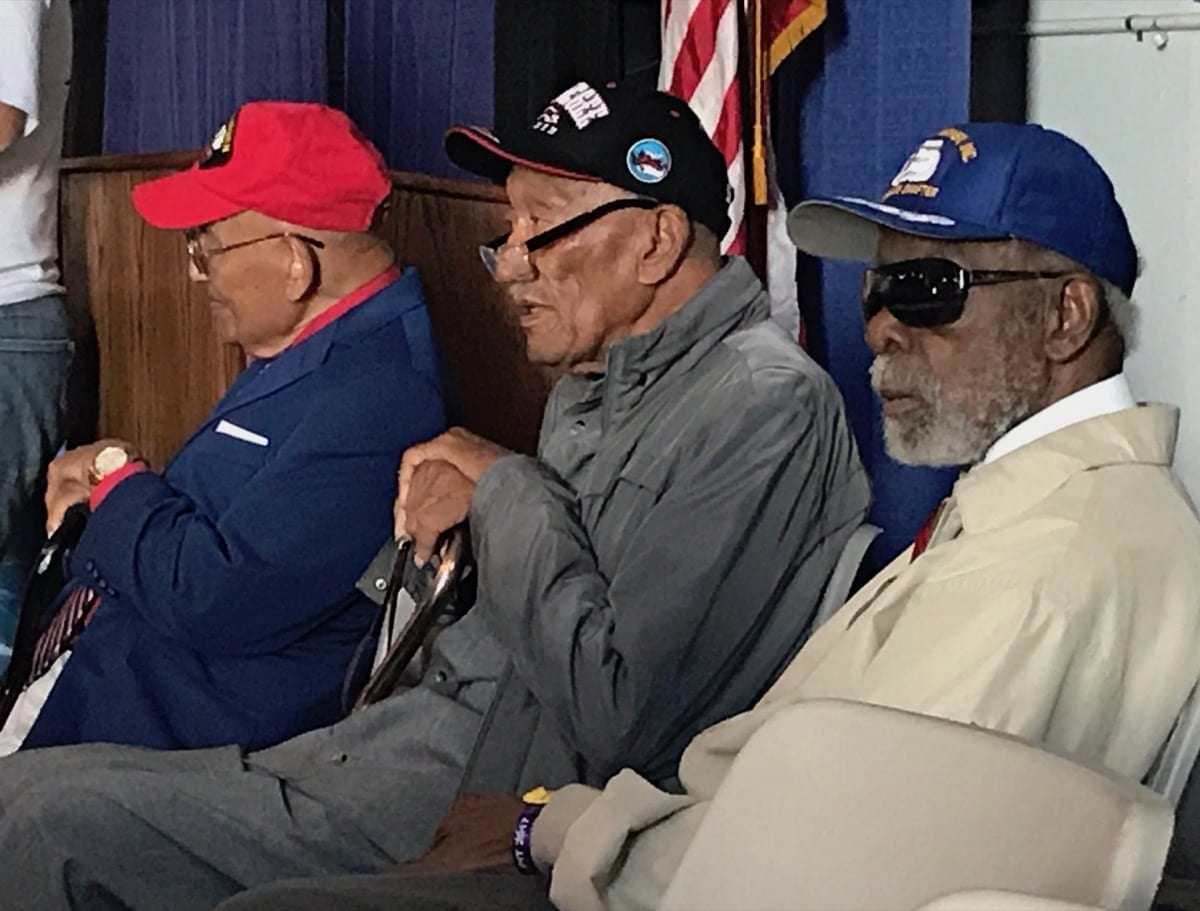 The bathrooms did live up to their billing, with air conditioning, running water, classic rock and roll music piped in, and no lines!
And that stupid cafeteria chair was actually pretty comfortable.
Out in front of the club is a "porch," a fenced-off area with tables and chairs just inside the Pit entrance, where you can sit, hear the planes roar by, and people watch. It has delightful shade, and you can sit and smoke a cigar.
Oh. Wait. It's Nevada. You can smoke a cigar anywhere in the state.
The competition
Now to be fair, there's another option at Reno, and that's the Chairman's Tent. I mistakenly thought my all-inclusive high-ticket Club membership included it, but it didn't.
This front-and-center tent just outside the pits is an extra $130 a day on site or $110 for advance purchase, which does not include admission.
My son Rio thought I should pony up for one day for the sake of good journalism, to compare and contrast, but at the last minute I got wind of the fact that the two competitors actually share the same catering company. Lunches at the two locations are identical. The Chairman's tent has shade with a view — maybe — but that's about the only advantage I can see over the Checkered Flag Club.
Why do I say maybe? Well, the tent is like one of those you'd rent for a large wedding, with arch-like openings. Most of the tables inside won't accord a view of the action. There are two rows of chairs at the front, and a narrow "porch."
During peak times, especially the Unlimited heats, the portable barricade that separates the tent from the box seating area is packed solid with standing fans.
In our private bleachers…Oh, sorry, I misspoke, let me try again…In our members-only sky view grandstand we had a splendid view from any seat.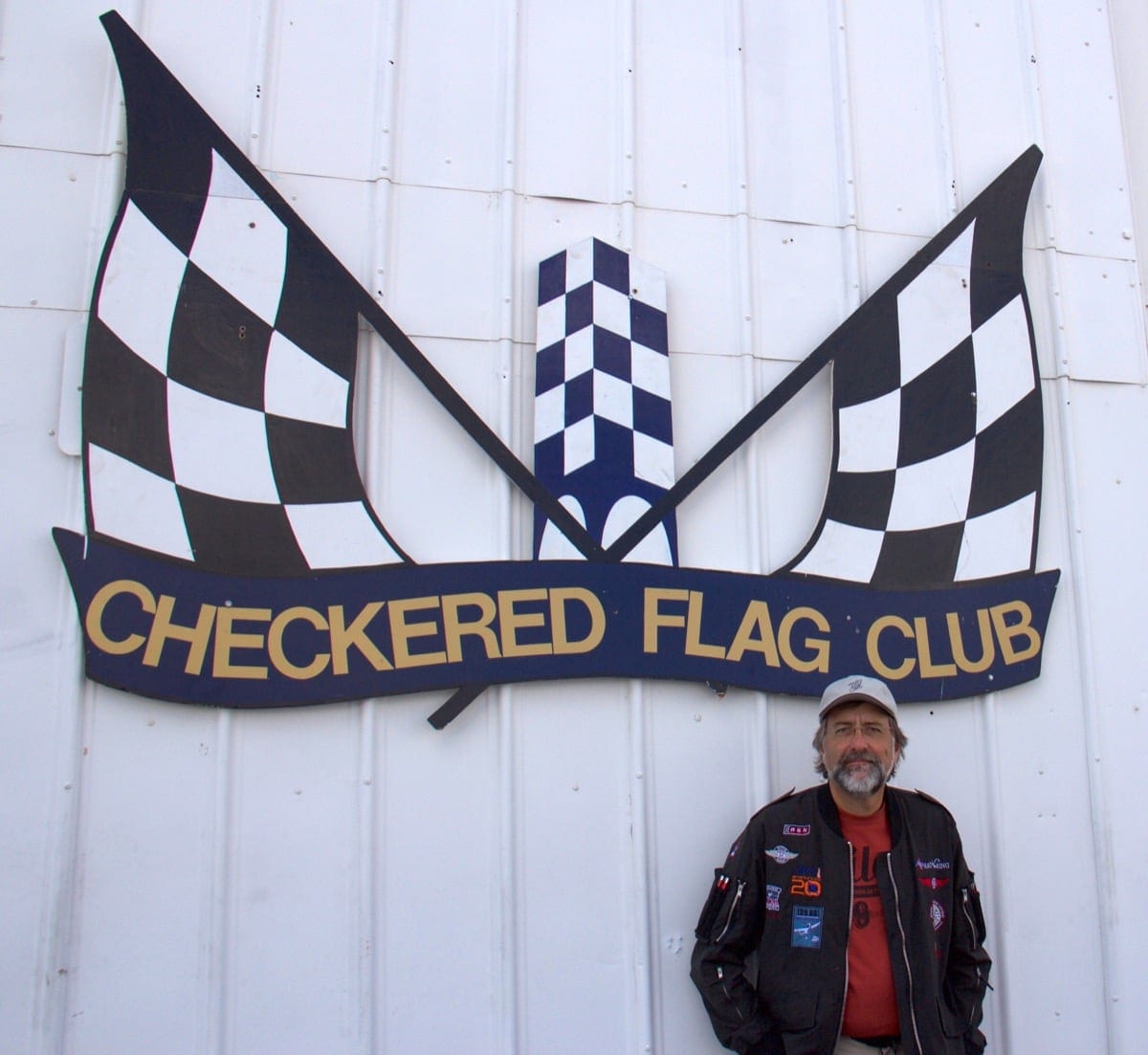 The Chairman's Tent is much cheaper, but the amenity list is shy. It really amounts to a place to take a break in the shade (a good thing), free booze, and an expensive lunch. It also doesn't open until 10, while the Checkered Flag Club opens at the crack of dawn. If you were going to Reno only for a day or two, it might be a good bet, but if you are there for a week I think your money is better spent on the Club.
Another option
Now, for the money I spent, I could almost have bought Box Seats. But don't get too excited. Box seating at Reno, like the Checkered Flag Club itself, sounds better than it really is.
A front center "box" on the ramp, across from the home pylon — the premium of the three rows — is a whopping $3,800 before that 9% live entertainment tax. Of note, Reno Air Race Association officials say that general admission ticket sales dropped sharply after this tax took effect.
A box sounds fancy, but it's really just 10 folding chairs on a piece of indoor/outdoor carpet, separated from the booth next door by a low curtain. Think trade show booth. The box includes event entrance and a pit pass for each chair, but parking is extra. You don't have any shade, but you can bring in two coolers.
Most boxes are purchased by businesses and organizations for their employees and members, but a few actually belong to families.
I think the club gave me more bang for the buck.
Convenience, not luxury
When I first envisioned the dispatch I would file from the National Championship Air Races, I was going to call it "Reno in Style." My thinking going in wasn't whether or not it would be stylish — I bought their excellent ad copy hook, line, and sinker — but whether it was worth the cost to do the races in style. Needless to say, reality was a shock.
But if I go to Reno in 2018 — and what fun will that be with Voodoo retired? — I'll sign up again for the Checkered Flag Club in a New York minute. And I'll save $150 as a returning member.
Sure, it didn't live up to its hype. It's not luxury. It's not high style. But, neither, really — in all fairness — is the event. The National Air Races are a casual affair.
So why would I pony up luxury money for a non-luxury experience?
Well, partly, it's just damned convenient. Parking was hassle-free, even if the exclusive shuttle service (golf cart) was rarely to be found. Our parking lot was near the main entrance, and the hike back to the Club at the pit entrance was minimal.
Having the coat check let us wear our heavier flight jackets in the cool mornings, and wear our windbreakers in the afternoon without having to schlep around the spare, and it also gave us a place to safely stash those inevitable souvenir purchases.
Plus, I had edible, convenient food, a shaded place to eat it, along with an interesting array of speakers that ranged from drone pilots, to a two-star general, to a beauty queen USO troupe, to three surviving members of the Tuskegee Airmen.
And all that convenience, plus friendly folks, and a place to come "home" to after exploring the pits or the vendor tents between race heats, was more than worth the extra $300 to me.
Plus, some of the membership fees actually go to building the purses for the winning pilots.
And who knows? Maybe some day I'll win one of those purses.
Just as soon as Reno Air Race Association creates an Ercoupe Class.
 This year's Unlimited Gold race was a nail biting, screaming, cheering, edge of your seat affair where Strega roared past the home pylon to the checkered flag less than a second ahead of Voodoo.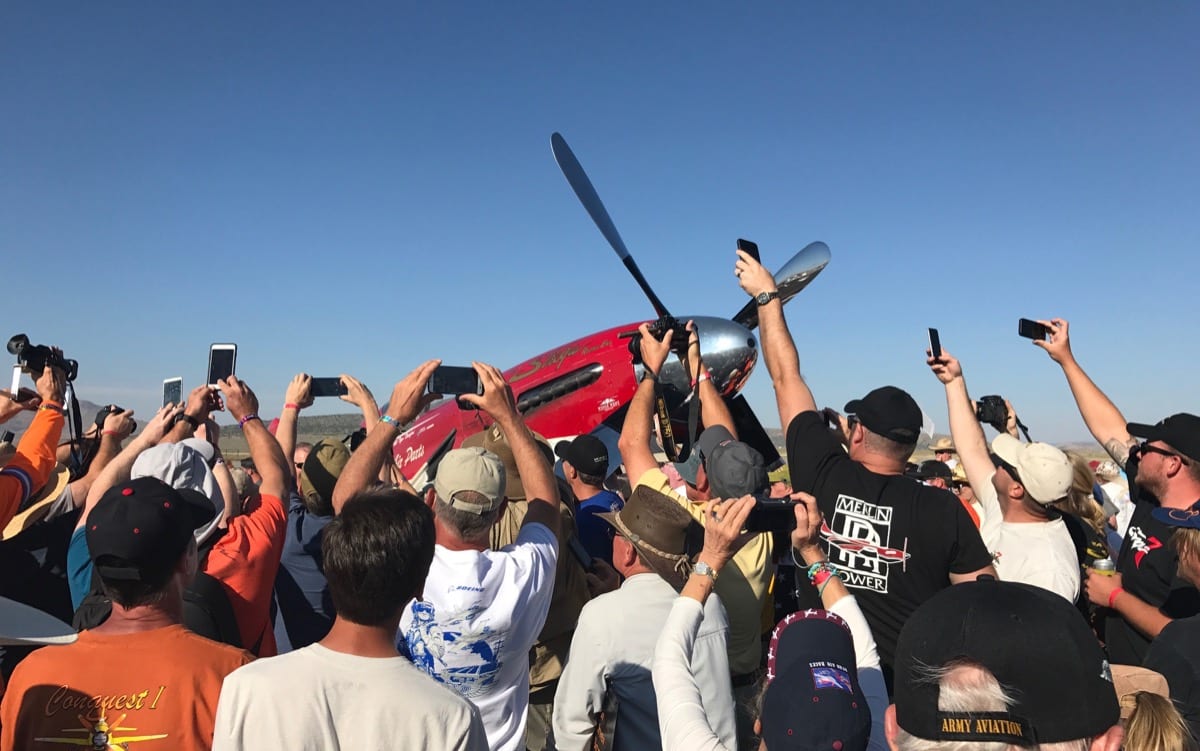 But you know what? Those hulking speed kings only ran twice in the five days, so…what's there to do the rest of the time?
Well, there are a ton of races. There are six classes of race planes at Reno: Biplanes, the tiny Formula One rides, the T-6 Texans, the Jets, the modern fast n' sleek Sport planes, and the hulking Unlimited racers. And all of the classes can offer a thrill.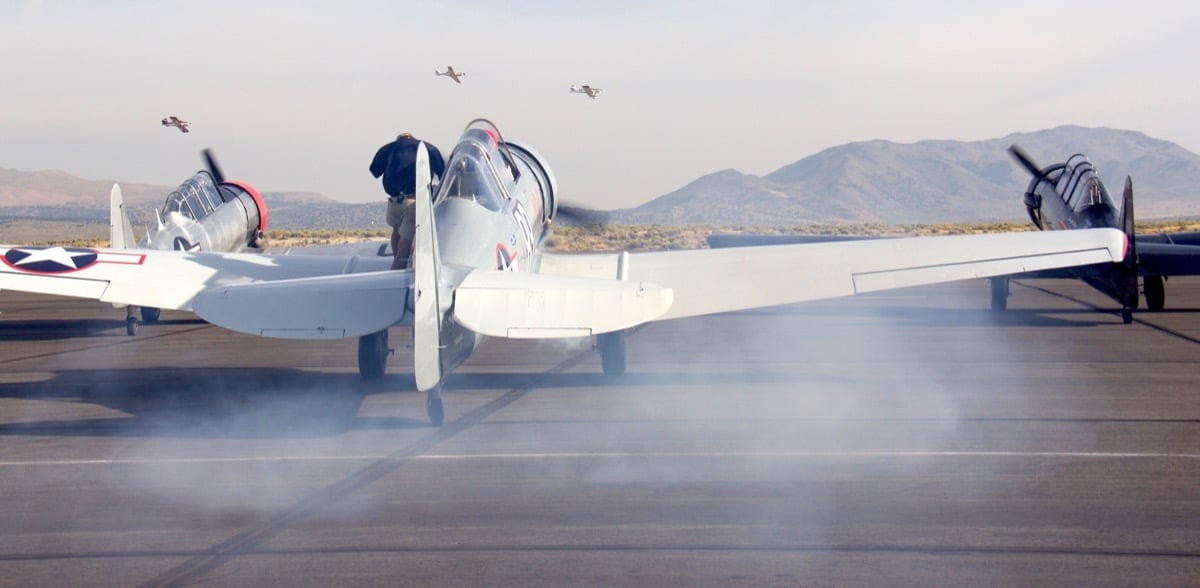 This year was my wife Debbie's first visit to Reno. She arrived just in time for a Sport heat. Sitting down as the planes came down the chute and into the first turn, she blurted out, "Wow! This isn't anything like what you do, this is a real race!"
And, yes, we are still married. Largely because she is right. This is the major league of air racing.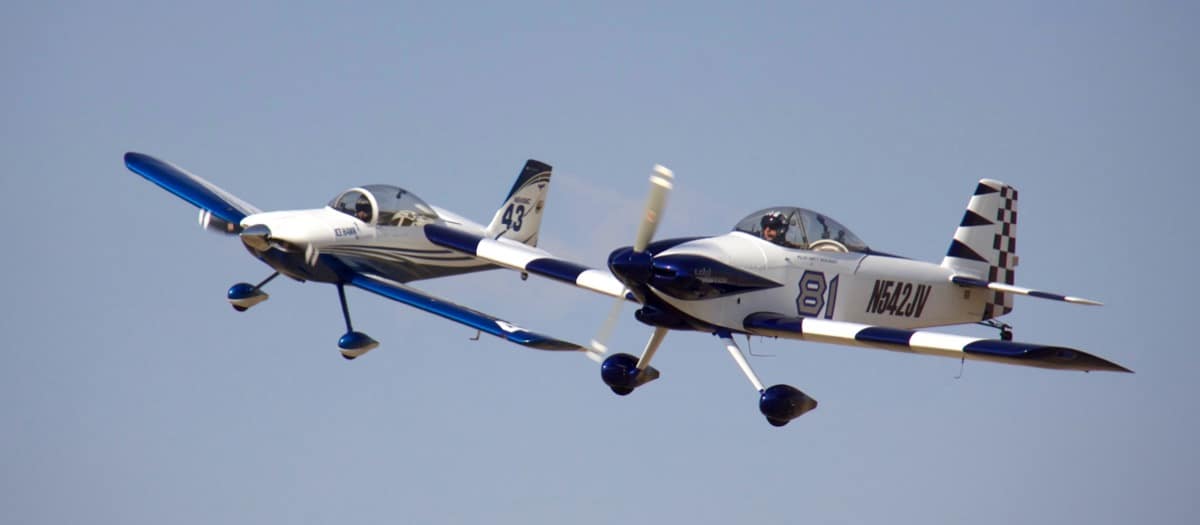 To be honest, I personally find the greatest excitement is in the T-6 races. First of all, you can't beat the whine of a pack of those radial-powered monsters roaring by at 50 feet off the deck, but the real fun is in the fact that the planes are closely matched to each other.
In some of the Sport races, the leader runs away with the race and even laps the slower guys. Where's the fun it watching that?
But in all the heats there was some serious racing. Sometimes it was the two guys at the end of the pack, each furiously trying not to be tail-end Charlie. Other times it was three aircraft duking it out for second place.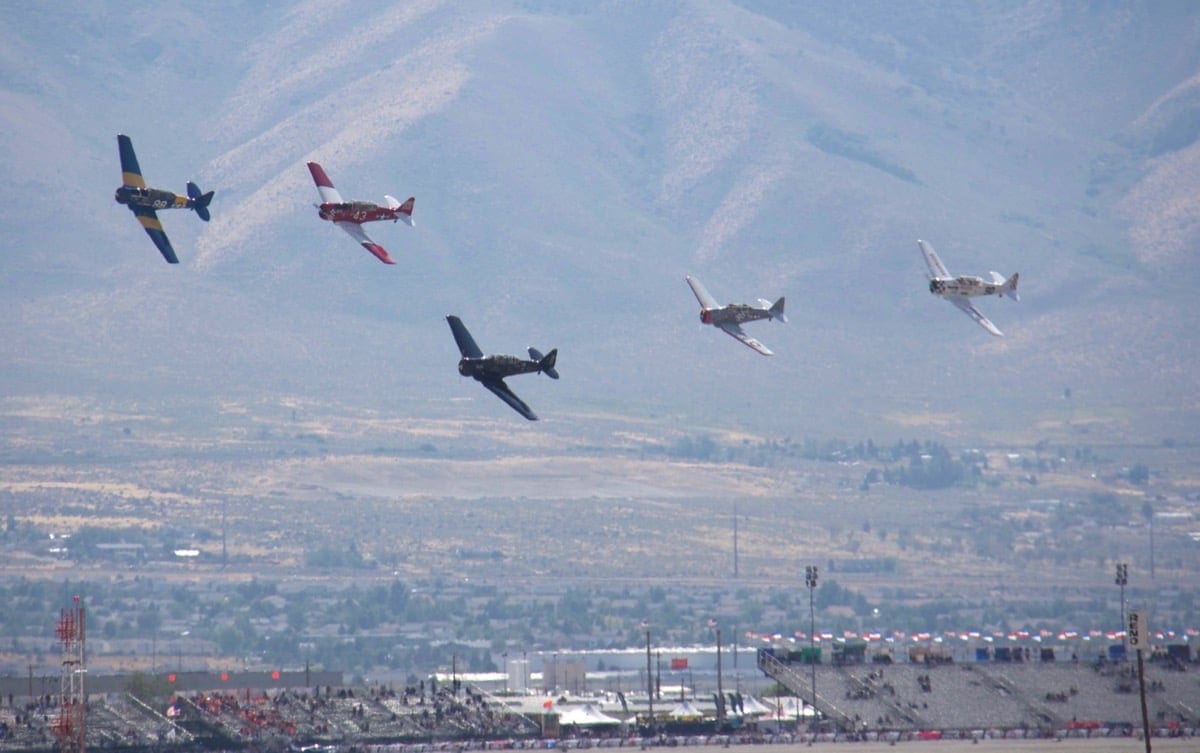 But while a ton of fun, for the new race fan, there's a serious problem: There's no shortage of confusion. Hell, even I was confused.
Because within those six broad categories of planes above there are sub levels: Medallion, Bronze, Silver, and Gold. There are races heats with names like Heat 3B and Heat 2C. But wait…there are two 2C heats…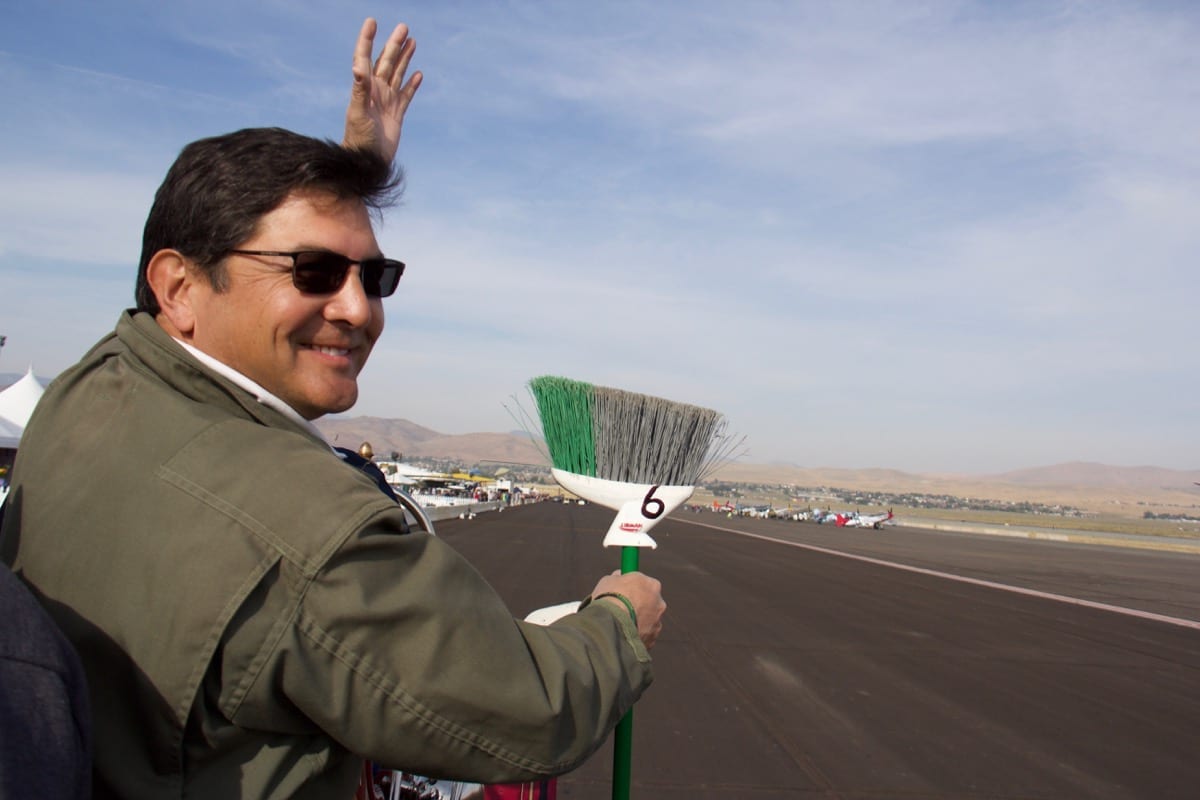 The official race program never addresses how the system works. How do planes and pilots qualify? How do they move ahead? I was lost and confused. I felt the need for a book called National Championship Air Races for Dummies.
Maybe I should write it.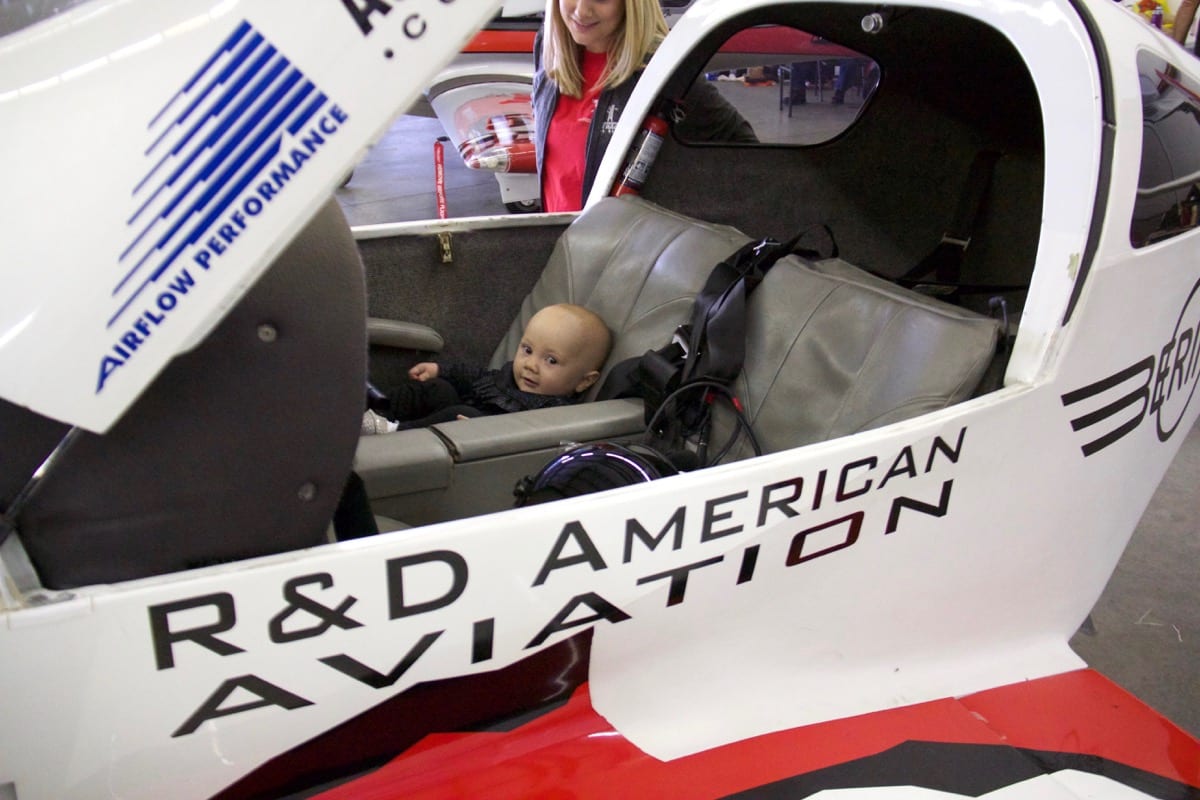 For a full rundown of the winners of the 2017 Reno Air Races, go to AirRaces.org.