From time to time, each and every one of us has had a wish. We all hoped for something wonderful to happen, for a gift of such magnitude that all our worries will be wiped away, leaving only joy and contentment in out lives.
Ironically, a disconcerting number of people who win the lottery tend to have a less than desirable outcome to their new-found riches. It's true. As odd as it may seem, all too often having your wildest dreams come true isn't all it's cracked up to be.
But then again, winning the lottery or being gifted with something that you never expected to get is a random incident. Without the planning required to make the cash or the gift work effectively in your life, you're just as likely to waste your golden opportunity as benefit from it.
That's not the case with the Nate Abel Flying Club. Founded in Fort Worth, Texas, this diverse group of aeronautical enthusiasts planned well, hoped hard, and actually did win the dream prize so many of us fantasize about.
A year ago the Nate Abel Flying Club won a beautifully refurbished, Reimagined Cessna 150 from the Aircraft Owners and Pilots Association (AOPA). Rebuilt by Aviat Aircraft of Afton, Wyoming, the Reimagined C-150 is as close to a new airplane as you can get with a refurbished aircraft. It looks, smells, flies, and feels like a new airplane. It's just that good.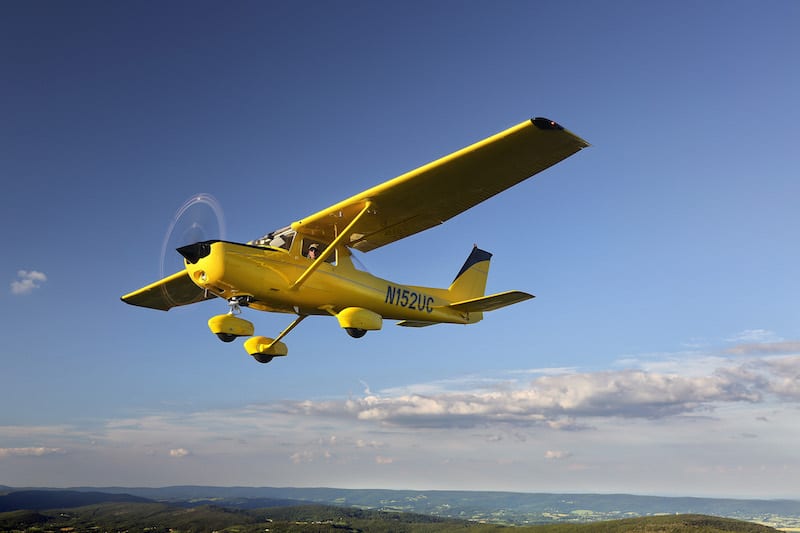 And speaking of good, the board of directors and members of the club put their new aircraft to good use. Unlike lottery winners who cross their fingers, chant their lucky numbers, and hope for a win, the Nate Abel Flying Club devised a plan for how they would put the aircraft to use before they ever knew they would be presented with one.
They were preparing to be successful when they obtained an airplane for their fledgling club, no doubt thinking that leasing or purchasing one was the far more likely means of acquisition.

Yet they weren't above taking a stab at the improbable dream, and so they completed the paperwork required to be included in AOPA's Flying Club 150 Giveaway. The rules specified that clubs must complete a checklist for starting their club, even if they didn't yet have an airplane. The successful applicants would, in effect, create a flying club that has completed every step of the process, with the possible exception of acquiring an aircraft.
Believe it or not, having an airplane is often the last step a new flying club addresses as they complete their formation. It's rarely the first step – although that happens sometimes too.
In the end, there was dozens of clubs applying for the C-150 Giveaway. Clubs from all across the United States formalized their flying club aspirations and became functional clubs, with the exception of having an airplane in the hangar. And on the day when the airplane was given away, it was the officers of the Nate Abel Club on the other end of the Skype connection with AOPA's CEO Mark Baker.
One year later, the Nate Abel Flying Club has achieved a level of success that is simply inspirational. They've had six members solo for the first time. One member has earned a Private Pilot certificate. More than 30 family and friends have enjoyed general aviation from altitude in N150UC. The airplane has flown roughly 500 hours over the course of the year, including a trip to Oshkosh, Wisconsin.
All this success, all the fun, the adventure, the advancement the members have seen, all started with a handshake back in 2013 between the club's future president Tyler Barry and the man the club is named after, Nate Abel.
Tyler was just a kid then, completing a Young Eagles Flight with Nate serving as PIC. Nate was a passionate general aviation supporter who succumbed later that same year to cancer at only 39 years of age. He made a considerable impact over the course of those 39 years. Enough of one that when Tyler got serious about his flying and interacted with others who had a similar interest in making general aviation more accessible to others, there was little doubt as to who they would name their flying club after.
Tyler now attends the University of North Dakota where he is studying, oh, you know what he's studying. And the Nate Abel Flying Club is going great guns, still flying, still instructing, still inspiring others to follow their dreams by putting in the work that's necessary to make those dreams a reality.
This week the club posted a video online thanking AOPA for gifting them with the airplane that put them in the air and helped bring such potential into their lives. But somehow, I think these folks would have gotten to where they were going whether they had any help or not. They're driven and motivated and know how to work together to reach a common goal.
Were they lucky? A bit, yes. But they made their own luck, in large part, and I couldn't be more proud of them.
Should you get a hankerin' to follow in their footsteps, start a flying club, teach others to fly, and enrich the community you live in, I have a feeling they'd be happy to tell you how to make a heaping helping of the secret sauce that's gotten them this far. They're just gracious like that.
They're openly grateful for the help they've received, too.
I just love it when things work out this well.