Falling asleep while flying is something I've never done. I remember reading about a flight crew who did, overflying their Hawaiian island destination. I wondered what those two pilots felt in that moment when they both suddenly awoke with land and the airport well behind them. I can only imagine the gut-wrenching feeling they must have experienced.
A Piper Seneca pilot alluded to that feeling in his report to NASA's Aviation Safety Reporting System. He overflew his destination by more than 500 miles. He woke up aloft, low on gas, over the Gulf of Mexico.
The pilot wrote in his NASA report that he decided to drive all night from an unspecified location to his job as a flight instructor at an unnamed airport. He arrived just after 6 a.m. He took care of some paperwork, then departed from that airport to Crossville Memorial Airport-Whitson Field (KCSV) in Crossville, Tenn. According to the pilot, the flight from his home airport to KCSV is supposed to take about 40 minutes.
As he neared KCSV, he fell asleep. He woke up two and a half hours and more than 500 miles later. He wrote of being disoriented and unable to recognize any landmarks. That's because there weren't any landmarks. His plane had proceeded southwest, over Tennessee, Georgia, Alabama and Florida. He woke up more than 200 miles out over the Gulf of Mexico. Fortunately, the Seneca's fuel tanks had been filled, which gave him about a 600 nm range. Otherwise, he might have run out of fuel sooner, over mountains or forests.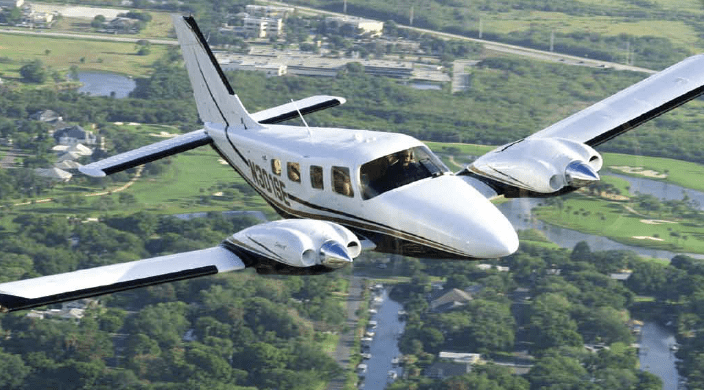 Once he regained some situational awareness, he turned back north and aimed for the Lynne NDB (non-directional beacon) near Panama City, Fla. He also transmitted a distress signal on the aviation emergency frequency, 121.5. The Coast Guard responded and gave him vectors east toward St. Pete-Clearwater International Airport (KPIE) in St. Petersburg-Clearwater, Fla.
The book cruise speed of a Seneca is about 162 knots. Unfortunately, this pilot was so far out over the Gulf of Mexico that after 30 minutes his airplane ran out of fuel, still out of sight of land. He declared an emergency, feathered his props and ditched into the ocean.
A Coast Guard Falcon dropped a life raft near the downed plane, but the pilot could not get to it. That's because he didn't know how to swim. Instead, he clung to two seat cushions for 20 minutes until a Coast Guard helicopter arrived and hoisted him to safety.
According to his report, the only lesson this pilot learned from the incident was that he needed to learn how to swim.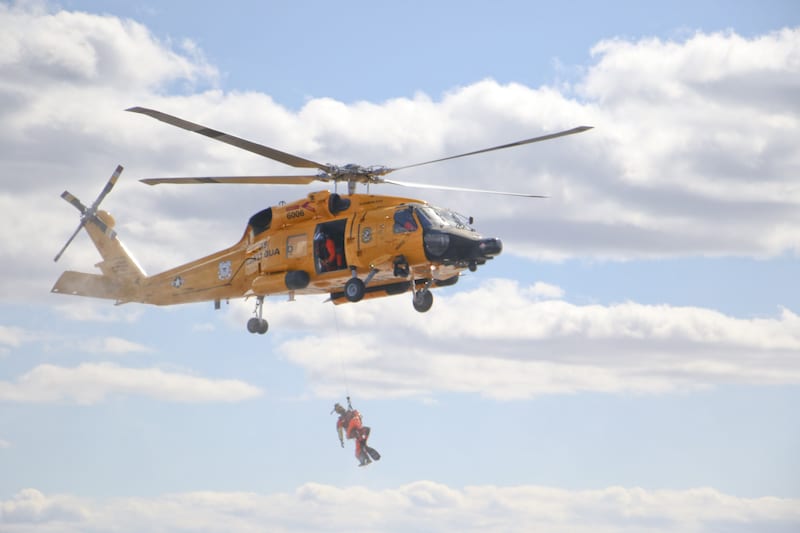 Pulling an all-nighter is only one way to find oneself asleep behind the yoke. Coming down off an intense, prolonged adrenaline rush is another, and it's more insidious.
The pilot of a light twin filed a NASA report, citing that as the reason for his sudden onset exhaustion and subsequent airborne snooze.
On the first leg of his two-leg cargo run, he experienced a hydraulic problem. As a result, he became overly worried that the gear would not extend. He prepped himself by reading and re-reading the emergency gear extension checklists and memorizing gear up procedures should the manual extension not work.
Reading his account of events in his NASA, I came to understand the phrase "he worked himself into a lather." This guy had psyched himself up like he was in the last moments of a World War II suicide bombing mission.
"Strangely, I began to feel the effects of what can be described as an increased level of anxiety," he wrote. "I kept telling myself this is a non-issue, but the adrenaline clearly had begun to flow. My heart rate was noticeably increased, and my palms were damp with sweat."
All his worry and preparation were for naught. The gear came down normally, and he landed uneventfully. He swapped company planes, but it took more than an hour of bureaucracy to clear him for departure. Just after he climbed to cruise altitude, his body dumped out of his system all the adrenaline it had pumped into it a few hours earlier. As a result, he experienced a physiological "crash" at 9,000 feet while in cruise.
"A glance at the GPS and I recall my descent will start in about 17 minutes. I close my eyes for a few seconds."
Approximately 35 minutes later, he woke up suddenly, flailing his limbs in the process. "I can see the glow of the clouds below and ahead of what I think is the city of the destination airport approaching. I continue on my course."
Only when he scanned the GPS did he become confused. It indicated he was 17 minutes past the destination airport. It had also drawn him a course 180° behind his current position back to the airport. He wrote of being further confused by the body of water below him, a body of water similar in appearance to one he knew was on the approach to his destination airport.
His attempts to contact ATC went unheeded. At that point, he was still unsure if he was lost, but he definitely thought his radios had failed. Just before squawking 7600 — the code for lost communications — he decided to check his headset cables. That's when he discovered they were unplugged. When he had startled himself awake, it turns out he'd kicked the headset plugs out of their sockets.
Once he reestablished contact with ATC and explained his situation, he got vectors to the field. He landed without further incident, followed by a lengthy phone call to an ATC supervisor.
I watch a lot of action movies. I read a lot of action novels, too. But I don't recall any of them describing the crash the hero's body would suffer after narrowly surviving a 40-villain ambush, or after escaping a million-bullet gunfight with only a graze. So I didn't know surviving a life-threatening, adrenaline-pumping experience would cause somebody to physically collapse soon after. The information probably doesn't make for good reading, but it is vital to know.
Scientists, doctors and the International Close Quarters Protection Operators Association (ICQPOA) — the association of professional bodyguards — find this information important enough to provide plenty of documentation. Their jobs are comprised mostly of monotonous moments of hyper-vigilance punctuated by infrequent moments of life-threatening terror. Sound familiar?
The ICQPOA reminds its membership "after a life-threatening situation has passed, most if not all people experience a kind of burnout. After only a few minutes of extreme mental and physical intensity, the human body can collapse in exhaustion."
Adrenaline is one of a cocktail of chemicals the body blasts into your system during a fight-or-flight event. Adrenaline increases your heart rate, gives you an immediate surge of energy and focuses your attention.
Simultaneously, your brain and your adrenal glands release norepinephrine, which does the same things as adrenaline. It's a backup in case your adrenal glands fail or are weak. Norepinephrine also improves your response time while diverting blood flow from non-essential body areas, like your skin, to essential areas, like your muscles.
Minutes later, the adrenal glands push out cortisol. Its mission is to maintain body fluid balance and optimum blood pressure. During a crisis, it suppresses other primal physiological urges like sex drive, immune response, digestive processes, and even growth.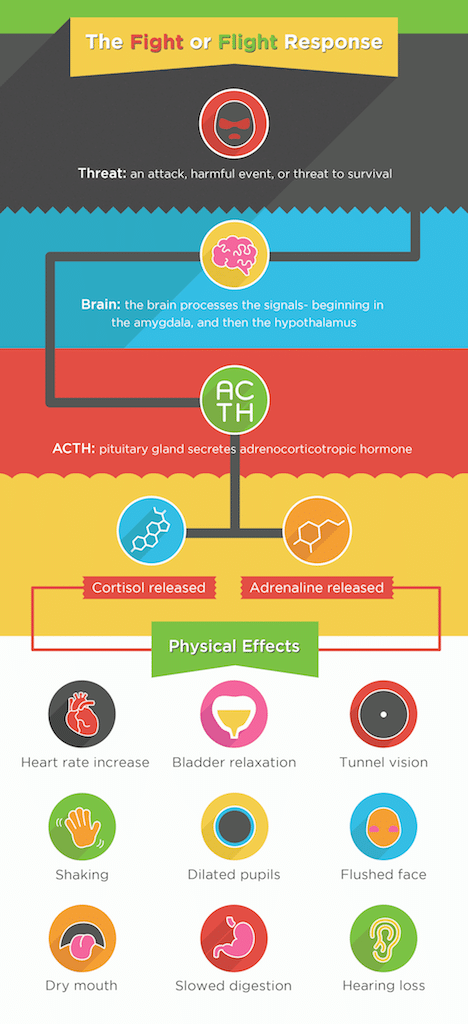 Running out of fuel far from shore and preparing to ditch into the Gulf of Mexico is about as life-threatening as it gets. The possibility of a landing gear failure while inbound to an airport with emergency personnel and an adequate runway may not seem an equivalent threat to many pilots.
However, our brains cannot differentiate between real and imagined life-threatening events. So when the twin aircraft cargo pilot ginned himself up into a state of high anxiety by worrying about what catastrophe might occur with inoperative landing gear, his body went into fight-or-flight mode. It loaded him up with the Big Three.
Depending on a person's health and how he or she handles stress, it might take half an hour or a day and a half to recover from the excess adrenaline, norepinephrine and cortisol released into the bloodstream. The chemicals themselves force the body into attack mode. Afterward, the body must process them through the kidneys, liver and small intestines before excreting them. The body recovers and repairs itself most efficiently when asleep. That's why our physical reaction after an extreme threat event is to collapse, fall asleep, and let the repair and recovery processes occur.
"I think something we can take away from this is to really look and question the decision to continue a flight after having to perform certain emergency procedures," concluded the twin aircraft cargo pilot.
The ICQPOA takes it one step further. It warns its members to guard against a counterattack by fresher adversaries who will take advantage of the post-threat "crash."
Good advice for us pilots, too. The post-adrenaline collapse leaves us vulnerable to our own host of adversaries: Get-thereitis, weather, and even our own aircraft.