In a recent email, a pilot related a problem he had with his aircraft: He needed to drain the fuel tanks so that he could repair the wing.
He drained the 100LL out of the tanks into two plastic drums. The fuel sat in his hangar for several weeks and then outside in the sun for several more.
When the repairs were done, he started to return the fuel to the aircraft and noticed that in one drum the fuel color had changed from blue to tan. He tried the other drum and it was still blue. But when he got down to the last few gallons, that fuel was also tan.
He drained the last few gallons through a filter, and it left a tan coating on the filter.
He asked what happened and what should he do.
Well, the what happened was easy: With the help of the sun, the fuel leeched out the plasticizer in the drum.
The hard part is what to do. I can say with about 81.65% certainty that it should not be a problem.
But in aviation that is not very good, so I recommended he drain the fuel and then flush the tank until no film is noted on a filter.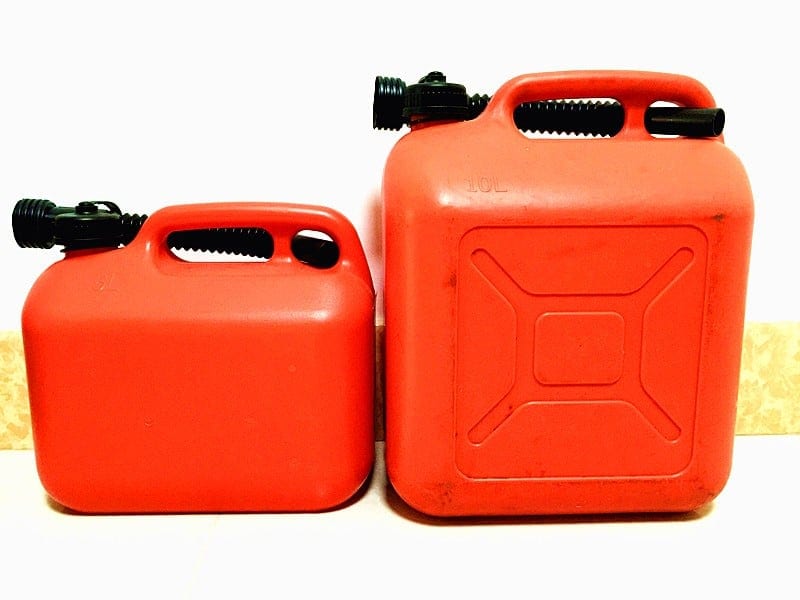 A plastic is defined as "any of various nonmetallic compounds synthetically produced by polymerization."
There are literally thousand of different plastics with a wide array of different properties. Some are soluble in hydrocarbons like 100LL and others, like those used in plastic gas cans, are much less soluble.
If you are going to use a plastic container to hold fuel, you need to make sure the container is meant for holding fuel.
Even in these containers, fuel will leech out some of the plasticizer, but generally not enough to affect the performance of an engine.
If you use a plastic container designed for use with fuels and plan to store it for any length of time, do not store it in direct sunlight or find a metal container.
For example, all of our safety procedures state that if samples are drawn after an accident or event, never store the samples in plastic containers. This is because even in plastic containers designed for fuel use, the fuel will leech out enough plasticizer to affect many of the sensitive tests run on fuels to determine if the fuel was instrumental in the problem.
Safety Fuel Containers
While I am on the subject of plastic containers, I would like to get on my soap box and talk about the new unsafe "safety fuel containers."
I am a volunteer firefighter and recently we were doing a control burn of an old house. We had cut a bunch of trees down before the burn and after the house had fallen, the owner asked if we would cut the trees up and throw them in the burning basement.
We got our chainsaws out and cut them up and threw the wood into the fire. When we got done, I noticed the saw I was using was almost out of fuel. We had an old regular type fuel can but it had started to leak, so we bought a new one.
The new one was a "safety can" with the new safety spout. To use it you need to catch the little plastic tab on the spout on the edge of the tank of the saw. Well the tank was not deep enough to get the tab to catch, so I had to hold the spout in to fill the tank.
Needless to say, by the time I got the tank full, my gloves were soaked in fuel and I had part of my bunker gear soaked.
Now I am at an active fire scene soaked in gasoline. Not a good thing, so I changed gloves and hosed off my bunker gear.
This got me to thinking about why they would outlaw a normal spout that has worked well for many years and force us to use a piece of junk that doesn't work worth a damn and is very unsafe.
I figured that somewhere there is a government employee who needs to justify his or her existence, so this person found a case where some idiot may have spilled fuel while trying to refuel their running lawn mower and started a fire. The government employee knew that it was necessary to protect the public from themselves, so he or she came up with a standard for a "safety can."
It probably has reduced accidents because people have switched to electric mowers and trimmers because they could not get their gasoline-powered tools fueled. But for those of us who have enough smarts to pour water out of a boot even without the instructions needed on the heel, these spouts are a safety hazard and are junk.
On the positive side, the new standard has created several jobs in China for guys to build the new unsafe "safety cans."
And it has created a new underground industry with more manufacturing jobs in China to build regular spouts or safe spouts that do not meet the unsafe "safety can" spec.
Is this a great country or what?