EL CAJON, California — The field of aviation lost a prolific airman when Albert Joseph "Jay" Shower, Jr. (USN Ret.) died of natural causes on Saturday, Feb. 10, 2018. Shower was a Vietnam veteran who served as an officer in the United States Navy for more than 22 years until his retirement and honorable discharge in 1983. In total, his adventurous career in aviation spanned nearly 70 years and took him around the world on numerous occasions.
"Flying is the love of my life," said Shower, whose deep passion for flight was unleashed on his 10th birthday in 1947, when his father, Col. Albert Joseph Shower, a highly decorated World War II commanding officer of the 467th Bombardment Squadron in the United States Air Force, let him take "left seat" controls of a B-29 Superfortress. "My father told me to 'Fly it right side up, or don't fly at all!' So that's what I did."
Shower devoted his life to aviation, amassing more than 18,000 hours of flight time.
After graduating from the U.S. Naval Academy in 1961, he embarked on a 22-year career as an officer and super-sonic jet pilot in the U.S. Navy. Flight training in the T-34, T2B, F9F and F11A jets prepared him for a five-year tour of duty in Vietnam, where he flew all models of the A-4 Skyhawk in 137 combat missions off the USS Ticonderoga aircraft carrier.
Upon his return from Vietnam, Shower attended the U.S. Naval Postgraduate School, where he studied flight dynamics and earned a Masters degree as an aeronautical engineer, while flying the T2, T33, T34, S2F and T28 jets. Subsequently, he was assigned as an exchange pilot for the Royal Navy to fly the Hunter and Buccaneer aboard the HMS Eagle.
Upon his return to the U.S. Navy two years later, he spent five years flying reconnaissance missions world wide in the supersonic (Mach 2+) RA5 Vigilante, several years as a Naval flight instructor and several more as a ferry pilot, qualified in 23 different makes and models of jet aircraft. His last two years as a Navy Pilot, Shower was stationed at the Naval Air Rework Facility in Norfolk, Maryland, where he served as a test pilot in the F-14 Tomcat and A-6 Intruder. By the end of his Navy career, Shower had flown every jet the Navy had made up to that point.
Retirement from the U.S. Navy opened the door for Shower to embark on new adventures and uncharted territory in general aviation. By then, with more than 10,000 hours of military flight time, Shower's experience and credentials made him an invaluable resource for other aviators in the civil aviation community.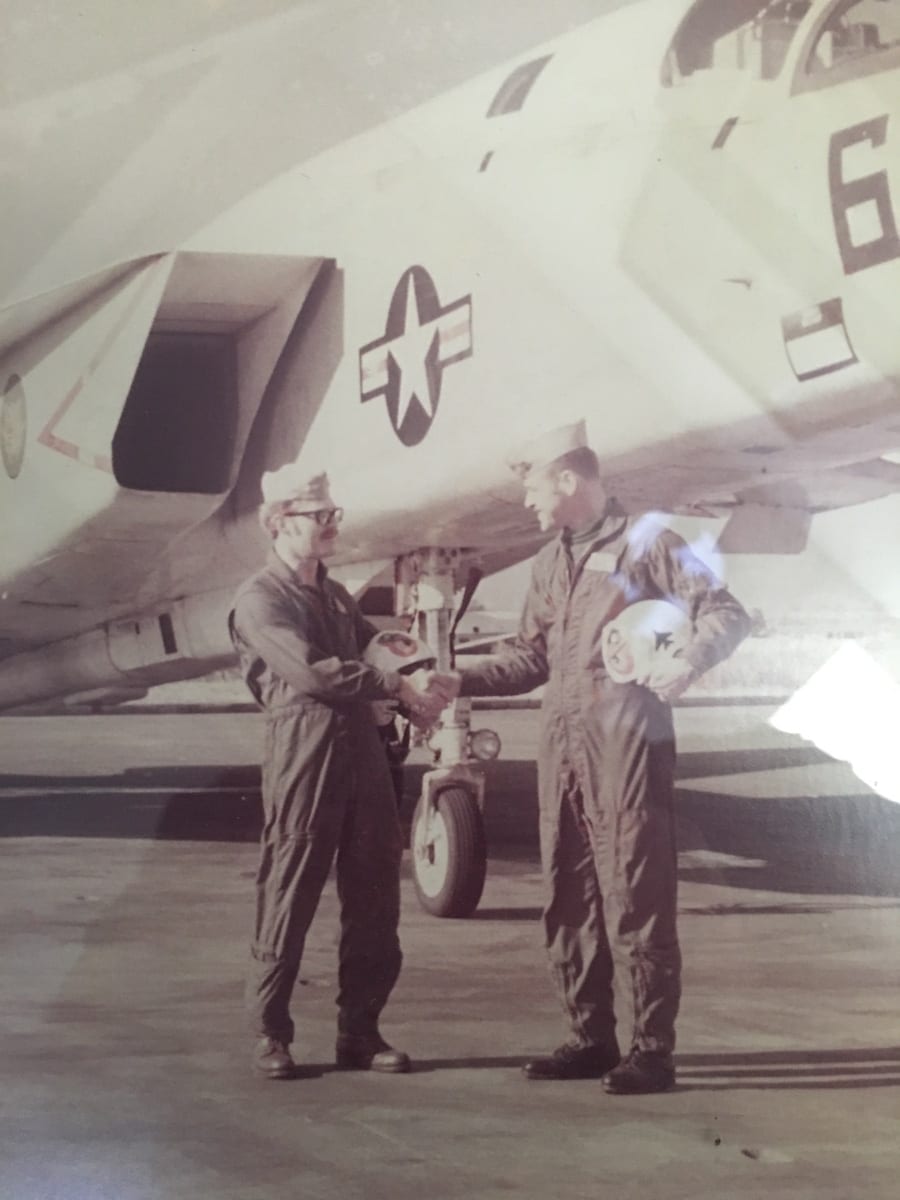 An active member of Earth-Rounders fellowship, Shower has circumnavigated the globe, crossing the equator on numerous occasions, and crossing the Geodetic North Pole in his single engine Bonanza. He was one of only a handful of aviators to have flown multiple cross-oceanic flights, delivering single engine planes to pilots located in Europe, New Zealand, Australia and Hawaii, earning himself a reputation as the "go-to" guy for ferrying single engine aircraft to and from anywhere in the world.
In 1999, Shower circumnavigated the globe in a single-engine Bonanza with his good friend, the late Murray Goodrich. Several years later, he and Goodrich flew the same plane to the North Pole.
In 1995, Shower won first place Gold Medal in the T-28 Unlimited Division at the Phoenix 500 Air Races.
He was an active member of the Flying Eagles, Experimental Aircraft Association, Antique Aircraft Association, Tailhook Association, Earth Rounders and Quiet Birdmen Society. Shower also served as the president of the 467th Bomb Group Rackheath Aggies, the legacy group representing the U.S. Air Force combat flight squadron, which was under the command of his father, Col. Albert J. Shower during World War II.
As a volunteer pilot for Mercy Outreach Surgical Team, Shower flew numerous charitable missions several times per year to deliver medical supplies to hospitals and doctors throughout Mexico.
Shower's impressive credentials reach far beyond his expertise as a pilot. As an FAA-designated inspector and certified airframe and powerplant mechanic, Shower conducted aircraft inspections, diagnostics, and repairs for hundreds of civil aircraft owners throughout the U.S. He was also a certificated flight instructor (CFI, CFII and CFI-MEI), passing along his wealth of knowledge and enthusiasm for aviation to fledgling aviators.
He was also presented with the Wright Brothers Master Pilot Award by the FAA in 2008.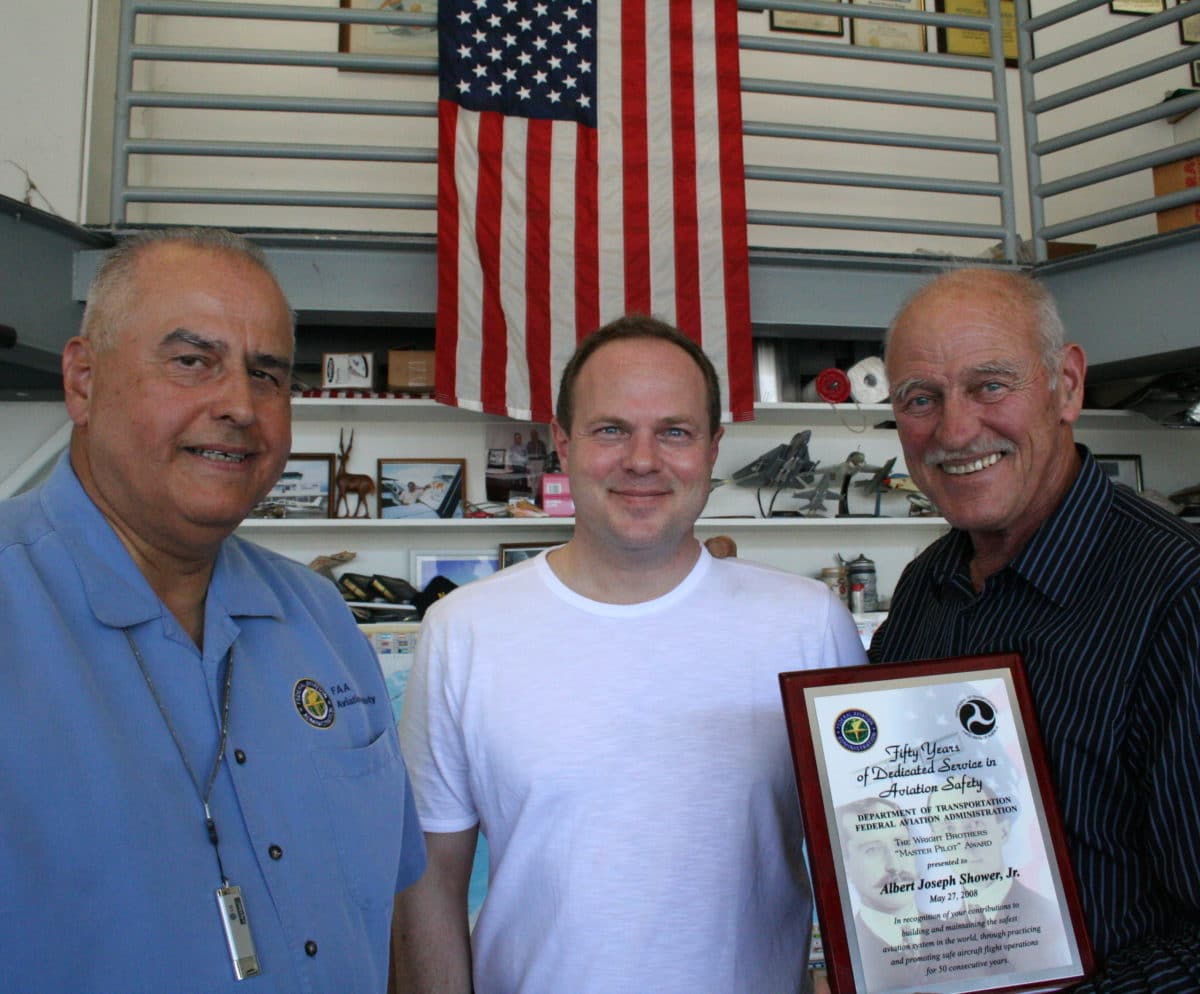 For more than 40 years, Shower resided in El Cajon, California, where he flew his Bonanza airplanes from Gillespie Field to destinations all over the world, often accompanied by his significant other of more than 10 years, Ann Pooch, his grown children and/or fellow pilots living in the area.
He is survived his son, Major Brenden Shower and daughter-in-law Seiko Shower, also a private pilot, his daughter Snowden Bishop and son-in-law Markus Herm, an instrument-rated private pilot and his two young grandsons, Kaden and Bryden Shower, whose pilot log books Jay Shower signed to carry the family legacy of aviation into the next generation.
Jay Shower will be laid to rest at Arlington National Cemetery in a pre-designated plot next to his late father, Col. Albert J. Shower and mother, Damaris Smith Shower.