I can't imagine letting any of my kids fly an ultralight at 13 years old. And yet that is exactly what my parents let me do.
Granted, I grew up on an airport and had flown with my Dad for years by the time I was 13.
Training in the single-seat Robert B1-RD consisted of taxiing the length of our sleepy airpark runway. That was followed by lifting the tail, then flying a foot off the ground, then two feet…on and on until I could climb no higher and still land before the end of the 1,800′ runway.
As my Dad relayed to me years later, the discussion between he and Mom about my first solo took a toll. I had to fly the pattern away from the runway, argued my Dad. Mom was vehemently against that. Dad feared I'd grow bored and maybe give up flying all together. Mom was worried about her 13 year old "baby" as only a mother can worry.
And after much behind-the-scenes discussion, Mom relented. As I look back, that was perhaps the finest gift she's ever given me.
I remember taxiing back into the yard after flying my first pattern and seeing my Mom — crying — come up to the B1-RD before I had even shut down the engine. She hugged me the moment she could get her hands on me.
When I saw the video of the flight, I understood why she was so emotional. I'd flown both out of sight and sound. That first pattern took all of seven minutes or so, but for an anxious mother it must've felt like seven years.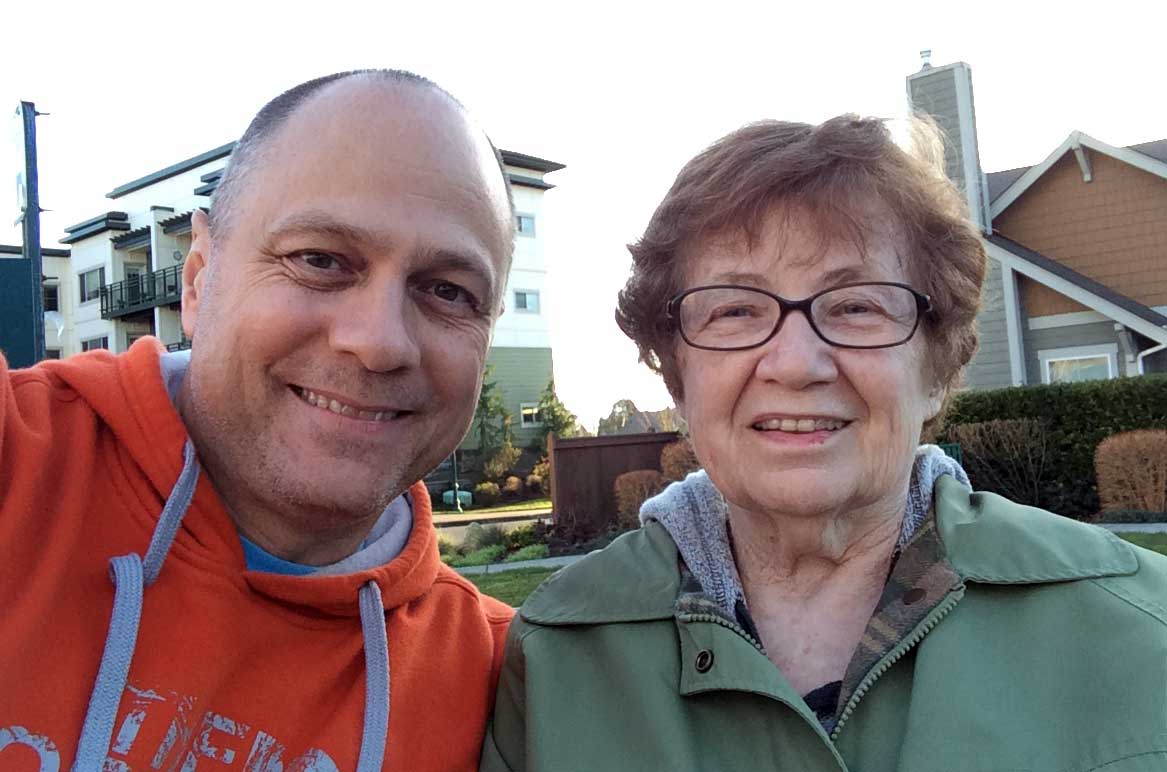 Fast forward 34 years and the script has been flipped. I picked up my Mom at 4 a.m. on Feb. 27 and drove her to St. Joseph's Medical Center in Tacoma where she was to go under general anesthetic for the first time in her 83 years for back surgery.
As I watched Mom get wheeled away — out of sight and sound — on a gurney, a wave emotion flooded over me.
Dad died in 2011, my sister Robyn died in 2013. It is just Mom and me now. I do have a loving wife of 23 (and counting) years and three great kids, but Mom and I are the last two of our family of four. She and I have always been close.
Mom is a feisty little red-headed Irish woman. She's always dancing and shaking things up and trying to make us believe she's tougher than her 4'-11-3/4" frame exudes.
To watch, helplessly, as she rolled away made me think of that time when she let me fly away. Maybe she was stronger than I thought after all.
The surgery went well. The recovery has been more of a challenge. It has taken nearly all of my awake time over the last two weeks. Early stage dementia has played a role in slowing that progress.
I can't thank our small team — Janice Wood, Kathleen Madsen and Russell Kasselman — enough for putting out the March 8 print edition of General Aviation News in my mental — and literal — absence. Without them, being by my Mom's side and producing General Aviation News would not have been possible. And by Mom's side was exactly where I was needed.
I see glimmers of that feisty little red-head 15 days after surgery and look forward to her permanent return.