The human mind is an intriguing piece of biological equipment. It can conceive of amazing inventions. Machines, devices, and processes that have never existed come to being first in the mind of someone not significantly different from you or me.
Ideas can be incredibly powerful or they can be absolutely idiotic. In the case of Rube Goldberg, they can be both powerful and idiotic at the same time.
Our memories are a function of our brains, and to serve as a reminder that we're not quite as infallible as we think we are, our memories are full of holes. Oh sure, we think we remember details well. It's hard-wired into our belief system. We've got a rock-solid lock on the memory of that time we did that thing with Cousin Bobbie out by the place where we used to spend summer vacations. Then Cousin Bobbie comes along with an entirely different recollection of places and events.
History, even our own histories, are somewhat subjective.
This occurs to me because of a stack of photos that recently came into my possession. While visiting the home where I spent my teen years, and reminiscing with my dear old mother about days gone by, she and I continued the task of weeding through the persistently large pile of treasures my dad left behind when he went to the great beyond.
Among those tidbits are a large collection of photographs that go back at least three generations before me. Most are unlabeled. Many of the faces in the older photos are known to no one still alive. No one we know, in any case.
I'd like to think I have a handle on the who, what, and where of the more recent photos. Reality suggests otherwise, however.
There is one series that I have no insight into at all. No idea where they were taken. In fact I only have a rough estimation of when they were taken. Which is frustrating to me, because I'm in one of them.
The photo in question is of me and my dad standing beside a Drifter. He's on one side, I'm on the other. It was taken at least 25 years ago, when the Drifter was a mainstay of the ultralight movement. Two seat versions were often referred to as  "fat ultralights," a term that was outside the confines of 14 CFR 103, but one that was in common usage in conversation and in flight operations.
This pre-dates Light-Sport Aircraft by quite a few years.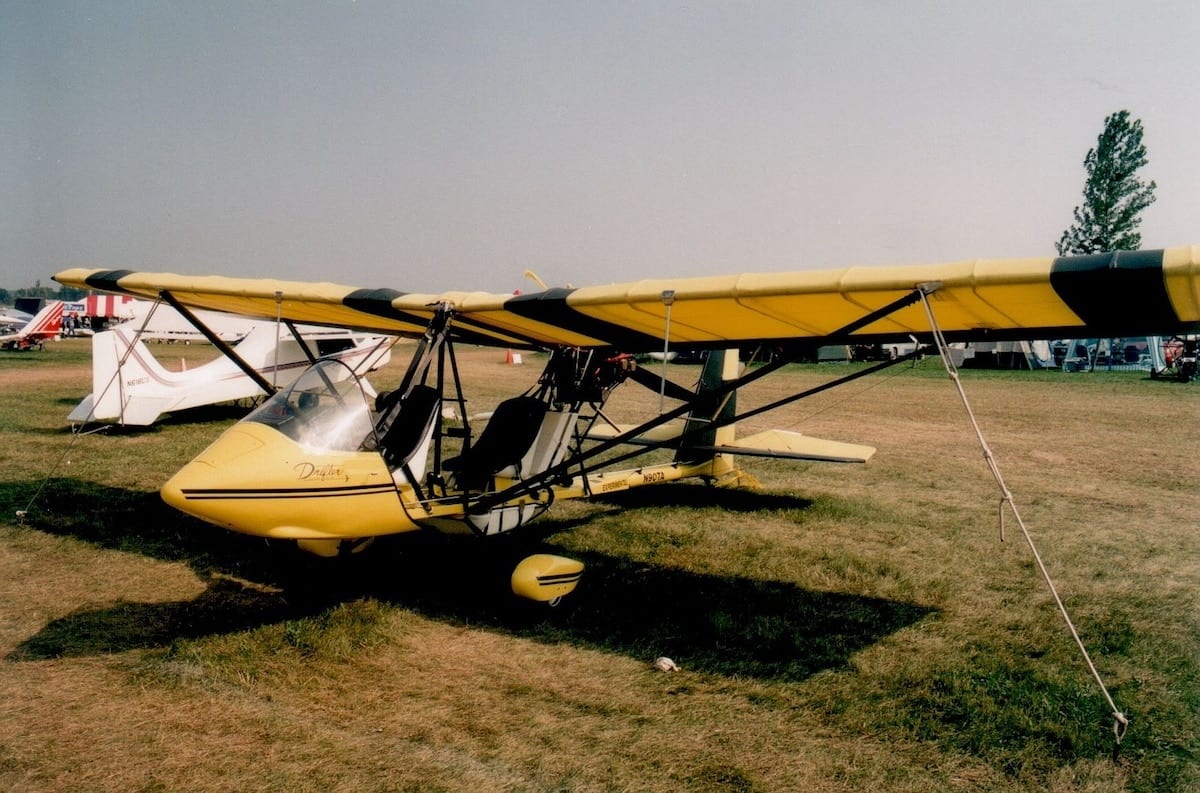 I didn't own an aircraft then. I'd been dreaming of owning an airplane for years, but my first airplane purchase wouldn't happen for a couple decades yet. I suspect my dad was shopping for his first airplane, too.
The Drifter apparently caught his eye. This trip to wherever we were may have been the first step in a journey that eventually led him to build an AirCam, which is essentially a twin-engine version of the Drifter.
I've written about my dad, his AirCam, and my experience with his airplane previously.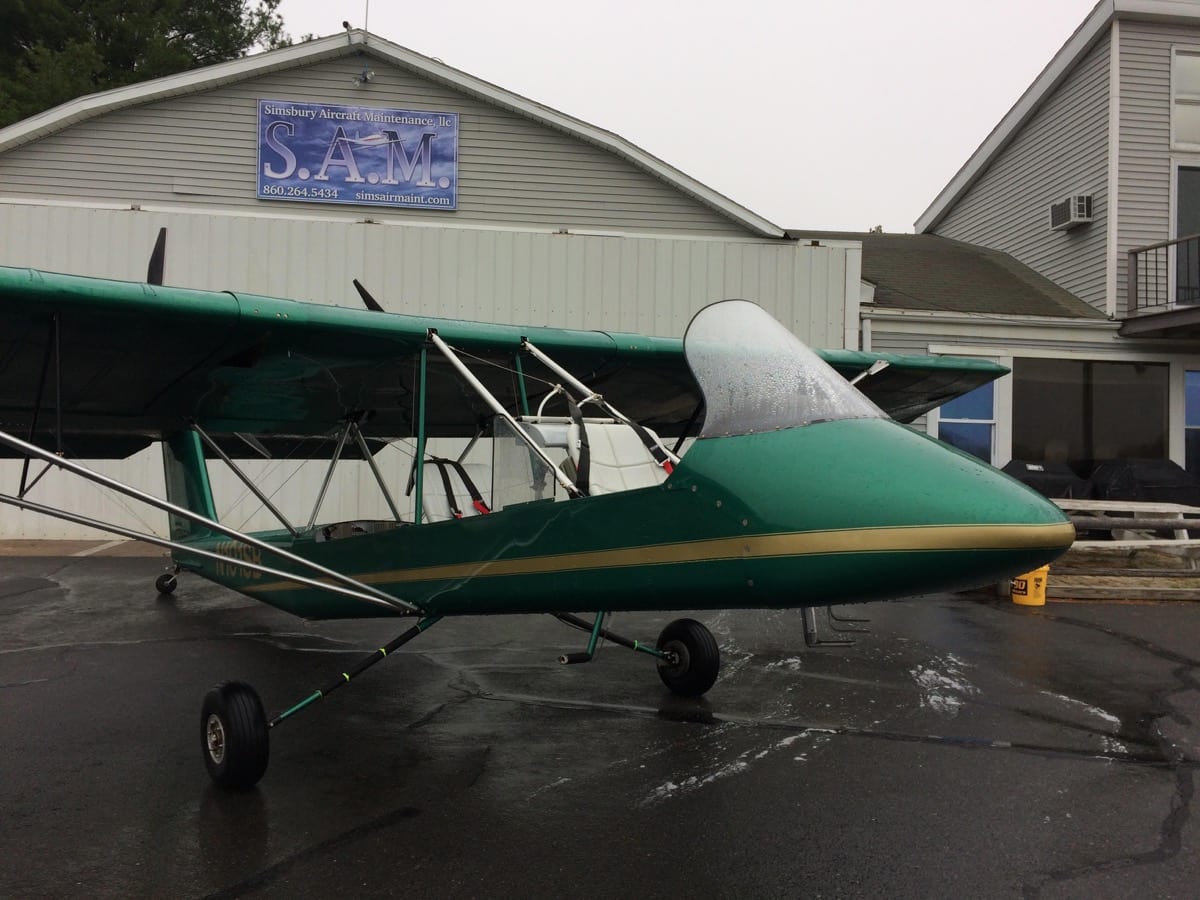 Here's where the series of pictures gets weird. One shot is of three airplanes in a hangar. Two are experimentals. Of those, one is tucked tight against the hangar wall, its wings folded back along its fuselage. The other sits ready to go in the back of the hangar. The lead airplane, front and center, is not an experimental. It's a Cessna 150. The pilot's door hangs open.
The Cessna is white, with two stripes running along the door. They are lavender and blue. A most unusual color combination. The interior is a radiant blue that catches the eye even at a distance.
The first airplane I ever owned was a white C-150 with lavender and blue stripes down the fuselage and an electric blue interior. A very odd color combination for a very common airplane.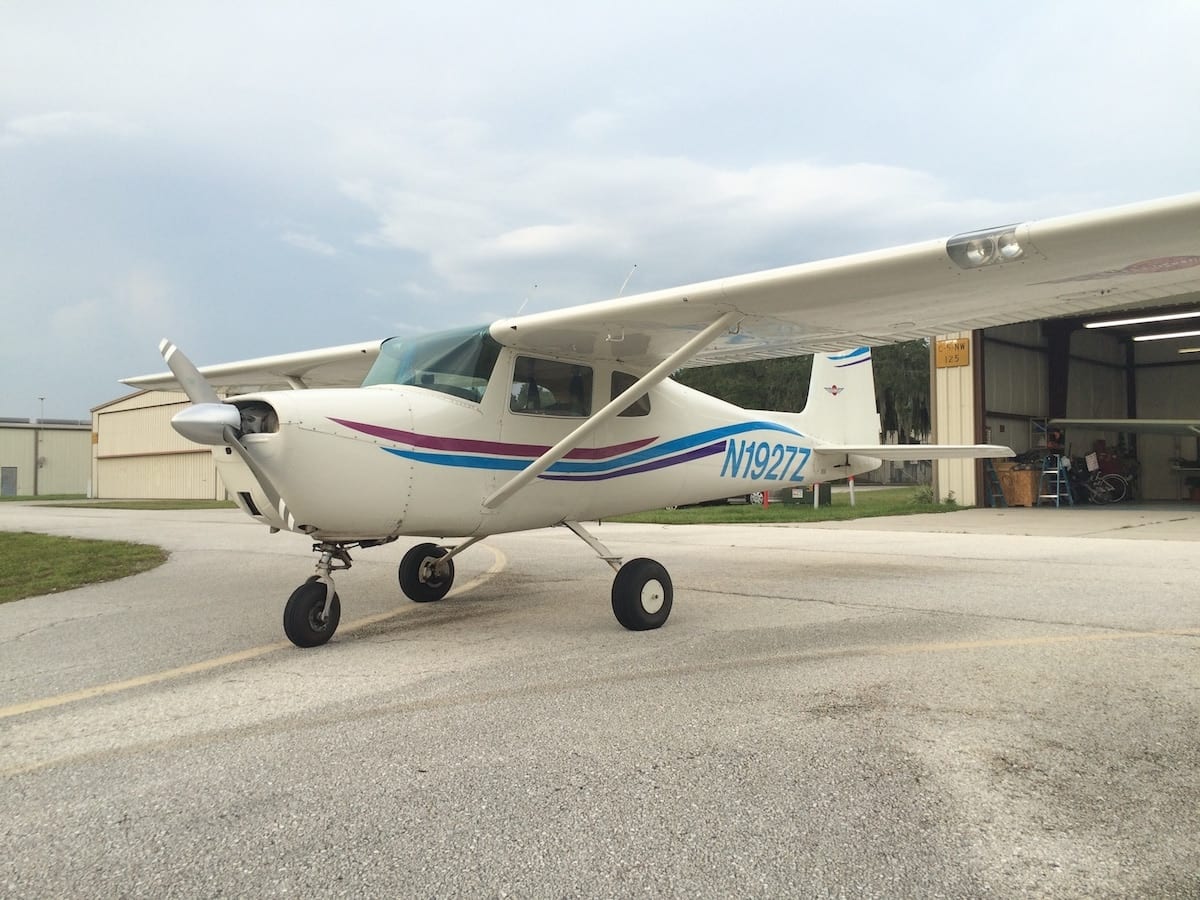 Is this photo the first brush I ever had with the airplane I would eventually own? I can't say for sure. But if I was a betting man, I'd put the likelihood of it being the same airplane at about 94%. Maybe higher.
My memory, like yours and everybody else's, is a maze of misrepresentations, flat out errors, and big ol' holes. But I know I started thinking about buying an airplane well before I actually earned my tickets.
Like most of us, financial realities put that purchase well out of reach for many years. A mortgage, a growing family, an unexpectedly lengthy illness, and a less than stellar income stream all conspired to keep aircraft ownership out of reach for a good long while. But the dream remained in my head for all those years.
I've owned six airplanes to this point in my life. Wonderful machines, one and all. They made my life better, and I'd like to think that they made the lives of their subsequent owners better, too.
I guess the moral of this story is never give up. Fate is a weird force in our universe. Had I given up the idea of owning an airplane one day, the photo in that stack at my parent's house would have meant nothing to me. Had the challenges of flight school proven to be more than I cared to shoulder, the whole story would be moot. If the old man and I had given in to our interpersonal challenges and refused to spend time with each other — well, you get the picture.
Life is weird. People are weirder.
And so may I suggest you search your own photo collections and label them as best you can. It may not matter much in the long run, but then again…it might.