LEBANON, N.H. — Granite Air Center, the FBO at Lebanon Municipal Airport (KLEB), recently completed a project to install a solar array on the FBO's hangar roof.
Completed in early May 2018 by Norwich Solar Technologies of White River Junction, Vermont, the 218.1-kilowatt DC, Net-Metered Photovoltaic (PV) System is the largest solar array in the city of Lebanon, according to FBO officials.
The solar array will provide Granite Air long-term energy cost reduction and stability through the integration of clean, renewable solar electricity, according to company officials.
The FBO provides refueling, repair, maintenance, short and long-term hangar storage, and other services to general aviation and commercial aircraft.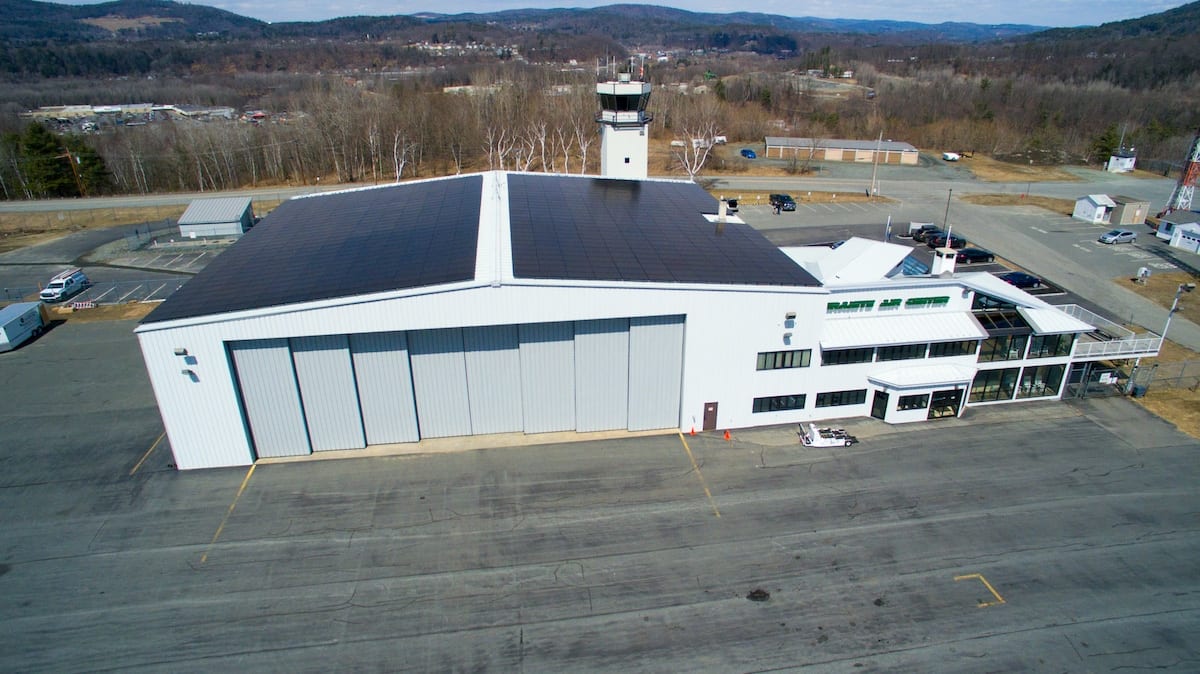 "We love the idea that we can offset a large part of our carbon footprint through solar," said Jason Archambeault, co-Owner/COO of Granite Air Center. "We believe following socially responsible business practices is just the right thing to do. And using a local solar company to do the work also supports local jobs."
The recent increase in solar projects at America's airports can be credited to an FAA program, he noted. The Airport Environmental Program is intended to reduce emissions, as well benefit operators with significant savings in an industry with historically large operational and environmental costs.
Airports are particularly attractive for solar installations, not only because of the abundance of structurally sound roof space on hangars and terminals, but also because they typically have unobstructed, unshaded solar exposure. Due to their nearly round-the-clock operation, even smaller regional airports can have significant electricity bills. Granite Air's solar PV array is expected to meet nearly all of the company's electricity needs.
"As solar power continues to prove its economic and environmental value, airports in the U.S. are an obvious choice for PV installations. The scale of airport solar projects continues to grow because there is considerable untapped energy potential at the nation's roughly 13,000 airports and airfields," said Bob Lewis, vice president of sales and marketing at Norwich Solar Technologies.
Greg Soho, Granite Air Center co-owner/CFO, said the decision to move forward with the project was pretty easy.
"In addition to the environmental benefits of producing renewable solar energy, we are able to stabilize our long-term electricity costs," he noted.
With a federal investment tax credit of 30% and a New Hampshire rebate, more than half of the system cost will be offset by incentives, not including the generous accelerated depreciation allowed for renewable energy projects, he said.
"With the incentives available to us, this is a very viable project," he added.
In addition to long-term energy savings, the solar array will provide the environmental benefits of offsetting the equivalent of 5,554,000 pounds of CO2, the equivalent of 11,341,000 miles driven by automobile or 268,000 gallons of jet fuel burned, over its 25-year lifespan.