The Aircraft Owners and Pilots Association (AOPA) Foundation has raised more than $3.6 million for its You Can Fly Program to get people flying and keep them flying.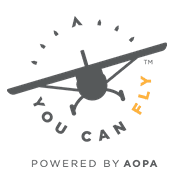 The generosity of more than 3,800 donors produced contributions exceeding $1.8 million, topping the $1.4 million goal set by the Ray Foundation, which was established by the late pilot and philanthropist James C. Ray.
The Ray Foundation announced it would increase its match to the full $1.8 million, bringing the total to $3.6 million.
"AOPA Foundation donors are the fuel that powers AOPA programs supporting and growing the pilot community — and they were inspired to rise to a challenge," said AOPA President and CEO Mark Baker. "The future of general aviation just got brighter."
With the new funding, You Can Fly will be able to direct more resources to its four initiatives: High School Curriculum, Flight Training, Flying Clubs, and Rusty Pilots, AOPA officials noted.