Words matter. And as language evolves, words sometimes take on new or additional meanings. And that time spent in transition can be difficult to navigate.
I received an email from a reader who took a bit of exception with my use of the term "electric engine" in a recent column. For context, I said, "Electric engines will become reality. Battery capacity will improve to the point of being practical."
Disclaimer: I'm not mechanical. At all.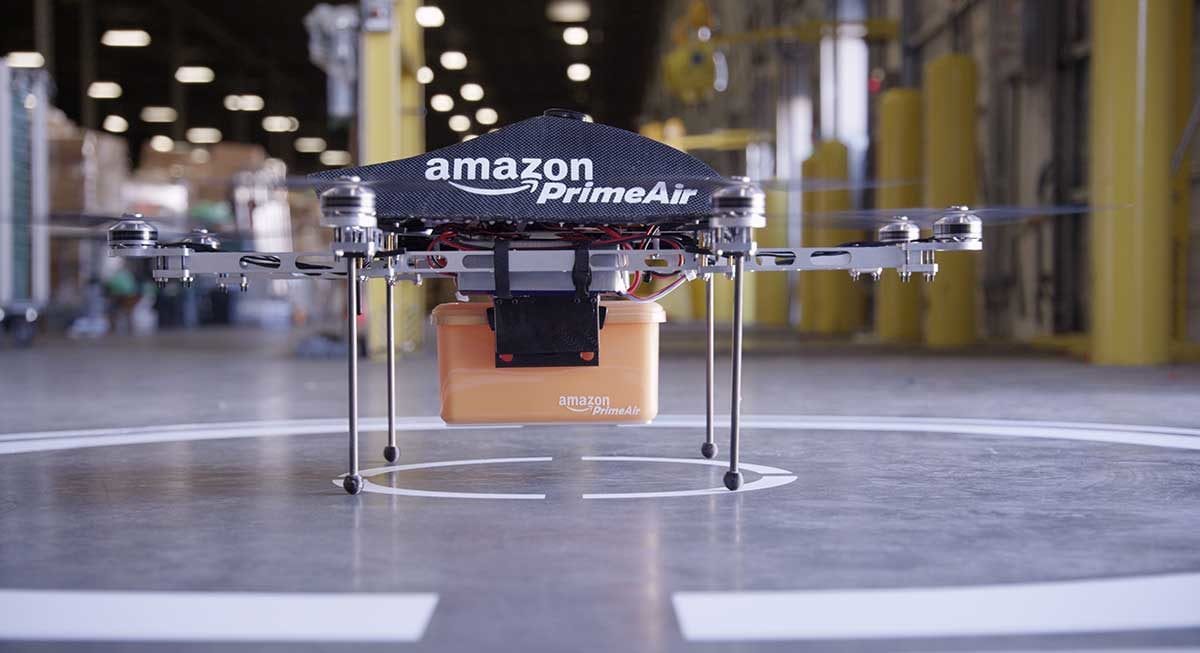 Amazon's Prime Air
From the email I received: "I know we call engines motors, but the reverse isn't appropriate. Motors convert energy to power; engines convert fuel to power by burning it."
To the letter writer, the use of engine next to electric is akin to "fingernails on a chalkboard."
According to Merriam-Webster:
Engine is defined as a machine for converting any of various forms of energy into mechanical force and motion.
Motor is defined as any of various power units that develop energy or impart motion such as a small compact engine, a gasoline engine, or a rotating machine that transforms electrical energy into mechanical energy.
When I look at those definitions, I read them as nearly similar. To this non-mechanical guy, engines and motors are magical things that covert energy (fuel or stored electricity) into — in the case of airplanes — propulsion.
Interestingly, Brian Smith said, "First off an aircraft engine is not referenced as a motor. It's an engine. That's all. Good day," on a recent story about new features on the Terrafugia flying car.
Pop or soda? I rarely drink either, but many people feel strongly one way or the other. In either case, I typically understand what a person is referring to. And so did the author of the email. But words do matter.
So, what do you think?
I try not to use big words. Actually, I don't really have to try because I don't know that many big words. But I do try to use the words I do know properly. Some days are better than others.
This feedback reminded me of our discussions regarding what to call "drones." I prefer RPA (remotely piloted aircraft), but drone is much easier to say and for someone to understand. After all, it is one of those words that has taken on additional meanings and entered the broader conversation.
License or Certificate?
Referring to that piece of plastic in your wallet that states you are a pilot: Do you think of that as a license or a certificate?
While it doesn't rise to "fingernails on a chalkboard" when I hear it, I do pause each time I read or hear "Private Pilots License."
The difference? Both are earned following a successful exam, but a license expires after a stated period of time while a certificate is valid until surrendered or taken.
I took an 11-year hiatus from flying in the early 2000s. But I was still a certificated pilot. And I'm mostly current today.
If I let my driver's license expire I can no longer call myself a licensed driver.
While words do matter, I don't feel they should matter too much.
Back in the 1990s my wife and I went to Seattle to hear educator Joe Clark speak. Mr. Clark was the subject of the movie "Lean on Me" starring Morgan Freeman as the principal committed to cleaning up a tough inner city high school in New Jersey.
Sadly, Deb and I left disappointed. Mr. Clark spoke at a level much higher than either of us could comprehend. Which meant we didn't understand a thing he said.
A superior command of language is a true gift. Often earned by years of study. But if your audience doesn't understand…well, as Rod Machado would say, "Bad thing."
I desire to be understood, even if I end up being wrong about what I've said. I want you to be able to understand me. And part of being understood is using words properly. So… help me out… electric engine or electric motor?