Garmin has released multiple software upgrades and approvals across several products, including the GTN 650/750 touchscreen navigators, the G500 TXi/G600 TXi and G500/G600 flight displays, as well as the GFC 600 and GFC 500 autopilots.
Additionally, the G5 electronic flight instrument for certificated aircraft is approved for use as a standby instrument when paired with the G500 TXi or G500 flight displays.
The GFC 500 autopilot is also approved for installation with the G500 TXi or G500 flight displays, while the addition of descent vertical navigation (VNAV) within the GTN aids in descent planning.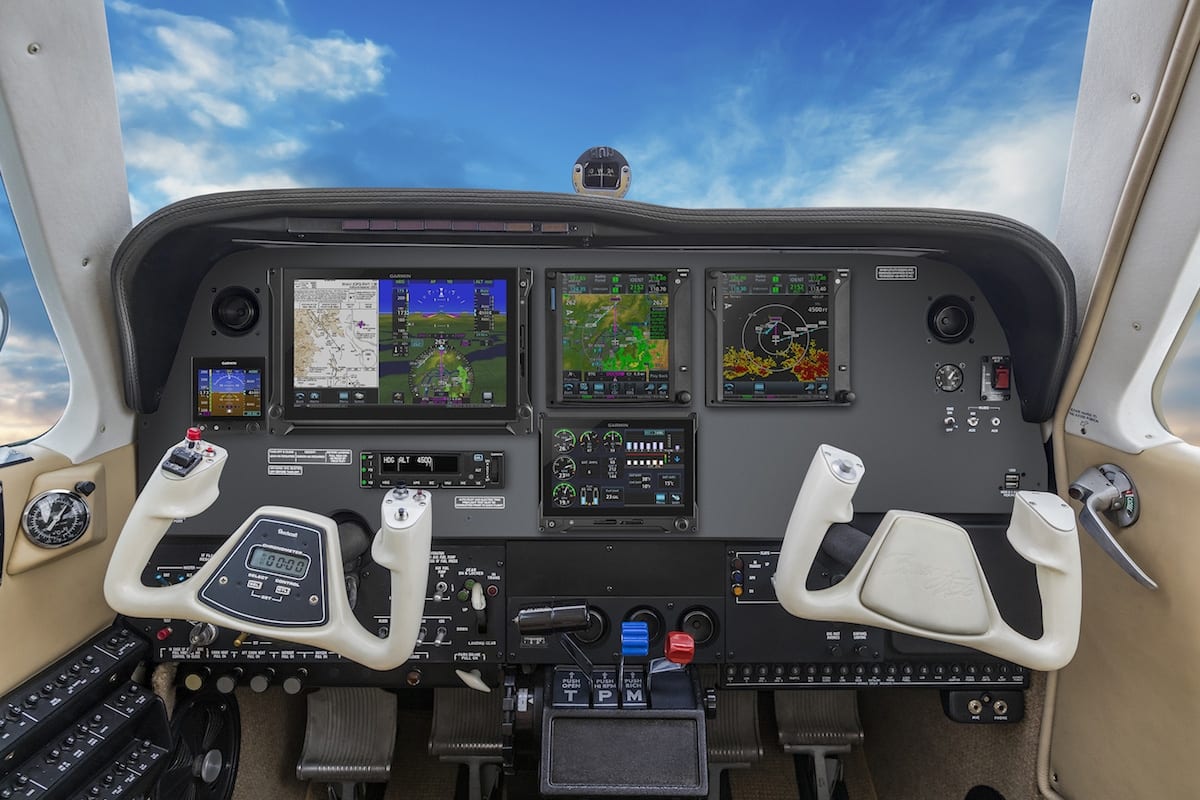 To assist in descent planning and energy management, pilots can take advantage of VNAV profiles throughout the enroute and terminal phases of flight within the GTN 650/750 touchscreen navigators when they're paired with the G500 TXi/G600 TXi, G500/G600 or G5.
Within the GTN, pilots can enter altitude constraints on the flight plan page to set up a vertical descent profile.
Pilots also experience a near-seamless transition from VNAV to an arrival and instrument approach, Garmin officials note. Once an arrival or approach is loaded and activated, the GTN automatically populates step-down altitudes or any applicable altitude restrictions.
If ATC issues an unpublished altitude restriction, pilots can enter those altitudes manually into the active flight plan under the VNAV field.
As part of the VNAV profile, top of descent (TOD) and bottom of descent (BOD) values are also calculated and displayed on the moving map. As the aircraft arrives at TOD, the GTN displays a visual annunciation prompting the pilot to begin the descent.
When paired with a display such as a G500 TXi/G600 TXi, G500/G600 or G5, a vertical deviation indication (VDI) also populates on the display to provide vertical guidance for the descent.
Additionally, when the GTN 650/750 series is paired with the GFC 600 or GFC 500 autopilot, pilots can select the VNAV button on the mode controller to fly a fully-coupled VNAV profile.
Approved as a standby: G5 electronic flight instrument
The G5 electronic flight instrument is now approved as a standby flight instrument when paired with the G500 TXi or G500 flight displays.
Any adjustments made to heading bugs, altitude select, airspeed bugs, as well as the barometric pressure setting are automatically synced from the G500 TXi or G500 displays to the G5, according to company officials.
Flight director and autopilot mode annunciations from the GFC 500 can also be viewed across all displays, including G5.
More than 600 aircraft are approved for the installation of G5 as a standby flight instrument alongside the G500 TXi or G500 flight displays.
GFC 500: Now approved for G500 TXi and G500-equipped aircraft
Aircraft owners can soon pair the GFC 500 autopilot with the G500 TXi or G500 flight displays, offering a fully-redundant, all-glass cockpit when paired with the G5, company officials say.
For example, in the event of a G500 TXi flight display failure, the G5 will remain coupled to the GFC 500 autopilot and continue to fly normal autopilot modes, including altitude select, heading, vertical speed and more, company officials explain.
Course deviation indication (CDI) and VDI preview
A popular feature in turbine class aircraft, a CDI preview option allows pilots to view course and vertical deviation information prior to an instrument approach.
When the GTN series is paired with the G500 TXi/G600 TXi or G500/G600, pilots can view this feature within the HSI or lateral deviation indicator on the flight display.
When GPS is the selected CDI source, information such as a course pointer, lateral deviation, station ID and the numeric inbound course automatically populate on the HSI in gray when an instrument approach is loaded.
For ILS and GPS approaches with vertical guidance, a preview of the VDI also populates on the TXi series, G500/G600 or G5, allowing pilots to view glideslope or glidepath deviation prior to the descent.
Additional Features
The GTN 650/750 touchscreen navigators also incorporate a variety of additional features, including:
The addition of new audible and visual terrain proximity alerts, including "terrain ahead, pull up," "obstacle ahead, pull up," and "wire ahead." An aural "five-hundred" annunciation is also available when the aircraft is on approach to land.
Pilots can now set a user-defined waypoint as an airport so terrain alerts are minimized while landing at an airport that is not in the aviation database.
The addition of a QWERTY keyboard within the GTN 650/750 and the G500 TXi/G600 TXi gives pilots a more familiar way to input information.
Pilots can configure COMM sidetone settings within the GTN series.
Irish, Swiss and English coordinate systems are now supported so it's easier for pilots to enter GPS coordinates in various formats, including latitude/longitude, degrees/minutes/seconds and decimal degrees.
These software updates are available immediately — at no charge — from Garmin Authorized Dealers for hundreds of aircraft makes and models. A dealer installation charge may apply.