BURLINGTON, N.C. – The air operations branches at the Civil Air Patrol's incident command posts in the Carolinas have been very active in the aftermath of Hurricane Florence, flying long sorties to meet the requests of the Federal Emergency Management Agency, as well as other federal and state agencies in both states.
Aircrews from both the North Carolina and South Carolina wings have already taken thousands of reconnaissance photos in response to Hurricane Florence, working to provide FEMA, the North Carolina Emergency Management Division, the Department of Homeland Security, the South Carolina Highway Patrol, South Carolina Law Enforcement Division, South Carolina Air Guard and other agencies with an overhead view of rivers, dams and townships affected by the rising floodwaters.
CAP is also conducting post-storm survey flights for the National Weather Service, according to officials.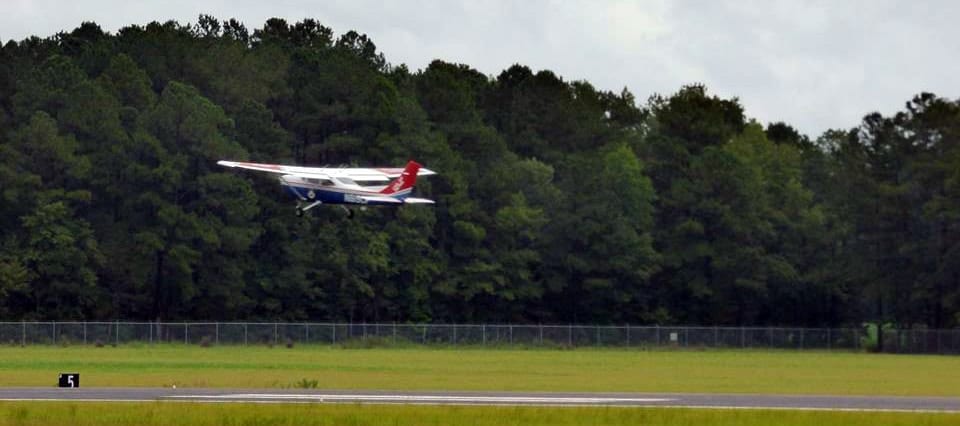 The North Carolina Wing has flown 84 sorties so far from its base in Burlington, delivering more than 1,200 photos to emergency management agencies.
An additional 1,500 photos have been taken by South Carolina aircrews, who have flown 107 sorties.
In addition to damage assessment flights, CAP is flying other missions around the Carolinas, including transporting emergency response personnel and Points of Distribution (POD) supplies into hard-hit areas, CAP officials report.
The North Carolina Wing is using its 18 Cessna 172s and 182s to help support CAP's response to Hurricane Florence.
"We train regularly to serve our communities in times of emergency," said Col. R. Jason Bailey, North Carolina Wing commander. "Our pilots, aircrews, ground teams, and Points of Distribution personnel have all performed selflessly. They demonstrate daily to our communities that we are ready, willing and able to help them and serve their needs."
In addition to the 10 active CAP aircraft in the South Carolina Wing fleet, two planes and 13 out-of-state CAP personnel have been provided for assistance in meeting the aerial photo assignments, which continued to be developed, CAP officials note.
CAP cadets and senior officers on the ground are responsible for downloading the photos collected by the aircrews, and then uploading them to required databases. As the members complete the uploads, they ensure the photos have geotags, color-code the severity of the damage, and add other photo tags while placing the images in the proper albums.
In West Columbia, South Carolina, as many as 30 to 40 CAP personnel have staffed the incident command post, with most of those working on photography uploads as well as communications and planning.
Completing this sorting on the ground at the incident command posts mean officials at the Emergency Operations Centers in both states have fewer raw, unsorted images to sift through daily, CAP officials explain.
In addition, CAP members are serving continuously at their states' Emergency Operations Centers.
Members of the North Carolina Wing also are staffing the state Department of Emergency Management's Regional Coordination Center-East in Kinston and Regional Coordination Center-Central in Butner.
At least one representative from the South Carolina Wing has been on duty at the state Emergency Operations Center at the Pine Ridge Armory in West Columbia. At times, as many as four CAP personnel have been on duty there.
Both wings are being augmented in their responses by CAP members from the Maryland, National Capital, Tennessee, Virginia, and West Virginia wings.
"A very large team has come together in this very trying time to perform extraordinary missions in some very tough conditions," said Col. John Knowles, commander of CAP's Middle East Region, which includes both Carolina wings, and the Maryland, National Capital, Virginia and West Virginia wings. "Every day, as our airmen in the field need rest, five more are waiting in line to take their place. I am incredibly proud of all our unpaid professionals."
CAP, acting as the U.S. Air Force Auxiliary, is supporting Air Forces Northern (AFNORTH) during Defense Support of Civil Authorities operations following the landfall of Hurricane Florence on the East Coast. AFNORTH's primary role is to support U.S. Northern Command's efforts to provide assistance to FEMA's relief efforts.
Civil Air Patrol, the longtime all-volunteer U.S. Air Force auxiliary, is the newest member of the Air Force's Total Force. In this role, CAP operates a fleet of 560 aircraft, performs about 90% of continental U.S. inland search and rescue missions as tasked by the Air Force Rescue Coordination Center and is credited by the AFRCC with saving an average of 80 lives annually.
CAP's 60,000 members also perform homeland security, disaster relief and drug interdiction missions at the request of federal, state and local agencies. In addition, CAP plays a leading role in aerospace/STEM education, and its members serve as mentors to over 25,000 young people participating in CAP's Cadet Programs.