WASHINGTON, D.C. – The FAA has relaunched its $500 ADS-B rebate program.
According to FAA officials, the agency is making $4.9 million available for rebates, which will fund 9,792 ADS-B Out installations.The program runs through Oct. 11, 2019.
As of Jan. 1, 2020, aircraft flying in airspace where a transponder is necessary today will be required to be equipped with compliant ADS-B Out technology.
"The ADS-B mandate is not going away. We are about 15 months from the Jan. 1, 2020 deadline and now is the time for aircraft owners to equip," said FAA Acting Administrator Dan Elwell.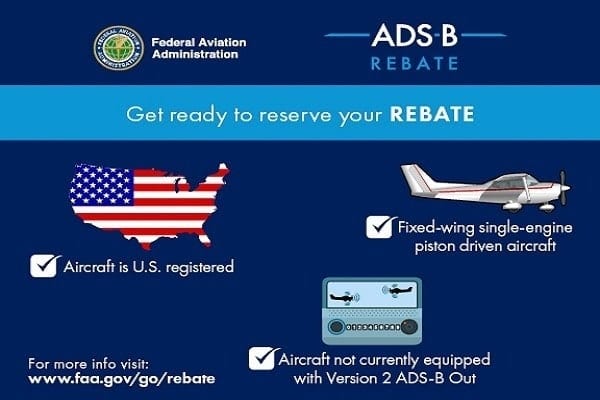 The previous rebate program, which ran from Sept. 19, 2016, to Sept. 18, 2017, issued more than 10,000 rebate payments.
As before, there are five steps aircraft owners must follow to meet the mandate and receive the $500 rebate:
Purchase the equipment and schedule installation.
Obtain a Rebate Reservation Code by reserving a position online.
Install the equipment.
Conduct the required equipment performance validation and get an Incentive Code.
Claim the $500 rebate online using the Rebate Reservation Code and Incentive Code.
As with the earlier rebate program, the rebate program is available only to those who have not yet equipped their aircraft.
In addition to the ADS-B Rebate reservation portal, the FAA's Equip ADS-B website lists FAA-certified ADS-B equipment and features an equipage database searchable by aircraft type and model.