Dispatch from Restricted Area 5111B: This is it. I key my mike, and in my most professional pilot voice, broadcast: "Good morning Spaceport America, Erco, flight of 22, 10 miles south for landing."
I turn to my son Rio and smile ear to ear. A year and a half of hard work has finally paid off. He gives me a thumbs up. Then the radio crackles in my headset and I hear, "Good morning Erco Zero-Two-Two. Wind three-three-zero at seven."
I deflate. I know it didn't sound like much, but I'd actually spent a lot of time planning what to say on that radio call announcing the arrival of our fleet of Ercoupes at America's first purpose-built Spaceport.

But either my radio isn't as good as I thought, their radio isn't as good as it should be, or I didn't speak clearly enough. They missed the fact that I'd called in for the entire flight of Ercoupes that I'm leading — strung out like a chain of gleaming pearls in the sky above White Sands Missile Range, flying through airspace normally barred from pilots like us — and converted my clever announcement in to a single N-number. One that doesn't even come close to the borrowed plane I'm piloting.
I'm sure Neil Armstrong would have felt the same way if Houston had said, "Roger, Neil, we copy you made one small stop."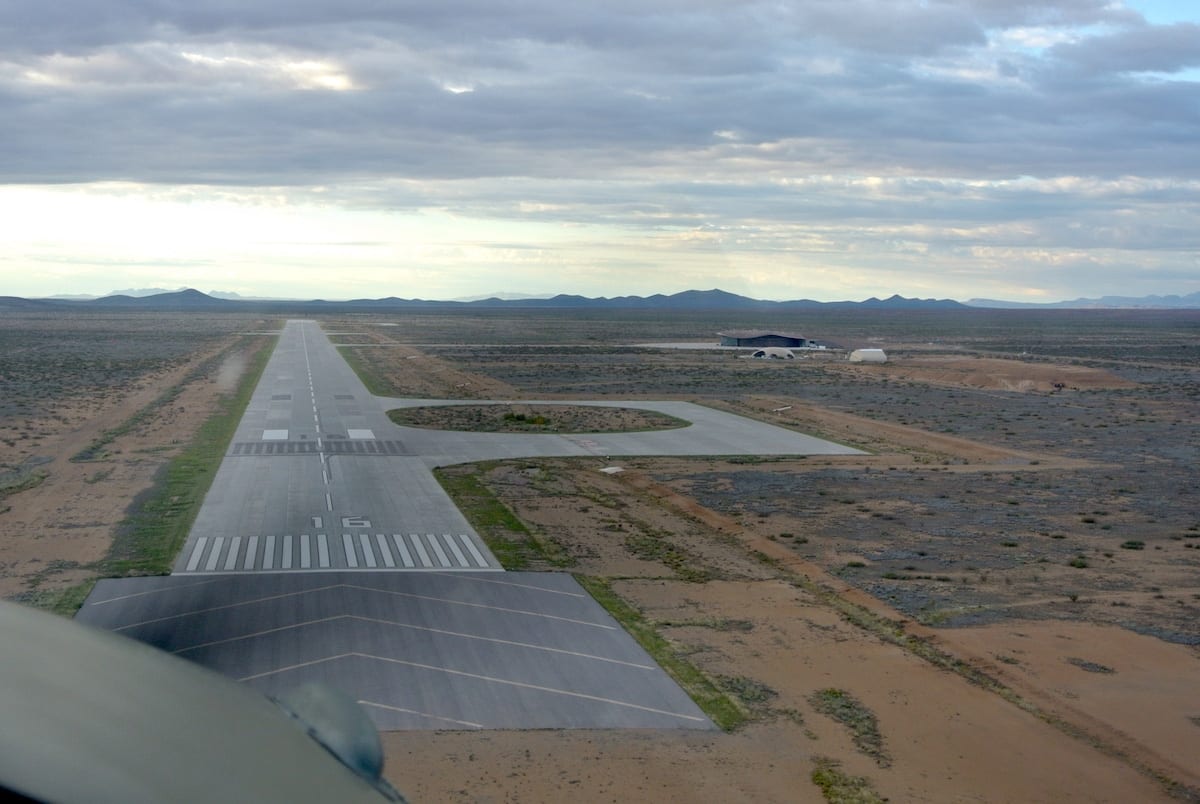 Still, as we fly our right downwind along the massive grey-white 12,000′ long, 200′ wide runway in the middle of a vast and vacant desert bowl between two mountain ranges, I feel a deep sense of satisfaction and relief.
Actually, more relief than satisfaction, as this moment came very close to not happening at all. Both for me and for the planes with me.
358 Days of Sunshine
The State of New Mexico boasts 358 days of sunshine each year. This year, it just so happened that the other seven days — the ones with crappy weather — all hit in a row.
And this week of poor weather planted itself right in the way of the 42nd annual national fly-in of the Ercoupe Owners Club, the type club for the funky twin-tailed, low-winged, 1940s-era two-seaters that I love and fly.
The event is officially called the Fred & Dorothy Weick Memorial National Ercoupe Fly-in, to honor the late plane's designer and his wife, who attended the type club gatherings for decades in their retirement, but that title is enough of a mouthful that most of the club members simply call it "The Nationals."
For years the Nationals were held in various eastern and midwestern venues. We'd never had a western convention, at least not so far as anyone could remember. New Mexico was chosen to resolve that, and somehow or another I ended up in charge of the event.
I chose October as the weather, statistically always good in our state, is usually at its best then. In the southern part of the state the October temperatures are comfy, the winds are light, and the sky is clear. Nationwide, the hurricane season is winding down, and the northern pilots haven't put their birds into hibernation for the winter yet.
It should have been perfect.
In addition to arranging the Spaceport fly-in, no small feat in its own right, I planned a mini air race, a flour bombing tournament, a moderated maintenance round table, plus our usual meetings, awards, banquet, and scholarship fund-raising auctions. Plus I set up ramp space, fuel discounts, hotel, food, ground transportation, and all the rest, including T-shirts, patches, name tags, and swag bags.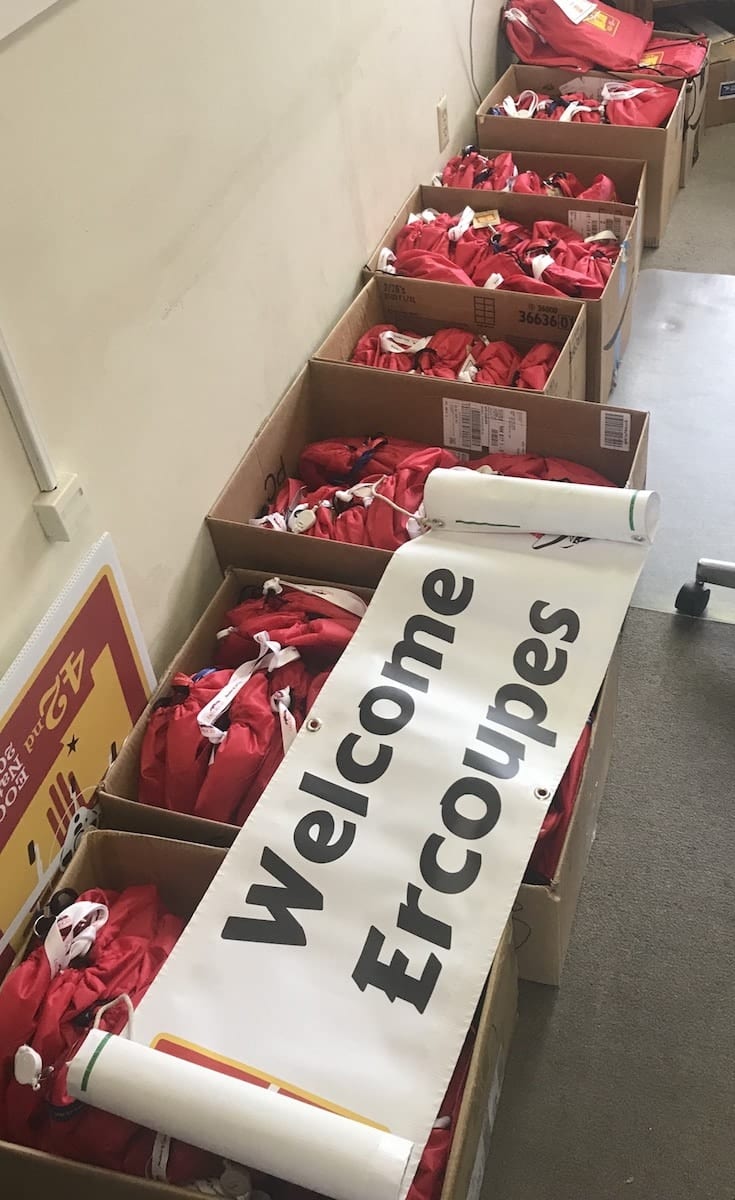 Everything was carefully planned down to the last detail. Like I said, it should have been perfect.
But as anyone who's ever hosted a flying event knows, the Weather Gods just love to mess with fly-ins.
At the Mercy of the Weather Gods
On Wednesday, the day before the convention, I drove across my state through uncharacteristic rain and fog, muttering, I can't frickin' believe this, I can't frickin' believe this, over and over again under my breath. When I arrived at Southwest Aviation, our host FBO at Las Cruces International Airport, there were three Ercoupes on the ramp.
One, a yellow and black plane painted in the style of a Gee Bee racer, had been there since Monday. It belonged to Billy Lenz and Bruce Bennett of Louisburg, Kansas. Billy had been watching the weather on ForeFlight for days, and could see it closing in. She made a snap decision one morning a week before the convention was to kick off. She woke her husband up and said, "It's now or never."
An hour and a half later, they lifted off.
I set up for registration, wondering if anyone else would make it in at all. The forecast was not encouraging.
The next day, Thursday — which was the scheduled arrival day — I found Lynn Nelsen of Frostproof, Florida, sitting in a chair near the door when I arrived at the FBO. Outside, even the pigeons were grounded by low clouds and bands of rain that extended for 1,000 miles.
"How on earth did you make it in?" I asked him.
"By car," he said, including 750 miles across Texas in low IFR. On the freeway.
He wouldn't be the last to changes horses in midstream.
For this year's convention, 48 planes signed up, one of the largest gatherings of Ercoupes outside of Oshkosh events in years. But a massive band of hurricane moisture grounded the Texas, southern, and midwestern 'Coupes in their hangars. Another band of moisture blocked the West Coast planes from reaching the convention.
On arrival day only one plane made it through, flown by a 15,000-hour retired military pilot who said it was some of the worst weather he'd ever seen.
By the end of the first full day of the convention, there were only six planes on the ramp, three of them local.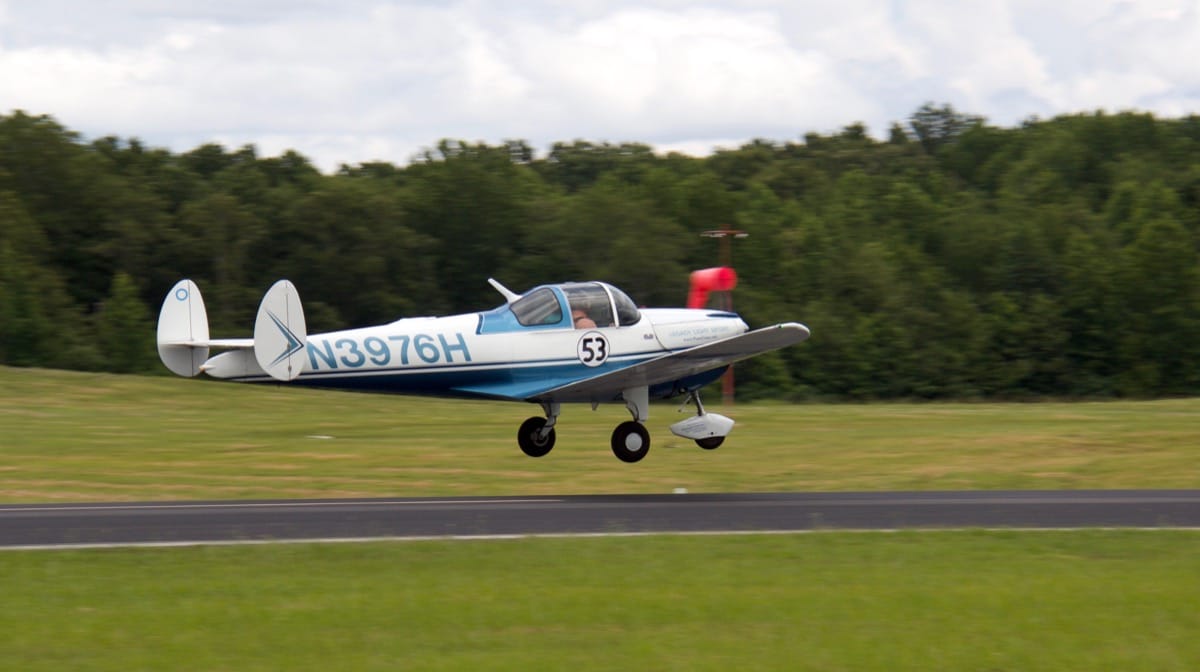 Was Race 53 one of them? Did my own Ercoupe make it to my own Ercoupe convention? No.
But not due to the weather. Just days before the convention, a freak hard landing put her out of commission. Possibly forever.
Good friends
It sounds cliché, but the soggy weather didn't dampen spirits. Some members locked their hangars and got into their cars, or booked passage on airliners. Others flew as close as they could get, tied down, and completed their trips in rental cars (some close enough to get back to their planes if the weather cleared in time).
Partly, they came to ask questions of each other, partly to share knowledge and experiences, but mostly they came for the sense of family they get from hanging out with folks who fly the same ride they do.
Low ceilings and rain can never cancel that.
It did, however, cancel our air race and flour bombing contest.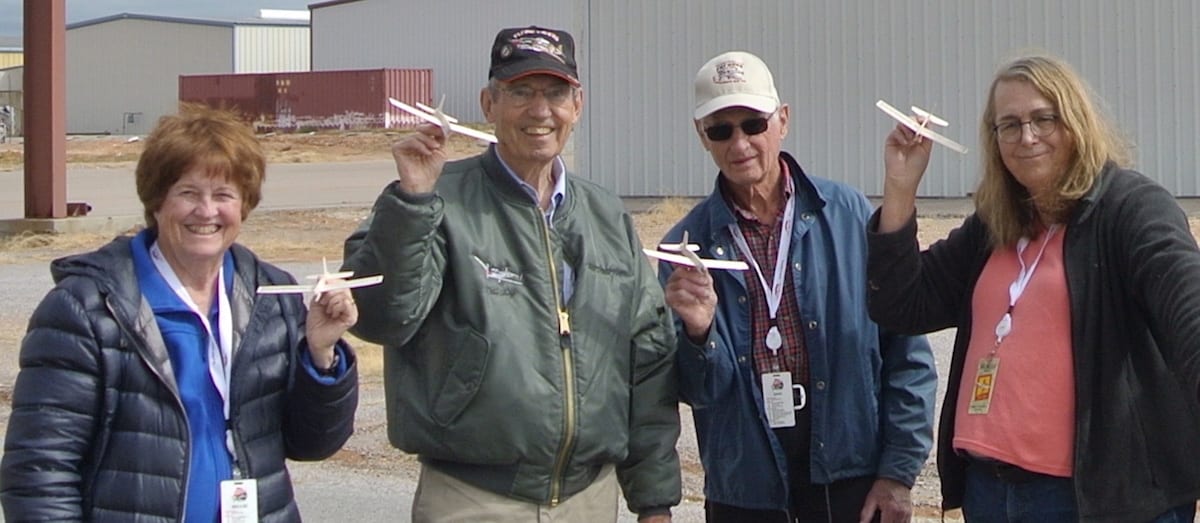 But not, thankfully, our signature event: A super-rare opportunity to fly into Spaceport America. Since the facility was built, only three other groups of general aviation planes have been allowed to fly in, and with commercial space tourism flights with Virgin on the near horizon, ours might well be the last.
By the end of the second day of the convention, the weather to the west lifted enough for bottled-up Ercoupes from southern Arizona to northern Utah to punch through, and by sunset 24 planes made it in, including 22 of the 30 planes that had been granted landing privileges at the Spaceport.
Spaceport America
As I turn final the size of the runway begins to sink in. It's not often little planes get to land on large runways, and this one is a doozy. In front of us, a ribbon of cement almost wide enough for me to land sideways on runs more than two-and-a-quarter miles toward the horizon. This single runway buried 55 acres of desert in cement 46″ thick.
As we settle down into our flare, our entire world dissolves into nothing but grey-white concrete. Concrete as far as the eye can see. We touch down, and start to taxi along the giant runway. And taxi. And taxi. And taxi. And taxi, finally reaching the one and only taxiway at the Spaceport, called Taxiway V, that leads from the giant runway to the crescent-shaped apron that wraps around the front and sides of the terminal building.
Ground handlers direct us to parking. We have the first slot on the far left. As I shut down the engine and slide the canopy down, one of them calls to me, "What a cool-looking airplane!"
Thank you!

Then, one after another, 'Coupes rumble overhead, bank over the desert scrub, descend to the giant mass of cement and taxi in. As pilots alight they wear ear-to-ear grins, high five each other, and stare in awe at the massive terminal rising above us.
Spaceports are all the rage now, and nearly a dozen states have them, but New Mexico's Spaceport America is special in several regards. It was the first purpose-built Spaceport, and while run as a state agency, it was fully paid for by the two closest counties. It features a runway long enough, wide enough, and thick enough to accommodate any aircraft currently flying in the world, plus many more planes that are still nothing more than dreams on blueprints.
Oh dear. Did I say runway? I'm sorry. I meant to say Spaceway. That's what they call the "horizontal launch facility" at the Spaceport.
After we were told that, our members joked about looking at the Spacesock to check the wind.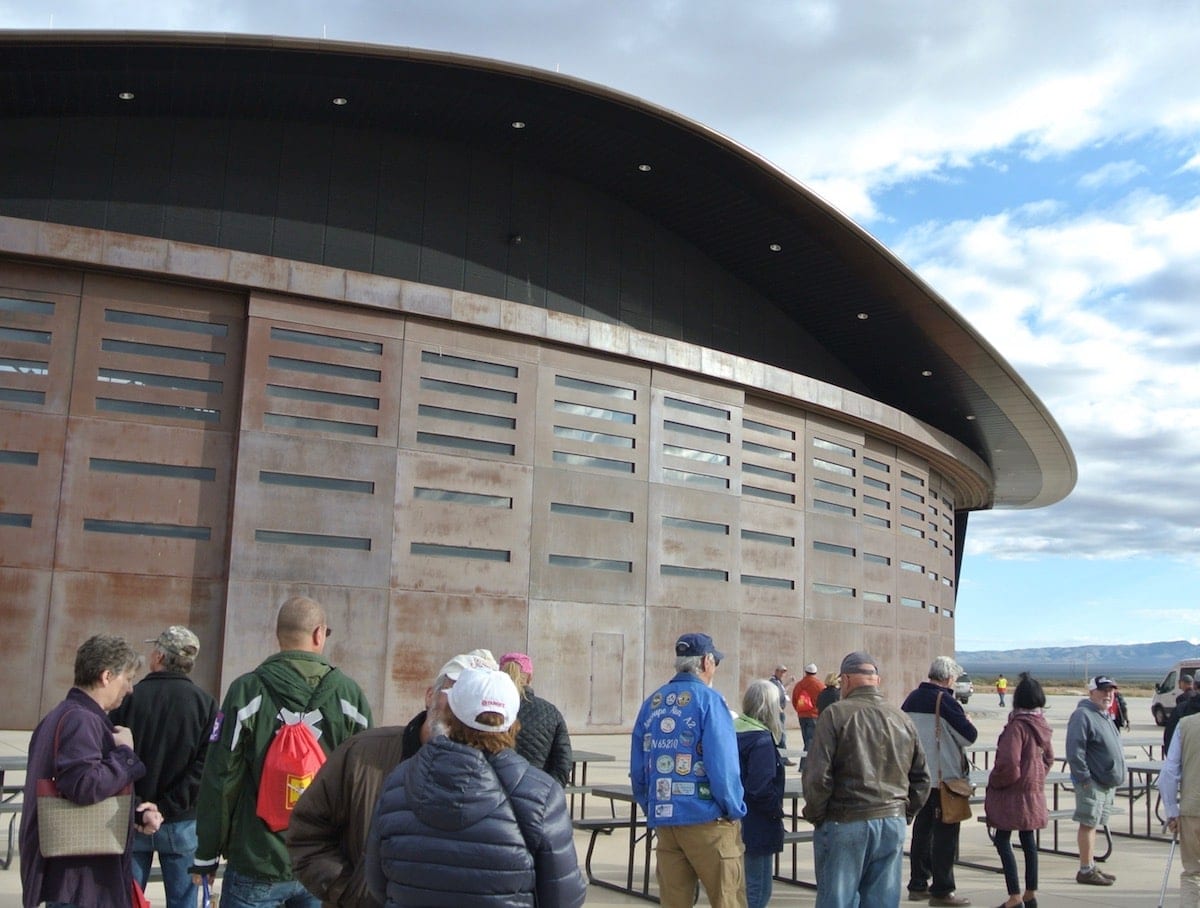 But joking aside, all our crew knew to their bones what a rare and special thing it was to be granted access to fly though this most restricted of airspace that goes from Ground to God, and to touch our wheels down on the same cement that the first generation of space tourists will lift off from and return to earth on.
Center stage at the site, towering over our fleet, is the massive terminal building that houses a hangar large enough for two Virgin Galactic White Knight aircraft and eight tourist rocket ships. Virgin is the largest lease-holder at the Spaceport, but the complete roster of tenants is a veritable who's-who of the burgeoning space economy, with players big and small including Boeing, Exos, P2S, UP Aerospace, and more.
The Spaceport also runs a cluster of conventional rocket launch pads, called vertical launch facilities, and in the last two years they've fired off 201 commercial, research, and university rockets from the site.
Once on the ground and parked on the curving ramp in front of Virgin's hangar, we toured mission control (smaller than Houston's by far); the on-site fire department (whose big truck is ironically made by a company called Oshkosh); and the terminal (including the long walkway that space tourists will use to reach their rides). Then we had lunch, and it was time to mount up and head out.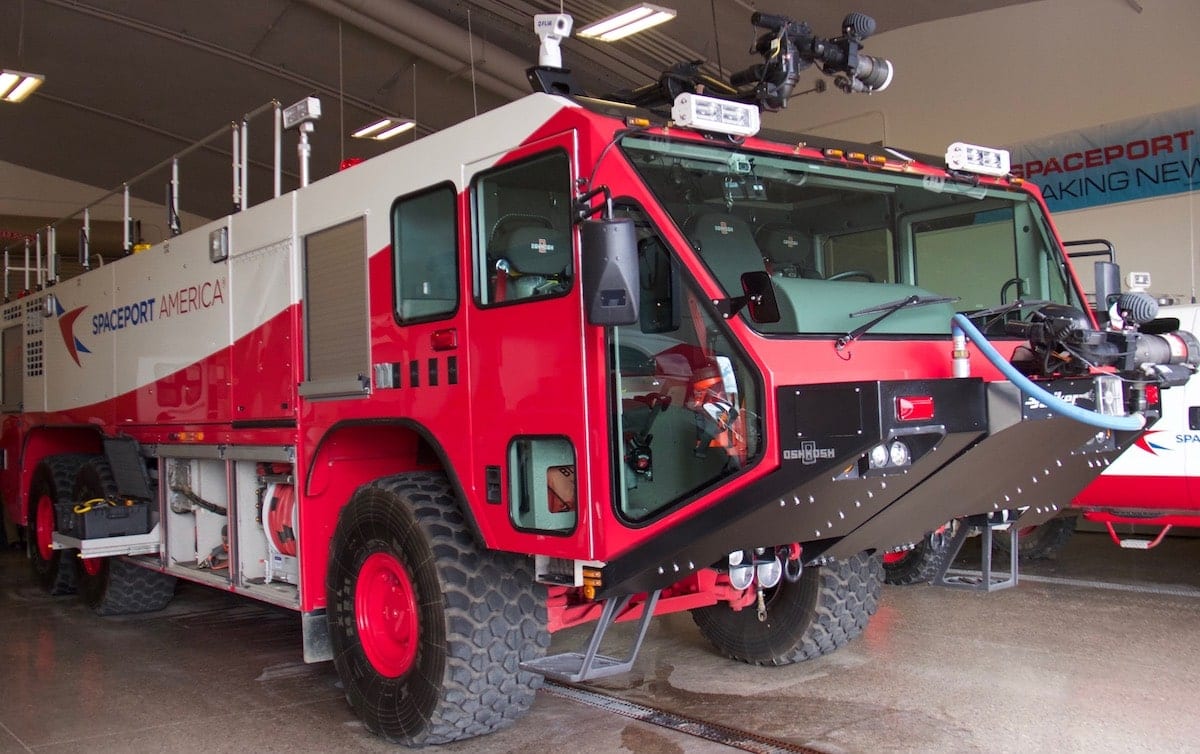 The hum and roar of many engines evoked a feeling of operations on the deck of an aircraft carrier. Then one by one, our twin-tailed birds lifted off into the dark blue New Mexico sky, not into space, but into the wide-open spaces where the next race to space is already well underway.