Larry Long beams happily as he pushes his Sonex out of the hangar at Montgomery County Airport (43A) for a flight on a beautiful North Carolina blue-sky day. His sprightly gait and radiant smile belie his age — he seems 20 years younger than his 84 years.
Maybe that's because he turned his dream of flying into tangible reality after more than half a century. He first soloed a Piper J-3 Cub in July 1957 on the grass runway at Moore County Airport in Southern Pines.
After logging 15 hours, he joined the Army, completed two years of service in 1959, and then … well … life intervened and his devotion to his wife, career, children, and grandchildren took precedence. During those years, he tried to satiate his hunger for flight by building and flying RC models.
Finally, at 76, Larry decided it was time to get back into flying. Valentine's Day 2011 couldn't have been any sweeter for him — it was the day he started taking lessons at Raleigh Executive Jetport at Sanford-Lee County Airport (KTTA). He was thrilled to earn his sport pilot certificate in November 2014.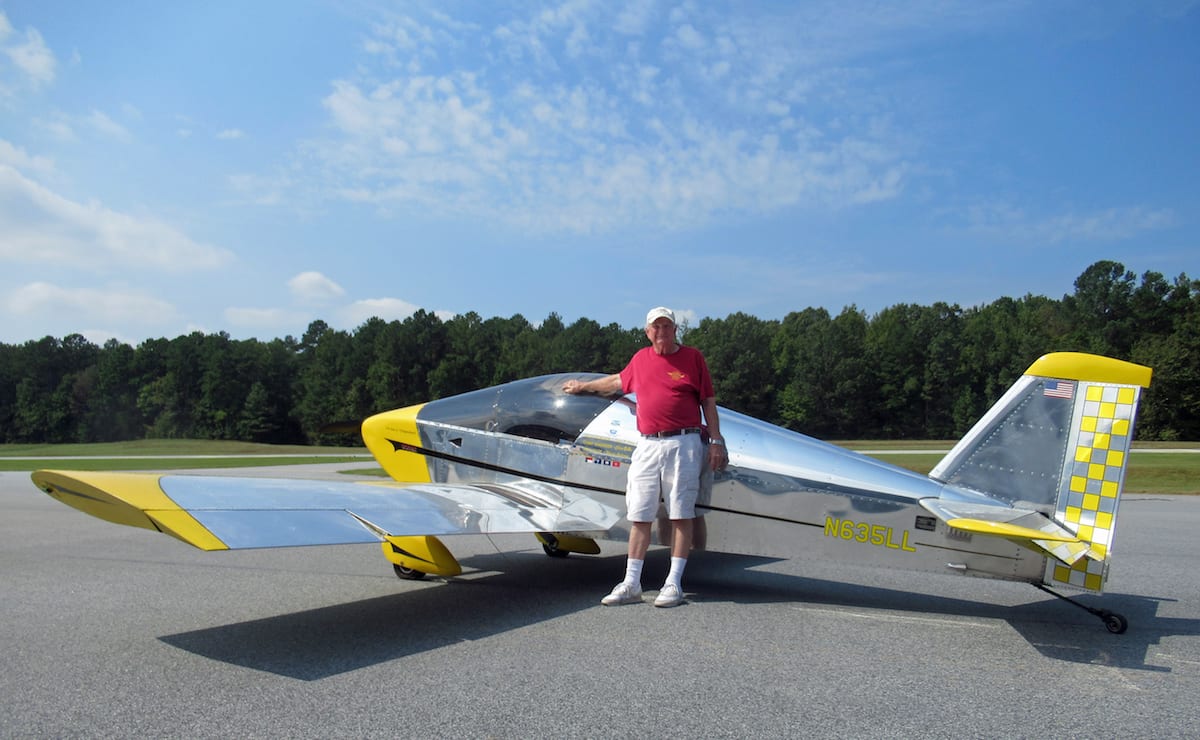 Leap of Faith
If you're wondering why it took several years for him to earn his certificate, here's the answer: Larry was busy building a Sonex in his backyard shop in Candor.
"I went to Oshkosh in 1999 and walked right by a Sonex and didn't even give it a second look. Later I got interested in it and started reading everything I could about it," says Larry. "A friend, Wayne Andrews, was scratch building one over at Siler City (KSCR), and I went to see his and that's what sold me on it. Then my wife, Sue, and I went to Oshkosh for a weekend workshop, and I ordered the Sonex plans and kit when we returned home."
That was quite a leap of faith, since Larry had never flown in a Sonex and didn't yet have his pilot certificate. Nor did he have any sheet metal, riveting, or full-scale building experience.
"The plans and company support were very good, and it was a straight-forward building process. Plus I had some good help along the way from many RC buddies," says Larry. "I met Chris Bobo at the RC field. He was a retired Boeing engineer and a retired Presbyterian minister, and would come up a couple days a week to work with me."
He adds he's "sold" on amateur-built experimental aircraft.
"There is always something to improve on and you have the freedom to do it,"  he explains.
Sonex Success!
Despite two eye surgeries and one hand surgery along the way, Larry persevered with the project, and his Repairman Certificate was issued in December 2012. The registration number, N635LL, reflects his birth month, year, and initials.
"My mentor, Wayne Andrews, flew the first 40 hours off because I didn't even have my pilot certificate at the time," says Larry. "He flew with me for 15 hours so I could get insurance. Then I soloed it at Siler City and that felt great! I moved it here to Montgomery County, and have been flying ever since."
Painted with rattle-can Sun Yellow Krylon, Larry named his plane, most appropriately, Spirit of Octogenarians.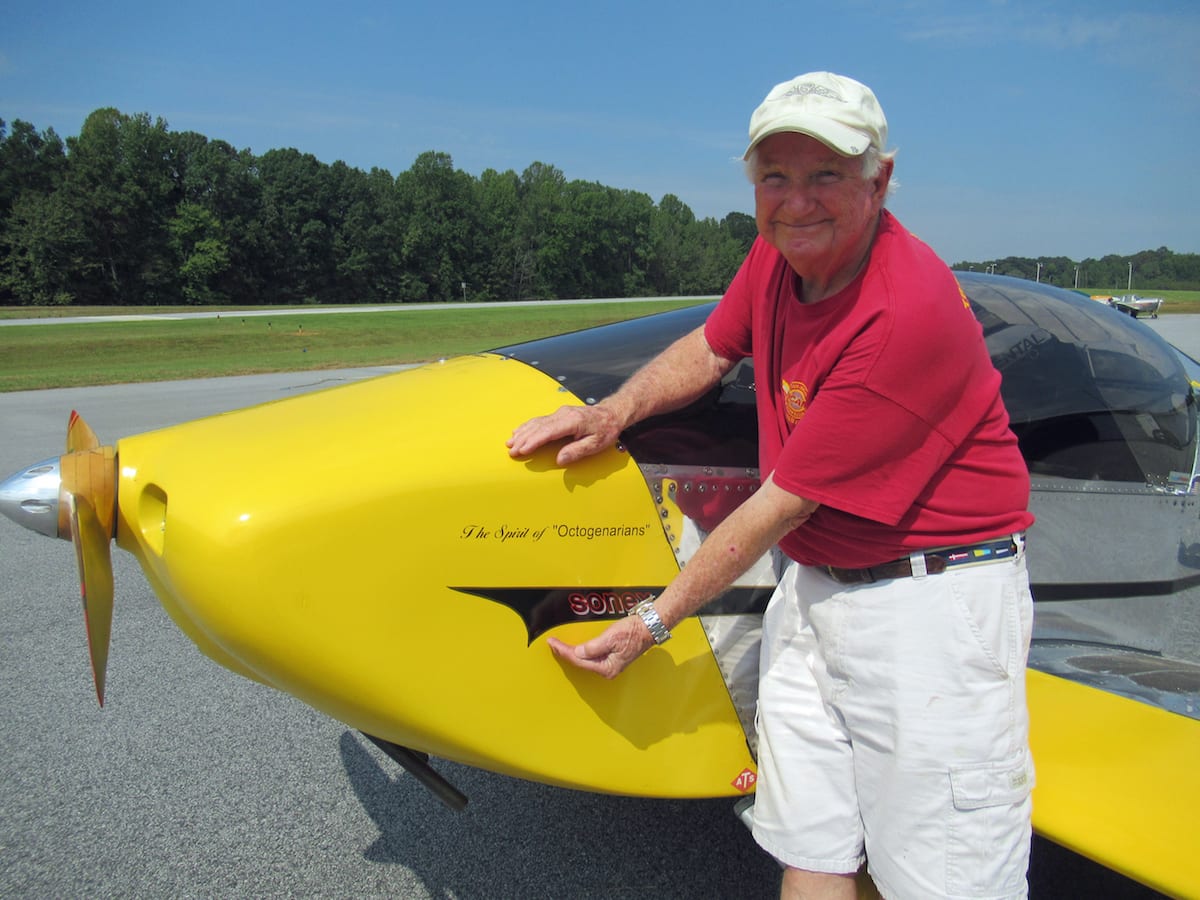 N635LL is powered with a Jabiru engine.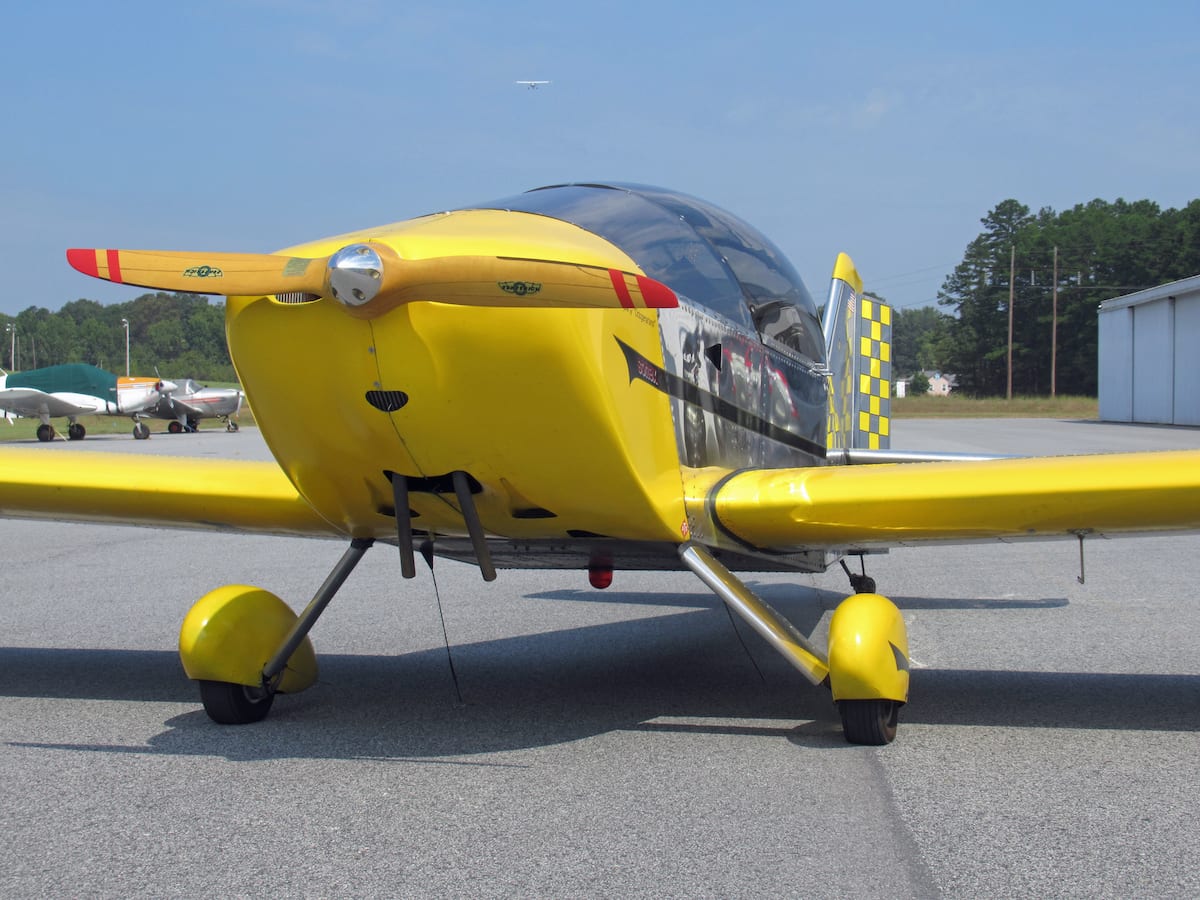 "This Jabiru 2200 is an 80 hp engine, but they were making a change when this serial number came out and it's really an 85 hp. The engine has been great; all I've done is change oil," he relates. "It's not really a typical engine for a Sonex. Many use an AeroVee, which is available as a VW conversion engine kit (sold by AeroConversions) that you have to build. The Jabiru is built in Australia and they have a 120 hp six-cylinder, which most everybody's using now, but the 85 does all I need it to."
"It has a Sensenich wood prop (54″ diameter by 46 pitch) which has a pretty good bite to it for getting off the ground and climbing out," he continues.
"The airplane only weighed 622 pounds when it was completed, but of course it's gained weight when I've added equipment through the years. It can carry up to 40 pounds of baggage."
The Sonex's wingspan measures 22′ and the two-place, side-by-side airplane is 17′ long from nose to tail. Larry installed electric flaps, and describes the Sonex as being "very responsive to control inputs."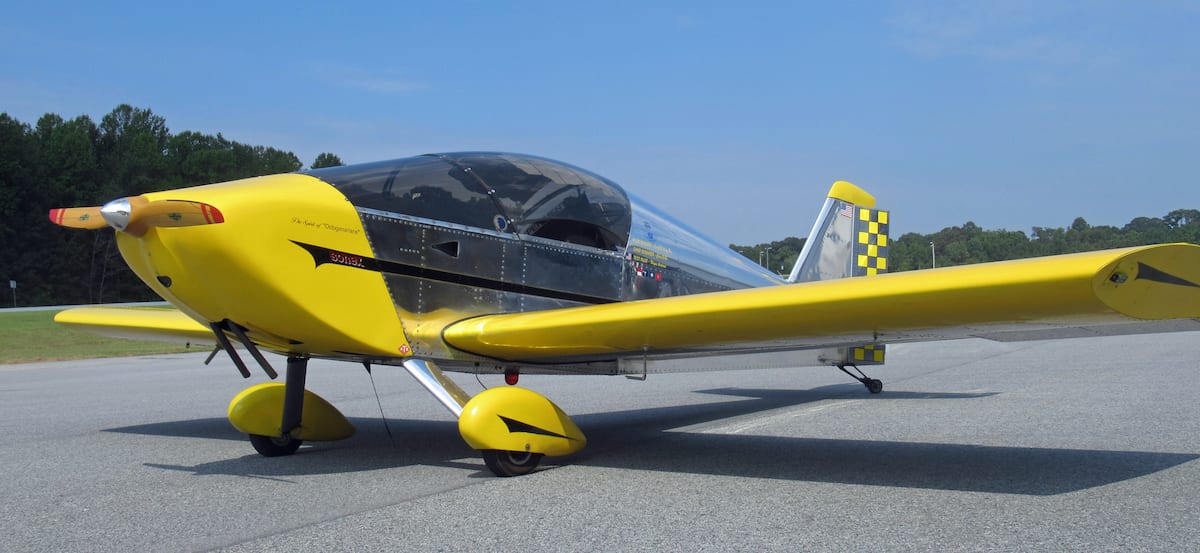 "It's not squirrelly on the ground," he continues. "It cruises at 120 mph, and I'm usually on downwind about 80 mph, and start turning base at about 70 mph. I get down to about 60 mph when I'm on final, and touch down in the 50s for a three-point landing."
Instrumentation includes an airspeed indicator, altimeter, EFIS, reserve lift indicator, and a vertical card compass. Larry uses a Flightline FL-760 radio and an iFly GPS 740 with a backup tablet.
Frequent Flyer
Larry logged more than 70 hours in his Sonex in 2019, bringing the total time on the aircraft and engine to 345.3 hours.
"I fly every week, and I plan to fly until I'm 100! Every time you go up and every time you land, it's different and a challenge," he says. "It helps keep you sharp. You're never too old.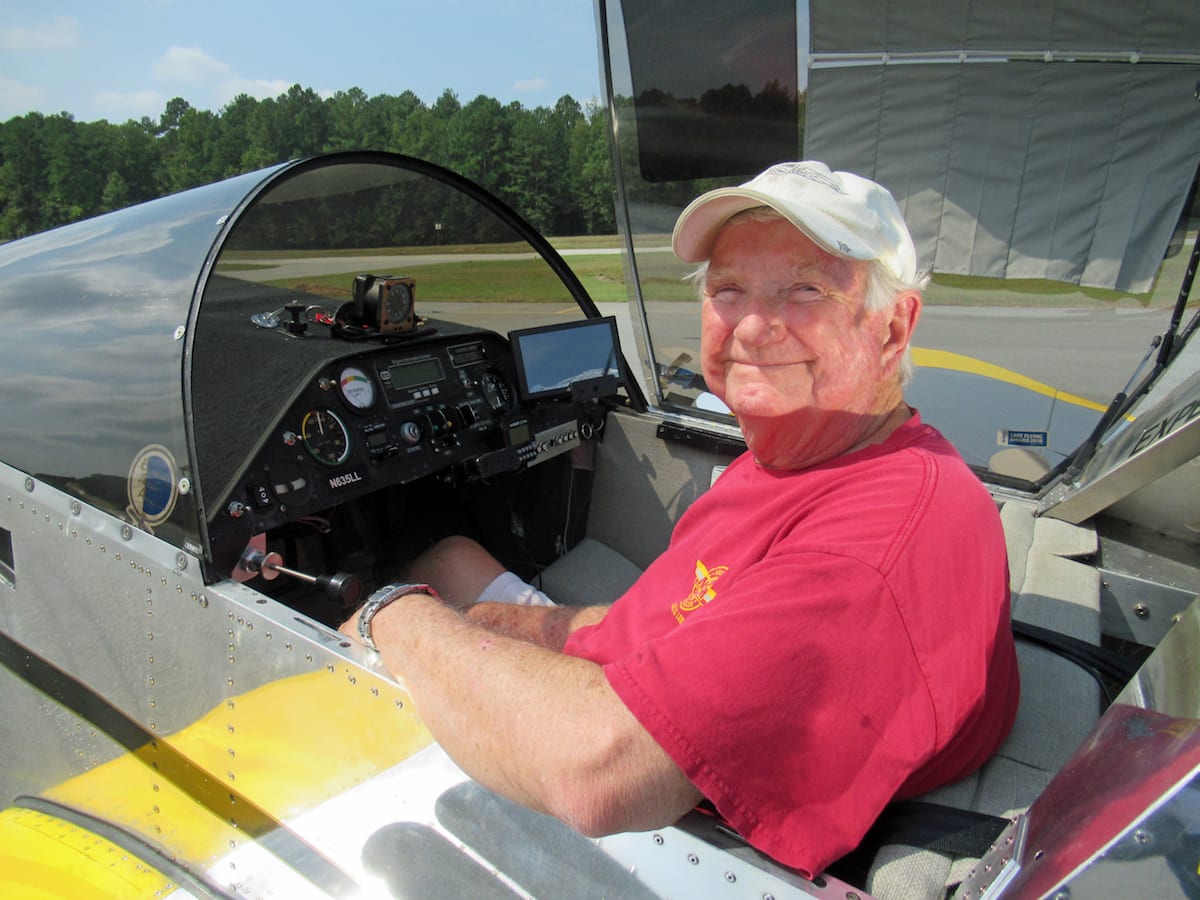 Although most of his flying is local, Larry enjoys flying cross countries as well. He recently flew to Aiken, South Carolina, for a Breakfast Club gathering, and he's flown to the Carolina coastal area, including Oak Island and Ocean Isle. He's also been to Triple Tree Aerodrome in South Carolina.
His most memorable cross country (to date) was to Crossville, Tennessee, for a Sonex fly-in.
"All told it was about a three-hour flight, and I'd just crossed over the mountains when the red light came on indicating that I had about 30 minutes of fuel remaining," says Larry. "That got my attention, but I already had the airport in sight at Gatlinburg. So I landed there and fueled before I went on. That was the only time that red light has come on. It holds 16 gallons and burns around 5 gallons per hour, so I'll usually fly for about two hours and then land for fuel."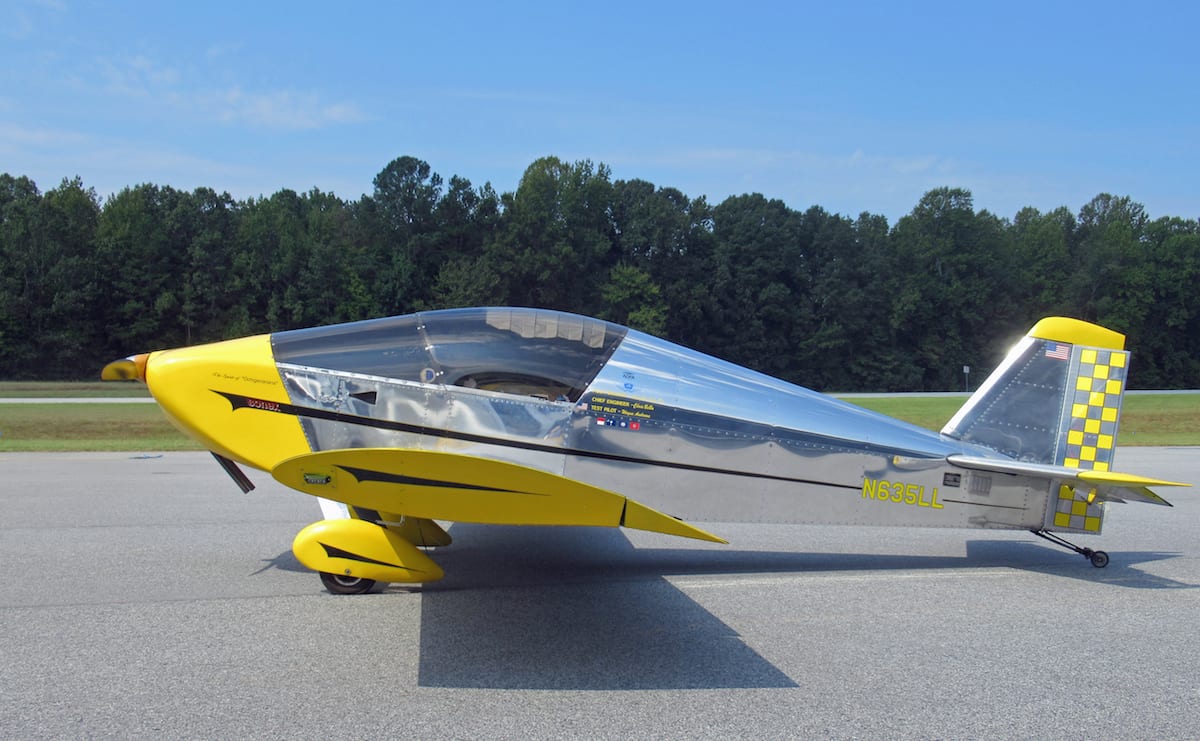 Freedom and Challenge
With his youthful spirit and positive, "can do" attitude, Larry easily fulfills his self-appointed role of exemplifying the spirit of octogenarians.
"To me, flying is freedom and a challenge, especially making landings because they're all different and fun," he says. "I've landed my Sonex at 22 different airports so far, and I've put a small state flag sticker on the airplane for each of the states I've flown to.
"Most of my flying is solo, but my twin grandson has flown with me and seven non-family members have flown with me," he continues. "My wife, Sue, has flown with me three times. She's not a big fan of flying, but likes for me to enjoy it, so she's very supportive. Flying has been the most rewarding activity ever for me, and it's the fulfillment of a lifelong dream!"