The Institute for Women Of Aviation Worldwide (iWOAW) has launched a petition on Change.org, asking the FAA to eliminate gender-exclusive words that keep women out of aviation.
"In 2020, female pilots look up Notices to Airmen before each flight, validate their Medical Certificate by signing in the Airman Signature field, and refer to Airman Certification Standards to prepare for pilot tests," the petition begins.
"The FAA's website contains more than 40,000 references to Airman or Airmen; ICAO's website lists close to 2,000 airmen references."
"Research indicates that linguistic cues such as gender-exclusive terms that may seem trivial at face value can signal group-based ostracism," the petition continues.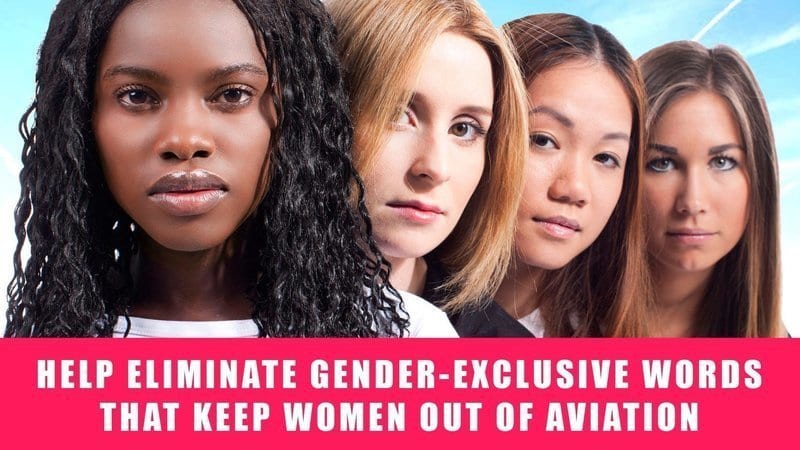 "Women do feel ostracized and are steering away from the aerospace careers publicly labelled as men's careers," iWOAW officials say. "Worldwide, the percentage of female pilots is less than 3%."
The United States counts 262,025 commercial pilots including 13,692 women according to the latest U.S. Civil Airmen Statistics published by the FAA.
The petition asks the FAA and ICAO to remove gender-exclusive words from all their publications.
"It is common sense," iWOAW officials say. "How long would it take the FAA and ICAO to change the wording if male pilots had to refer to Notices to Airwomen before each flight and carry a certificate including an Airwoman signature field?"
Gender-neutral terms such pilot, aircrew, or flight personnel already exist.
"Technology makes wording changes in documents a matter of will rather than a matter of means," the petition says. "Yet, 110 years after Raymonde de Laroche became the 36th person — and the first woman in the world to earn a pilot license on March 8 — the FAA and ICAO continue to negate their presence in their publications."
You can read — and sign — the full petition at Change.org.