Two Iowa pilots are planning a general aviation pilot's dream trip: A flight around the world in a Piper Lance.
As long-time members of Rotary International, the duo are using the flight to raise money for Rotary's mission of eradicating polio in the world. All funds raised by the flight will go to that mission, with the two pilots picking up the costs of the epic journey — estimated to be about $70,000 — themselves.
The flight was initially set to launch March 24, 2020, but that date has been put into doubt — with so many other things these days — by the coronavirus.
Many of the 17 countries on the planned route have shut down schools and non-essential travel due to the virus.
"The threat to our schedule is that we could land in one of these countries and not be allowed to leave for a few weeks," said Peter Teahen, who initially came up with the idea for the flight. "It would not be wise of us to go plowing off, two guys in a small plane, and jumping through 17 countries and expect everything to be good. We love to explore, but I don't think I want to explore isolation wards in 17 countries."
Of course, the virus will pass and when it does, Teahen and his co-pilot John Ockenfels will be ready for takeoff.
Why Fly Around the World?
Many general aviation pilots dream of a flight to Alaska or a flight around the world, but few attempt it.
In fact, what Teahen and Ockenfels are attempting is exceedingly rare. They emphasize this in presentations they make about the planned journey.
"Out of the 7.4 billion people on Earth, just 4,000 people have climbed Mount Everest," Teahen notes. "And 500 have been in space. But since the beginning of flight, only 700 pilots have flown around the world in a single-engine airplane. Less than 300 of them are alive today."
Joining those ranks is a goal Teahen has held since he became a pilot in 1972 when he was a freshman in college.
He recalls going to a meeting and hearing about a pilot and his son who took six weeks to fly to Alaska. He knew then he wanted to make that trip.
"Then I started reading about pilots who have flown around the world, and the more I read about it, I said, 'I want to do that,' he says. "I jokingly say I'm doing my trip to Alaska, I'm just doing it the long way around."
When he told his wife Janet that he wanted to fly around the world, like any good pilot's wife, she patted him on the shoulder and told him to go for it.
But when he came back to her a few months later with the details of the flight, she realized he was serious.
"She then told me, 'I'm serious too, you're not doing it at your age alone, so we'll find somebody to go with you,'" he recalls. "And that's how I got John involved."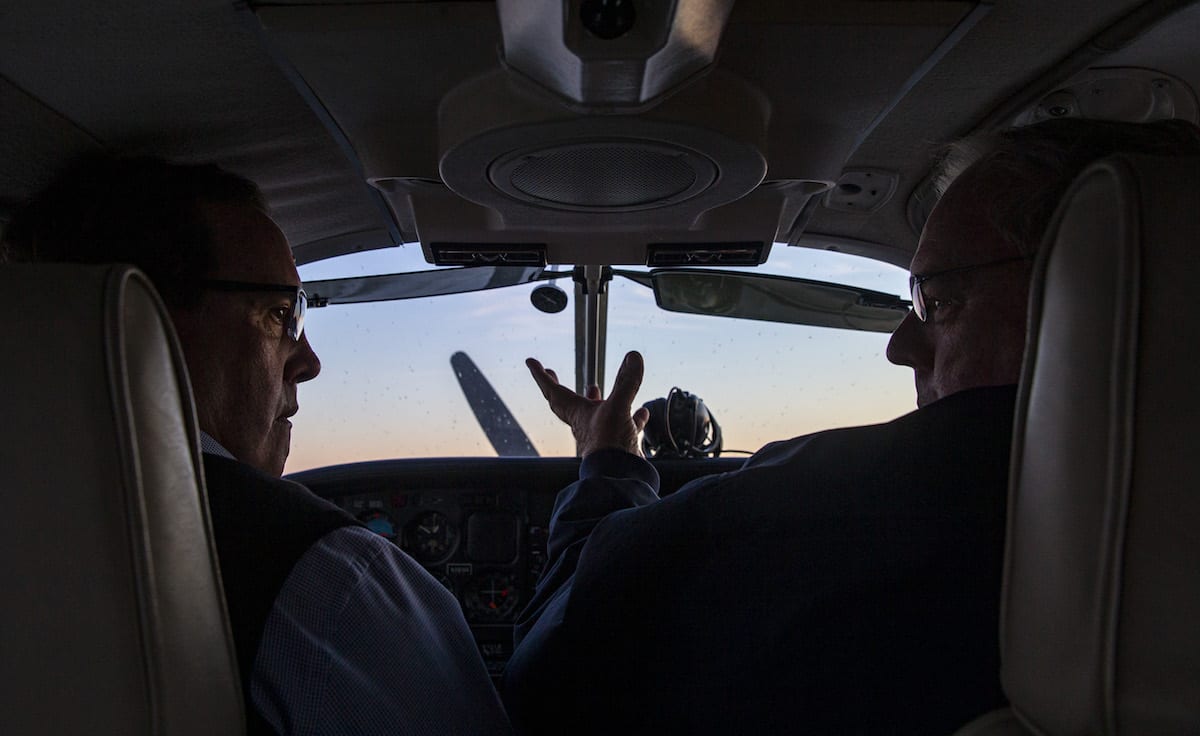 A cousin by marriage, John was flabbergasted when Peter asked him along on the journey in the 1978 Piper Lance that Peter's owned since 1990.
"The little boy in me was turning somersaults and jumping up and down and shouting yahoo let's go, and the older retired me was thinking along the lines of, well now wait a minute, there's some side effects that you ought to be aware of, like money and risk and do I even really like him? Well, that was an easy answer. The reality of it was, though, I really did have to think about it for a while. I literally didn't tell anybody about it for a few weeks— not my wife or my closest friends — because what he proposed was something I had never dreamt of."
Once he decided to go on the flight, planning began in earnest.
Why Polio?
That's when they realized that this unique experience could be a fundraiser for Rotary International's Polio Eradication Program.
"That's been Rotary's focus for 35 years," Peter notes. "It's almost done, but it still needs a lot of help, so that's how we decided to make it a flight to end polio."
The duo emphasize that 100% of every dollar donated goes to the program.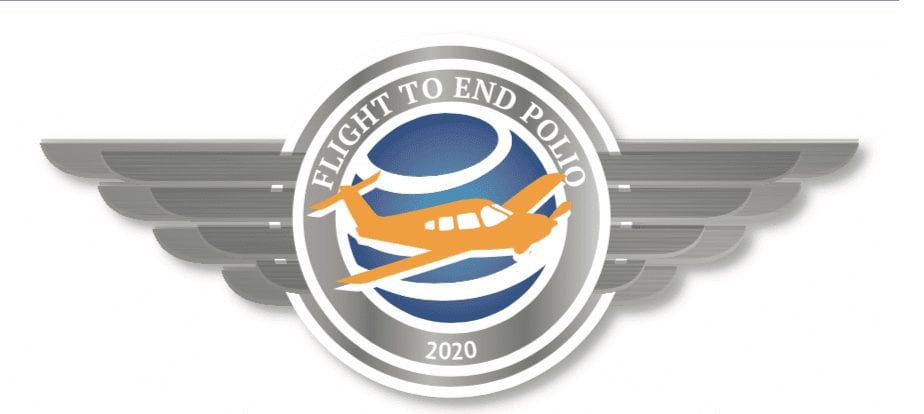 "Peter and I are covering 100% of the cost of the flight," John reports. "We're not taking a dime from any part of the fundraising."
They estimate it will cost them about $70,000 out of their own pockets for the journey.
What's even better is that for every dollar Peter and John raise, the Bill and Melinda Gates Foundation will give $2.
"The other day we had a very generous gift of $25,000 and that immediately turned into $75,000," John says.
The pair hope to raise $1 million for the polio eradication program.
And while people in the U.S. of a certain age heard a lot about polio as a child, they don't hear much about it now.
"But there isn't a day that goes by that someone hasn't come up to us and said, 'I had polio or someone in their family had polio,'" Peter says. "If you start asking people around you about it, I bet you'll find so many people who have been impacted by it, but don't tell their story about it."
There are just two countries left in the world where polio has never been eradicated: Pakistan and Afghanistan, according to Peter and John.
"Rotary's mission for the last 35 years is to eliminate the world of polio and it's going quite well," Peter says. "We're down to these last two countries and we've been on those last two countries now for seven years."
The reason it's still a problem in those countries?
"Leaders are anti-vaccination for religious reasons and they're very militant about it," he reports. "They've actually been rioting in the streets over it and they've been shooting vaccinators. They're on social media with some very creative false information and they're showing all these pictures of kids dying in the streets because of taking the vaccine, which is exactly the opposite of reality."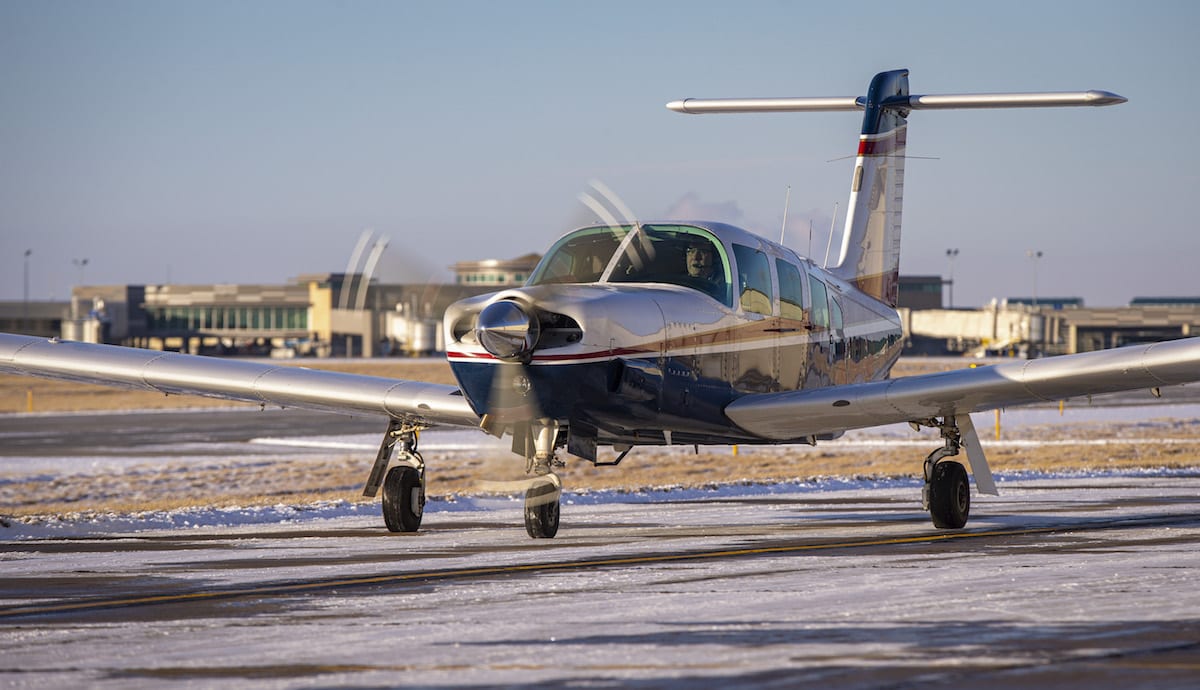 The Flight
The pair plan to fly to 17 countries, with 29 stops. At each stop, they'll meet with Rotary clubs, government officials, and others to spread the word about eradicating polio.
But they also plan to do some sightseeing and enjoy themselves.
"We're not flying around the world to set a record," says Peter, who works as a funeral director. "We're not going to be the world's oldest guys ever doing it, we're not going to be the youngest guys, so we might as well enjoy the trip while we're doing it."
In the tradition of Rotary Club, members in some countries have offered for the pair to stay in their homes during the journey. They'll have escorts at each stop and get the chance to experience the culture of each country.
"We'll be able to see the country, their traditions, the warmth of their people and celebrate them with food," Peter says. "We're going to have a very rich experience of experiencing people and cultures at almost every stop now as they're planning these events for us. That's an exciting way to see the world."
Once they depart Cedar Rapids, the pair will fly to Bangor, Maine, then to St. John's, Newfoundland, followed by a 10 hour jump to the Azores Islands. However, that may change as some pilots have encouraged them to fly to Greenland, then Iceland, then down to Scotland. The final decision on the route will be made when all factors are taken into consideration.
"That's possible," Peter says. "Our number one goal is to come home safe to our families."
To that end, the pair have "all sorts" of satellite communications and emergency communications, including a satellite phone, high frequency radio, and personal locator beacons. They also have a five-man life raft that a company donated, "which we hope we never have to use," he adds.
They also will carry immersion suits, which are floatable suits that they will wear whenever they are flying over water.
Another factor that influences flight planning is the availability of 100LL.
"Nearly 50% of our stops do not have the gas we need for our airplane," Peter reports.
They have to be sure the fuel is shipped to the stop by train or truck — and they will pay for that privilege.
They estimate they'll burn about 2,000 gallons of fuel during the journey.
"Right now at Cedar Rapids Airport, we're paying $4.50 a gallon, but it wasn't that long ago when it was $6," Peter says. "Our average fuel during the trip will be $12 a gallon. I think the most expensive fuel will be $19.75 a gallon."
And then there's the landing fees.
"In the U.S. we complain when we land at an airport and they want to charge us $25 or an overnight fee of $10," he says. "Our minimum landing fee is $650, with the maximum landing fee close to $3,000 in Japan."
He notes the pair have been doing a lot of practice landings so they don't bounce and they "charge us for two landings," he adds.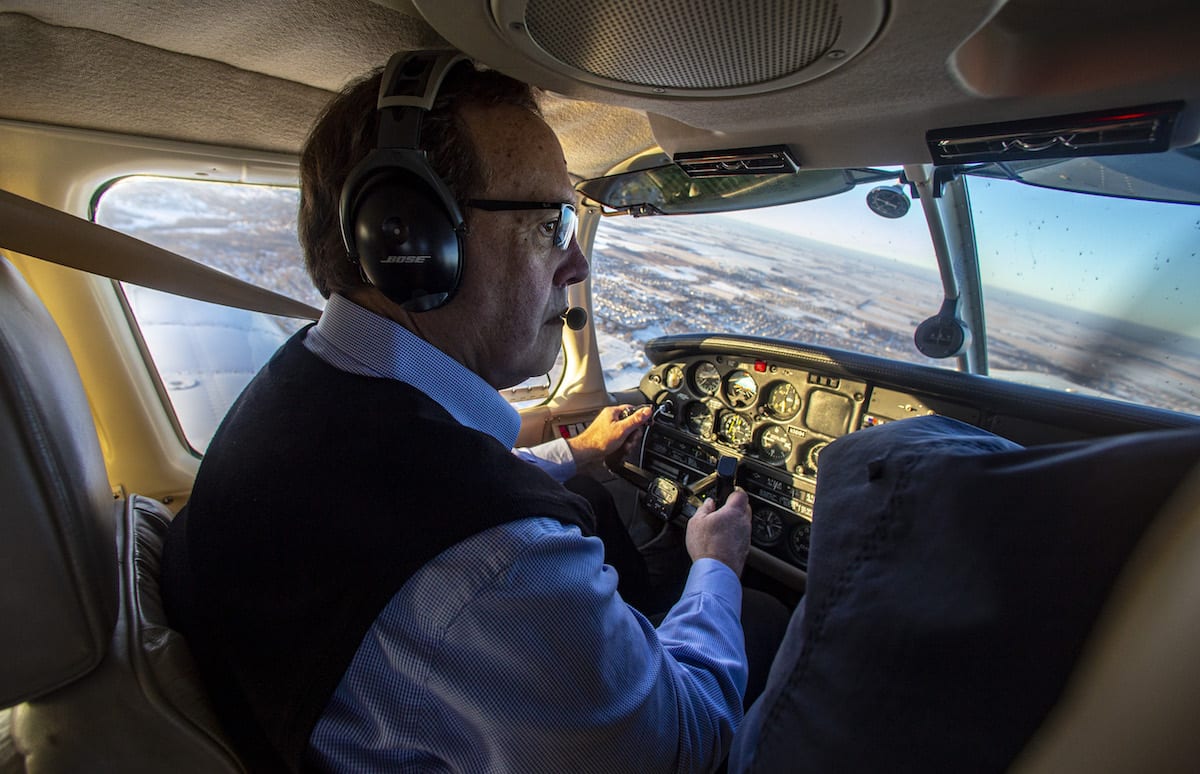 Other stops along the flight include Italy, Greece, India, the Philippines, Japan, and Russia. Then it's on to Nome, Alaska, then Canada, and back into the United States to return to Cedar Rapids.
You can track the flight at the website FlightToEndPolio.com, as well as the mission's Facebook page.
"Not only will they be able to follow us by where we're at, we'll be doing blogs and videos and posting those as we go around the world," Peter says.
That's also where you can make a donation to help eradicate polio worldwide.
Even before they have taken off, the men say the trip has been fun to plan and very educational. It's also evolved into so much more.
"When I started this, it was a trip around the world," Peter notes. "And now it's really become a journey with a spiritual connotation."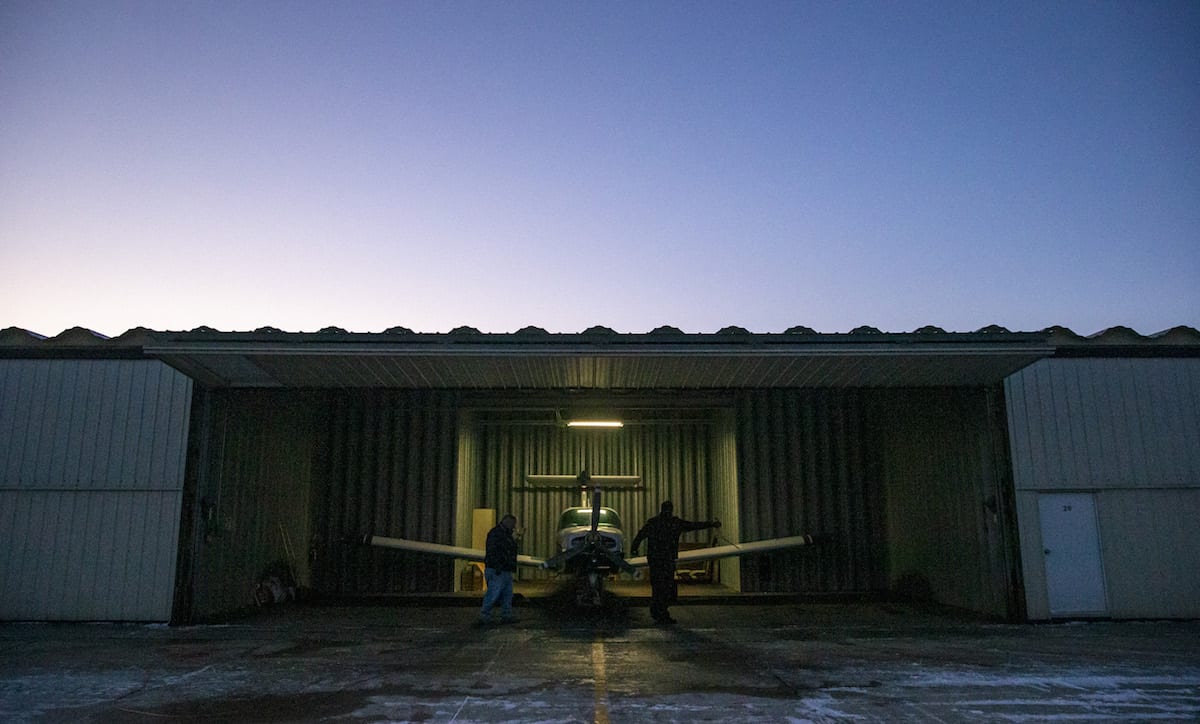 The Flight By the Numbers
No. of Countries: 17
No. of Stops: 29
No. of Flying Hours: 138 over 51 days
Miles Traveled: 20,000
Amount of Fuel Expect to Burn: 2,000 gallons
The Pilots: Peter, who has logged more than 3,800 hours, has his instrument and commercial ratings. John, a retired businessman, got his private pilot ticket in 1976 and has logged about 5,100 hours. He's got his multi, instrument and commercial ratings.
The Plane: A 1978 Piper Lance
The Mission: Raise $1 million to eradicate polio